I had these Fried Oysters with Bacon-Horseradish Hollandaise at the NYY Steakhouse and I fell in love with them! Here's my version of this epic appetizer!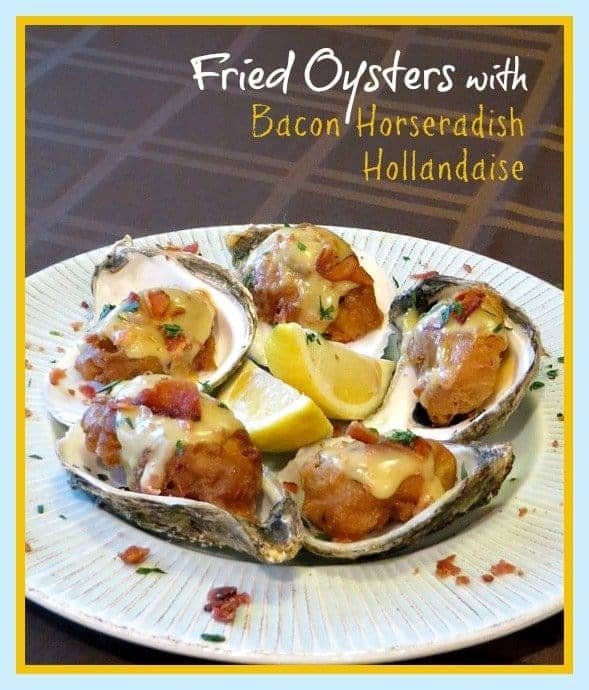 Oysters are always something that I have when I'm out at a restaurant but I never seem to make them at home. So today I thought I'd change that and make myself some fried oysters.
I say "myself" because no one else in the house will eat them. Strange, but true.
I drove to a seafood market about a half an hour from my house to get fresh oysters. I was pretty surprised to find out that oysters really aren't all that expensive. They were about a buck an oyster. Not bad I thought, especially since I only need a dozen.
Then onto the grocery store for the rest of the ingredients. I wanted to do a bacon-horseradish hollandaise sauce like they have at Yankee Stadium because the spicy horseradish goes so well with the deep fried oyster. And bacon is just good with anything.
Do I really want to make the hollandaise from scratch? I know it's not too hard but I'm standing right in front of the Hollandaise sauce packets…so in the basket they go.
Grab some bacon, horseradish, and lemons and I'm done.
Please feel free to make your own hollandaise sauce but I'll tell you, using a packet and fixing it up a bit tastes just as good. I actually think it tasted better than the sauce I had at Yankee Stadium and I'm pretty sure theirs was from scratch.
How Do You Make This Fried Oyster Recipe?
Make up the hollandaise sauce in a small pan. Then fry up a few slices of bacon, chop them up finely and add to the pan.
Add horseradish, or more if you like it really spicy, a tablespoon of fresh lemon juice and your sauce is done.
Next I threw together a quick beer batter, dip the oysters in and start frying.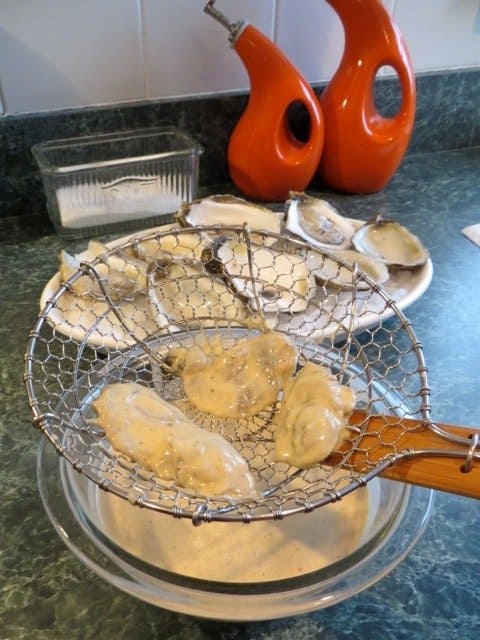 The oysters only take about 3 minutes to fry, this is where you have to make sure that your oil is at the right temperature so that you don't overcook the oysters.
Once you have fried all the oysters, serve them with a spoonful of the bacon-horseradsih hollandaise on top and some more bacon and parsley.
All you need now is a squeeze of lemon and a cold beer. Or two.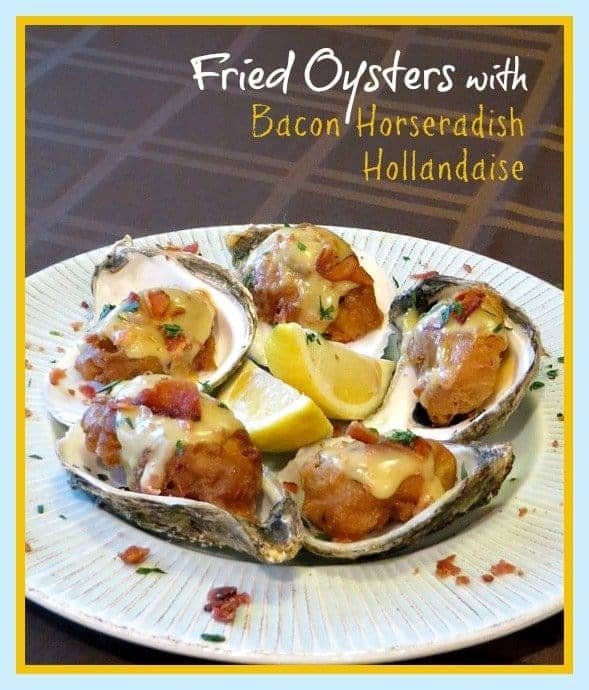 Looking For More Seafood Appetizers?
Print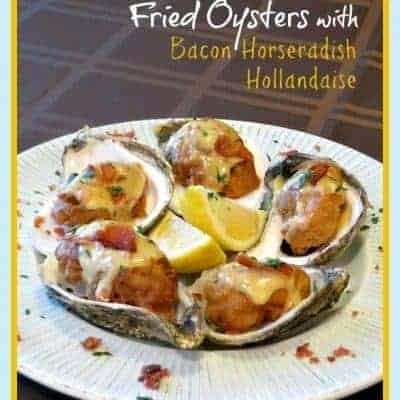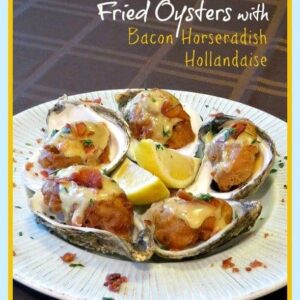 Fried Oysters with Bacon Horseradish Hollandaise
Prep Time:

15 minutes

Cook Time:

15 minutes

Total Time:

30 minutes

Yield:

1

2

1

x
This beer batter, fried oyster recipe is topped with an easy, bacon hollandaise sauce!
Scale
Ingredients
12 raw oysters, shucked
For the Beer Batter
1 cup

of flour

1 cup

of beer

1

t. Old Bay seasoning

1/2

t. salt

1

t. hot sauce

1

egg
fresh pepper
For the hollandaise
1

packet of store bought Hollandaise sauce

1 cup

of milk

1/4 cup

of butter

5

slices of bacon, cooked and chopped finely

1 tablespoon

prepared horseradish

1 tablespoon

fresh lemon juice

1 teaspoon

Worcestershire sauce

1/4 teaspoon

cayenne pepper
Instructions
Heat up canola oil or vegetable oil in a large pot filling the oil no more than halfway up the side. Next make the beer batter, add all the ingredients to a medium sized bowl and whisk to combine. The beer batter needs to sit for about 15 minutes before you start frying.
While you're waiting, start the hollandaise. Follow the directions on the packet to make the sauce, using the milk and the butter, then add in the chopped bacon pieces and the remaining ingredients, stir and keep warm.
Fry the oysters in the oil for 3 minutes until golden brown, drain on a paper towel.
Serve the oysters with some of the hollandaise sauce on top and also some on the side for dipping.
Recipe Notes
The beer batter in this recipe will coat at least 2 dozen oysters, so you can easily double or even triple the amount of oysters that you need.
Category:

Appetizers

Method:

Deep Fry

Cuisine:

American
Keywords: fried oysters, oyster recipe, bacon hollandaise sauce, appetizer recipes, seafood appetizers