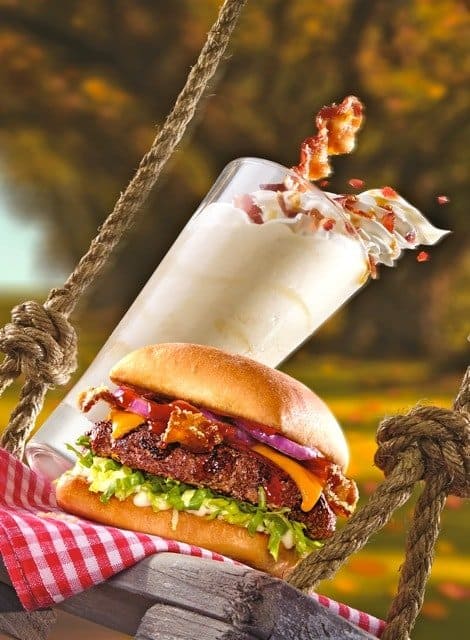 I'm wrapping up whiskey week, sadly, but luckily the crew over at Red Robin reached out to me to see if I could pop in and have a taste of their new Beam-N-Bacon Boozy shake and Southern Charm Burger.
The Beam-N-Bacon Boozy Shake is made with Jim Beam Maple, and I already know how good that stuff is, bacon bits, caramel all mixed in with vanilla soft serve ice cream. Oh and a big ol' piece of bacon for garnish. And also…the new Southern Charm burger that has candied bacon on it. Candied bacon on a burger sounds pretty amazing to me. I just did my Whiskey Burger earlier this week and just having bacon on a burger is tasty enough, but candied bacon? I can't wait.
As you know, usually I'm not an adventurous food guy – but lately the more toppings (especially including bacon) you can get onto a burger for me the better.
So I order up my burger and a nice cold beer to drink while I'm waiting. I have to save the Beam-N-Bacon Boozy shake for dessert.
The burger came out pretty much exactly the way it looks in the picture – just not swinging on a swing – but pretty close. And for the tasting…yep…it's good. Really good. The candied bacon is so amazing I wanted to order extra on the side. I didn't, but I wanted to. Still have the shake waiting for me.
The manager at Red Robin was nice enough to let me take over the bar area and take some pictures, but as the saga of restaurant pictures goes…the lighting wasn't great and the pictures didn't turn out so well. So I used the Red Robin promotion pictures instead.
The shake didn't disappoint at all. It was my first time having bacon with ice cream and I don't know if you've ever tried the combination – but you should. It's got that whole sweet and salty thing going on, plus Jim Beam Maple to round it all out. Pretty damn delicious.
I'd describe the tastes like boozy pancakes, with caramelized bacon. Pretty much was fighting my wife for the straw. She won. I gave in.
I'll be going back to order one again before they're gone, which I was told will be early November, so hurry up and get over to Red Robin!