Slow Cooker Beefy French Onion Soup
Slow Cooker Beefy French Onion Soup is the most amazing french ever! Tons of shredded beef in a homemade beef stock – it's total comfort food.
If that weren't enough to get you to make this Slow Cooker Beefy French Onion Soup, I'll give you the story behind it too.
We were just on a family vacation in St. John. Just in November but it already seems so long ago…the fact that we woke up to 6 degrees here in Jersey today isn't helping at all.
Most days it went like this. Breakfast in the condo, pack lunches for the beach (and snacks, lots of snacks) then after a day at the beach we would head back to the condo, shower up and go out for happy hour an a few fish tacos. I could spend every day doing that and I don't think it would ever get old.
One night though we made our way through town and ate dinner at a restaurant called Extra Virgin Bistro. It was a really nice, open air restaurant that served upscale Italian food. If you happen to get to St. John one day, you have to try this place out, you won't be sorry. Honestly one of the best dinners that I've ever had, and I've had a lot!
First glance at the menu I knew we were in the right place. Everything looked amazing and I wanted to try it all. The one thing I did order that stood out for me was their French Onion Soup. It had shredded short ribs in it (because they must follow the way I think in that everything is better with meat) and it was ridiculously good.
So, you know we had to come home and try our best to make it again.
And I think we nailed it.
I'm going to tell you right off the bat, this is a two day recipe. It's not a quick one but it is still pretty easy. And I can promise you that it's worth every minute that you put into it.
We use our slow cooker for lots of dinner recipes, and lots of soup recipe like this Turkey Leg Split Pea Soup recipe. That one doesn't take two days so check it out if you're shorter on time…
The stock in the slow cooker is the first step of the process. Everything goes in the pot and it cooks for 8 hours on low. We had a large prime rib for one of our holiday dinners so we actually used the ribs cut off from that to make this soup, but seeing as you probably won't have those laying around – short ribs are the way to go. As you can see we like our soup beefy, just like our popular Beefy Tomato Soup recipe…lots of beef.
You can remove the ribs at this point, strain the broth into a stock pot and shred the beef from the bones into a bowl.
Put the stock pot in the fridge to chill overnight and separate the fat from the broth. This step is really important, short ribs are fatty so if you don't do this part you'll end up with really greasy soup. And that's not going to be delicious.
The next day, or when you're ready to make the rest of the soup, carefully peel the layer of fat off the top of the stock and set the pot over medium heat to simmer.
While that's simmering away, you can make the caramelized onions. This will take you about 20-30 minutes to get the onions soft and caramelized.
When the onions are done you can add them to the stock that's been simmering, along with the shredded beef.
Grab a few oven safe bowls and put them on a sheet pan. Fill the bowls with the soup and top with a piece of toasted baguette and all the cheese you want. I only covered half my soup with cheese like you see in the pictures, but if you want to cover the whole bowl have at it.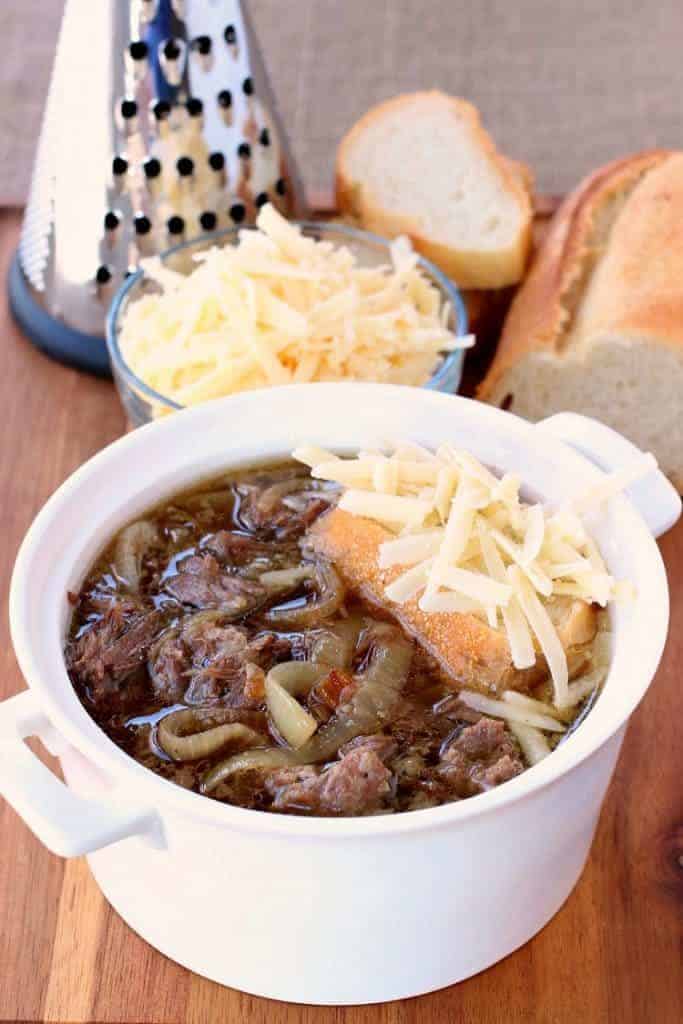 Under the broiler it goes for a few minutes until the cheese melts and starts to brown…then soup's on.
This Slow Cooker Beefy French Onion Soup is worth the wait. Hopefully you have enough for the next day, too because the leftovers are even better.
Print
Slow Cooker Beefy French Onion Soup
Author:

Yield:

8
---
Ingredients
For the Stock
3 lbs. short ribs
1 tablespoon kosher salt
2 sprigs fresh tarragon
1 teaspoon peppercorns
1 teaspoon dried parsley
1 teaspoon dried thyme
5 carrots, peeled and cut into large pieces
2 medium onions, peeled and quartered
5 celery stalks, cut into large pieces
10 cups water
For the Caramelized Onions
6 medium to large onions, peeled, cut in half and sliced
2 tablespoon butter plus 1 tablespoon olive oil
1 teaspoon salt
1/2 teaspoon dried thyme
1/4 cup marsala wine
To Assemble the Soup
4-6 cups gruyere cheese, shredded (if you like the whole bowl covered with cheese you'll need 6 cups)
1 french baguette, sliced and lightly toasted (you'll need 2 pieces for each bowl of soup)
---
Instructions
Place all the ingredients for the stock into a large crock pot and set on low heat for 8 hours.
Remove the bones from the stock and place into a bowl to cool.
Shred the meat from the bones, discarding any fat.
Carefully pour the stock through a strainer into a large pot. You can throw the vegetables used in here away at this point.
Once cooled, cover and place in the refrigerator overnight.
When you're ready to make the soup, remove the layer of fat from the stock and discard.
Place the pot over medium heat (uncovered so the stock reduces) and bring to a boil. Turn down and let simmer while you make the onions (20-30 minutes).
Add the butter and olive oil to a large skillet along with the sliced onions over medium-low heat.
Add the salt and thyme and stir to combine.
Let the onions cook, stirring often, for at least 30 minutes until the onions are brown and caramelized. The time it takes to caramelize will depend on the size of the skillet you are using, but they should be completely soft and brown in color when they are done. After the 30 minuets are up and the onions are caramelized, add the marsala wine and cook another 5 minuets.
Now add the onions to the simmering stock along with the beef you shredded from the bones.
Stir and let simmer for another 15 minutes, then test for seasonings.
Heat the broiler in your oven and get your soup bowls ready.
Fill each bowl with the soup then top with one or two pieces of toasted bread.
You can cover the entire bowl with cheese, or just the piece of bread like I did for this recipe. Up to you depending on how much cheese you want.
Place the bowls on a sheet pan under the broiler for 3-4 minutes until the cheese melts and starts to get toasty on top.
Remove from the oven and serve piping hot!
---
Notes
*You'll need oven safe bowls for this recipe! Also if you are substituting short ribs for this recipe, you will need to season them with salt and pepper then roast them for 45 minutes in a 400 degree oven before placing them in the slow cooker.