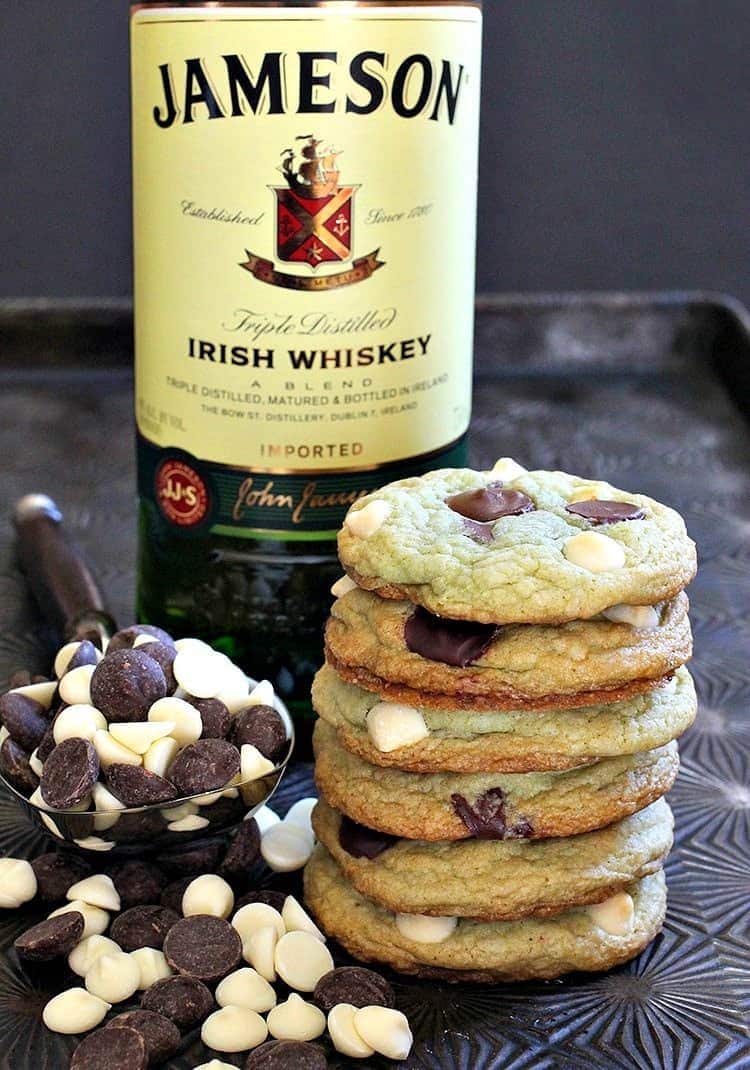 Jameson Mint Chocolate Chip Cookies
Jameson Mint Chocolate Chip Cookies are the perfect, boozy dessert to put out for your St. Patrick's Day party!
I like when you make a recipe that has some sort of booze in it and you can actually taste the booze. Some recipes can stand to be super boozy, some can't. These Jameson Mint Chocolate Chip Cookies are sort of in between. You can definitely pick up the whiskey flavor but it's still sweet enough to be a cookie.
St. Patrick's Day isn't really a holiday that we celebrate but we do make a version of a corned beef dinner like these Irish Carnitas, and there's definitely a little bit of whiskey going on.
These cookies are also really easy to make and I don't think you can mess them up at all – if you're afraid to try baking like I am – but they worked out for me so I'm thinking you have a good chance of perfection if you've ever put a tray of cookies in the oven before.
The dough is pretty basic. We've learned a couple things about baking cookies from our friend who's a legit cookie expert…One is that you have to chill the dough before you bake them and the other is that it looks a lot more like a chocolate chip cookie if you put some extra chocolate chips on top.
And there's a good amount of whiskey is in there too so licking the bowl after making these cookies was extra fun. The booze would kill all that salmonella right? I say yes.
When they come out of the oven let them cool for a good 10 minutes on a cooling rack. Ok, that's the other thing we learned from our cookie expert friend, to not over bake your cookies. They come out when they look like they might not be done but then after they cool they look like this.
This recipe makes almost 3 dozen cookies so there's definitely enough if you need to bring them to a party – just don't forget to grab the whiskey!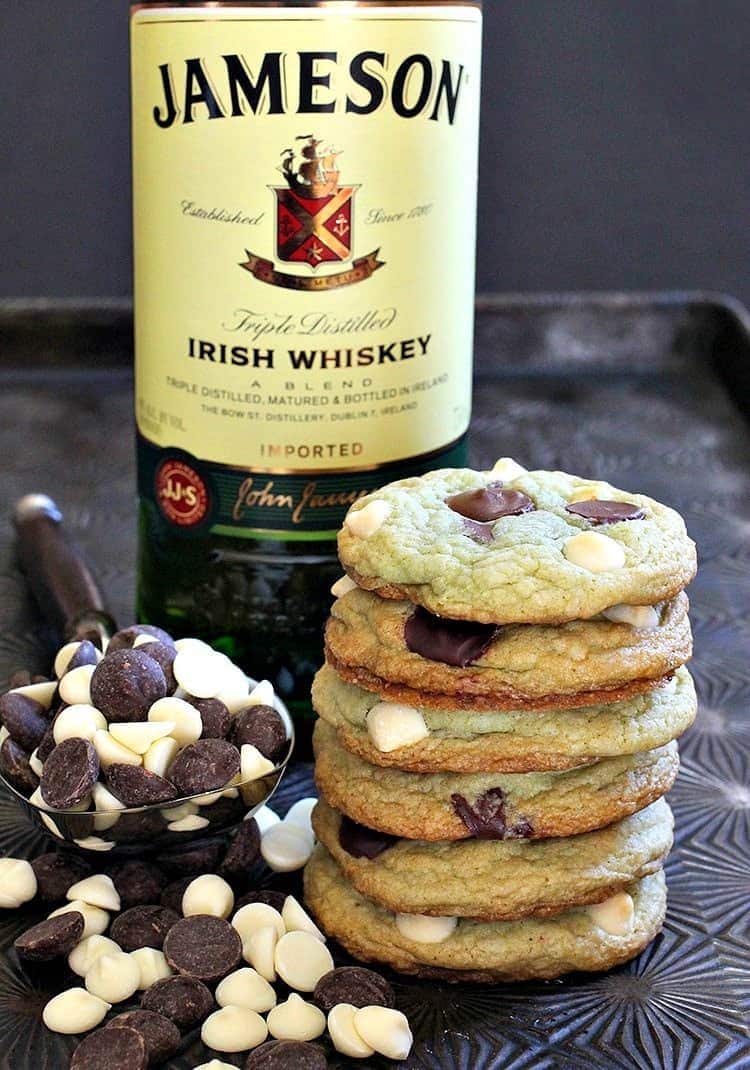 Print
Jameson Mint Chocolate Chip Cookies
---
Ingredients
3 cups flour
1 teaspoon baking soda
2 teaspoons cornstarch
1/2 teaspoon salt
1 cup packed brown sugar
1/2 cup sugar
3 tablespoons Jameson Whiskey
2 eggs
2 teaspoons vanilla extract
1/4 teaspoon mint extract
1 1/2 sticks butter
3/4 cup chocolate chips
3/4 cup white chocolate chips
---
Instructions
Whisk the flour, baking soda, cornstarch and salt together in a bowl and set aside.
Add the butter to a small pan and cook on low heat until melted. Pour in the whiskey, stir and let cool.
Add the sugars to a large bowl then pour in the cooled butter and whiskey. Beat with a hand mixer for about a minute.
Add in the eggs one at a time and mix well, then add the vanilla and mint extracts.
With the mixer on low, slowly add in the mixed dry ingredients about a cup at a time until just mixed together.
With a spoon, fold in the chocolate chips and refrigerate the dough for an hour.
Preheat the oven to 350 degrees.
Spray to baking sheets with cooking spray and scoop out the cookies dough using a 1 1/2 tablespoon scooper. Or you can form the sough into golf ball sized balls.
Bake for 9-10 minutes, just until the bottom edge browns and remove from the oven.
Let cool on a cooling rack for 10-15 minutes.
---
Notes
Makes 30-34 cookies
Adapted from Host the Toast