This Strawberry Basil Margarita is full of fresh strawberries, fresh basil and tequila! This tequila cocktail can almost be served as dessert!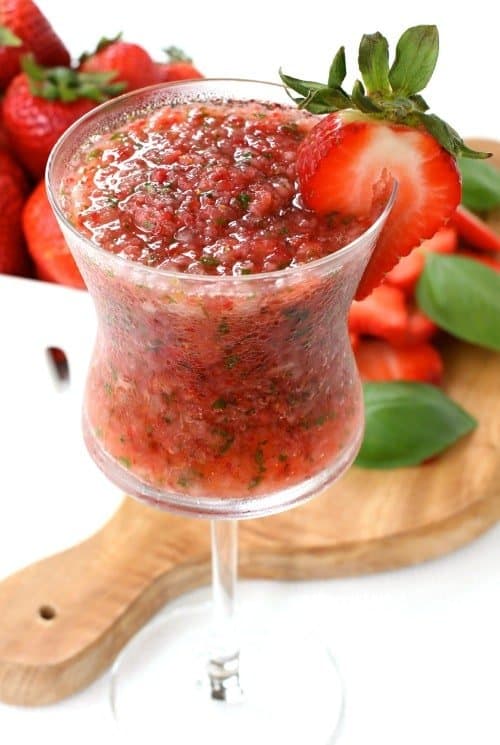 A Blended, Fresh Strawberry Cocktail Recipe
We have a few places by our house that we can go and pick fresh strawberries in the summer. It seems like a lot of work and it's way more expensive than buying strawberries at the grocery store but they are so much sweeter than anything you could buy.
Sometimes when we go the picking seems to get out of control. The boys each have a basket, I have one and my wife has one. So by the time we're done picking – usually 15 minutes from the time we start – the baskets are full. Big family outing that takes 15 minutes and sets you back about 100 bucks…for strawberries!
But again, it's once a year and you'll never taste anything better. But you do have to get through the strawberries pretty quickly. A few days is all you really have after they've been picked. Most just get eaten by the bowlful, a couple of desserts get made, some go over sundaes, smoothies and then of course – the cocktails.
One of my wife's favorite drinks is a margarita. She has perfected making them – it's a very simple recipe – but it's perfect and everyone loves them. Tequila in the drinks, tequila in the food…it's all good. So with all these fresh strawberries around we decided to make a fresh Strawberry Basil Margarita.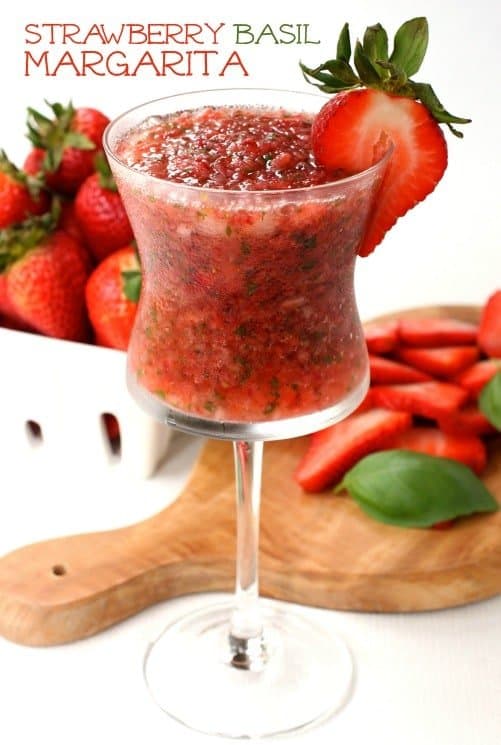 How To Make This Strawberry Basil Margarita?
It's very easy to do – nothing too involved – just grab about 4 large strawberries and 6 or 7 leaves of fresh basil. Add them to a blender with a cup of crushed ice, tequila and agave. If you don't have agave you can use simple syrup or just add a little sugar to sweeten it up.
Blend until smooth and serve.
You won't believe how refreshing the combination of strawberries and basil are…not to mention the tequila…we are definitely adding this drink to our summertime favorites!
Make sure you head over to Food Fanatic so you can check out all the amazing food and drink recipes!
Looking For More Tequila Cocktails?