Southwestern Breakfast Burritos are one of my kids' favorite breakfasts! Make them ahead and they can pop them in the microwave in the morning!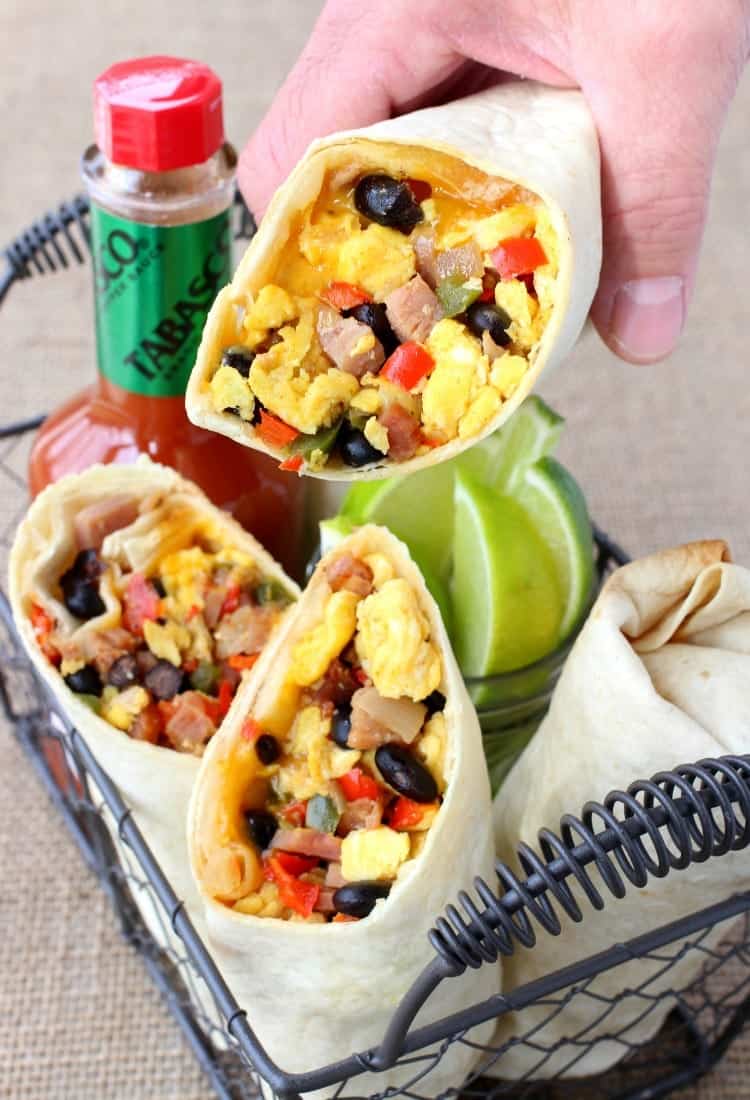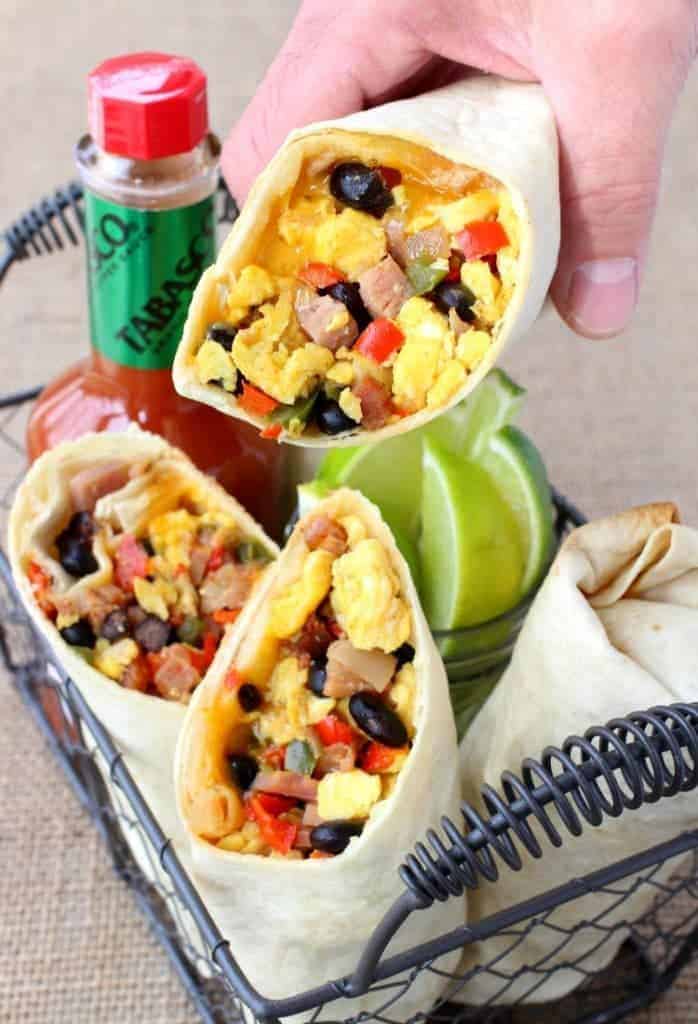 And besides the flavor, that's the best part of this recipe. THE KIDS can heat them up at breakfast time.
What does that mean? Well, on the weekends it can mean a few extra minutes of sleep time that your kids won't be bugging you about making breakfast for.
During the week it can mean that instead of you packing lunch, getting school work together and your own self together…the kids can take charge of their own breakfast.
One less thing to be checked off the list.
My boys definitely each have their favorites for breakfast, my little guy loves these Pancake and Maple Breakfast Sandwiches, and my older son likes things like cereal and homemade granola. Finding something that they BOTH love is sometimes tricky…but these burritos seem work!
These Southwestern Breakfast Burritos are full of ham, peppers, beans and cheese. But the filling is totally customizable to what you like, or what your kids like.
I used leftover ham from the holidays to make the filling for these burritos, so it's a great leftover recipe. But if you have turkey, chicken, or even steak leftover…chop it up and throw it in!
Also, this is a great vegetarian recipe if meat is not your thing, just leave out the meat altogether.
So like I said, totally customizable.
But my boys love ham. Ham is one of the things we can make for dinner and it always gets cheers – like a nice Crock Pot Ham or Ham Potato Soup. They love ham in all forms.
They also both love beans and cheese so I loaded these burritos up with all their favorites. I think we can all agree that there's nothing worse about actually being up every day at 6 AM getting kids ready for school then them complaining on top of it about what they're eating…NOT good at all.
My attitude at 6 AM can change real quickly so the less whining the better.
These Southwester Breakfast Burritos aren't just for breakfast, either! We love being able to pull them out of the freezer and have dinner ready in just minutes. It's one less thing to worry about on a busy weeknight, and my boys LOVE eating breakfast food for dinner so this recipe is a win-win.
The filling comes together really easy, just scramble a dozen eggs…yep, a dozen eggs. This makes 10 large burritos so don't start thinking I'm crazy yet.
When the eggs are done, remove them to a bowl and get the peppers and onions into the same skillet.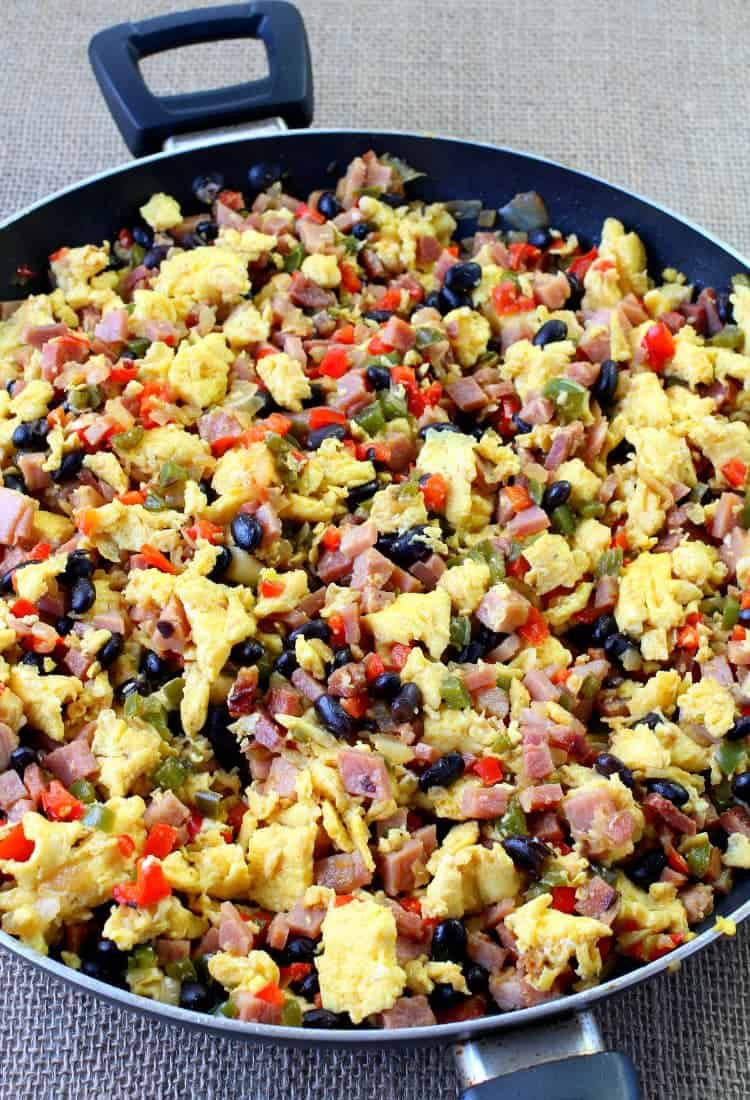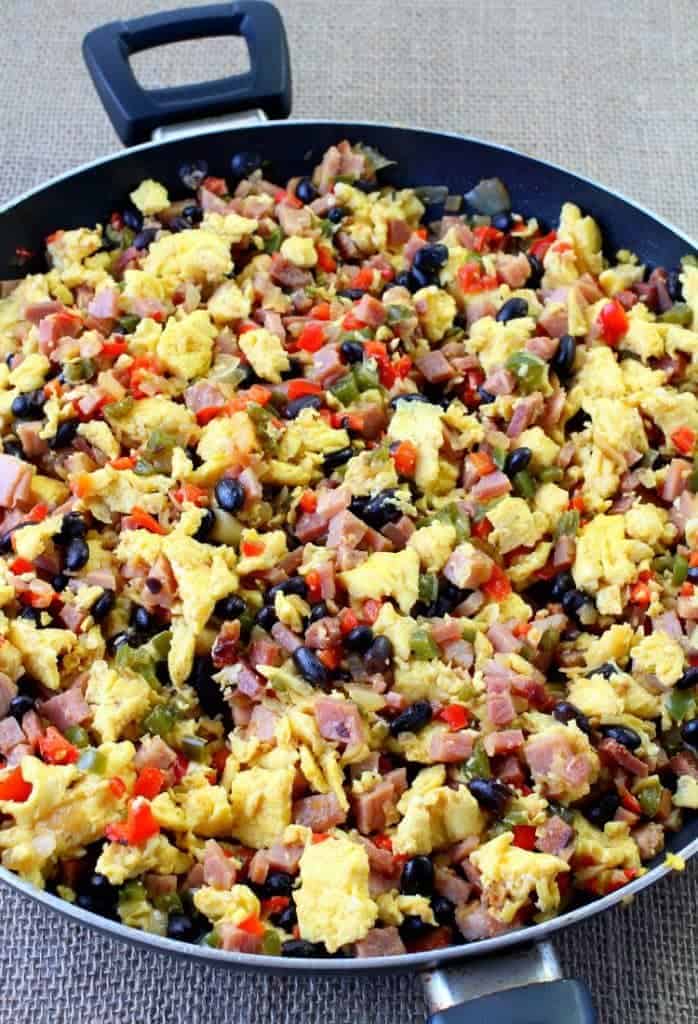 Cook those down for about 10 minutes then you can start dumping everything in. The ham, the beans, the seasonings and the eggs all go in.
Filling is done – now it's time to start rolling!
You probably all know by now how to roll up a burrito, but in case you don't I'll show you a picture of how it's done.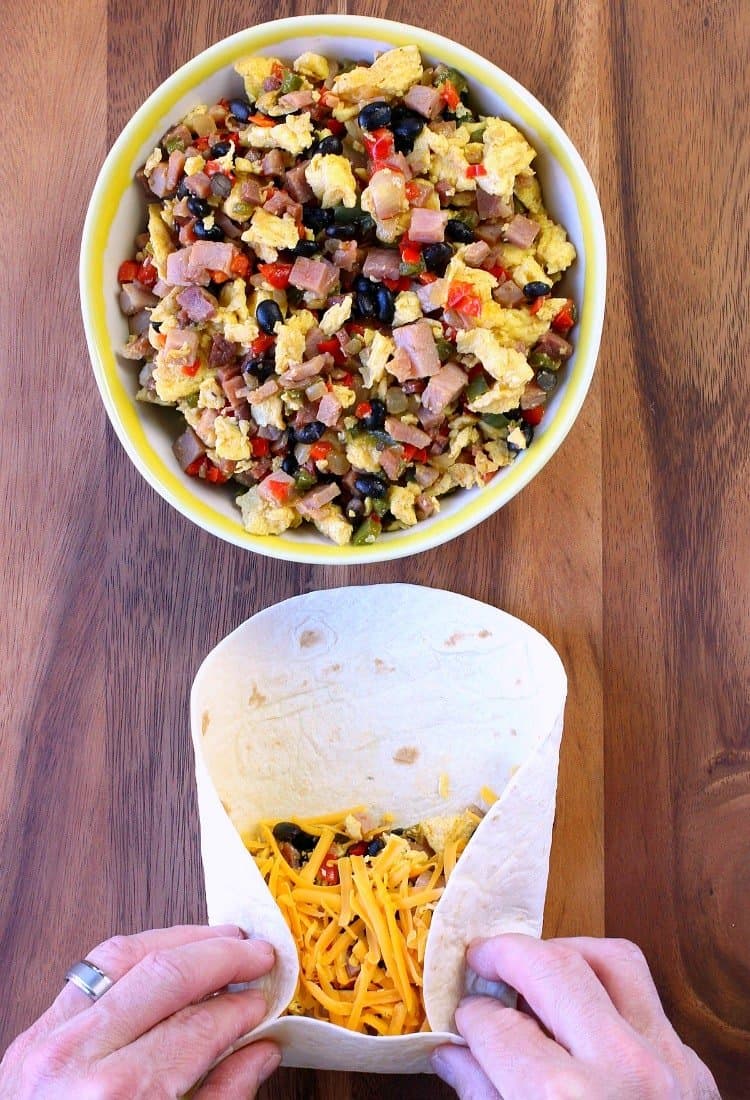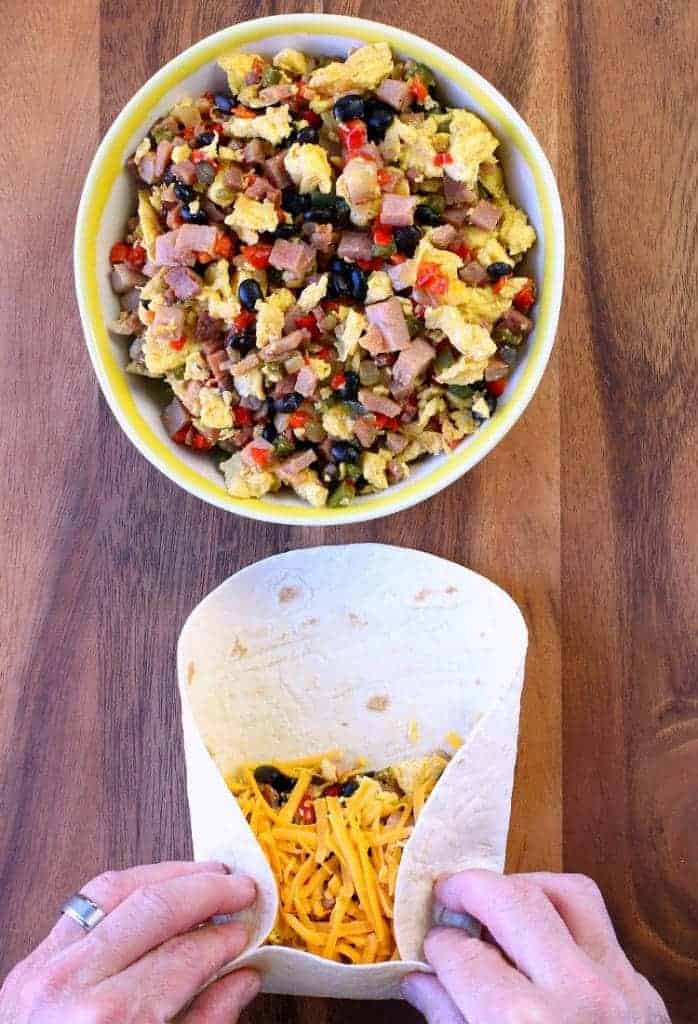 Get your filling on the bottom third of the tortilla then fold in both sides like I did in the picture.
Now you can roll up the tortilla from the long end, making sure those sides stay tucked in, and you've got yourself a burrito! Place the rolled burrito on a board seam side down.
Then repeat.
These Southwestern Breakfast burritos bake in the oven for 25 minutes, then you can either dive in or let them cool to freeze.
I know when I make these at home at least 2 are gone by the time I'm ready to freeze – but that still leaves me plenty for those early morning breakfasts that I don't have to cook!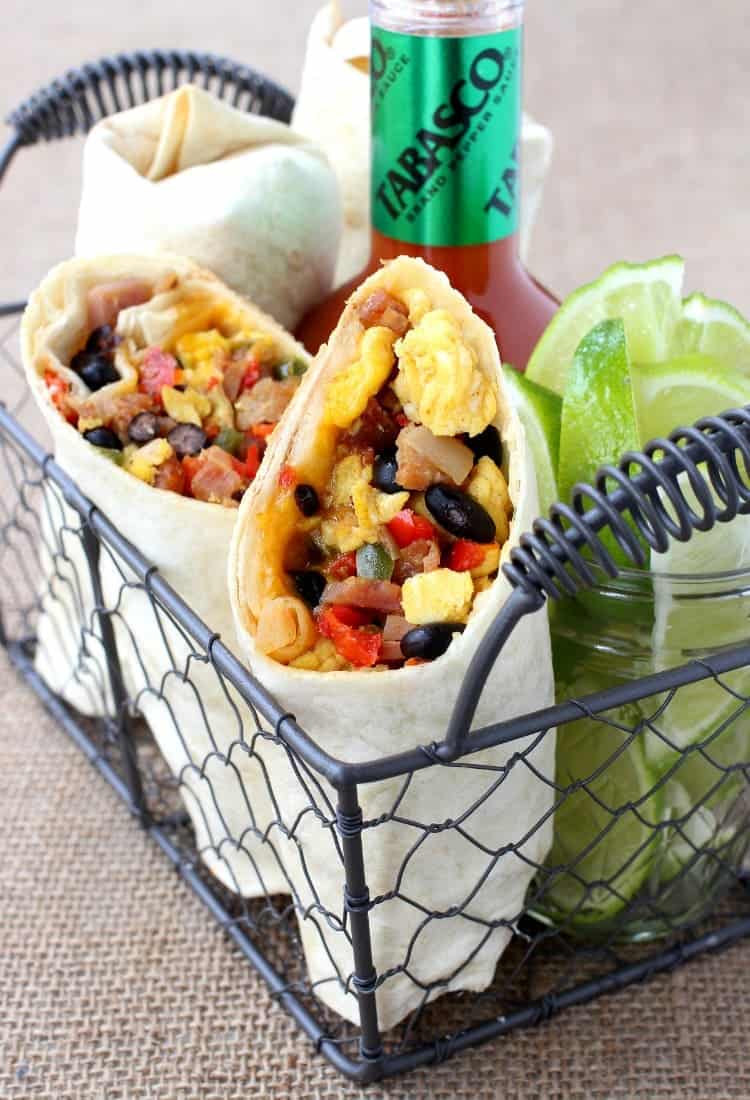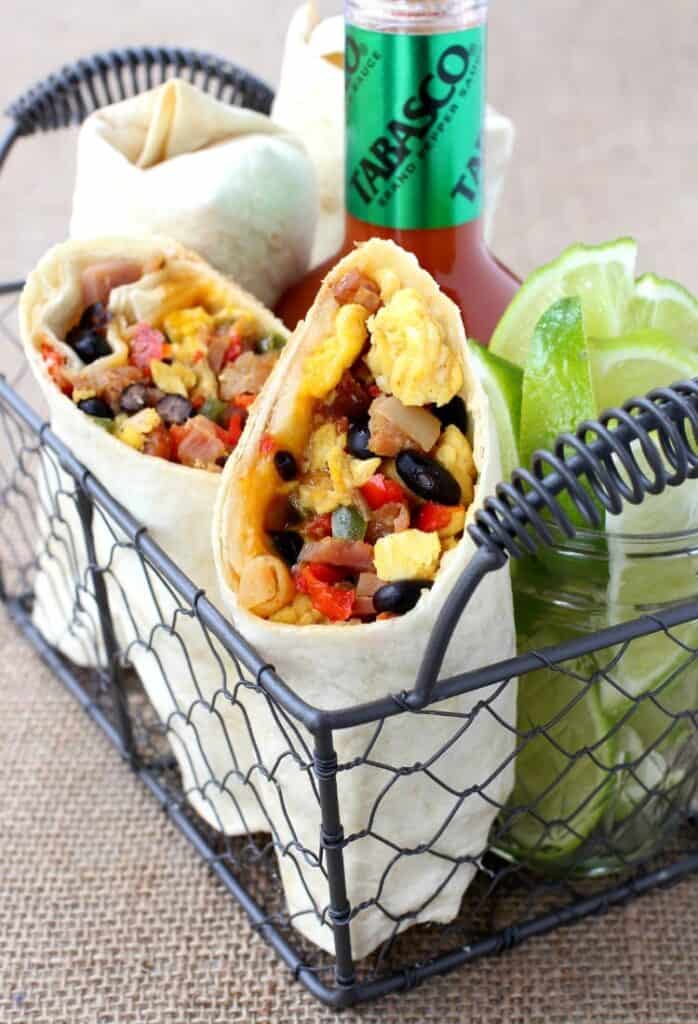 For this recipe and more, head over to Food Fanatic!