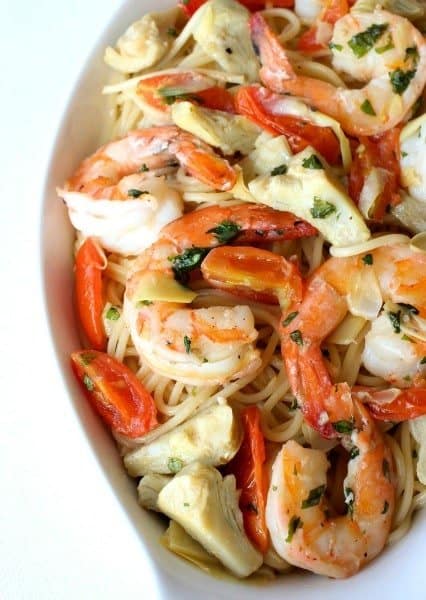 Skillet Shrimp and Artichoke Pasta
This Skillet Shrimp and Artichoke Pasta is one of my new favorite, healthy dinners to make in lass than 30 minutes. This makes eating healthy easy!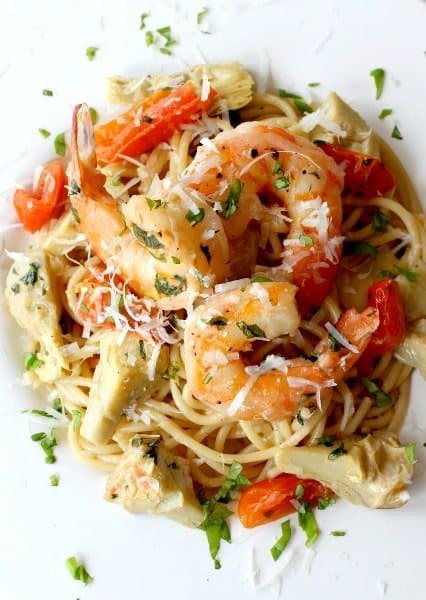 I'm new to this concept of making pasta in a skillet without boiling it first.
But I guess I'm new to a lot of cooking ideas.
I see so many one-pot or one-skillet recipes I had to see what all the hype was about. The wife, of course, told me she's done it before – made a few different recipes for dinner that way…but I didn't remember any of them. She loves that.
So once again, she showed me how to do it. I told her I wanted to do something light, it's January so I guess that's what we're supposed to do, right?
Maybe something with shrimp and artichokes, two of my favorite ingredients.
This was one of the few recipes that we tried and that was it. Done. No need for do-overs, it was awesome just the way it was.
When you cook the pasta right in the skillet, it's actually cooking with all the other flavors in the pan, right in the chicken broth. So it ends up tasting a lot better than if you had just cooked it in water.
So let's get started – throw your shrimp into the hot skillet with some olive oil salt and pepper.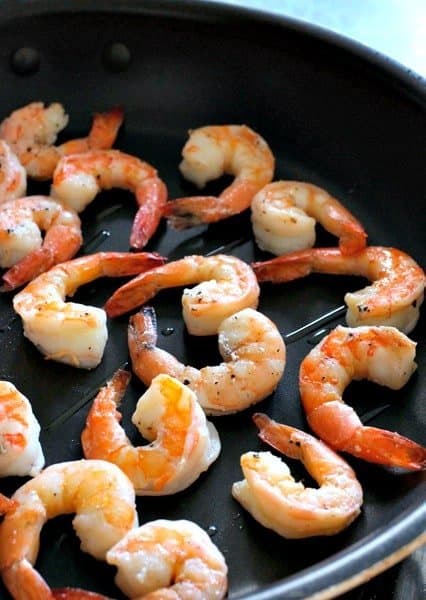 Cook the for a couple minutes on each side and take them out of the pan.
Next add in another tablespoon of olive oil and the chopped garlic, saute for a minute and throw in the artichoke heats and the tomato.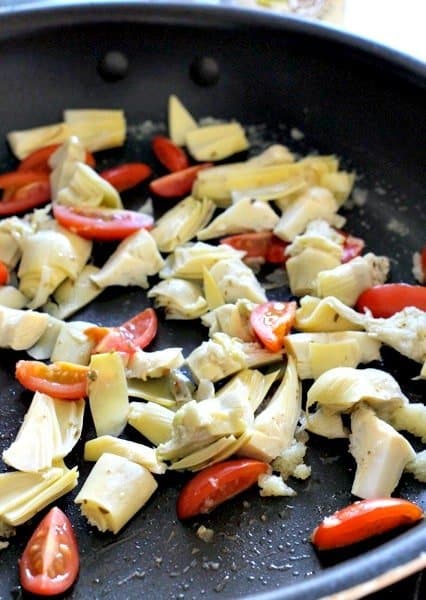 Now you're going to add in the white wine.
Let it reduce for a minute, then add the chicken broth, lemon juice, salt and your pasta.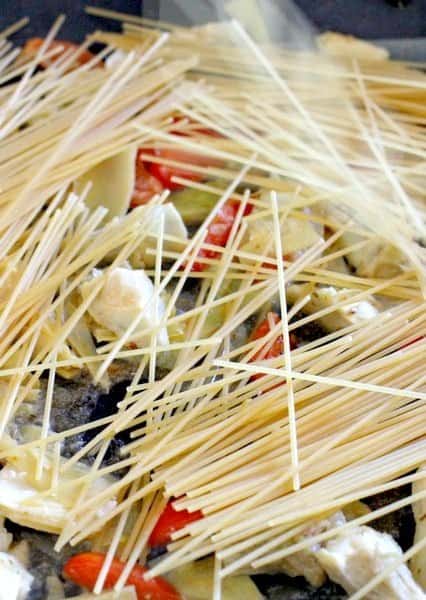 Give it a stir and then cover the skillet for 10 minutes on medium heat.
After 10 minutes, take the lid off, add the shrimp back in and let the pasta cook for another 5 minutes to reduce the sauce.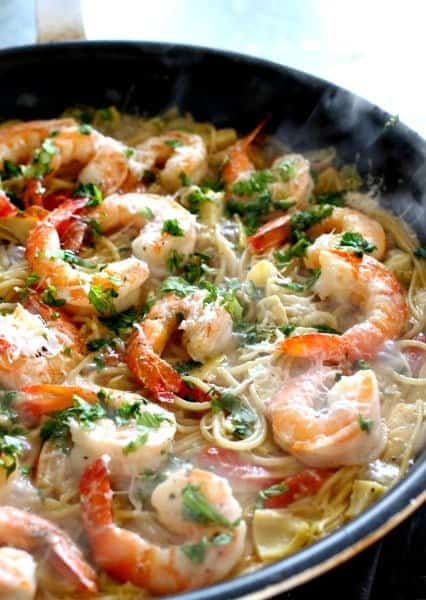 Garnish with some parsley and parmesan cheese and pour into big bowls to serve.
You might not ever boil pasta in plain old water again!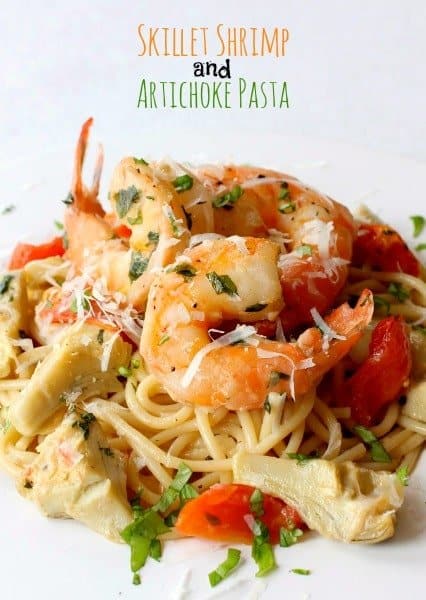 Print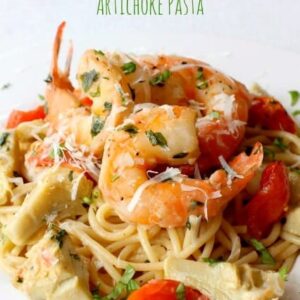 Skillet Shrimp and Artichoke Pasta
---
---
Ingredients
1/2

lb. linguine or spaghetti, broken in pieces

3/4

lb. shrimp, peeled and deveined

2

T. olive oil, divided
salt and pepper for seasoning the shrimp

6

cloves of garlic, peeled and minced

1 cup

grape tomatoes cut in half

1

(12 oz.) can marinated artichoke hearts, drained and chopped (I used Trader Joe's)

1/4

c. dry white wine

2

T. fresh lemon juice

4

c. chicken stock

1/2

t. salt

1/2

t. fresh ground black pepper
For Garnish
3

T. chopped parsley

1/4

c. grated parmesan cheese
---
Instructions
Heat up a large skillet (I used a 13″ skillet that worked perfectly) with 1 tablespoon of the olive oil over medium-high heat.
Season your shrimp with salt and pepper and place in the skillet for 2 minutes on each side.
Remove the shrimp from the skillet and set aside.
Add the other tablespoon of olive oil to the skillet and saute the chopped garlic for one minute.
Add in the artichoke hearts and diced tomato, stir together and cook for 3-4 minutes.
Pour in the white wine and stir to deglaze the pan for 1 minute.
Add in the chicken broth, lemon juice, the 1/2 t. each of salt and pepper and your pasta.
Cover and let simmer for 15 minutes.
Take the lid off, add the shrimp back into the pan and let cook for 5 minutes to reduce the sauce.
Taste for seasonings, then garnish with chopped parsley and parmesan cheese and serve.