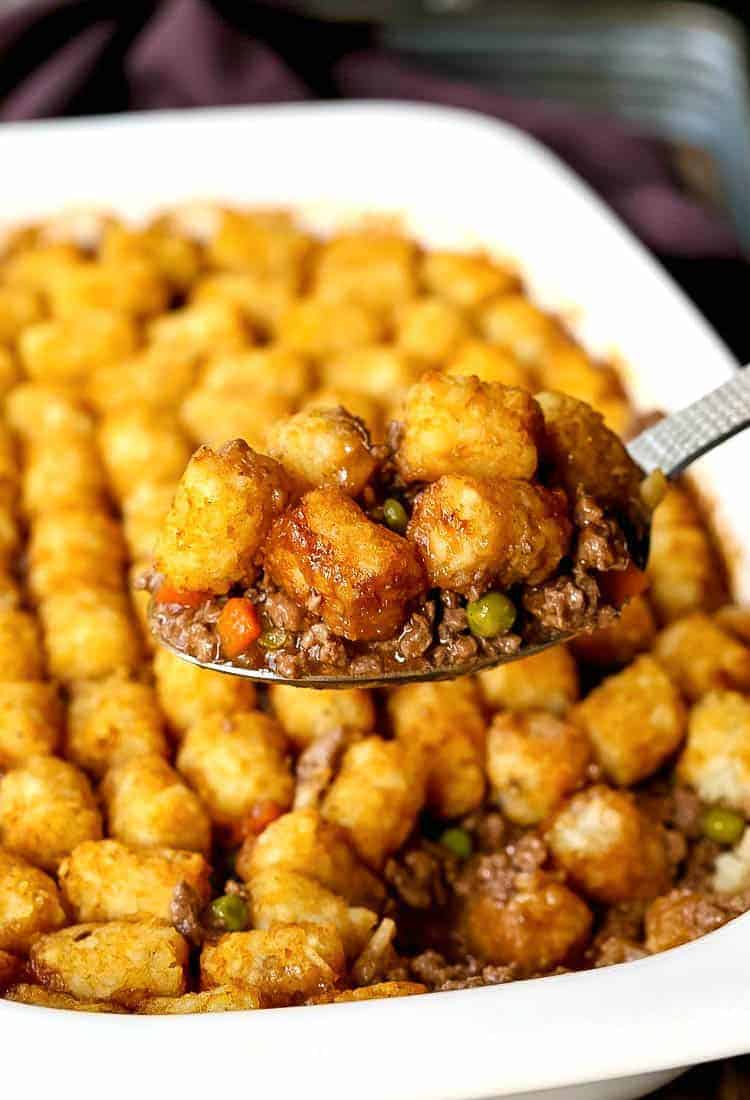 Ground Beef Tater Tot Casserole
This Ground Beef Tater Tot Casserole is an easy casserole recipe that's on the table in minutes! Crispy tater tots top a beef filling mixed with gravy!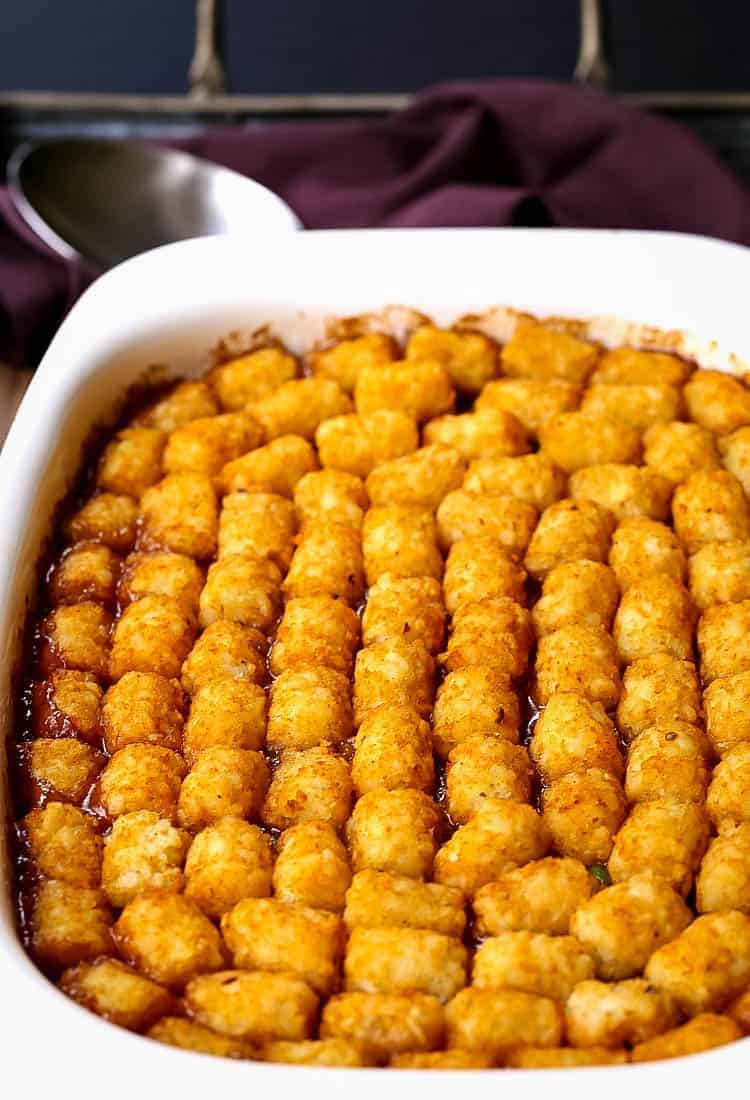 If there's one thing we know how to do it's comfort food.
There's not much more I can think of that says comfort (to me) than meat and potatoes. I've always been a meat and potatoes guy and I always will.
Not to say that there aren't other comfort food recipes to love besides meat and potatoes. In fact I made a whole list here of my favorite comfort food dinner recipes, so you can go check that out when you have a chance.
Maybe you're looking for some slow cooker comfort food recipes? I've got you covered there too. Cocktails, and comfort food – I'm you're guy.
Well now that I'm getting started though I'm also your low carb recipe guy too. Low carb recipes that don't mean just salad.
Seems like almost every low carb recipe I find is some sore of salad and I'm not a big salad guy so I came up with my own Low Carb Recipes that I actually want to eat.
But a crispy tater tot casserole recipe with a beef filling…bubbling with brown gravy? That's my jam.
Let's switch gears back to the meat and potato tater tot casserole here because that's what we're really here to talk about.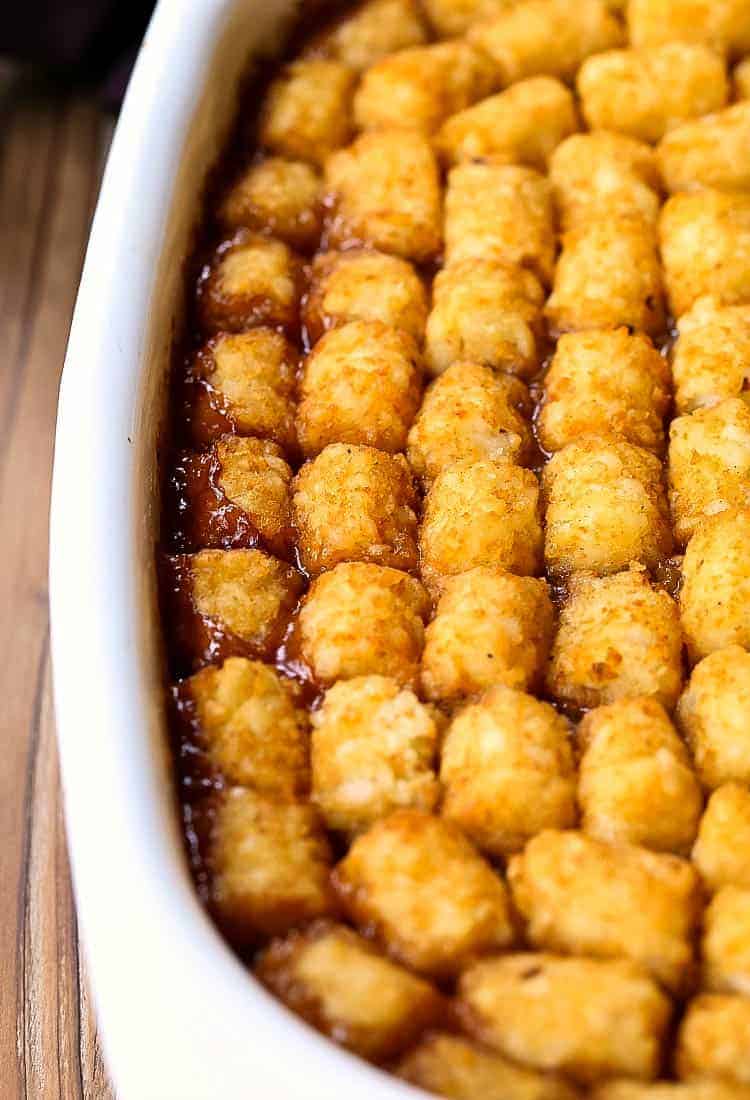 This Ground Beef Tater Tot Casserole recipe is  also crazy simple to make. You really just need to cook up the beef filling, which only takes about 15 minutes, then stir it together with a couple of jars of store bought gravy.
Couldn't be easier than that. My teenager can even do it, and he loves it so much that he will make it for himself or for he and whatever friend is hanging around.
Layering the tater tots on top of the beef filling will probably take the longest, but you can call the kids in the kitchen to help you with that part.
It'll be the highlight of their night, I'm sure. Make them do it anyway…you'll get some creative tater tot design ideas totally IG worthy!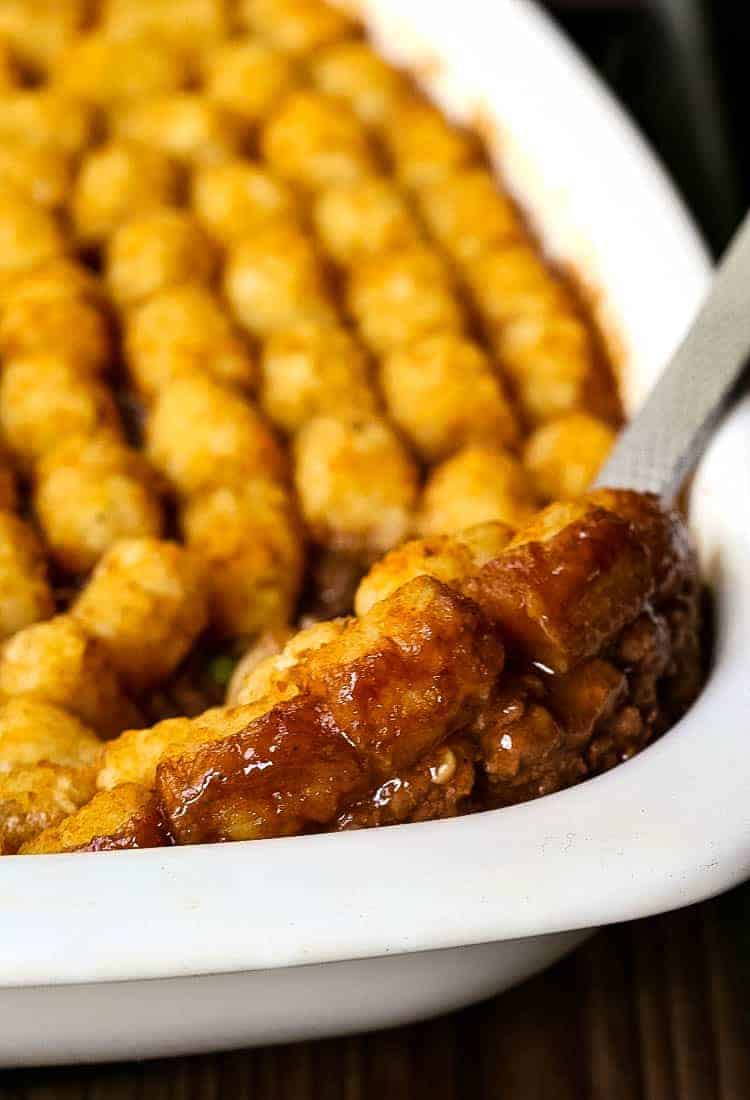 Get this tater tot casserole in the oven to bake for 30-35 minutes until the tater tots are golden brown and that beef filling is bubbling up with gravy.
Depending on the frozen tater tots that you are using, you might need a few more or a few less minutes in the oven to get the tots crispy and brown.
Now call the kids over if they aren't standing there hovering already…because they are going to want this dinner more than they know.
Just to let you know how good this dinner casserole is, my little guy still doesn't like peas. He eats plenty of other vegetables and a salad with dinner every night but peas are a hard no for him.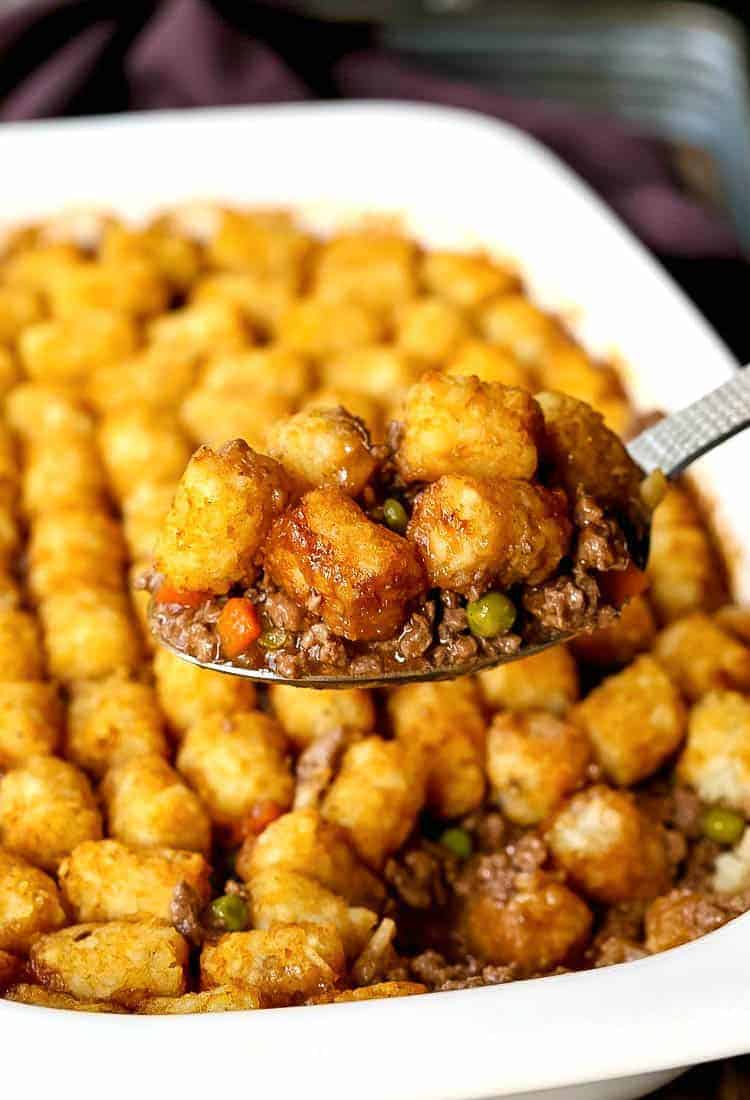 Unless it's in this Ground Beef Tater Tot Casserole because it's so good he can't be bothered to stop and pick them out of there!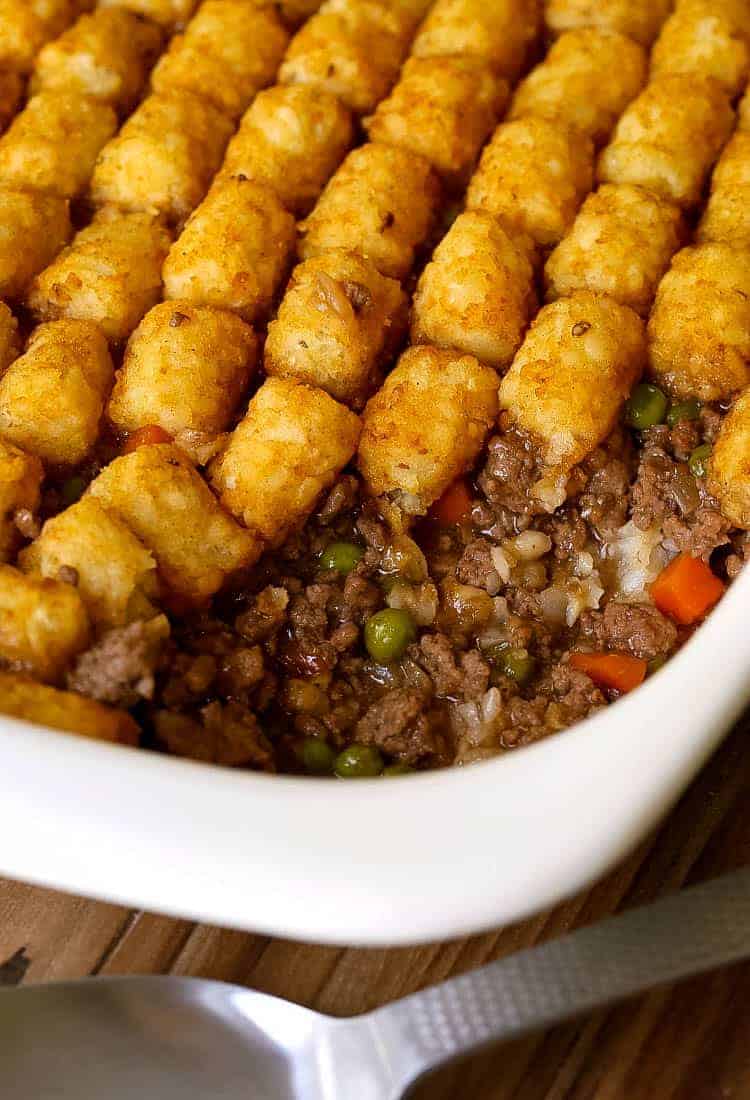 You can also make this tater tot casserole ahead of time, cook it through, let it cool and then freeze it! Put it in a 375 oven covered for 45 minutes and dinner is served!
Print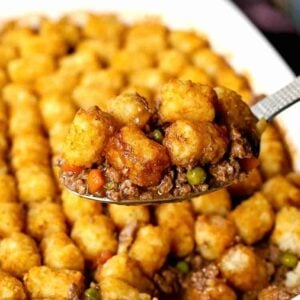 Ground Beef Tater Tot Casserole
Author:

Prep Time:

15 minutes

Cook Time:

35

Total Time:

50 minutes

Yield:

6

Category:

Dinner

Method:

oven/stove top

Cuisine:

American
---
Description
This beef tater tot casserole is a super easy dinner recipe that your whole family will love! Crispy tots on the top with a gravy and  beef filling inside!
---
Ingredients
2 tablespoons olive oil
1 cup diced onion
2 garlic cloves, chopped
2 pounds ground beef
1 teaspoon kosher salt
1/2 teaspoon ground black pepper
1 tablespoon worcestershire sauce
2 tablespoons tomato paste
2 (12 ounce) jars of beef gravy
2 cups frozen peas and carrots
1 (28 ounce) bag tater tots
---
Instructions
Preheat the oven to 400 degrees.
Add the oil to a large skillet over medium heat.
Brown the onions with the garlic for 5 minutes, stirring often until softened.
Add the beef to the skillet, breaking up with a spoon and cooking until no pink remains, about 7-8 minutes.
Drain any grease from the skillet then add the salt, pepper, worcestershire sauce and tomato paste and stir to combine.
Pour in the gravy and stir into the beef mixture.
Bring the beef to a simmer then add the frozen peas and carrots. Stir to combine with the filling and to defrost slightly.
Pour the filling into a 9″ x 13″ casserole dish that's been sprayed with cooking spray.
Add the frozen tater tots on top of the beef filling, arranging in a single layer.
Bake for 35 minutes until the tater tots are golden brown and the filling is bubbling.
Keywords: hotdish, tater tot hotdish, tater tot casserole, easy dinners, easy recipes, ground beef recipes, casserole recipes