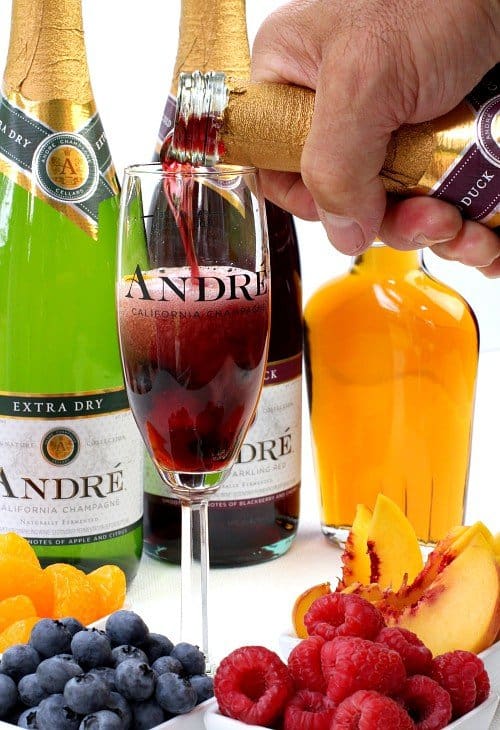 I'm making this Champagne Sangria with the help of Andre Champagne! It doesn't have to be fancy for it to be good, check out how fun this is!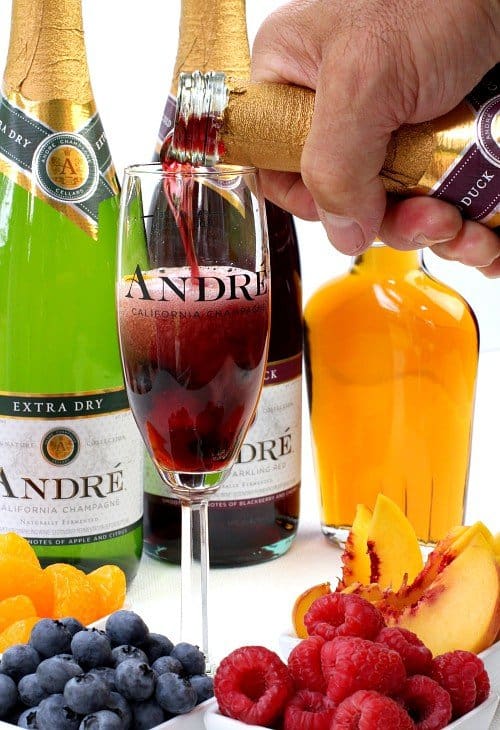 Champagne isn't just for brunches or weddings or celebrating a happy occasion. To tell you the truth, we drink champagne in our house just on a random Tuesday night – or Wednesday…whatever night you feel like popping a bottle. We break it out for all those other fun nights too but we don't save it just for celebrating.
For my next party I thought it would be fun to set up a Champagne Sangria bar so that my guests can make up their own drinks without me playing bartender all night. Not that I mind doing that, but sometimes it's fun to get a break and enjoy your own party too!
I chose to make this sangria bar epic with Andre Champagne. It's totally affordable, tastes amazing, and there's a flavor for everyone. My sangria preference is red, so Cold Duck was the way I decided to go…but grab a few bottles for your bar. The André Extra Dry and Andre Brut work well too, since the fruit will sweeten it up.
And for mix-ins? I went with brandy. It's my way of making this champagne drink work for both the men and the ladies…something for everyone, right?
Here's what you do.
Set out your glasses and fill them with an assortment of fruit and fill them 1/4 of the way with brandy. If you use these fun André champagne glasses it has a line to tell you right where to fill up your mix-in.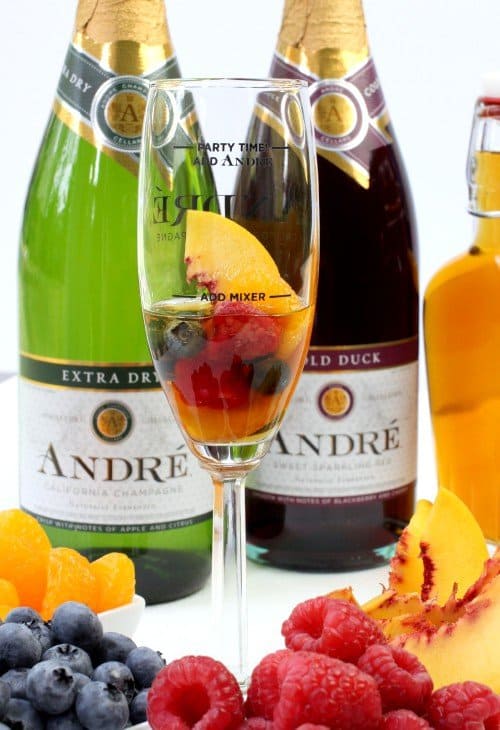 Let the glasses sit out on your bar about a half an hour before party time. That way the fruit will soak up the brandy a little and be ready for the champagne.
Then let your guests take control, they can grab whichever champagne they like and top off their glasses.
Talk about kicking your sangria up a notch – Make your party epic with André Champagne!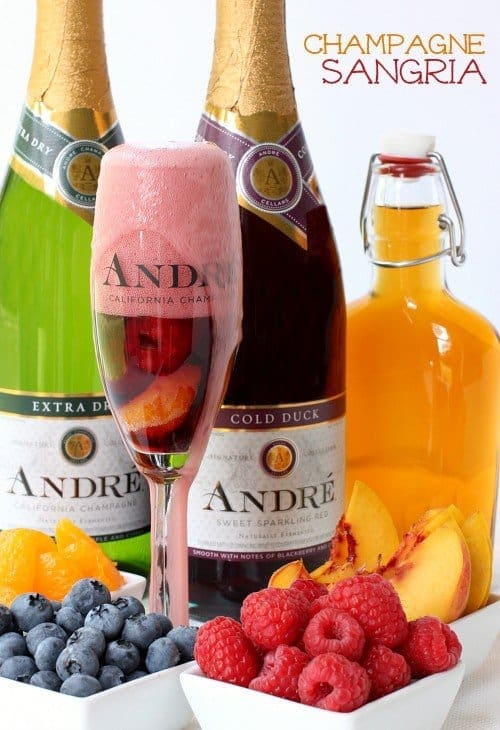 Print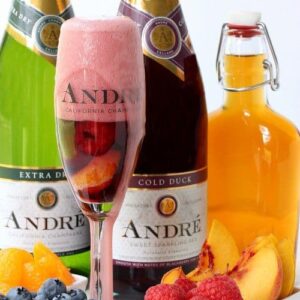 Champagne Sangria
Author:

Yield:

1
---
Ingredients
Assortment of André Champagne (I used Cold Duck for a red and the Extra Dry for a white)
Brandy
Raspberries
Blueberries
Sliced peaches
---
Instructions
Put a couple of blueberries and raspberries and a slice of peach in the bottom of a champagne glass.
Fill with 1 ounce of brandy.
Top with champagne.
---
Notes
If setting up a sangria bar, set out all the glasses a half an hour ahead of time and add the fruit and the brandy to each glass. Then chill the champagne in ice buckets and let your guests pour their own!