Our Vacation to St. John is going to make you wish you were there right now on those famous beaches. Toes in the water and, well, you know the rest…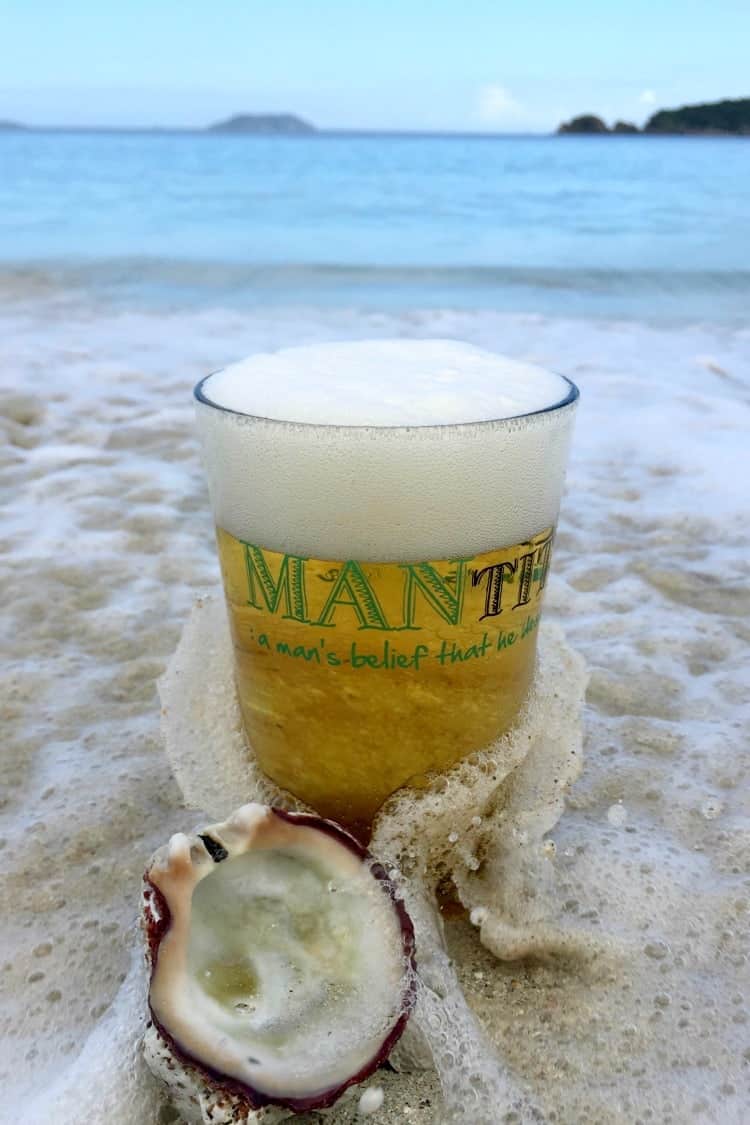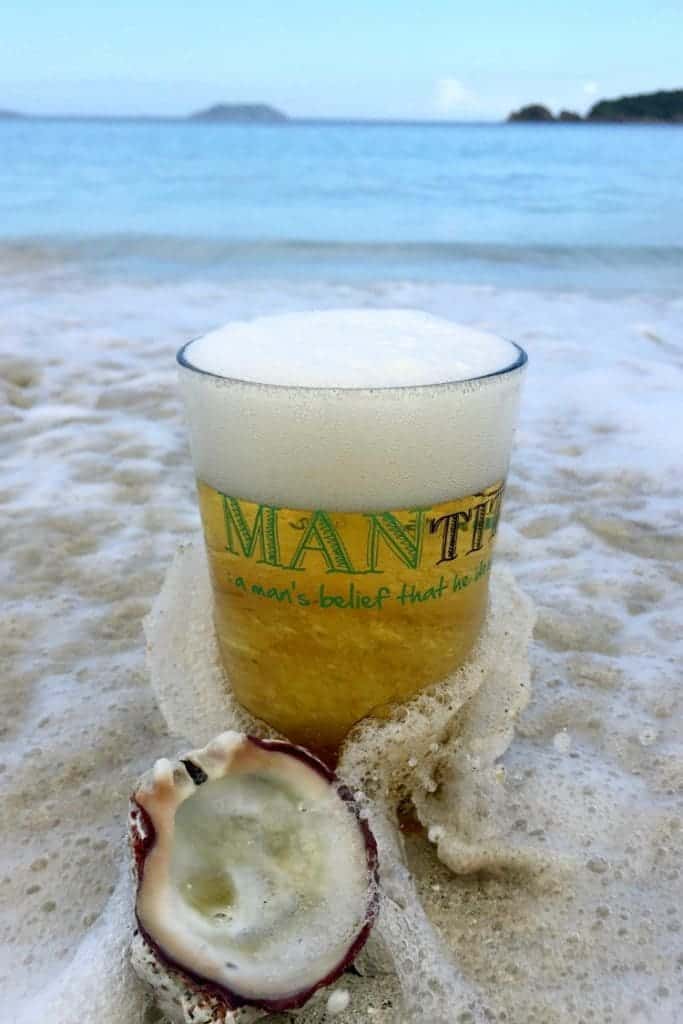 We took our second vacation to St. John this past November and it keeps getting better every time we go.
You have to fly in to St. Thomas, take a ferry over to St. John, and then once your on the island you have to take a taxi around unless you've rented a car.
The first taxi we got into had this sign taped up, just to give you some history of the island.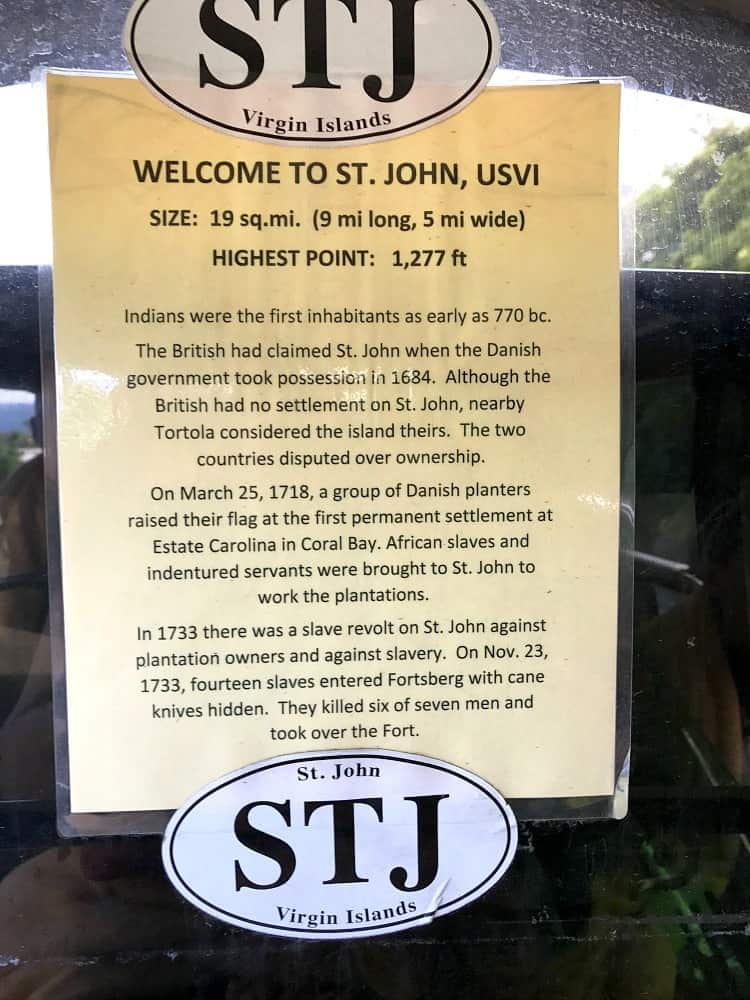 We stayed in these condos that you can see when you first take the ferry into Cruz Bay so we could walk right into town for dinner or drinks or to listen to live music at night.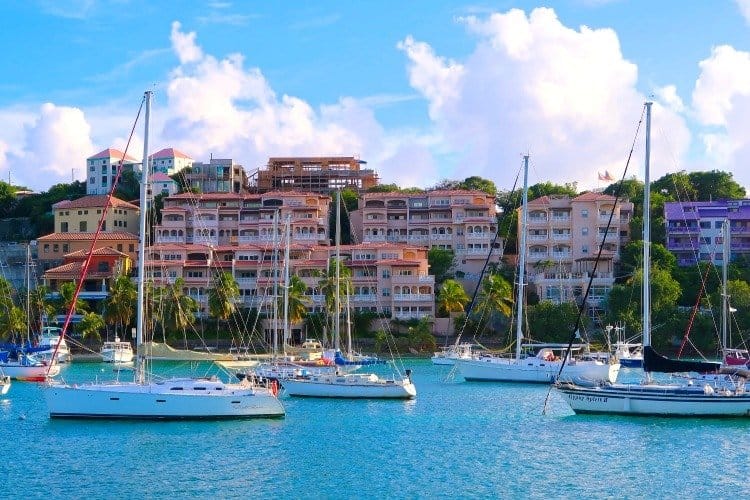 The taxis are a little expensive on St. John, so you just have to plan for that in your budget. But being able to walk right into town from our room was awesome. We were all the way on the top there – the Penthouse – the one all the way on the right.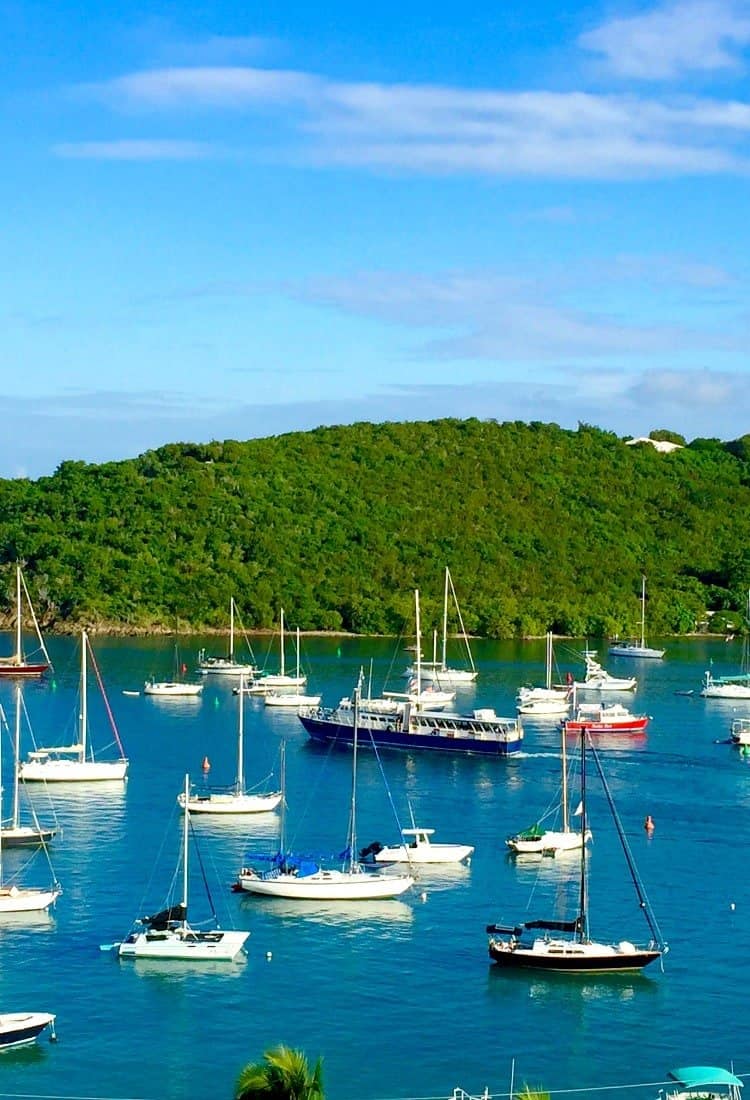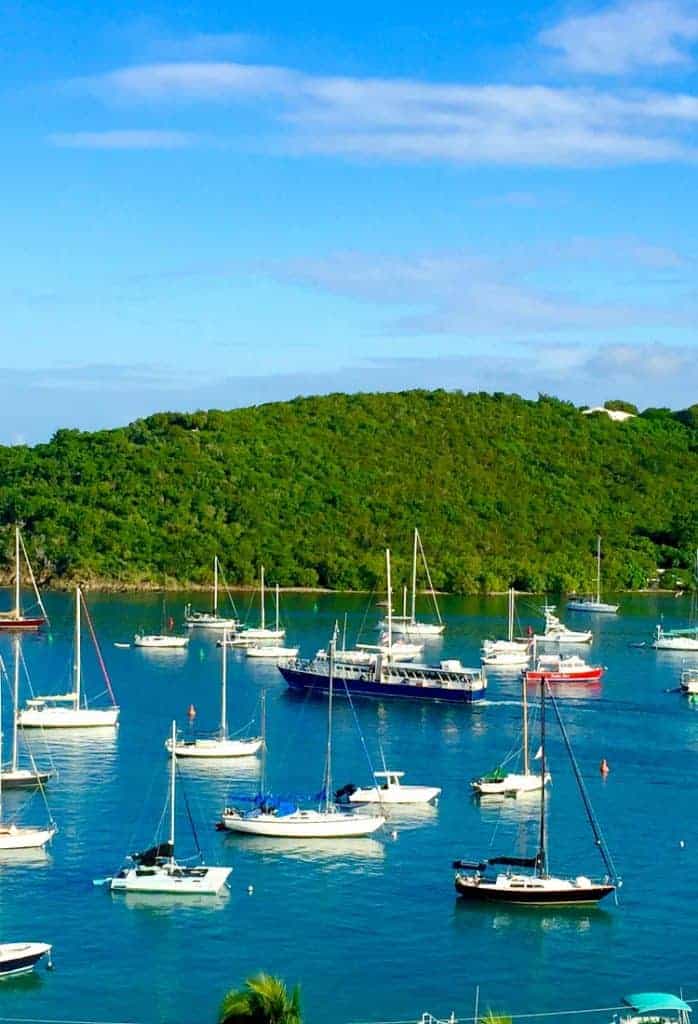 This is a view from our balcony looking down into Cruz Bay…we spent a lot of time on that balcony! Happy hour, drinks after dinner and breakfast. We ate breakfast every day out on that balcony, it was awesome.
The first day we got there, we hung out at the pool and got settled before we walked into town for dinner and drinks. We started to plan out the rest of our stay, which beaches we wanted to hit and when. Weather was not an issue, even though it called for rain every day we only got rain one day for a couple of hours in the morning.
We decided on Cinnamon Bay for the first day, but had to snap this picture of Trunk Bay on the way out. We spent lots of time at Trunk Bay on our last visit so I know we had to get there at least once this time too.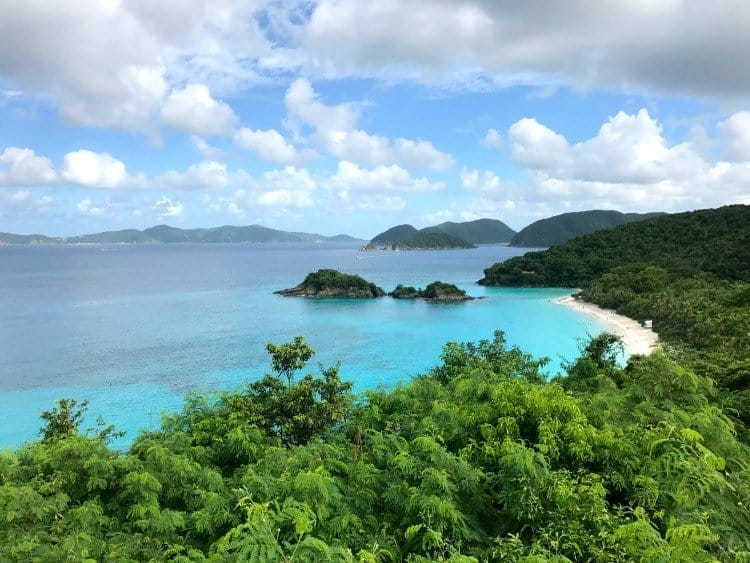 Cinnamon Bay was new for us, but it was a favorite beach for our friends that we were traveling with so we took their advice and headed out.
And man, am I glad we did. It was even nicer than Trunk Bay and I really didn't think that was possible.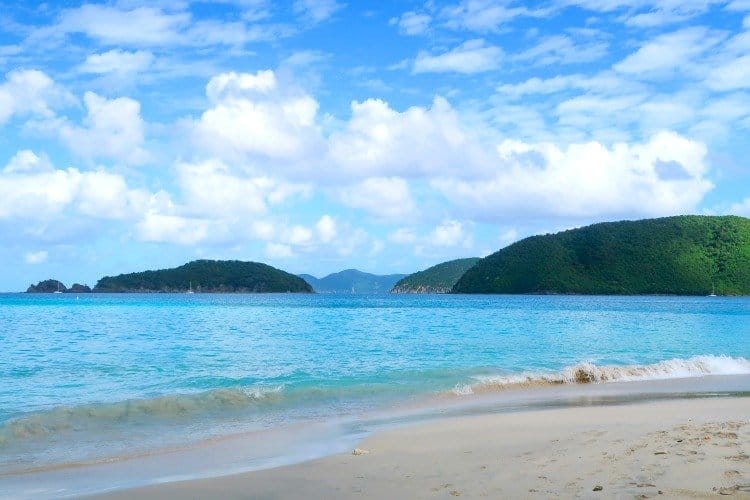 The beaches on St. john are unlike any I've ever been to before. The water is perfect, and usually pretty calm, it's obviously beautiful and the best part – it's never really that crowded! Even when it's a cruise day, you're really not feeling like the people next to you are right on top of your space.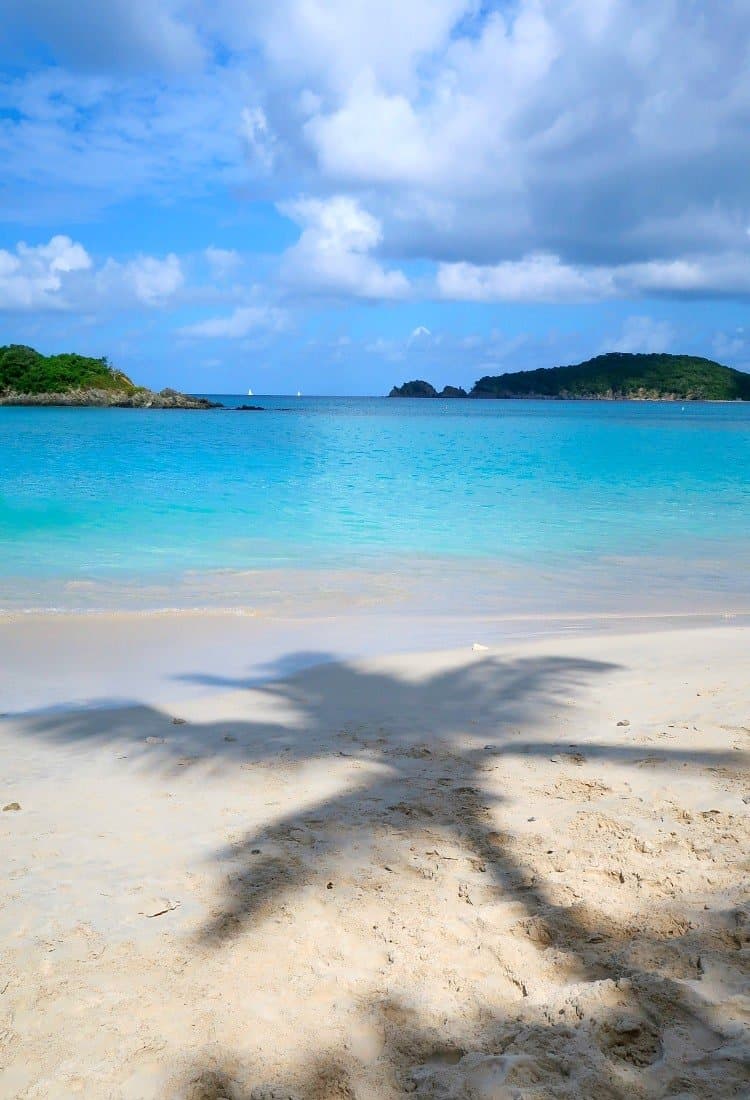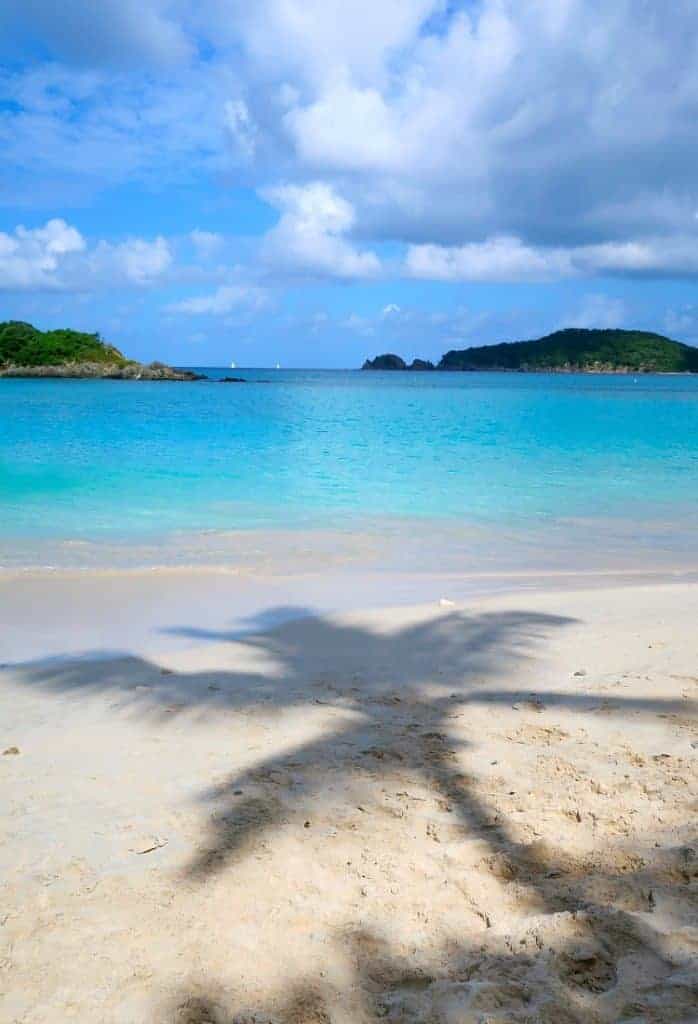 It was more crowded in the morning but these are some picture from about 2:00 in the afternoon, and as you can see there was no one in sight. The kids played on the beach all day and in the ocean, you could snorkel and see tons of fish or just hang out on a noodle like I did most of the time. The boys got in their relaxation, too.
Tyler built his own sand chair here to take a nap on.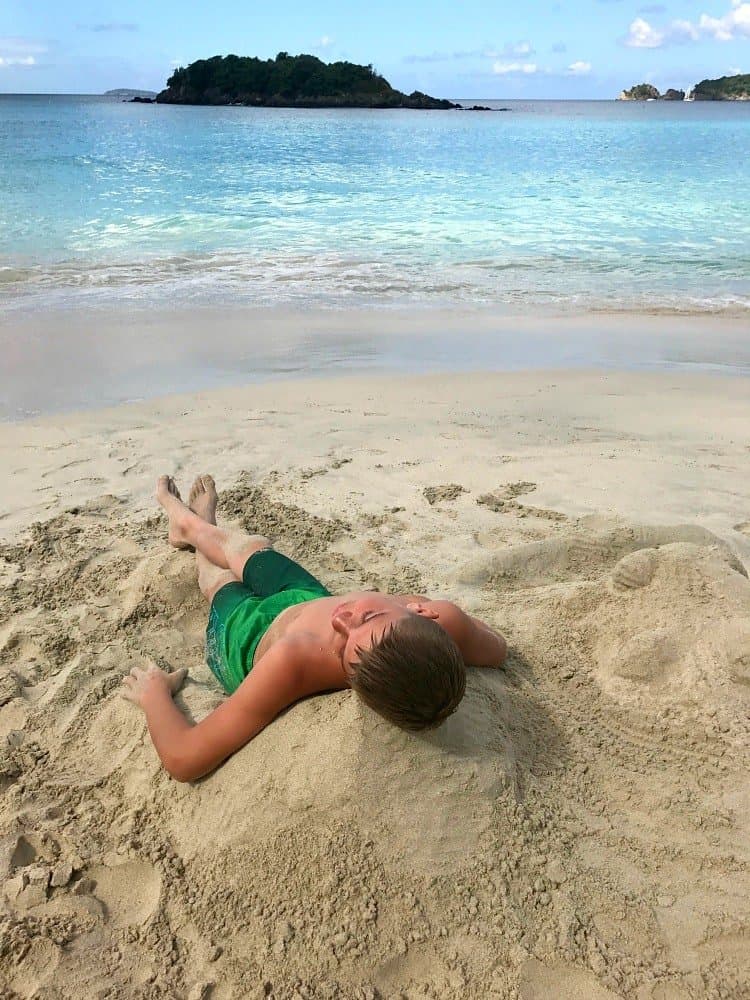 On night we grabbed take out from Uncle Joe's BBQ right in town and hung out in the Penthouse on the balcony.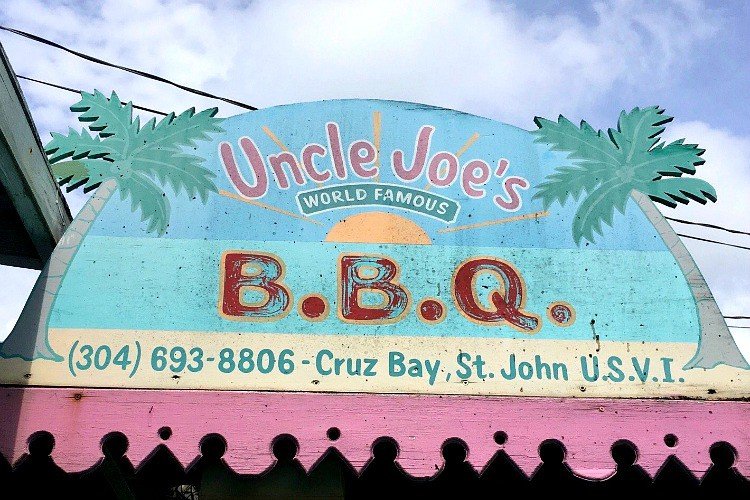 The BBQ chicken was awesome and the sides were just as good. Of course we had a few cocktails to go along with all that good food too…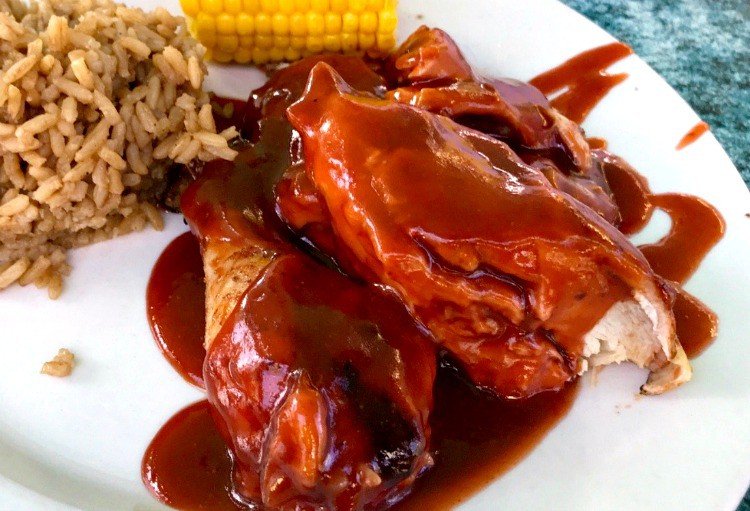 I made these Pineapple Upside Down Shots for my friends to enjoy (myself included of course) Some Crown Royal Vanilla, pineapple juice and Cake Vodka. Washed down with a cherry.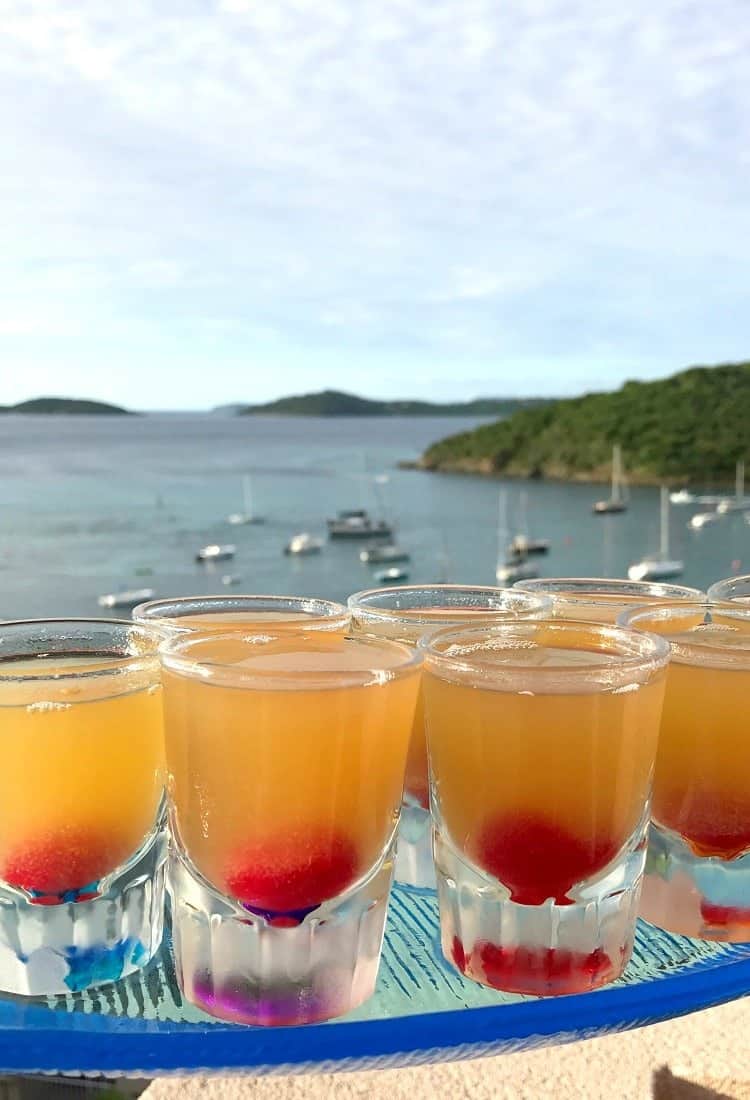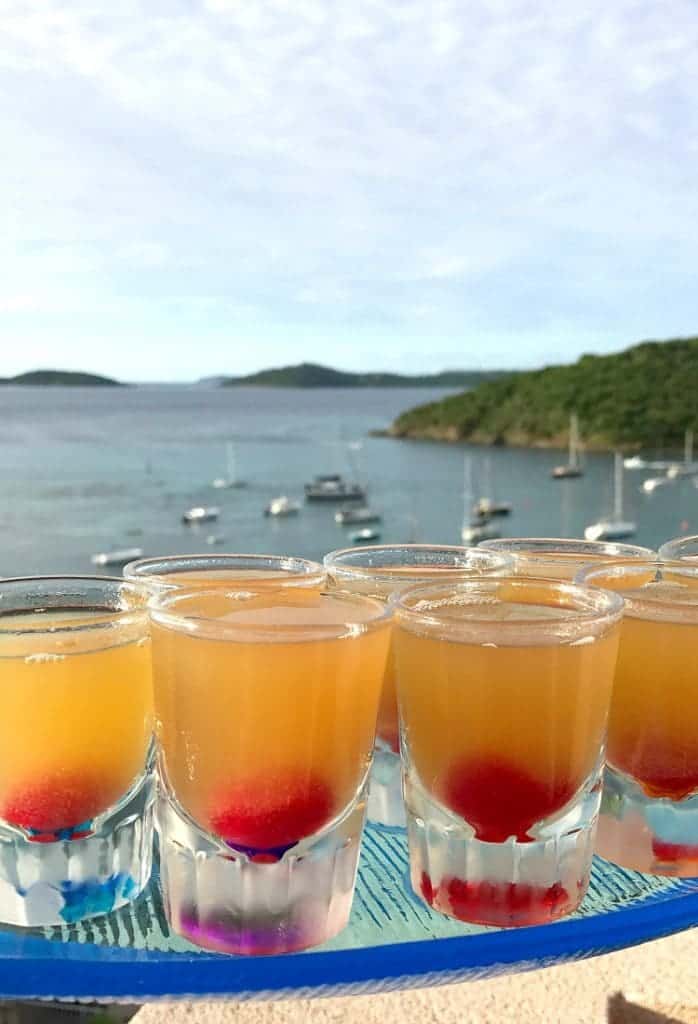 I decorated the balcony in a pirate theme for our happy hours, I like to have a theme and a pirate one seemed appropriate.
You can follow up those shots with a boozy dessert that tastes just like them, Pineapple Whiskey Upside Down Cakes, those were GOOD. It seemed to be a whiskey theme that night, along with the pirate theme.
DOn't worry, we did manage to get some rum in too while we were there. They even offer you free shots of Cruzan Rum as soon as you get off the airplane!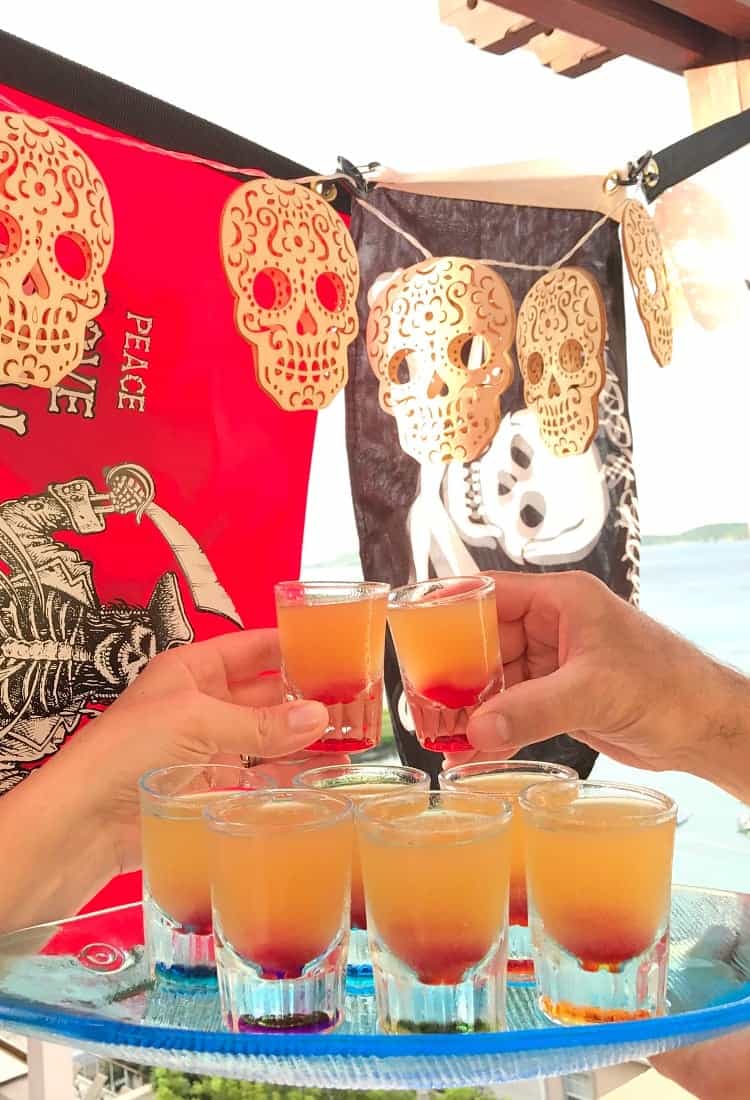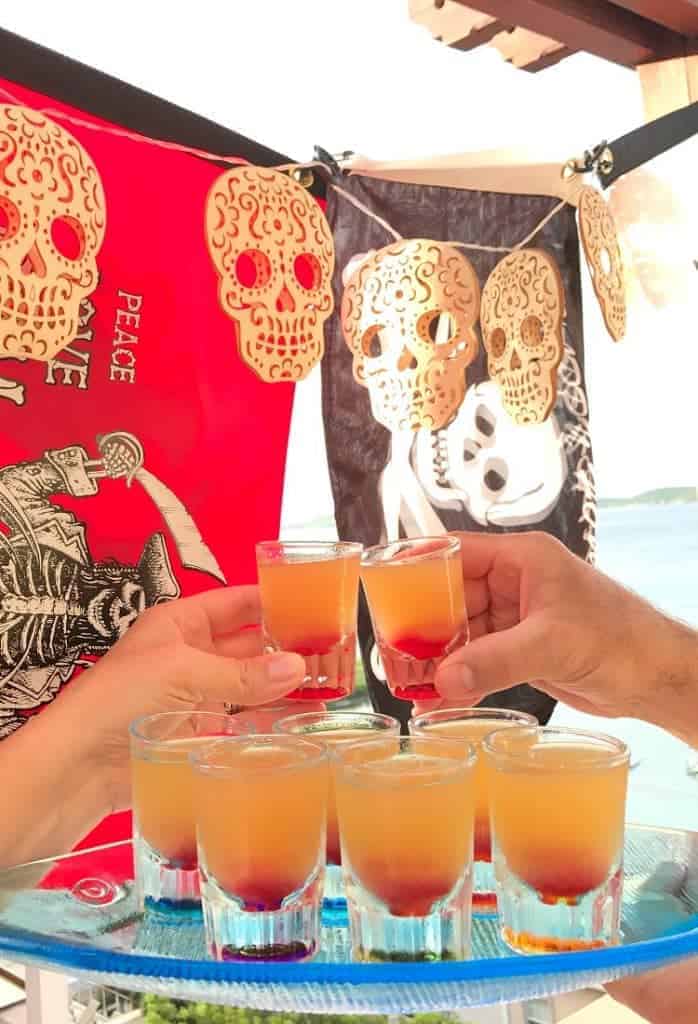 The next day was the beach again and then after the beach we were thirsty, so we hit a place called Drink on the way back to our condo. A really nice oceanfront bar that served all sorts of cocktails and had free apps for those of us that were staying in the condos. Not a bad deal at all! This was a Rum Punch, and it did have a punch…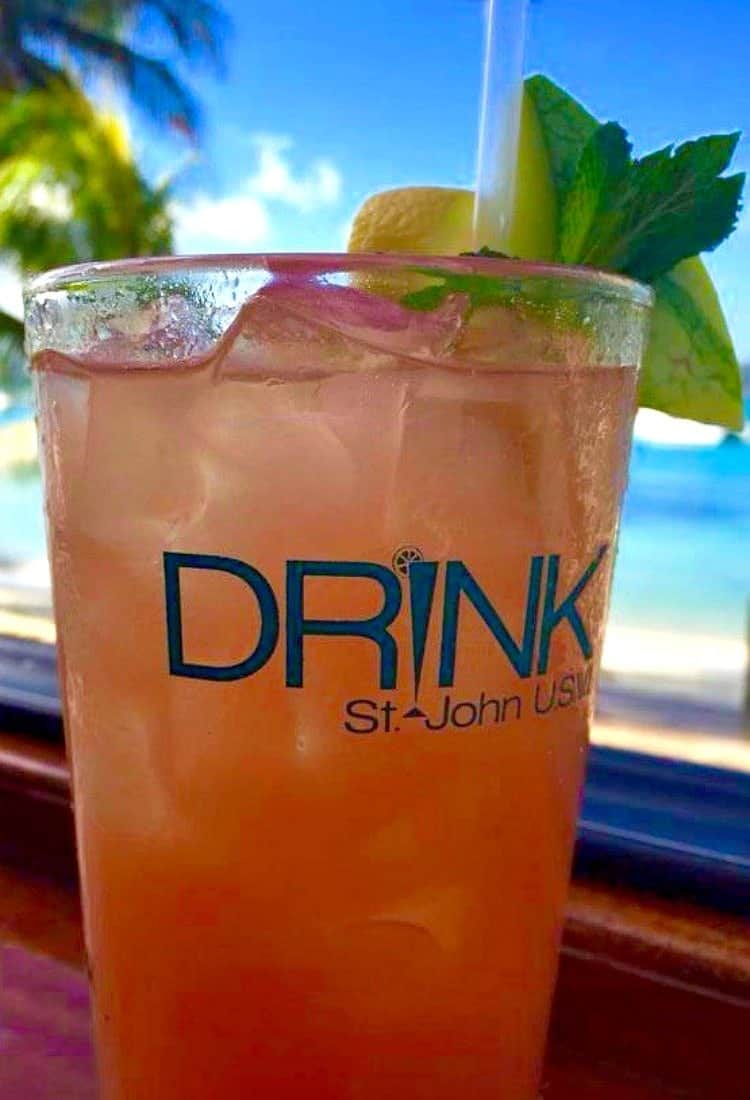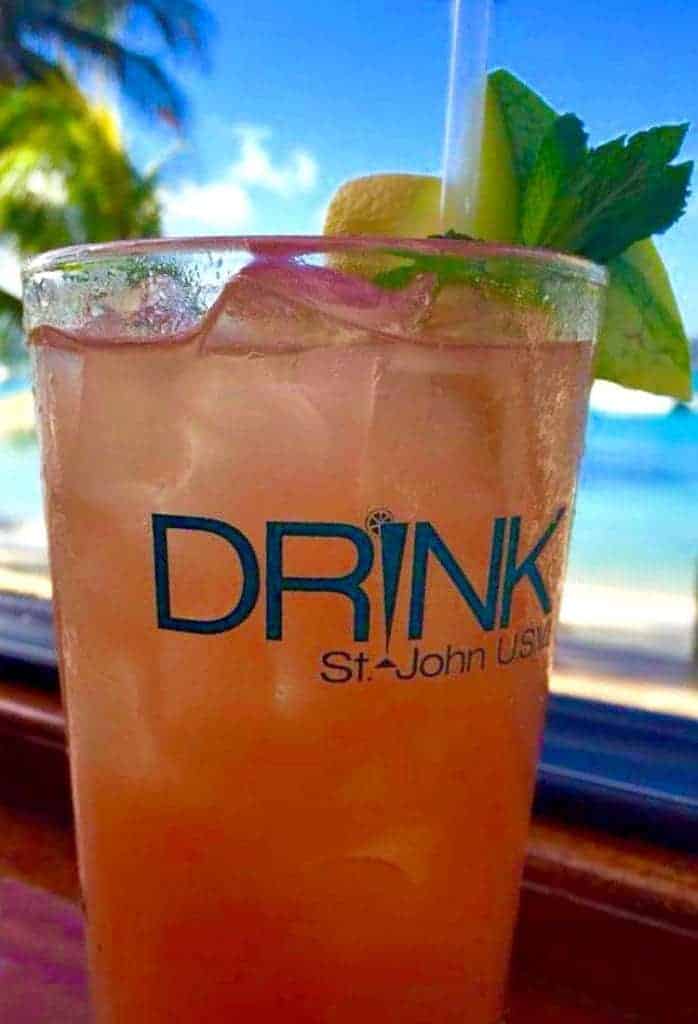 After some snacks and a drink or two, we headed back into town to the Beach Bar for another (couple) of drinks…they have great happy hour specials, sometimes 2 for 1!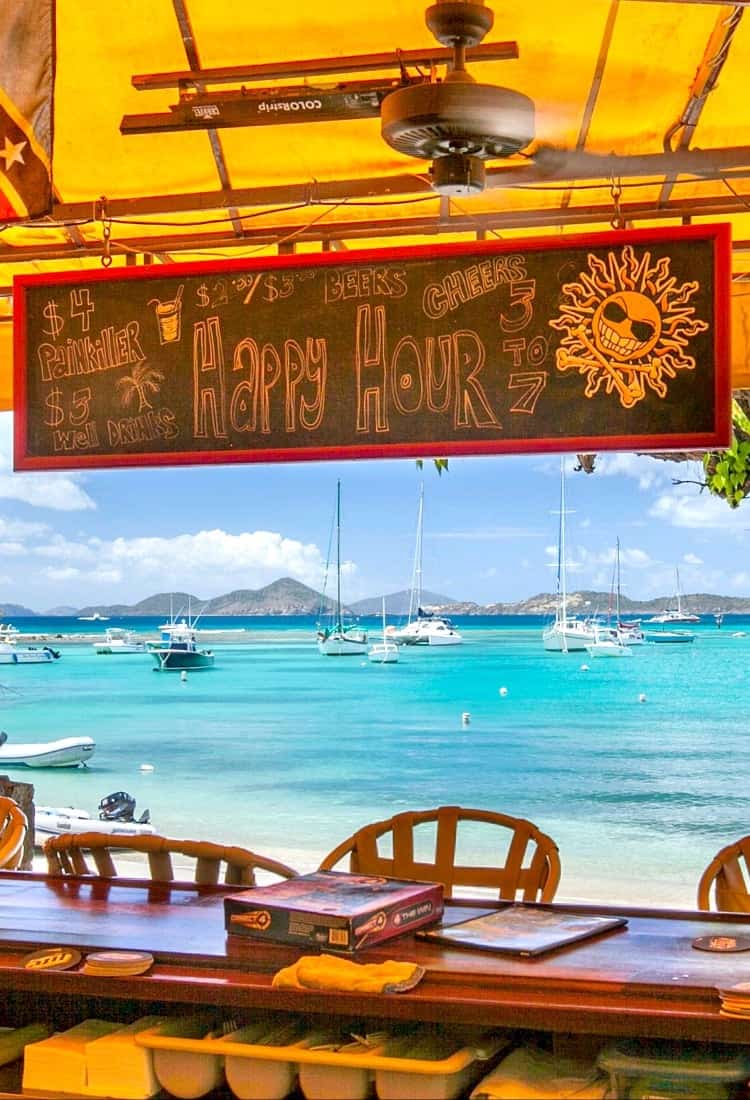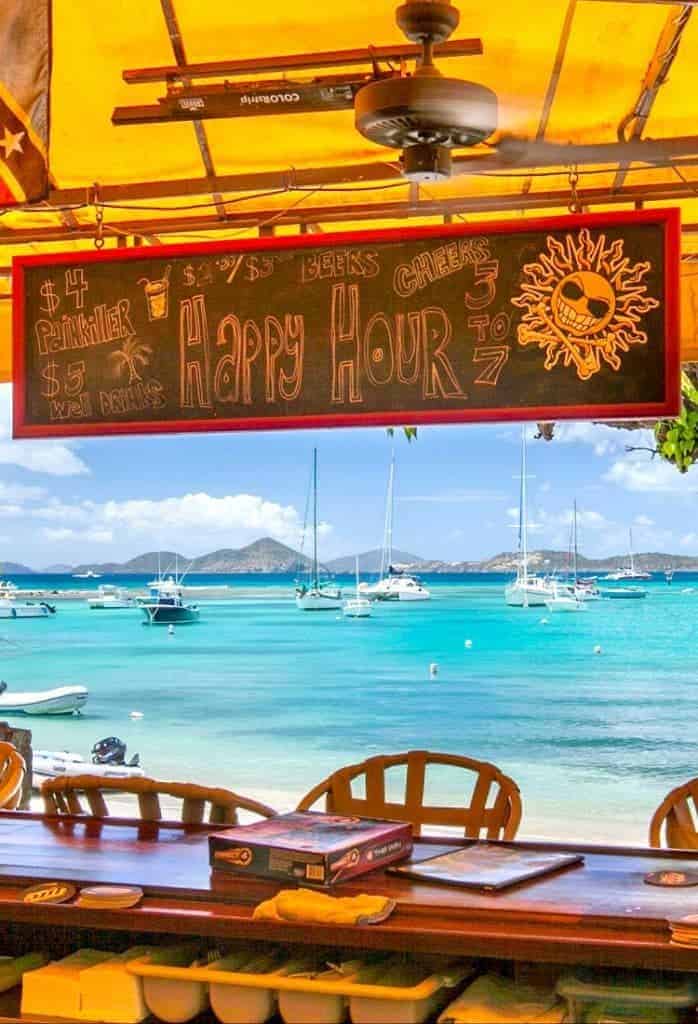 Then we walked over to Joe's Rum Hut for fish tacos.This was one of my favorite dinners on vacation – so we repeated it a coupe of days that we were there – a few beers and a couple of grilled fish tacos. It was so good, I couldn't get enough of them!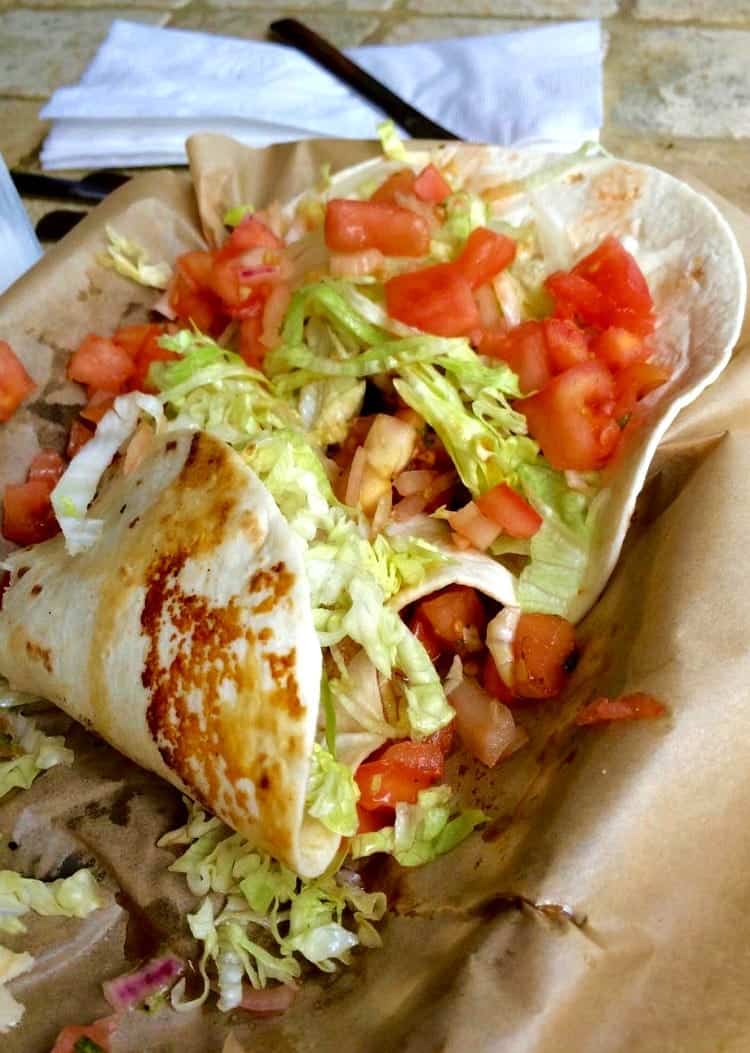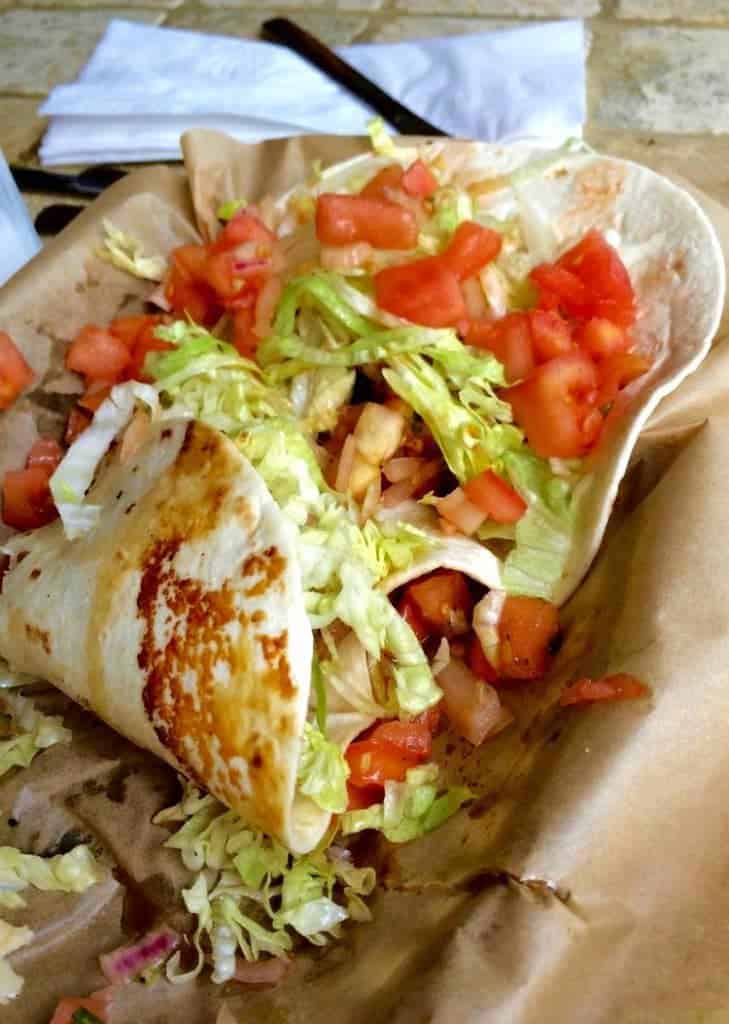 Instead of the beach one day we planned an amazing boat trip planned on a boat called The Bad Kitty. The Bad Kitty took you on a tour over to the British Virgin Islands for snorkeling, lunch and drinking on Jost Van Dyke…we'll get to that in a second.
So when the boat got to our first stop at a place called the Baths, you literally had to jump off the boat and swim to shore. Like that was the swim to shore from our boat. I was thanking god for the life jacket I had on.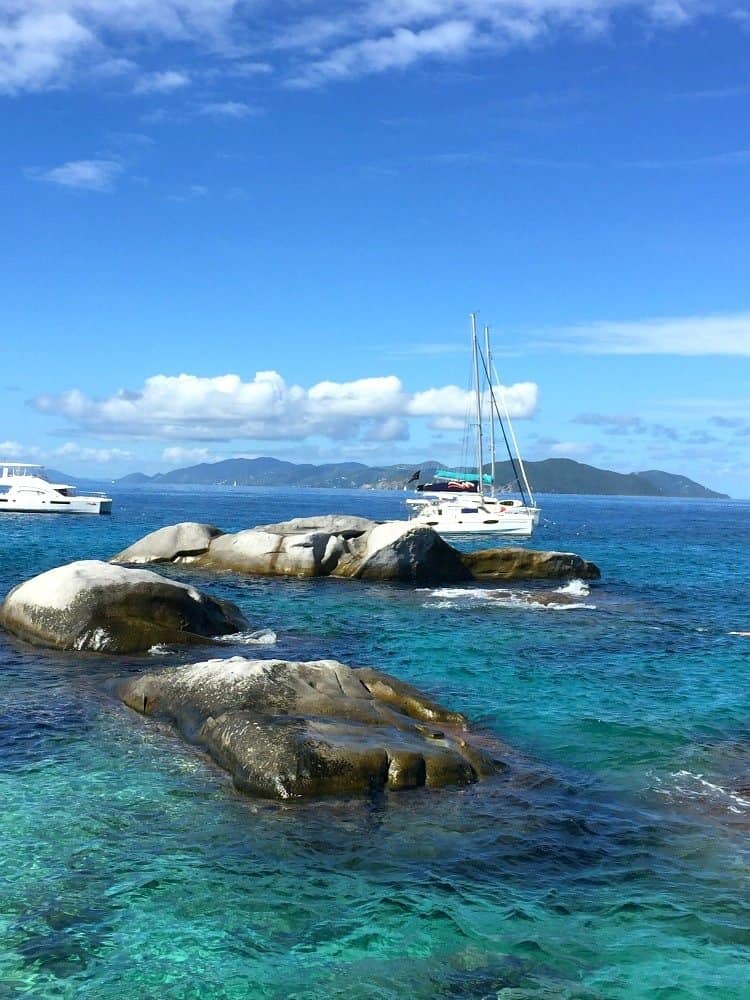 This is a picture from inside the Baths, we were told that there has been a lot of photo shots and movie scenes in here, you can see why, it doesn't even look real. It was so cool.
And yes, Evan was cold. This kid can be cold in a hot tub, I sweat to god.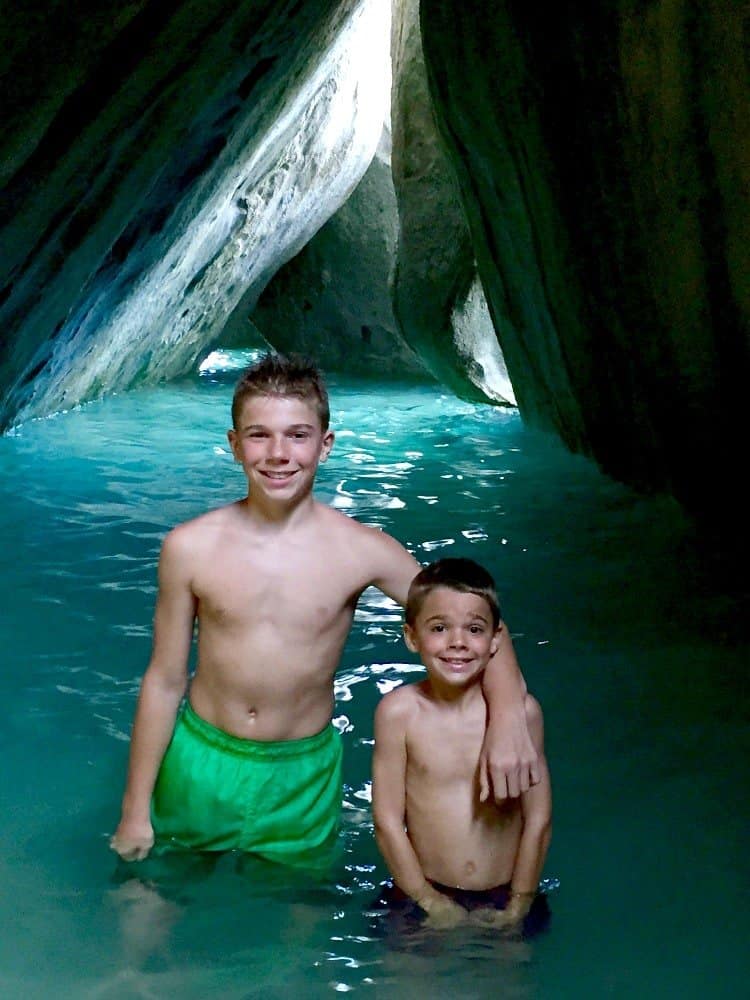 And the whole family…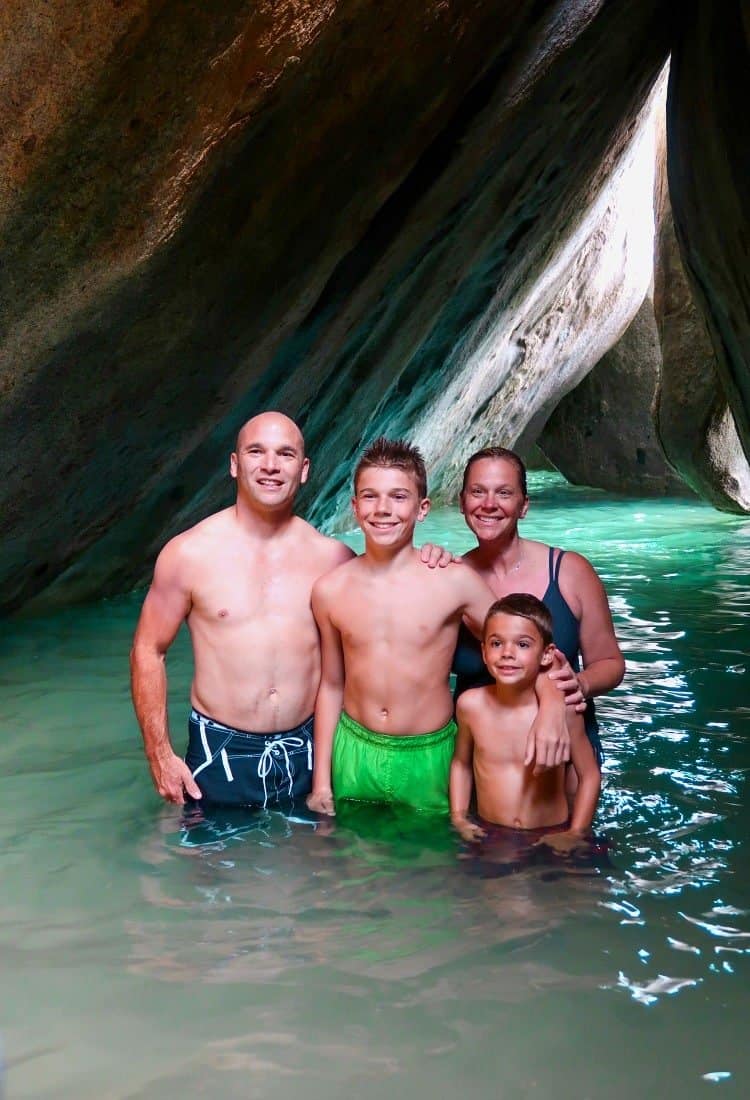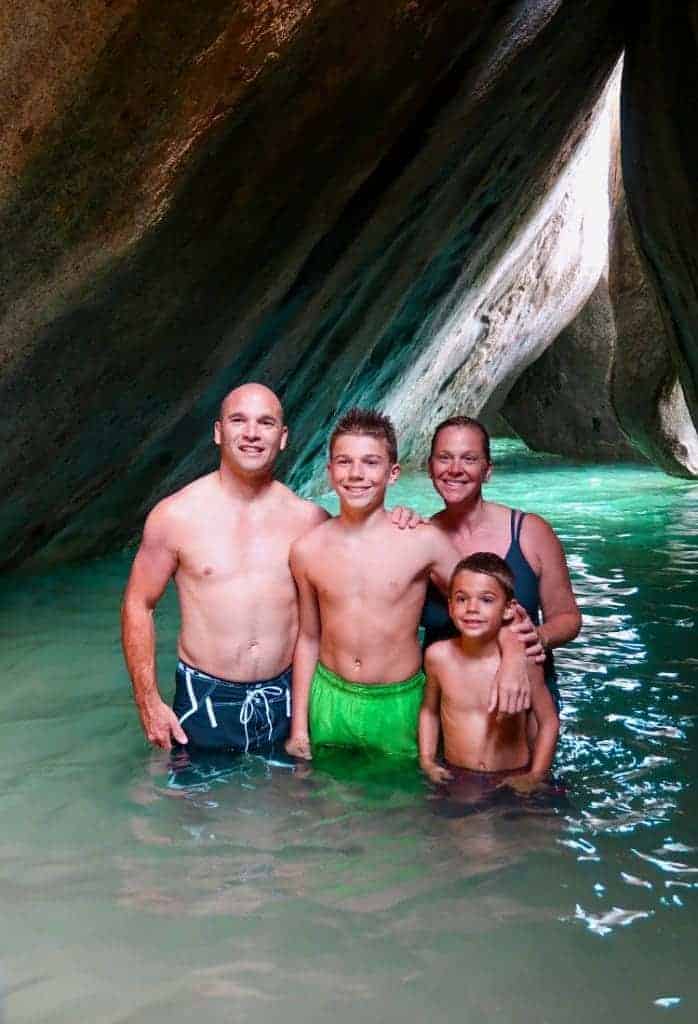 Outside Evan warmed up a little, grabbing some sun on these crazy big rocks that looked out over the ocean.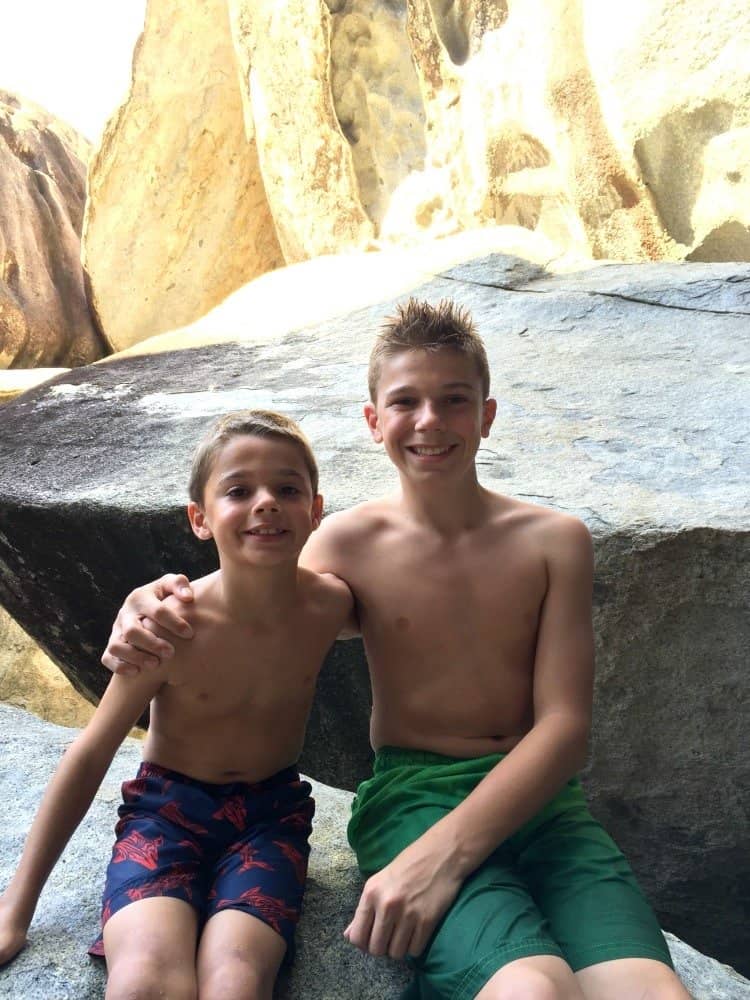 The next stop was lunch over on Cooper Island in the British Virgin Islands. This restaurant that was literally right on the beach. And a nice restaurant, too. I'm all about rum huts with plastic cups on the beach, don't get me wrong, but this place was really nice. Oceanfront fine dining – check out this order of fish and chips I had! It's the whole fish, right?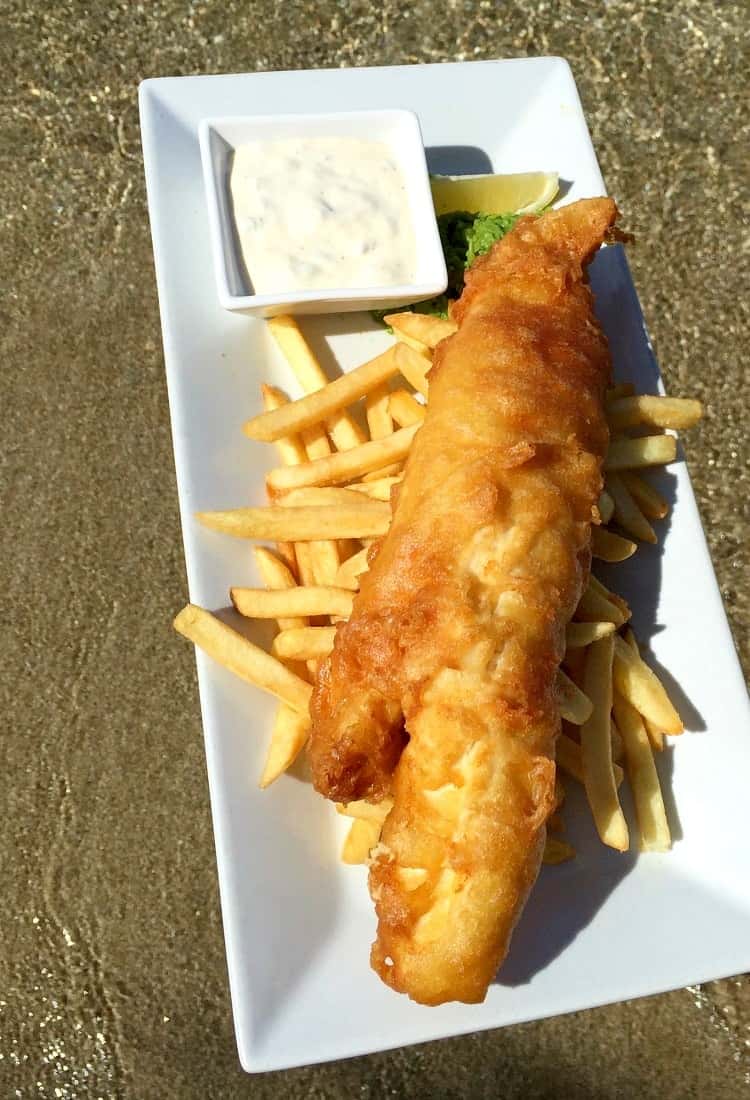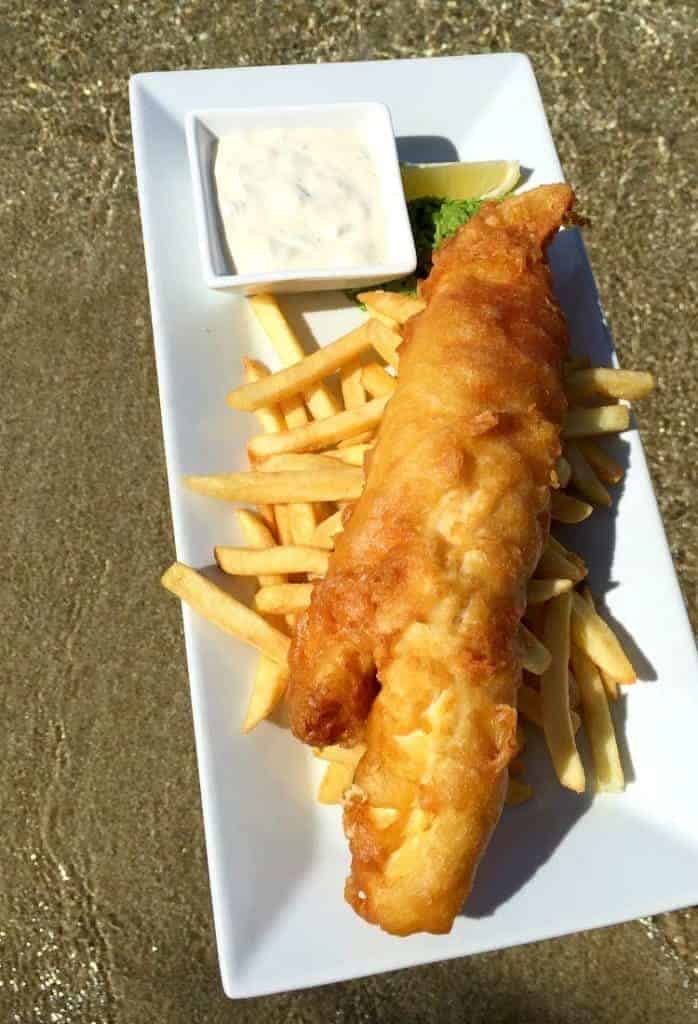 A couple of cocktails there and an amazing lunch and we were on our way for some snorkeling. So, Evan just learned to really swim (like head under the water swim) this past summer. He has told us since we booked this trip that under no circumstances ever is he going snorkeling in the ocean.
Not gonna do it.
Then all of the sudden we turn around and this is what we see…our friend actually took this one for us…
He hooked up his own gig on the boat. He decided to befriend one of the crew (Kevin) because after a few hours on the boat Evan decided that this was the guy that knew what he was doing. Not me, not my wife who is a really good swimmer, not our friend traveling with us, a former Navy diver…but Kevin.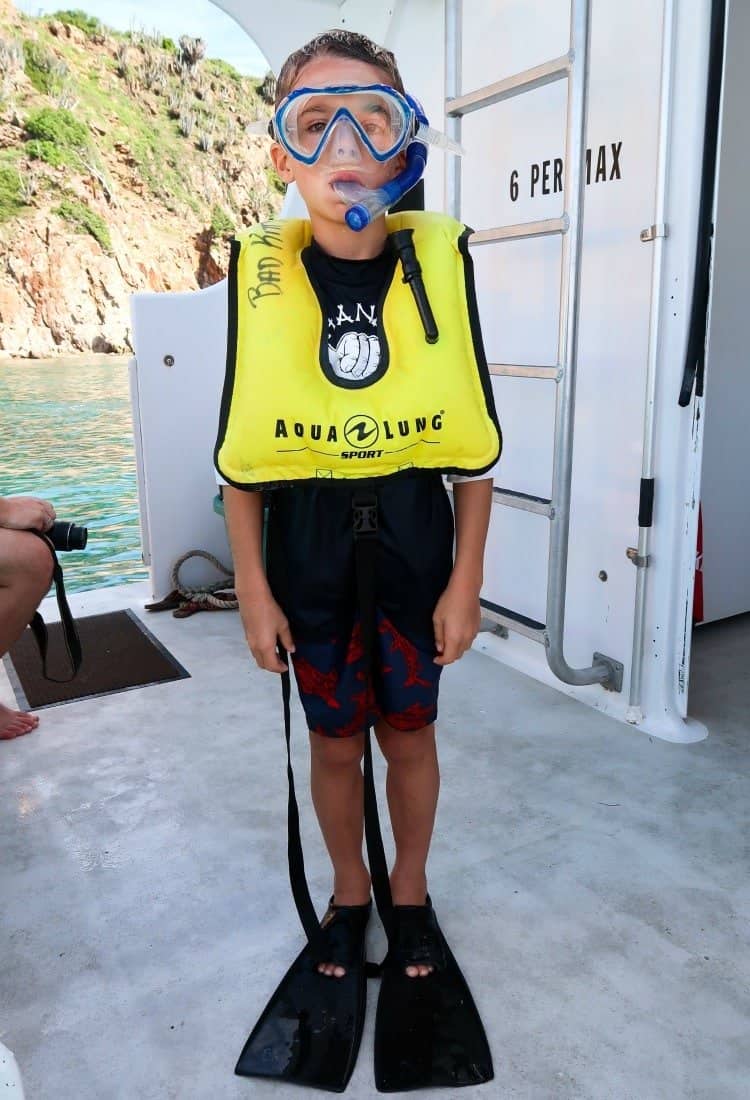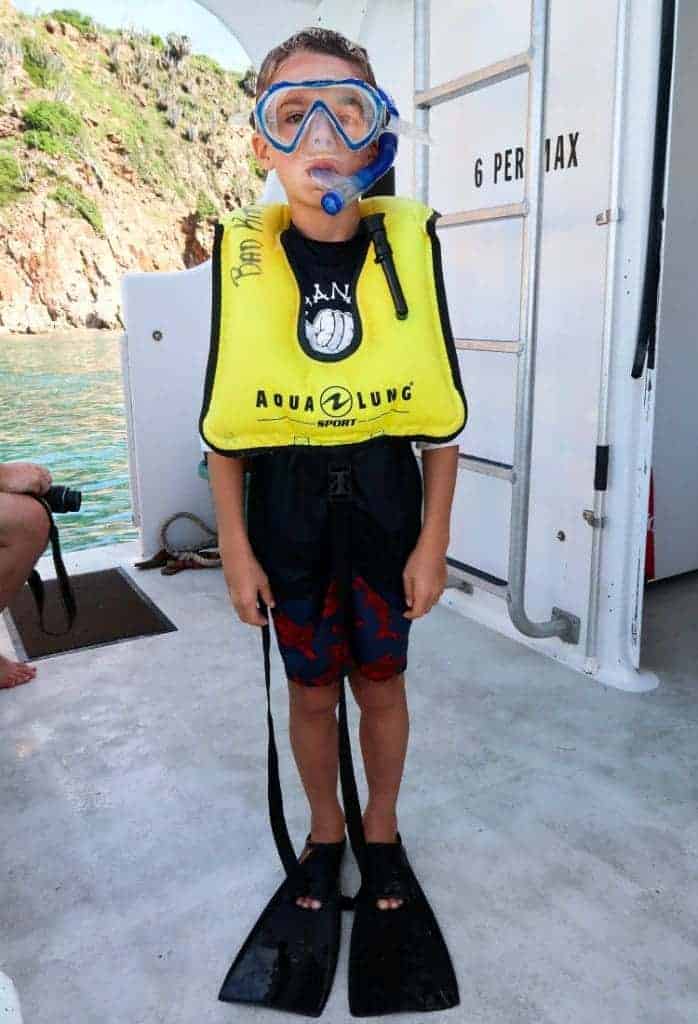 Kevin was nice enough to take Evan snorkeling with a one of those red lifeguard tubes and showed him all around. It was so nice of him, he said he normally doesn't do that but he wasn't saying no to this kid.
The next stop after snorkeling was Jost Van Dyke. I think the best island of all time. It's a very small island that has a whole line of bars lining the shore. The most famous of these is the Soggy Dollar Bar, said to have originated the drink called the Painkiller.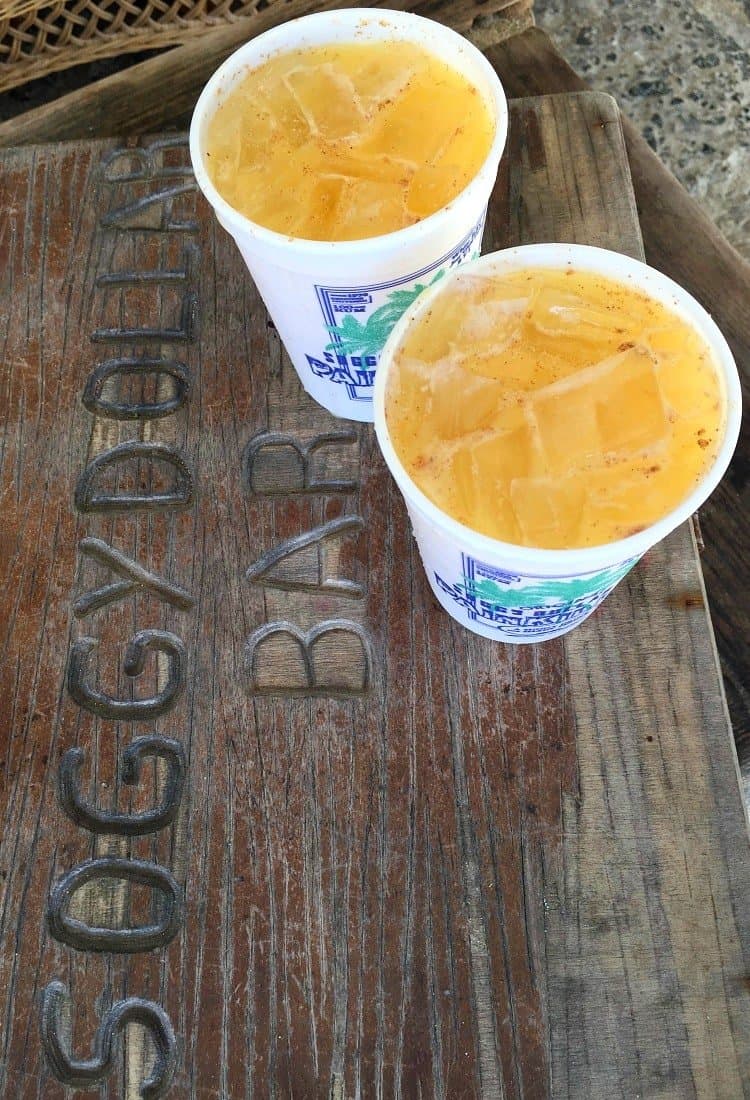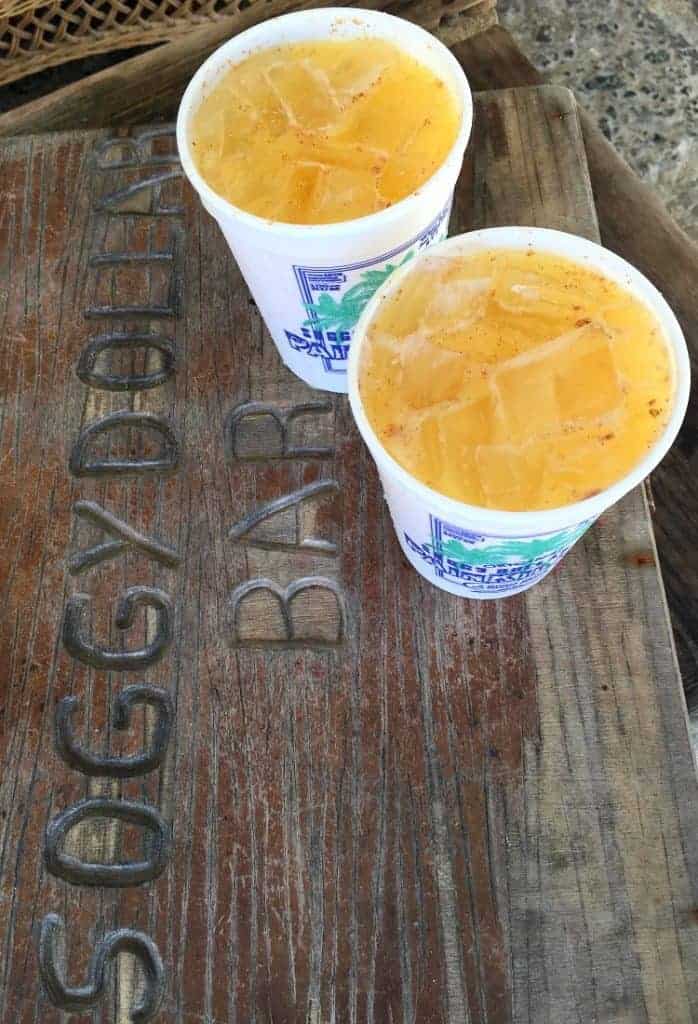 Well, we had some Painkillers, and then we had some more.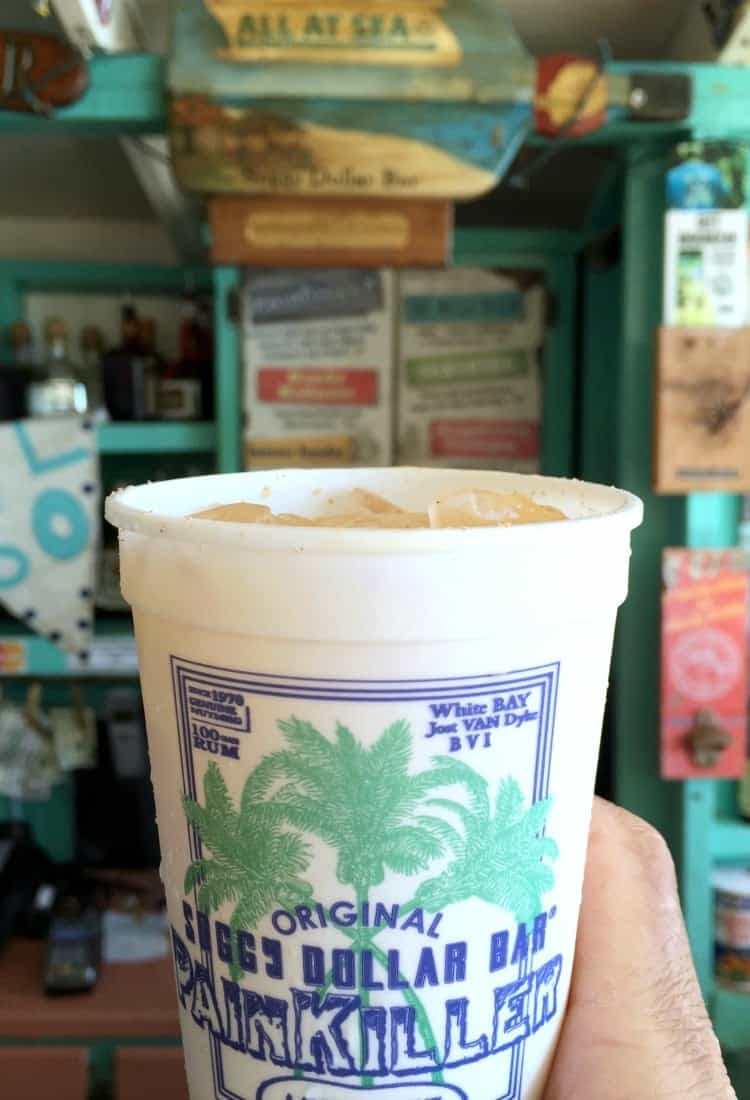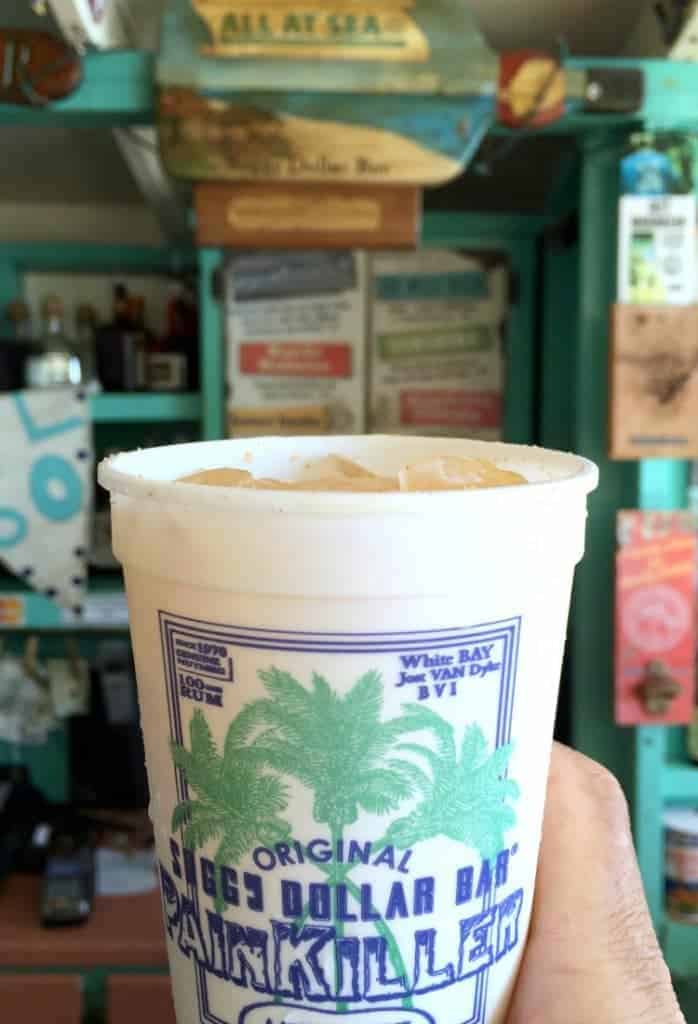 After a few rounds of Piankillers, what do you do? You find some guy hanging out in the ocean that looks JUST like Kenny Chesney. If you don't know, Kenny has a house on St. John so he's very known to this area.
It wasn't Kenny but we ended up having a few laughs and Christie took a picture. She thinks I'm crazy, I'll go up and talk to anyone.
It's all about having some fun people.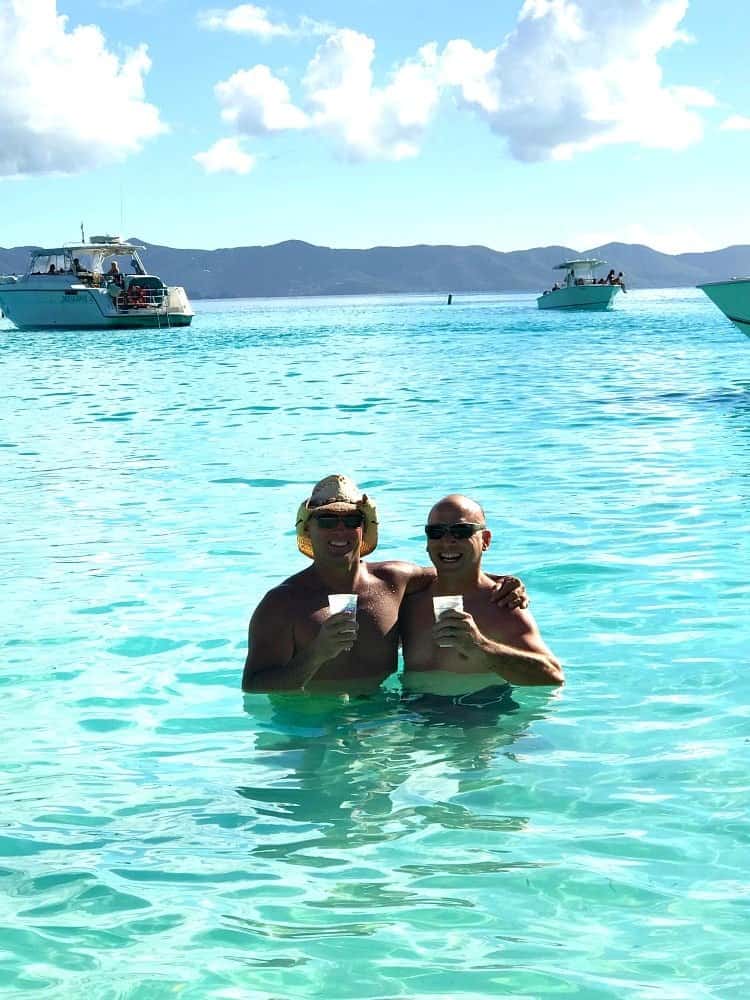 I could have stayed there all day. Literally all day, we're already looking at the boat trip for next year that just goes to Jost Van Dyke and back.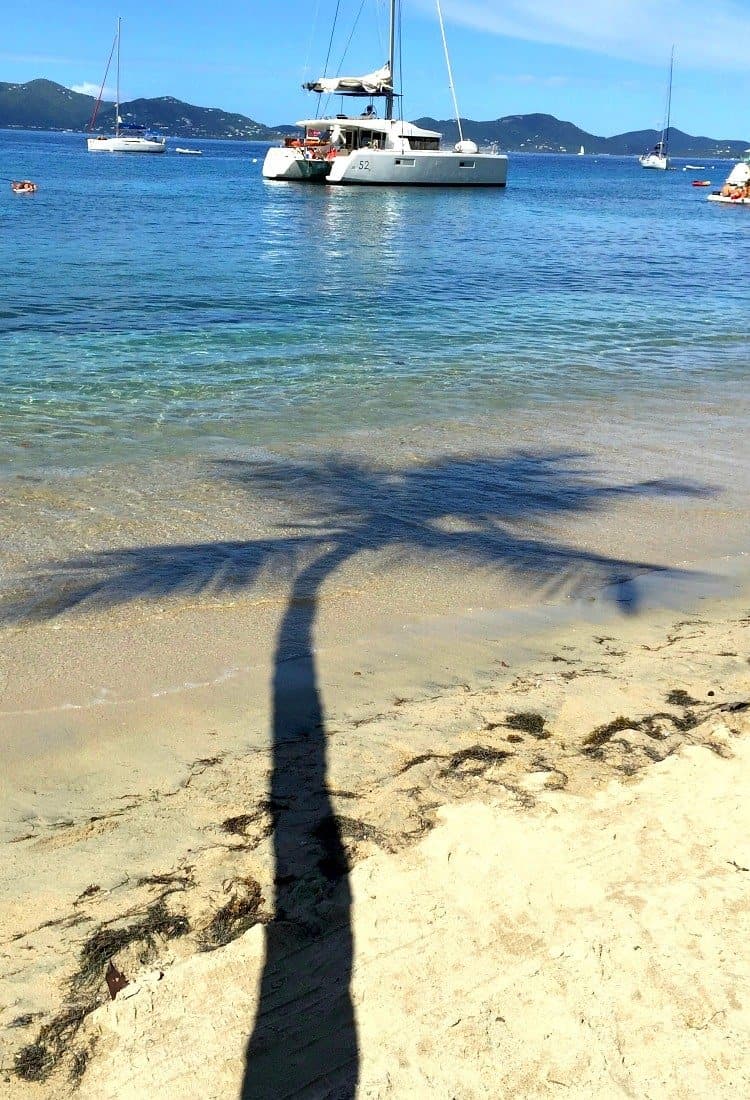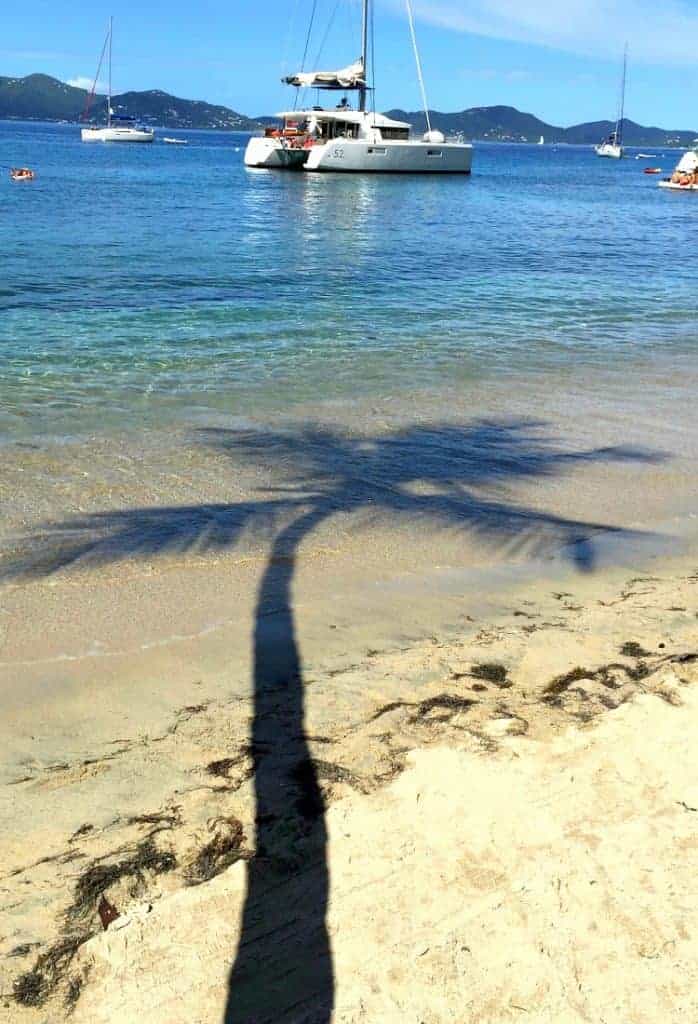 But we did have to leave, the conch shell was blowing. Time to get back on board.
One of our favorite dinners back in St. John was at this restaurant called Extra Virgin Bistro. One of those dinners that you really don't mind spending the cash on. It's so good it's worth every single penny.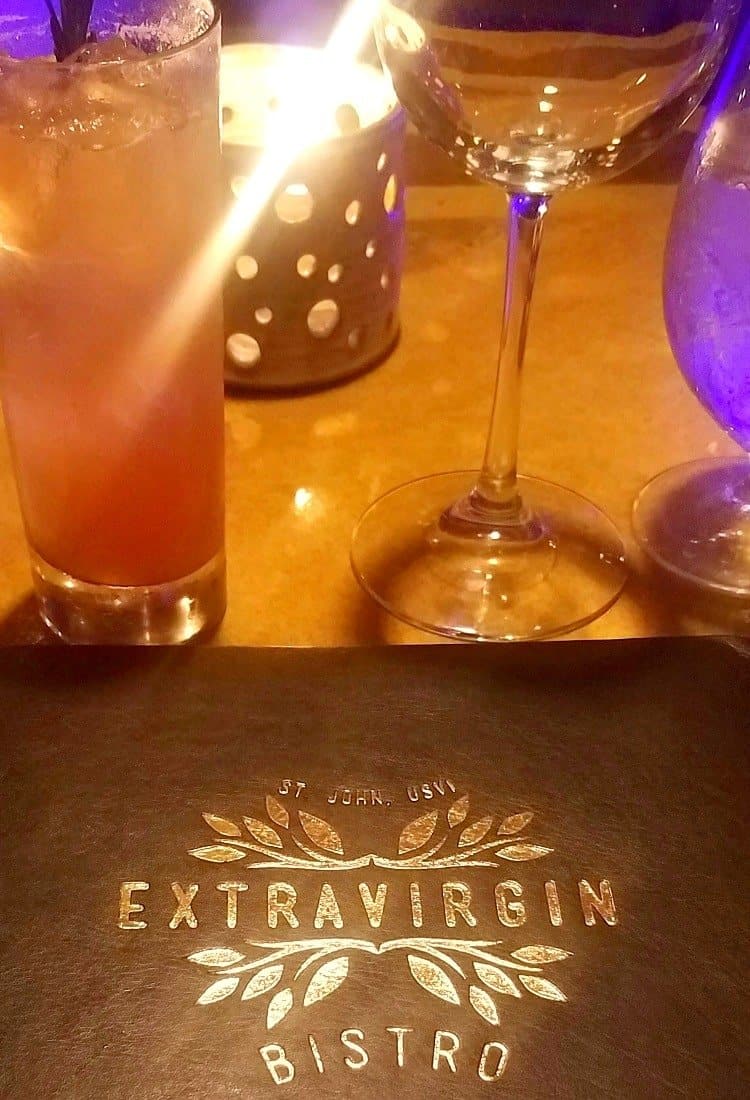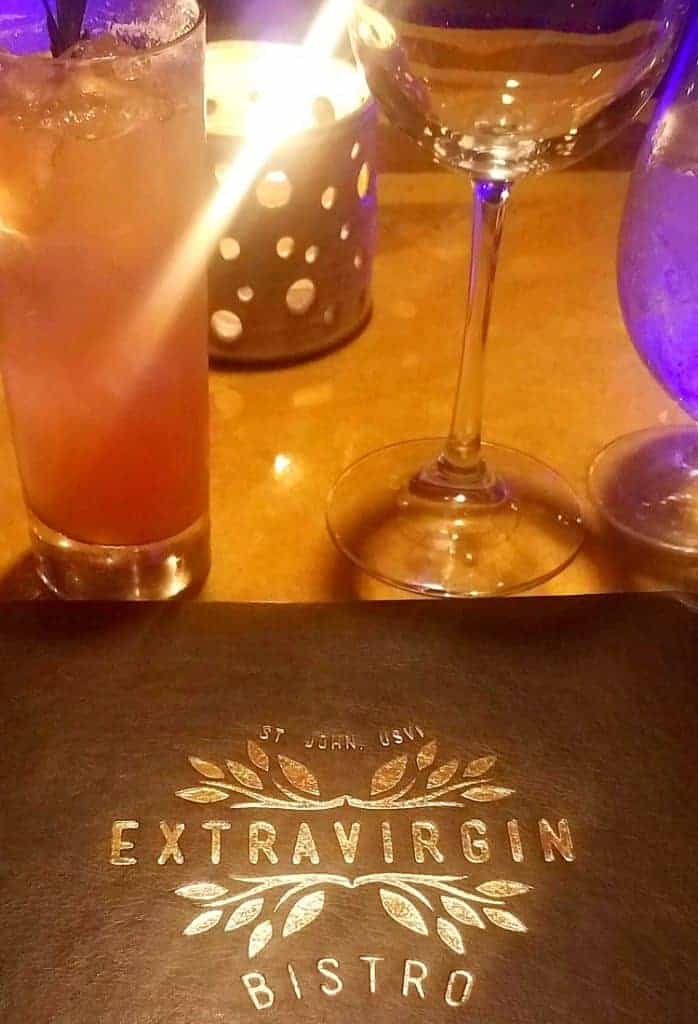 Dark, candle lit restaurants don't get the best pictures but we had to show you guys these. This one we loved so much we came home and recreated it as best as we could – we called it Beefy French Onion Soup. It's like the best French Onion soup you've ever had with shredded beef added to it.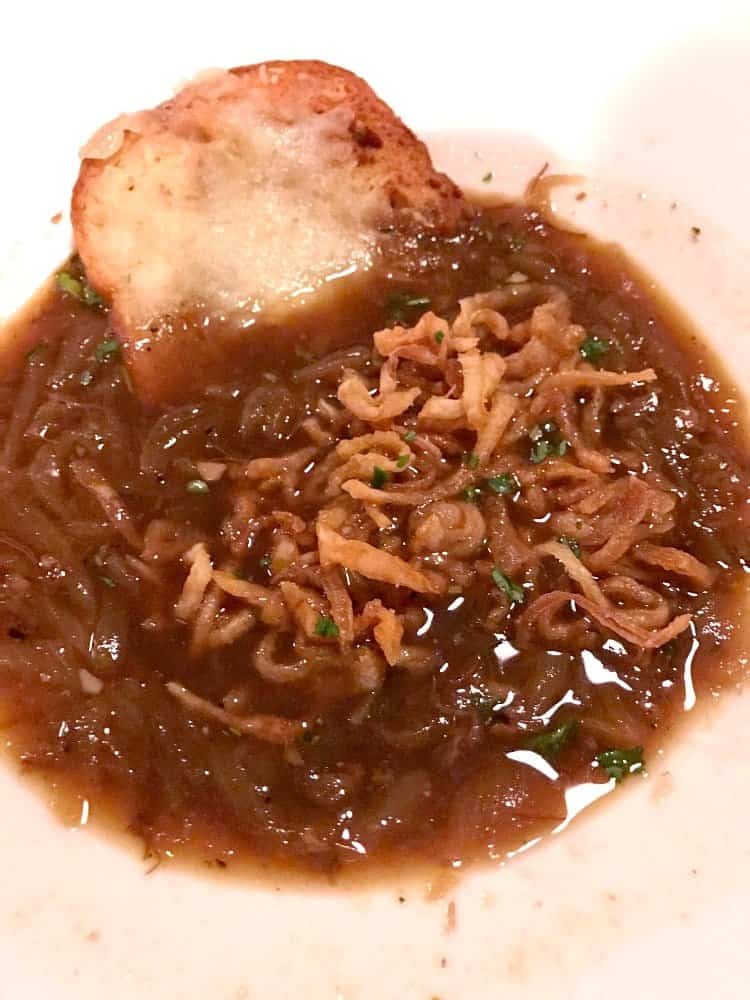 Another appetizer we had was this fresh ricotta with shiitake mushrooms, corn succotash and truffle oil. I was surprise at how much my little guy liked this one. What's not to like though really.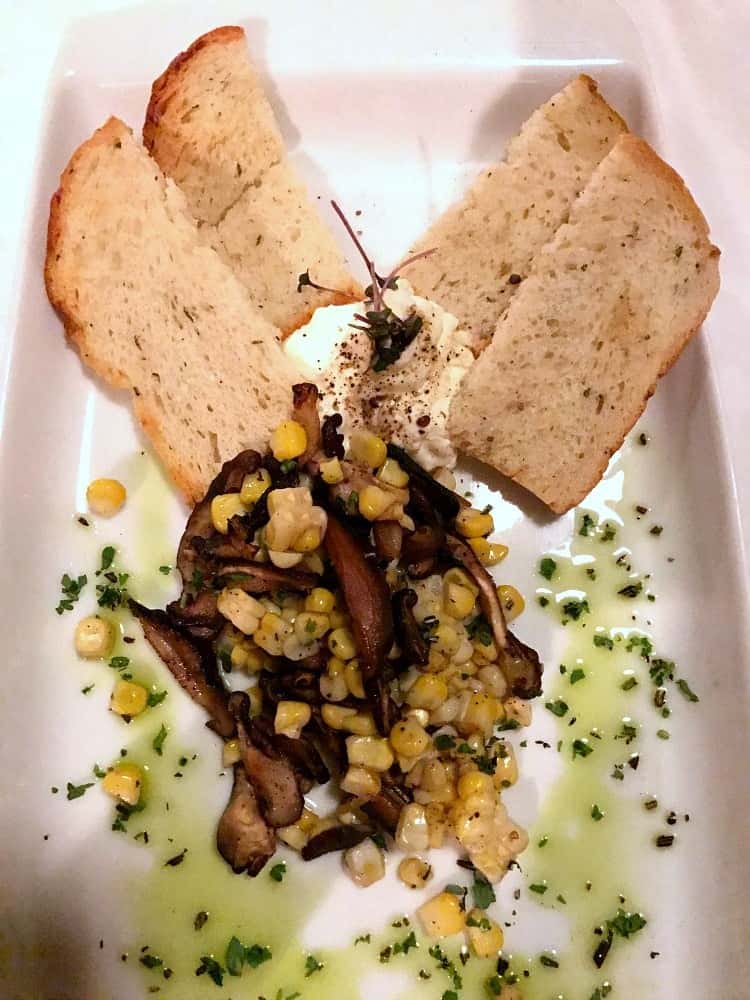 Christie ordered this fresh pasta with with Caribbean lobster and shrimp in a white wine broth…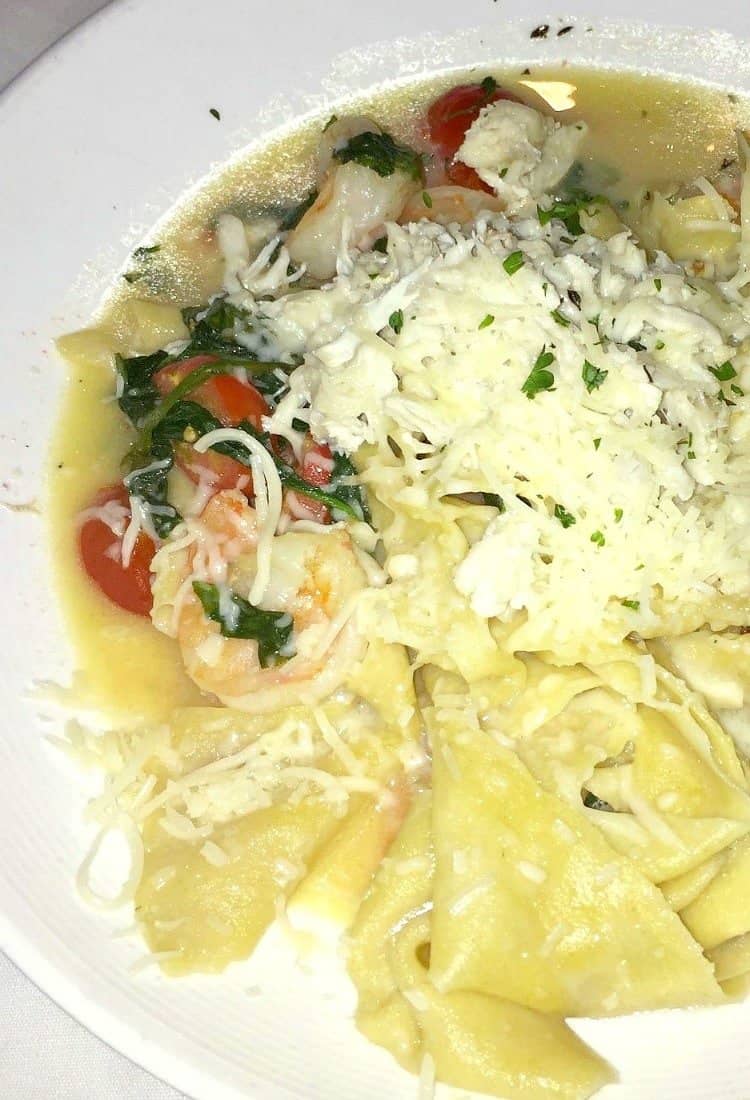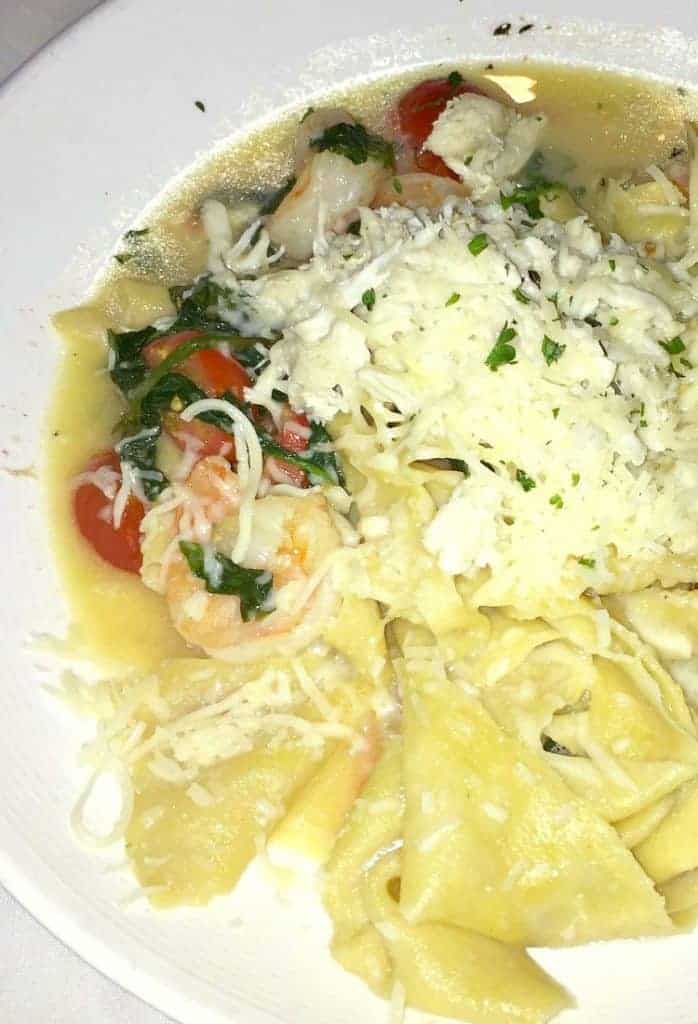 Tyler got his first ever Cioppino, with Caribbean lobster, shrimp and scallops. He loved it. Evan was full from apps so he just got chicken fingers.
But I got this.
A "Short" Rib, braised with mashed potatoes and crispy, fried onions on top. It was Fred Flintstone size – and I ate the whole thing.
I can't even begin to tell you how good it was. I can NOT wait to go back, I hope they still have it on the menu.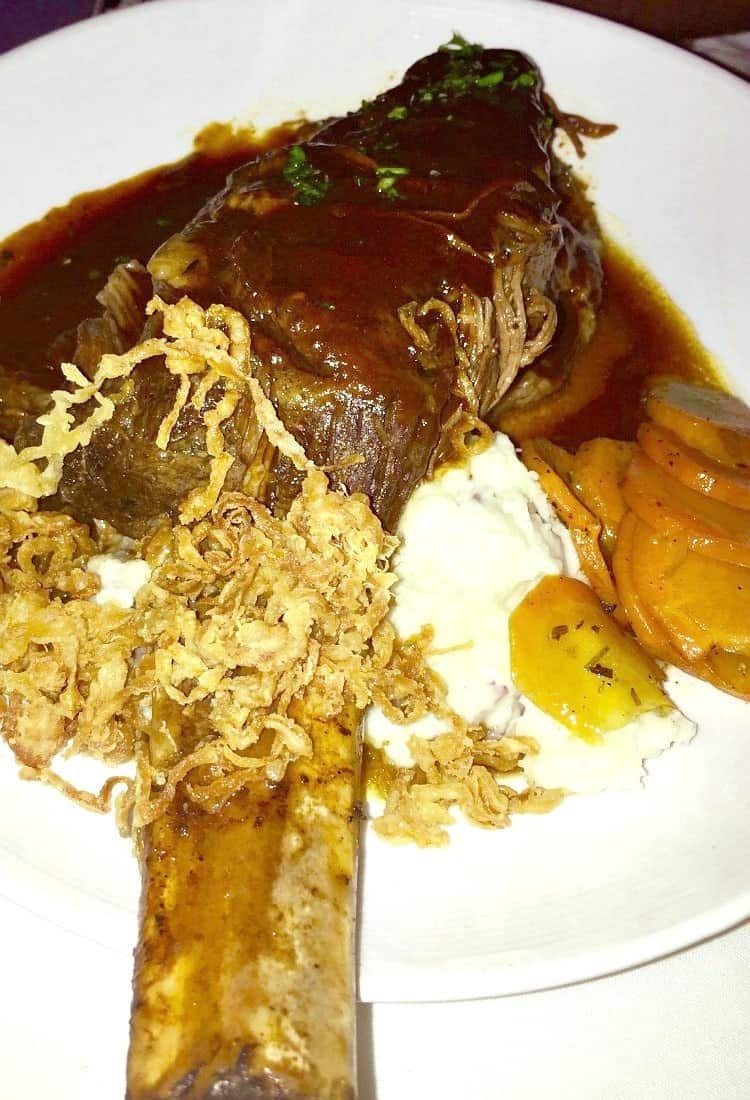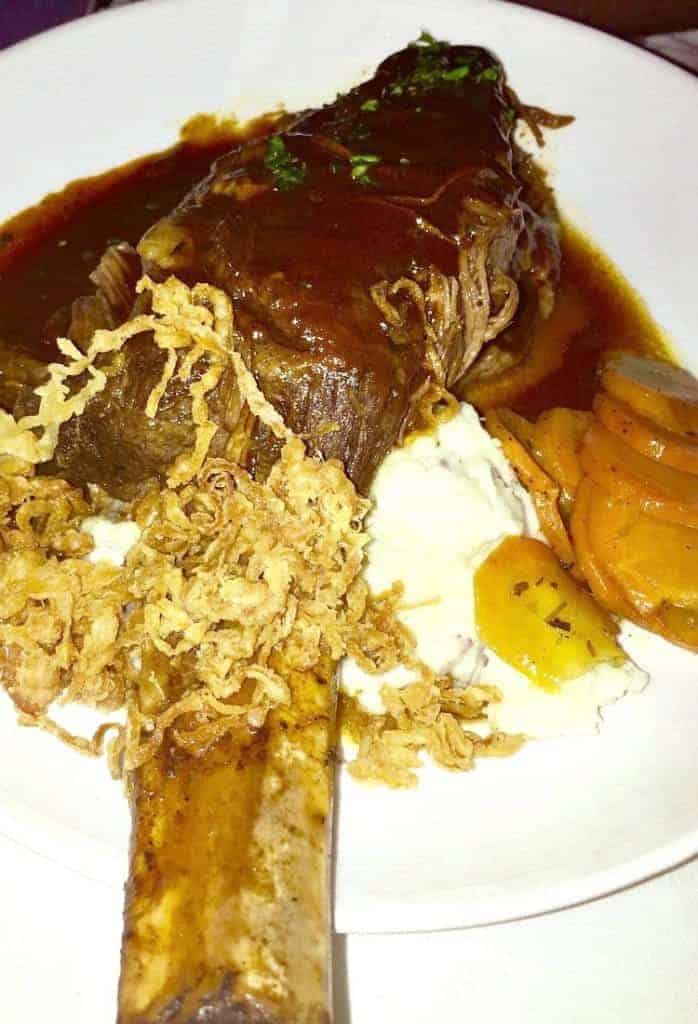 I was talking to one of the waiters the next day (Christie left her sweater and they called us to come back and get it) and he showed me out back where even though they have very little space they grow all their own herbs and vegetables.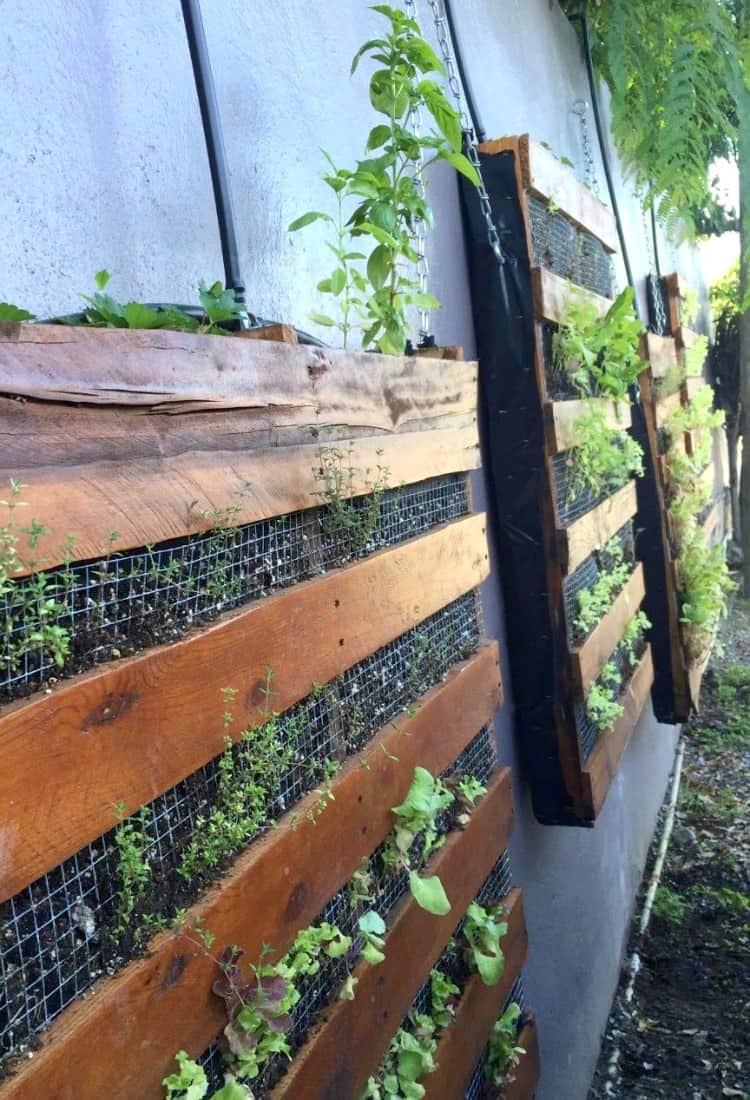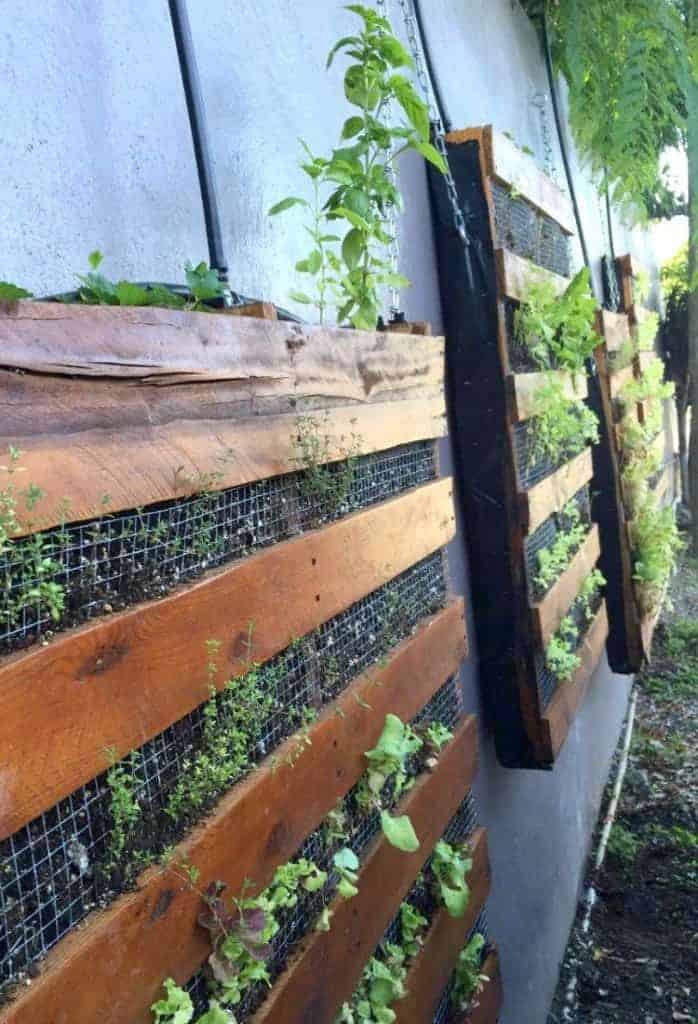 We'll be back there for sure.
We walked back to the condo that night, everything is lit up with lights and it makes the ocean light up. I decided I'm going to have to get this one, maybe we'll hang this up instead of Christmas lights outside.
A huge light-up martini glass.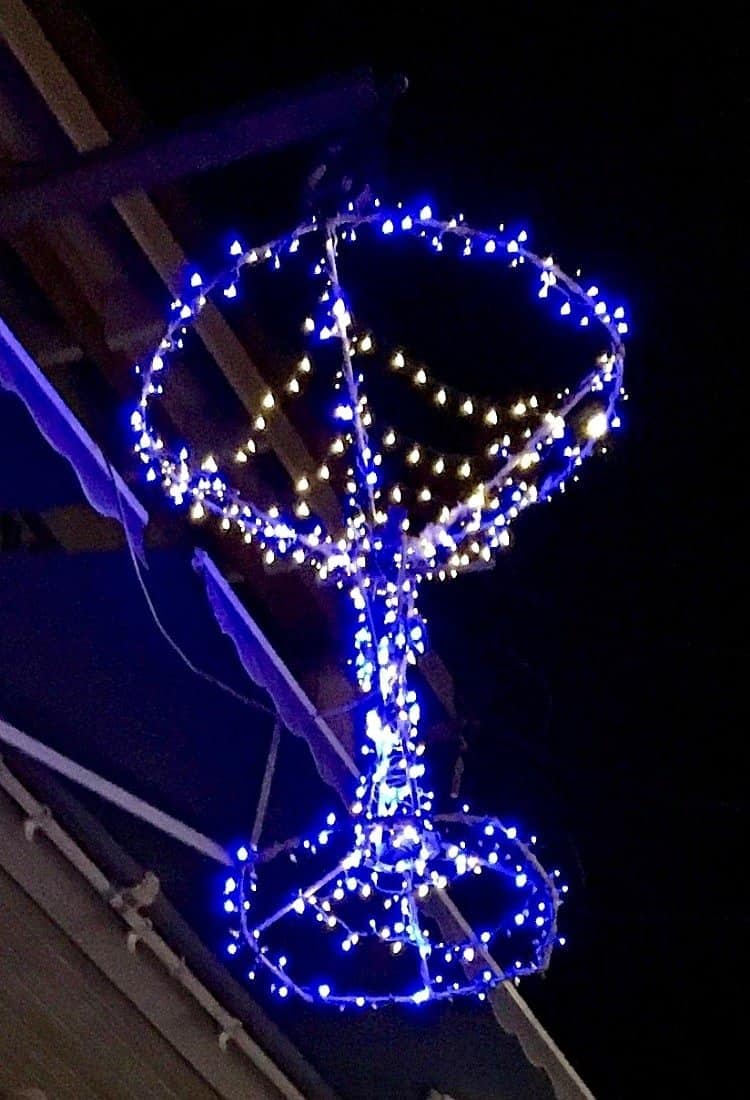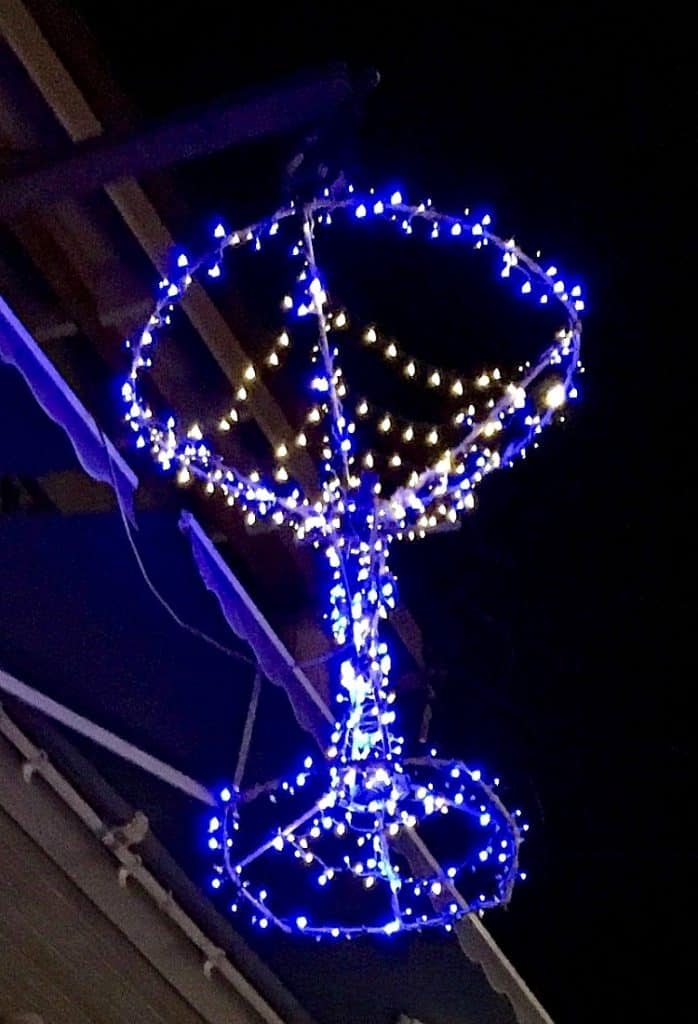 Woody's is a bar in town that's been there forever. Kenny Chesney has been know to frequent there, we didnt' see him this time but we made our own fun anyway.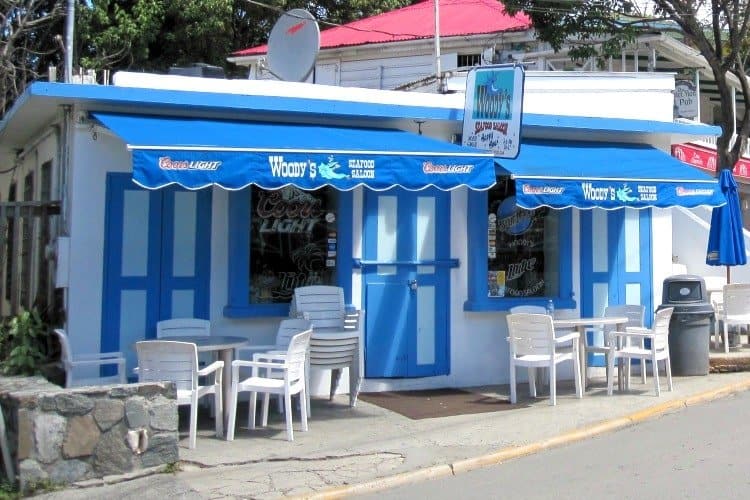 They have food and tons of cocktails to choose from –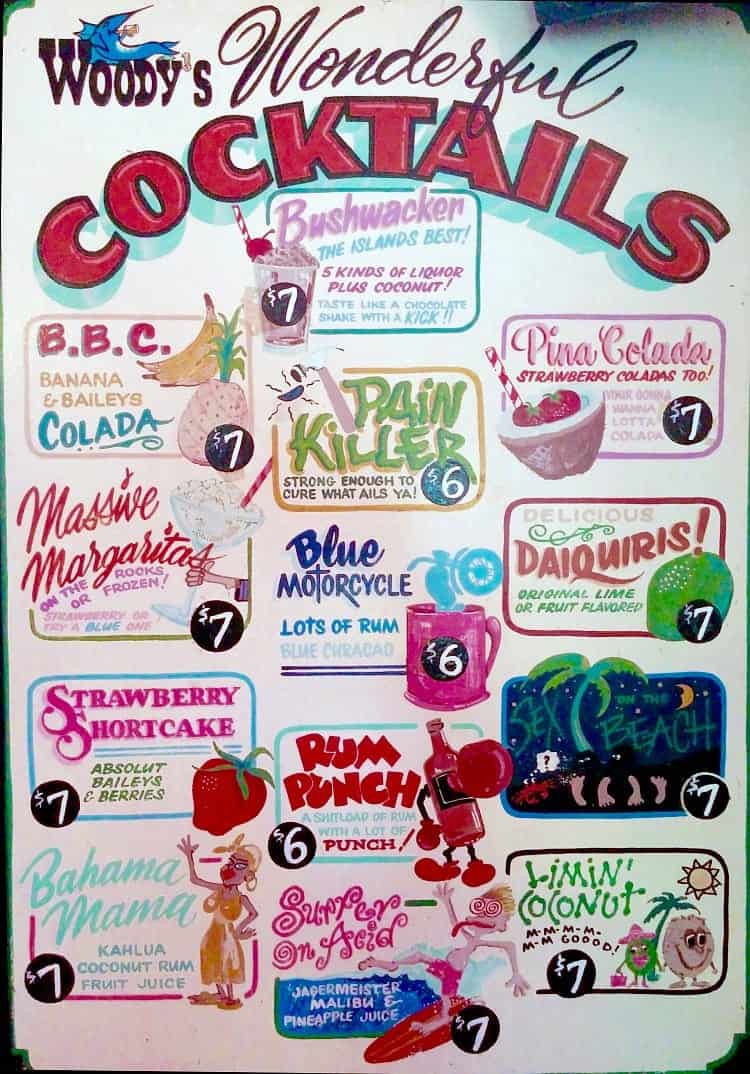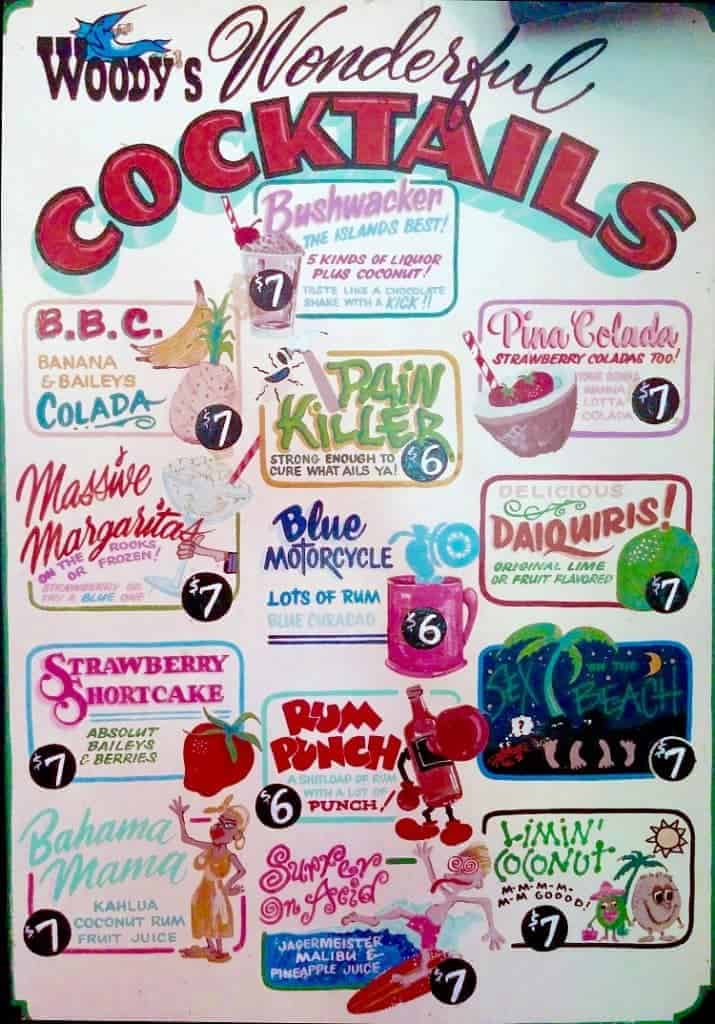 Or you can act like a Boss and do a few shots from a ski behind the bar…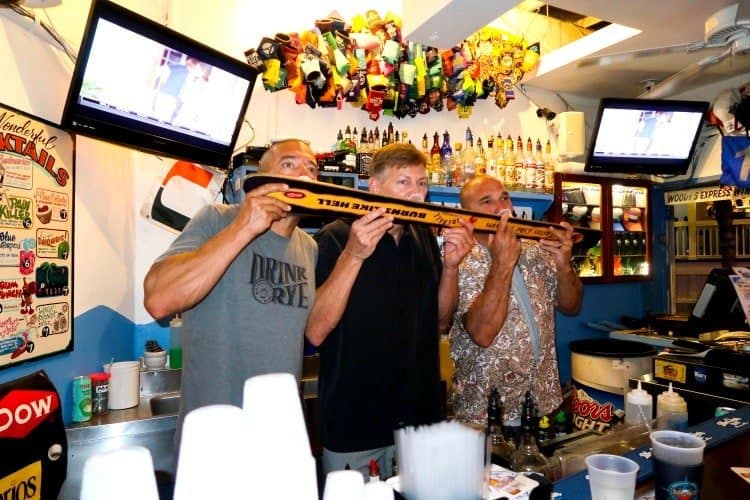 Our last day in St. John was spent on Cinnamon Bay. There was a 90 percent chance of rain that day, big storm coming through. But when you're on vacation you go anyway.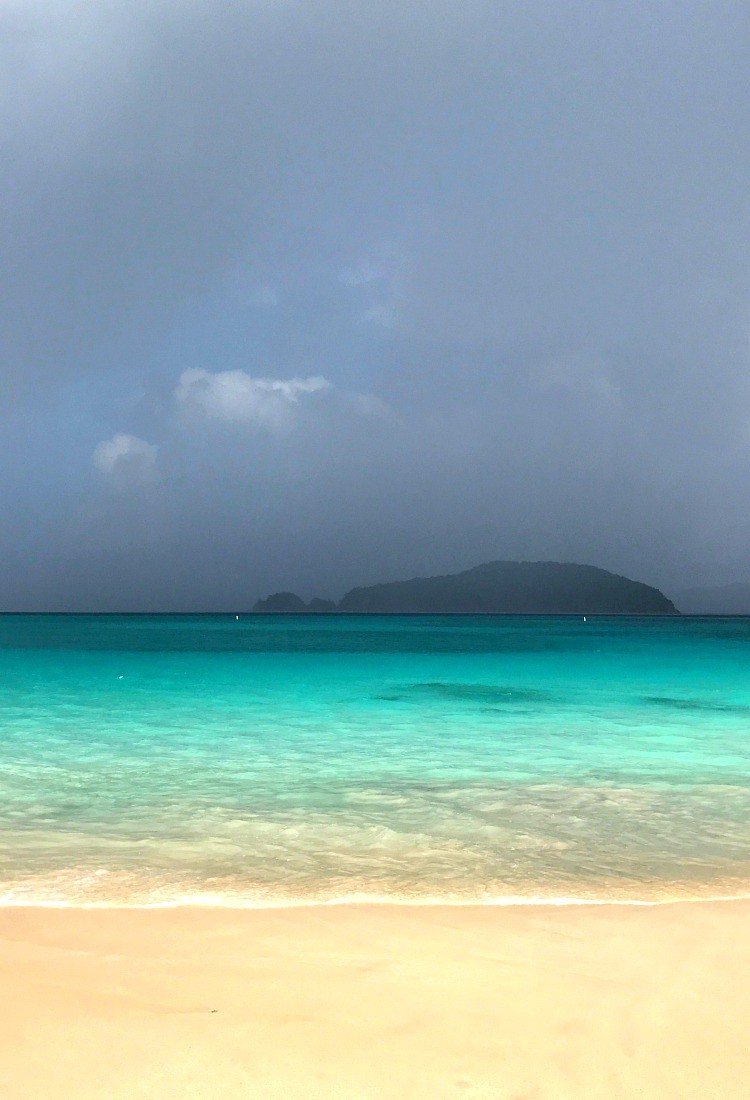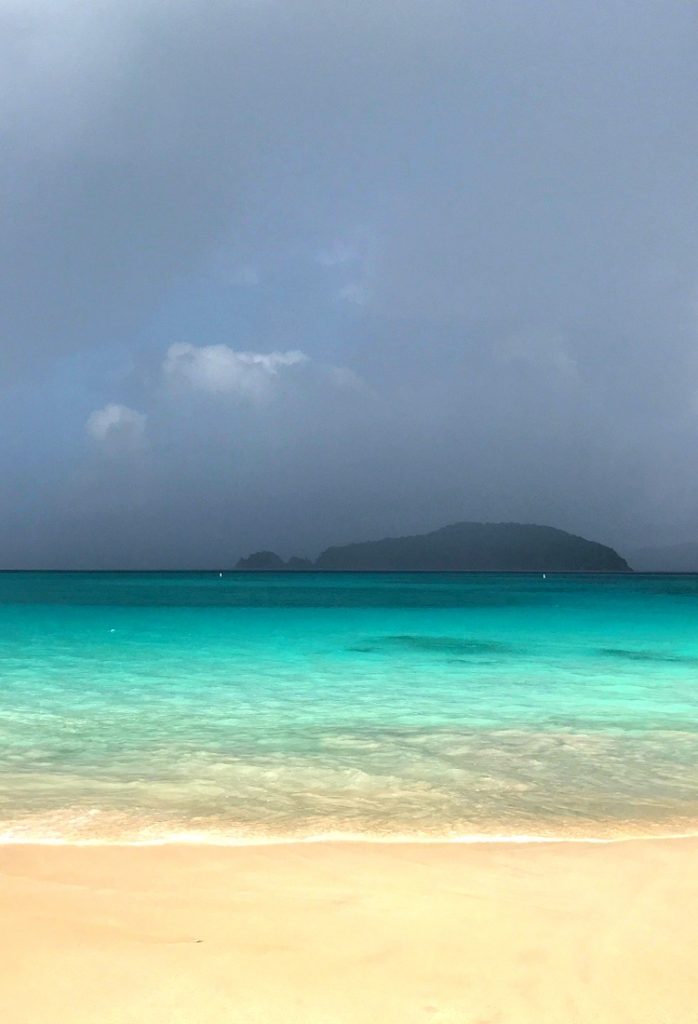 That's what the sky looked like all morning. We never got rained on though and by the afternoon it looked like this –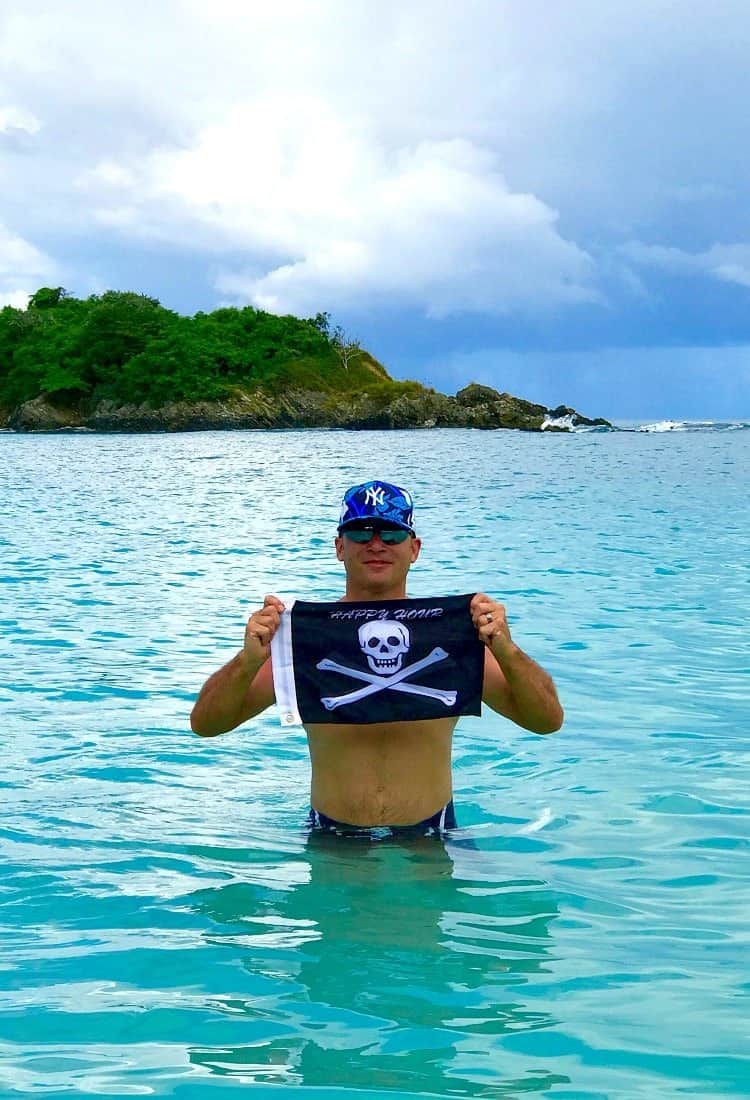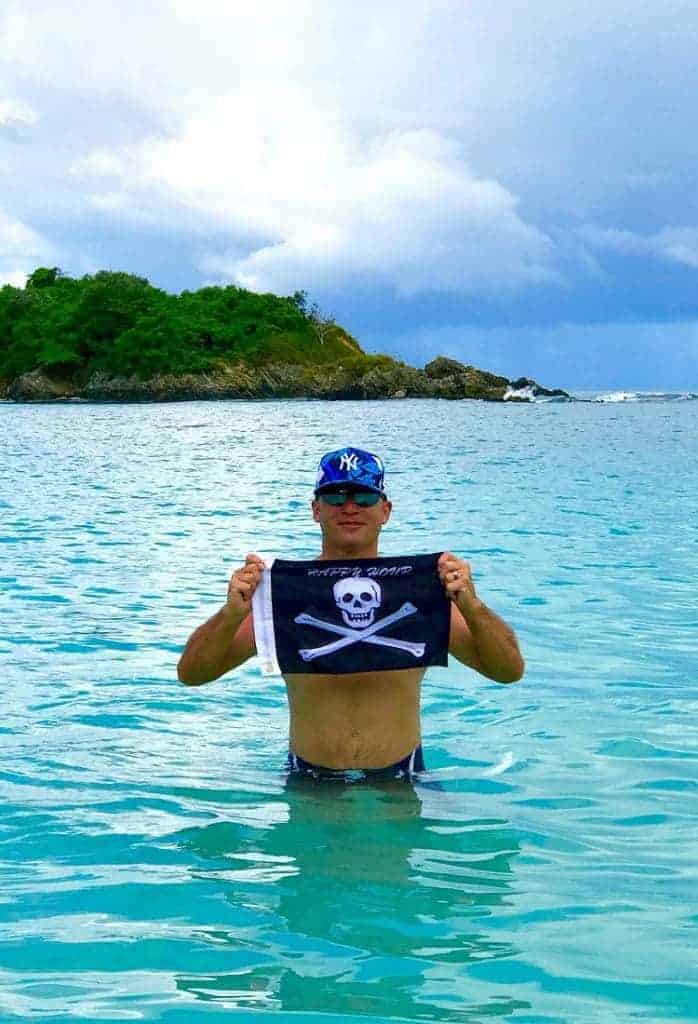 I brought happy hour to the ocean that day instead of going back to the balcony at the Penthouse. I needed to get every minute of that beach that I could.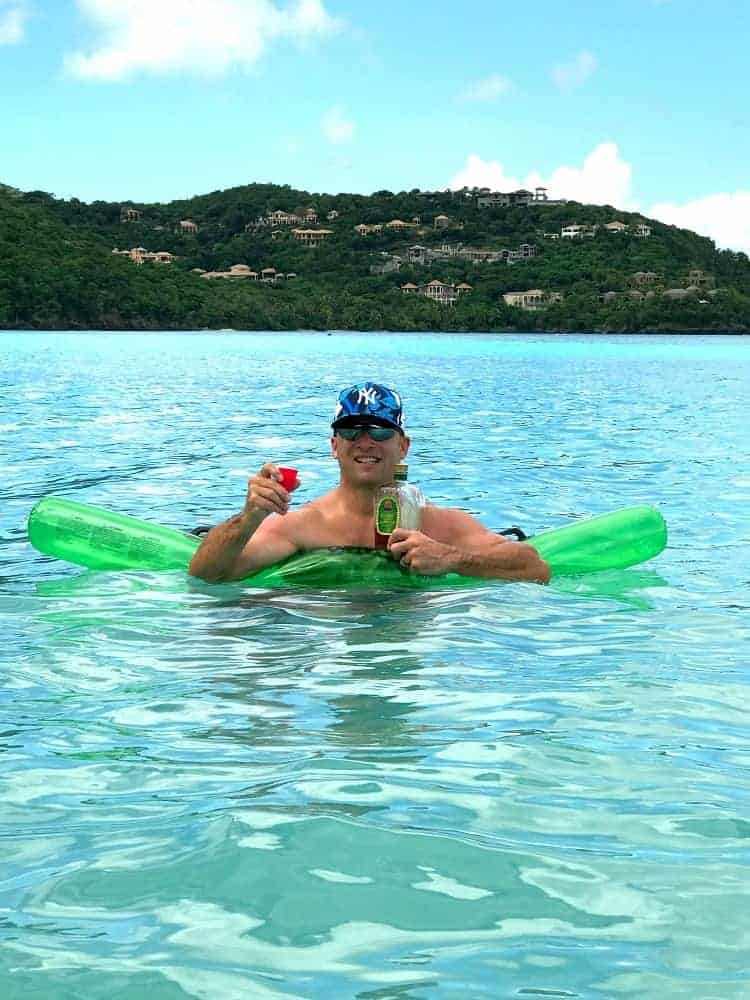 That's me floating on my green noodle, drink in hand. If you ask anyone I traveled with, that's how you'd see me 90% of the time. There was one time I took a little nap…but other than that I was in the ocean.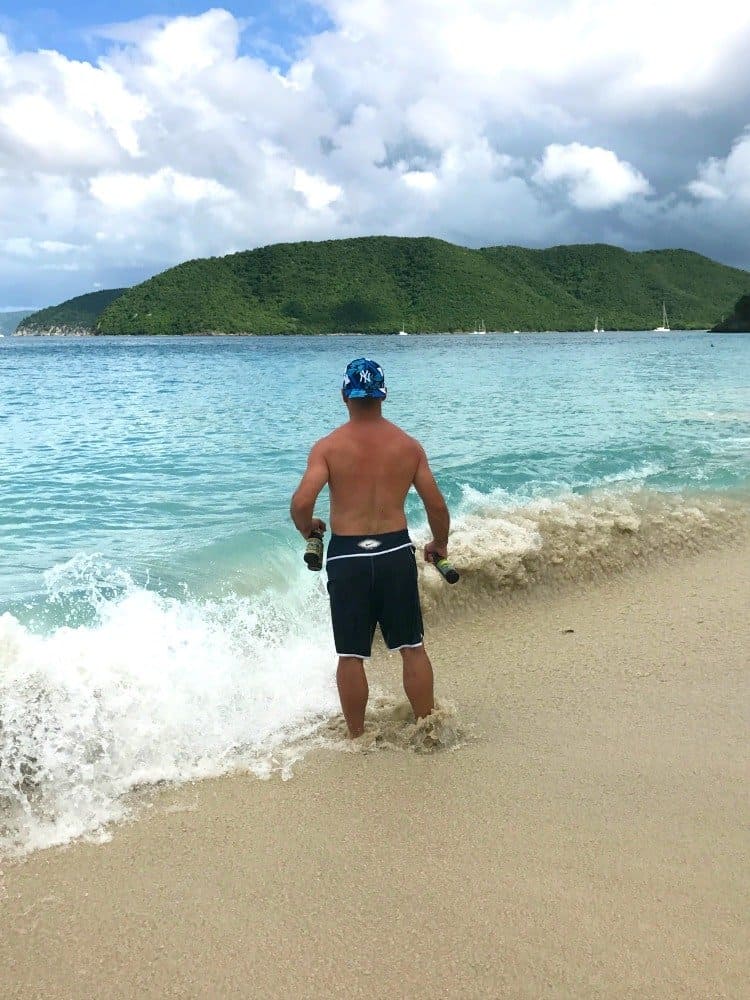 Christie hung out more on the beach that day, getting the last rays of sun she could. But I kept hitting the cooler, grabbing a few beers and heading back to the ocean.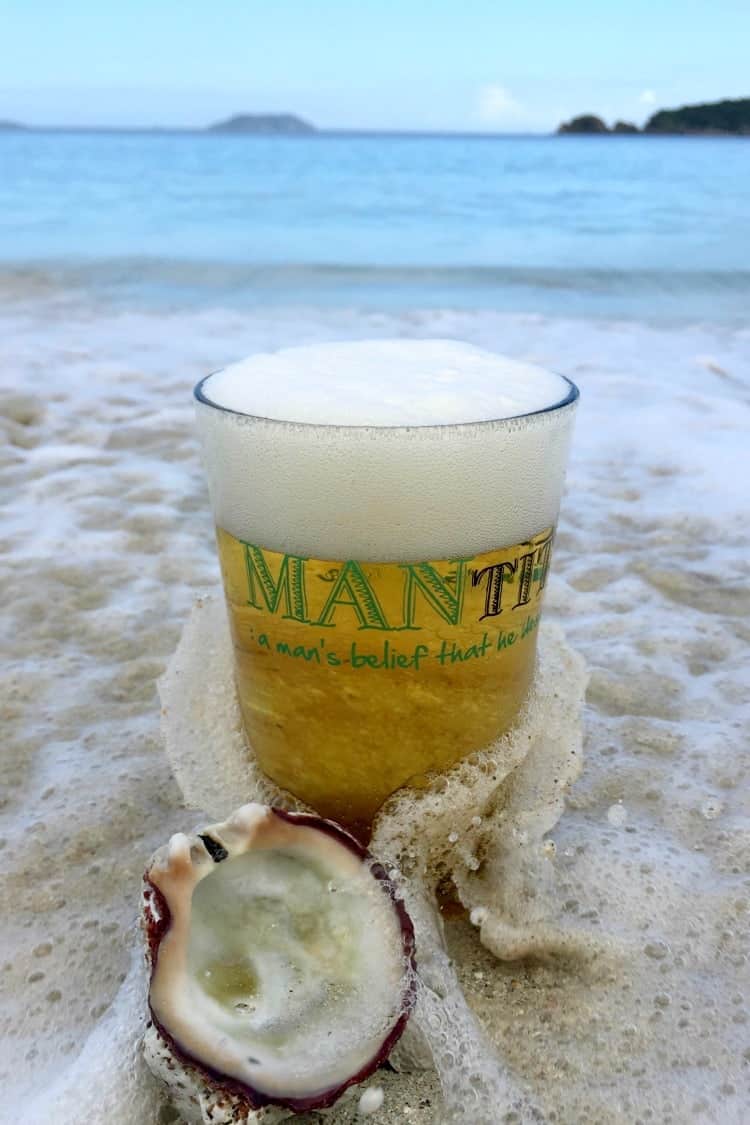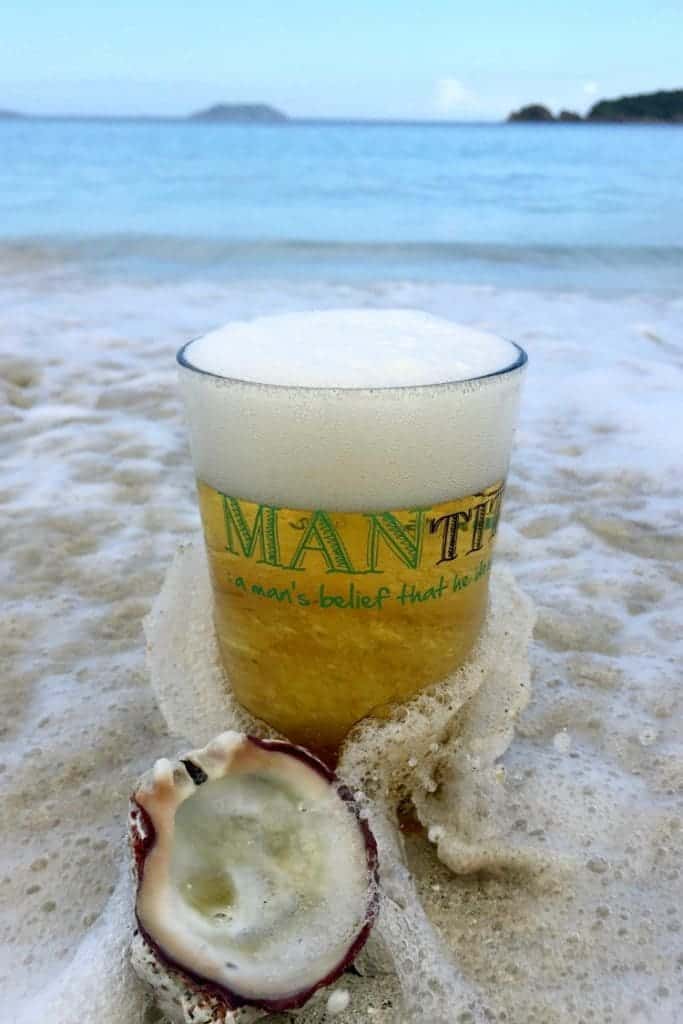 We made our own "Corona" commercial with Mantitlement glasses before we said good bye.
VIDEO
Even the trip back to the airport was fun, we stopped at Bones Rum where they have a pour your own daiquiri bar.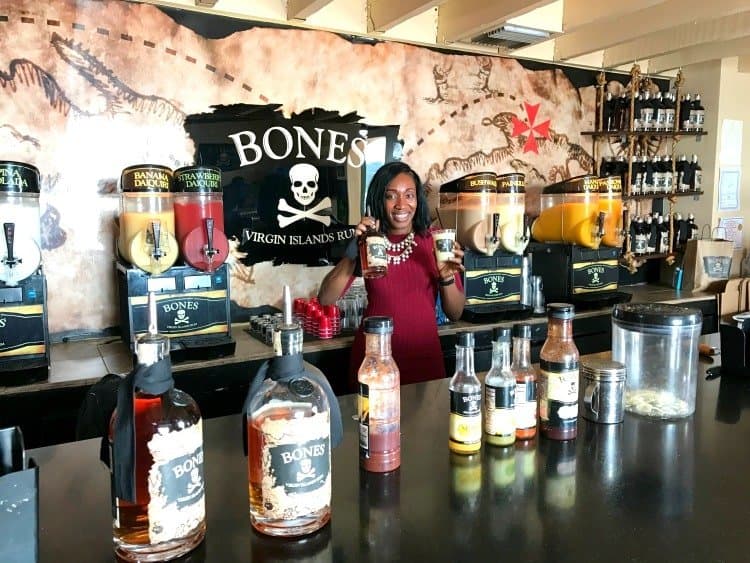 I only wish we had more time to spend there, it was so much fun, you could get virgin daiquiris for the kids – NOT virgin for us…but we did have a plane to catch.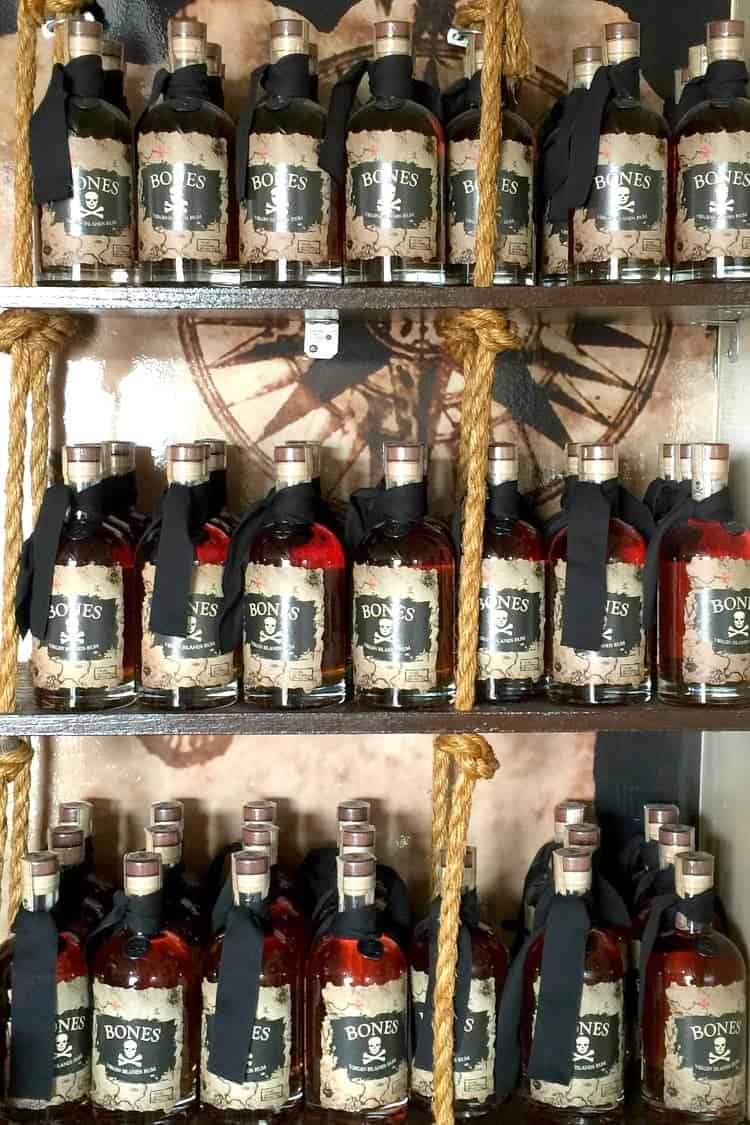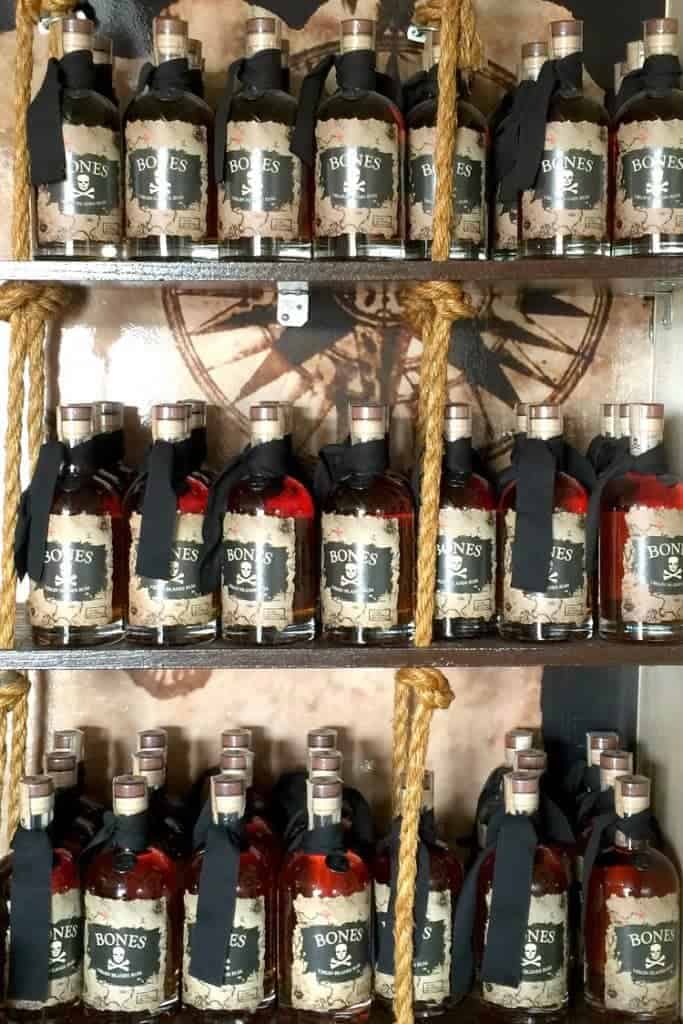 So, wondering about taking a trip to St. John? Wonder no longer. You need to get there.
I think it will become our yearly family vacation…with a few great friends thrown in to add to the fun!
An in case you do plan on visiting St. John this year, the US Virgin Islands will give you $300 to send while you're there, head over to their site for the details!