Make a Frozen RumChata Strawberry Mule for all your warm weather parties! RumChata adds a delicious kick to this frozen strawberry mule recipe!
Also check of our other favorite cocktail recipes like this SEVEN SEAS MARTINI or a CHAMPAGNE MOSCOW MULE!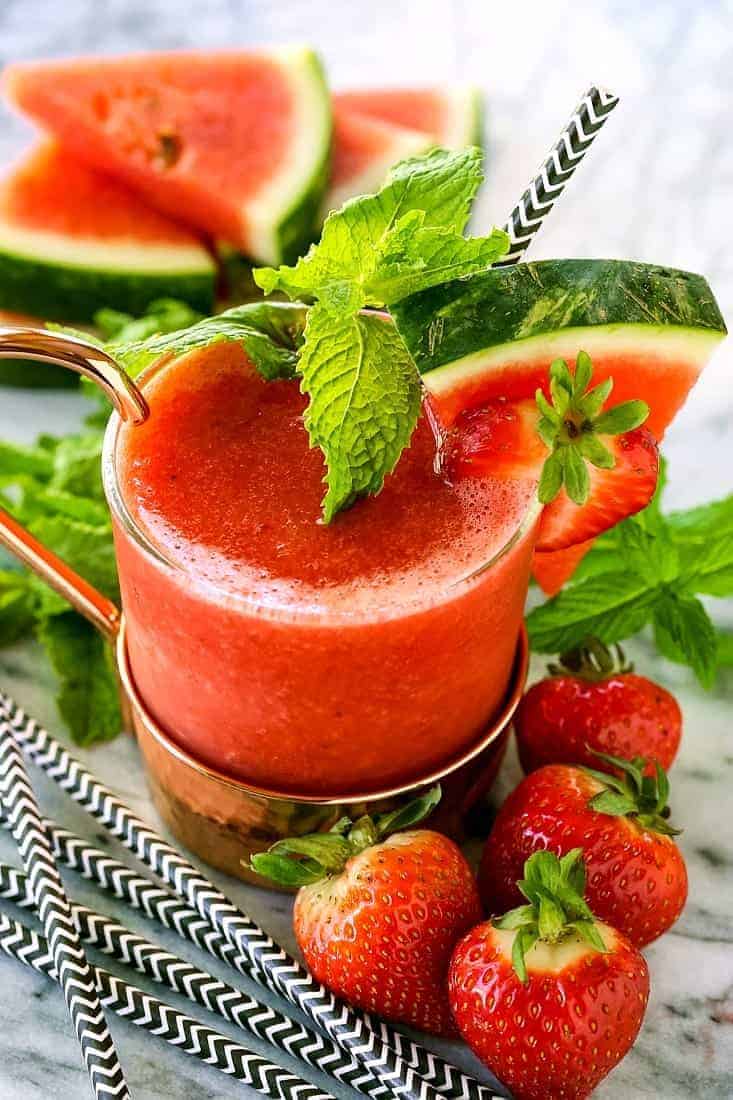 Our Frozen Twist On A Classic Cocktail Recipe
You've got your standards like Pina Coladas and all flavors of frozen daiquiris, but you can really turn almost any of your favorite cocktail recipes into a frozen version.
Maybe not if you like sipping on a Manhattan or a Dirty Martini…but you know what I'm getting at. There are frozen mimosas and frozen tequila sunrise cocktails, even frozen Cosmopolitans, that famous drink from the 90's we all loved – and still love.
So today we're freezing the famous Moscow Mule cocktail, with a berry twist! We usually go strawberry picking in the summer so there are times in our kitchen when the strawberries are overflowing.
Besides just plain eating them or baking a few berry crisps, we start using them to make cocktails like this Frozen RumChata Strawberry Mule.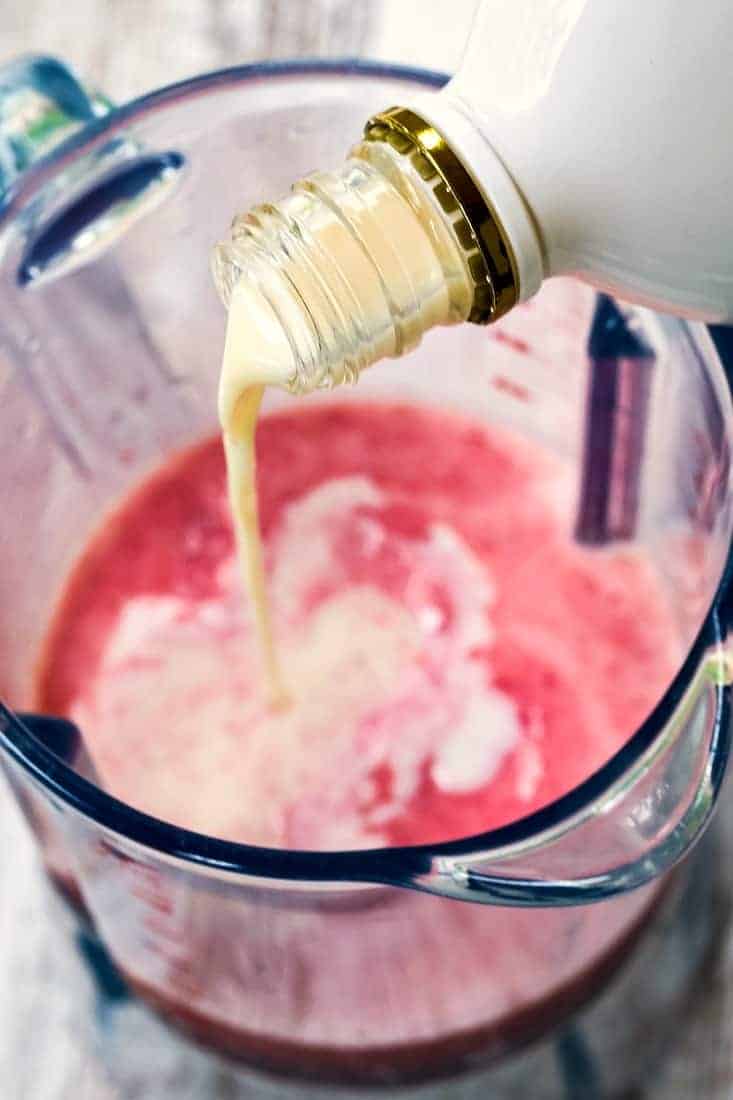 How Do I Make A Frozen Moscow Mule?
Well that's the beauty of these warm weather drinks, my friends. Everything gets thrown in a blender and with a press of a button, you have a delicious, slushy, boozy frozen drink.
We started this twist on a moscow mule recipe with frozen strawberries, vodka, RumChata and a little bit of sugar. The amount of sugar you add will depend on how sweet your berries were to start with, so add a little, then taste and add more if needed.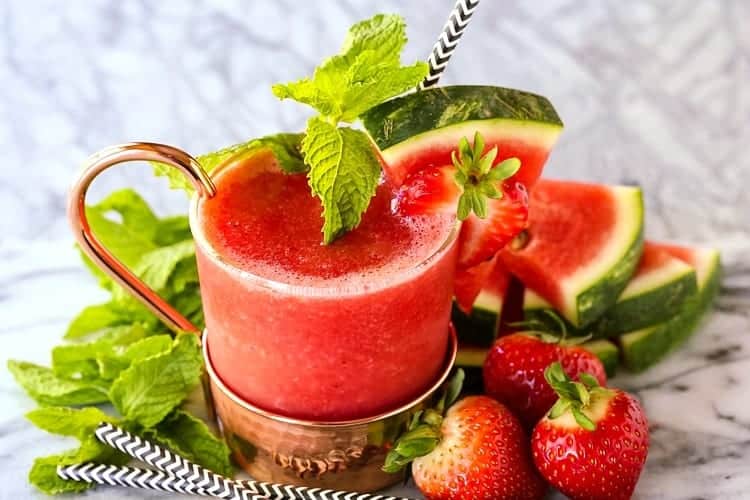 What we love about this RumChata cocktail is that it's a little different than all the creamy versions you usually see, this cocktail is almost pure strawberry with a vanilla background flavor that can only be added by using RumChata.
There's also a decent amount of berry vodka in this drink recipe, so even though it looks tame don't let it fool you. Because then when you're finished blending up this drink…we top it off with ginger beer.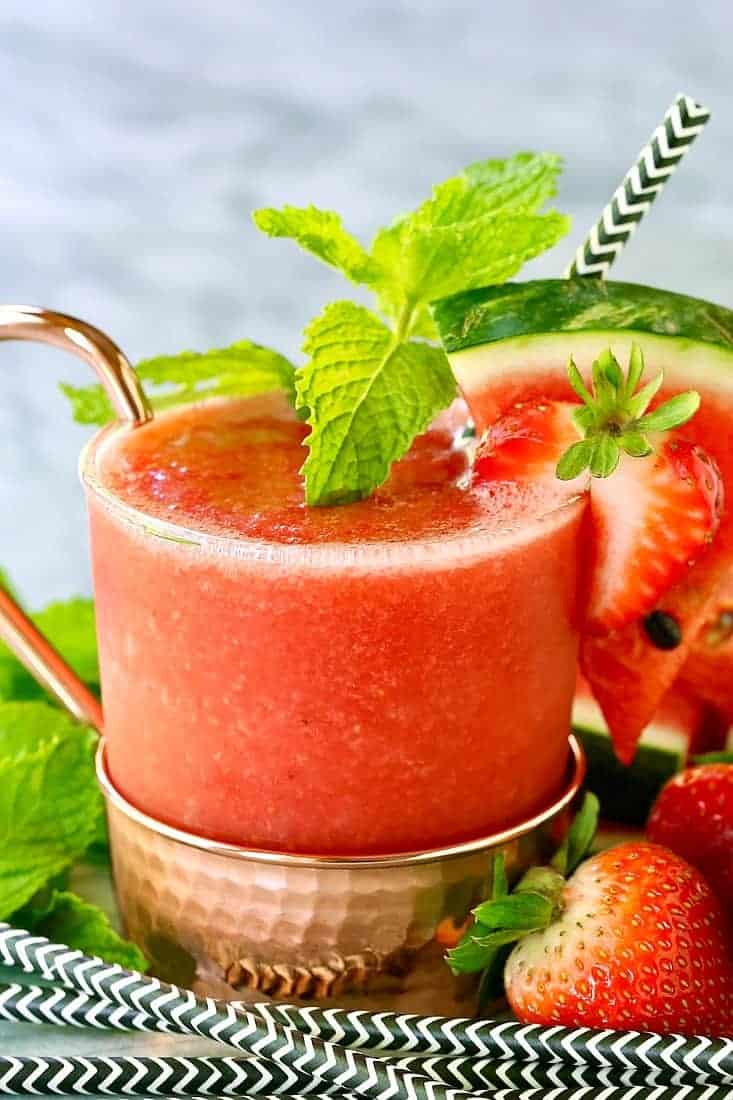 What Is Ginger Beer?
Ginger beer is a spicy, carbonated beverage made from fermenting ginger, sugar and water. Back in the old days, ginger beer was an alcoholic drink, but these days most ginger beers are a spicier version of a ginger ale soda. No alcohol.
BUT don't let that stop you. There are lots of ginger beer brands out there that still follow the traditional methods and have alcohol in them, as anything named beer should, In my opinion.
So that's the kind of ginger beer we used in this cocktail, the boozy kind.
You can definitely swap it out with regular ginger beer though, or even ginger ale or berry seltzer, but to keep it in the traditional Moscow Mule recipe we love the flavor that ginger beer adds.
Looking For More RumChata Drinks?
Pin It!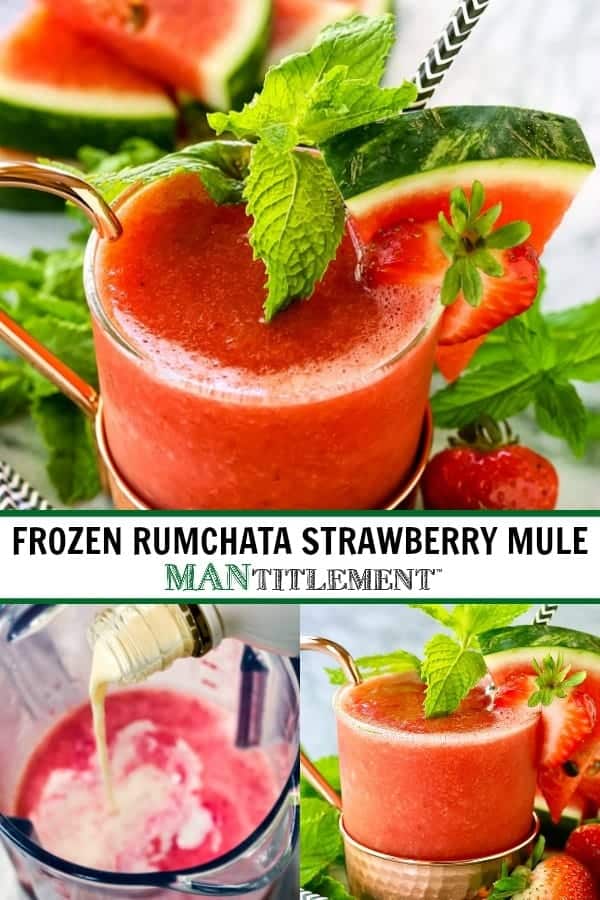 Print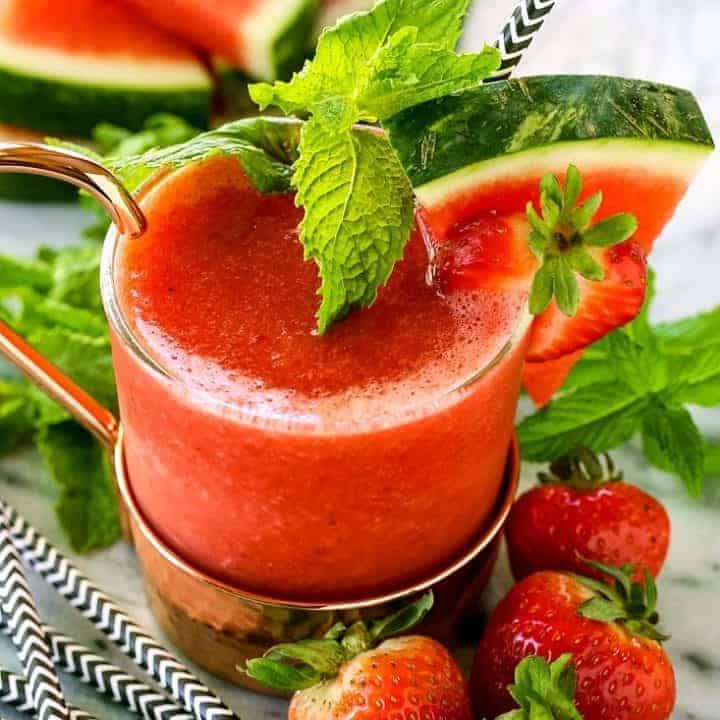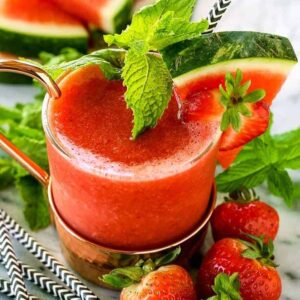 Frozen RumChata Strawberry Mule
Author:

Prep Time:

5 minutes

Total Time:

5 minutes

Yield:

4
This fruity twist on a Moscow Mule is perfect for all your summer parties!
Ingredients
12 ounces frozen strawberries
4 ounces RumChata
4 ounces berry flavored vodka
1-2 tablespoons sugar
3 ounces ginger beer per drink (12 ounces total)
Fresh Mint and fruit garnish
Instructions
Add the Strawberries, RumChata, vodka and sugar to a blender.
Blend until smooth and taste for sweetness. If you need more sugar add another tablespoon and blend again.
Pour into 4 glasses, filling 2/3 of the way full.
Top with ginger beer, stir, then garnish with fresh mint and fresh fruit.
Category:

Cocktails

Method:

Stir

Cuisine:

American
Keywords: rumchata drinks, rumchata cocktails, cocktail recipes, drink recipes, moscow mule recipe, frozen cocktails, frozen drinks