This Avocado Margarita is the ultimate cocktail for the avocado lover! Tequila mixed with creamy avocado is a winning cocktail combo!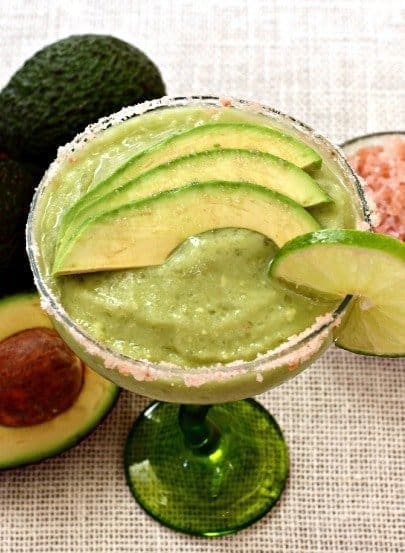 Having a Tex-Mex night at home? Then you have to try these Avocado Margaritas!
This Avocado Margarita recipe was created from actually having too many ripe avocados in my house. Because that almost never happens, Right? Having too many ripe avocados…at least in my house it doesn't.
What To Make With Ripe Avocados
Definitely this Avocado Margarita for one.
I mean, I know you guys have had this problem before…
It seems that they're always hard as a rock when you want to whip up some guacamole or they've gotten over-ripe or rotten and I end up throwing them away. It's pretty rare when I actually have a perfect avocado and also the need to use it.
But then I had 6.
6 perfectly ripe avocados and I wasn't going to throw them away this time! So I made some guacamole which always gets eaten. But I still had two left. Then I started thinking cocktails.
And what goes better with Tex-Mex food than a margarita? Besides an ice cold beer, not much.
These margaritas were simple to make just using my classic margarita recipe, then adding an avocado and some ice.
Normally when we make margaritas we drink them on the rocks, but these Avocado Margaritas that I created for Food Fanatic definitely called for the creamy, frozen kind.
Even if your avocados are a little over-ripe or even a little under-ripe this is the perfect way to use them up and make yourself a delicious drink while you're at it!
All you have to do is add some tequila, triple sec, lime juice and agave syrup to a blender. Next put in your avocado and some crushed ice – blend until smooth and frothy and you have avocado margaritas!
These Avocado Margaritas will be the perfect addition to your Tex-Mex party or Taco Tuesday night. Try making this Skillet Mexican Chicken and Rice or have some fun with this Dorito Taco Casserole!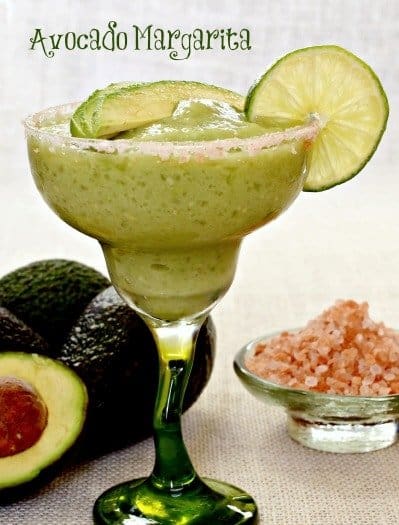 We even had a reader write in that they froze this mixture and turned it into a granita! A granita, in case you don't know, is a frozen fruit mixture that you can scrape into dessert glasses.
Awesome idea!