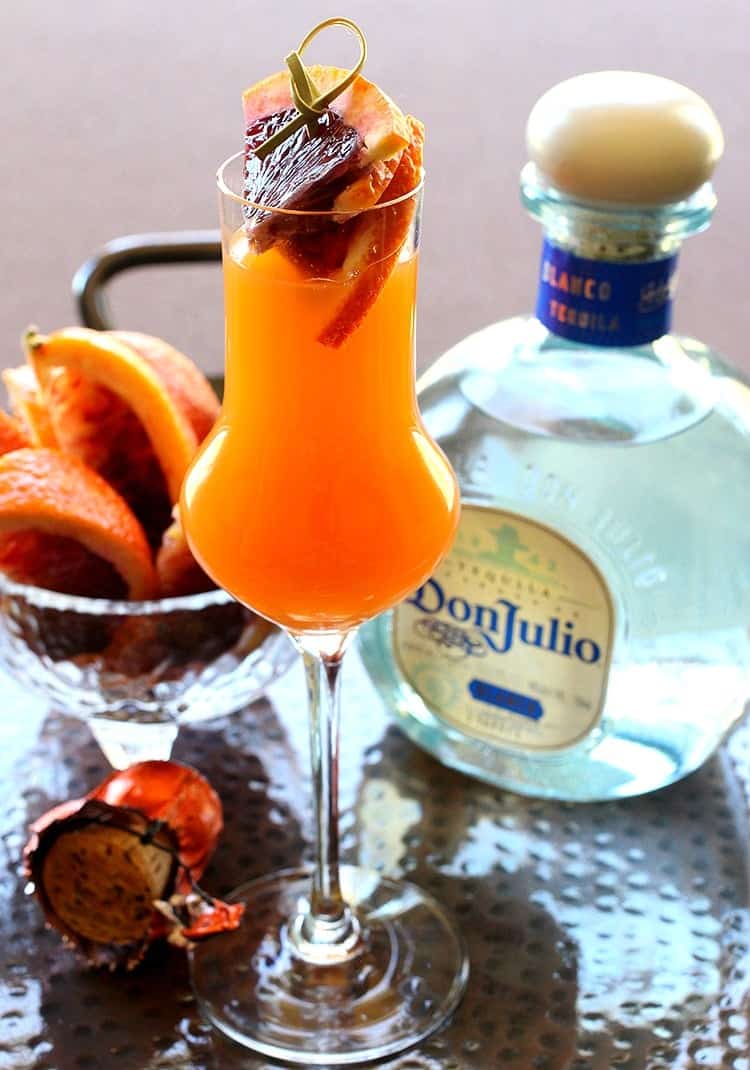 This cocktail has been brought to you by thebar.com, thank you for supporting the brands that keep the cocktails flowing!
Make up a Blood Orange Mimosa, or a whole pitcher for your morning cocktail this weekend!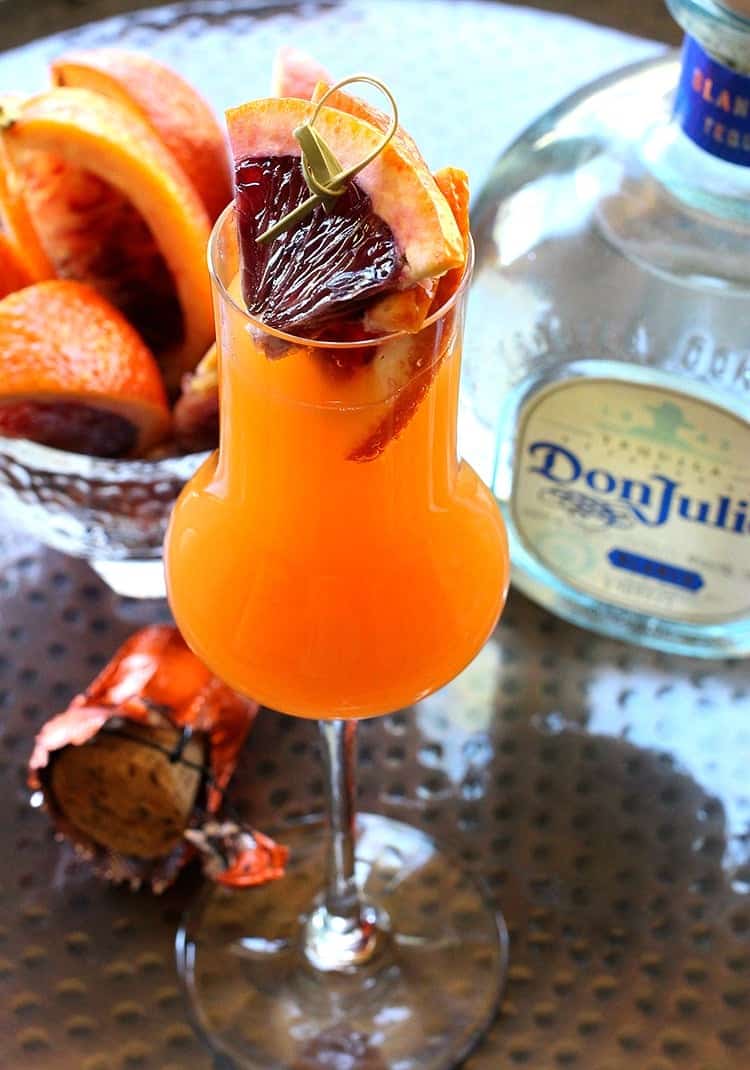 Yes I said morning cocktail. You don't have to wait for a brunch or a special occasion to have a cocktail in the morning, do you?
Well I don't. When the weekend is finally here that's reason enough to celebrate. And what's better for celebrating than champagne AND tequila?
Now that's a party I want to be invited to!
You could swap out regular orange juice for the blood orange juice if you can't find any, but I grabbed this blood orange juice right in my regular grocery store – and if you've never tried it – it's worth buying. I'd swap it out for just my regular morning OJ of it wasn't more expensive.
But for cocktails – it's a must buy.
The addition of tequila in this Blood Orange Mimosa is also a must. I'm using Don Julio® Blanco for this recipe for it's clean, smooth flavor. It also has citrus notes, so it goes perfectly with this drink.
And also so I can just pour myself a shot on the side for sipping.
Once you have all the necessary ingredients, making this drink couldn't be easier. Just pour the blood orange juice in the bottom of a champagne flute, or make these up in high ball glasses for volume, totally up to you – then add in the Don Julio Blanco and top off with champagne.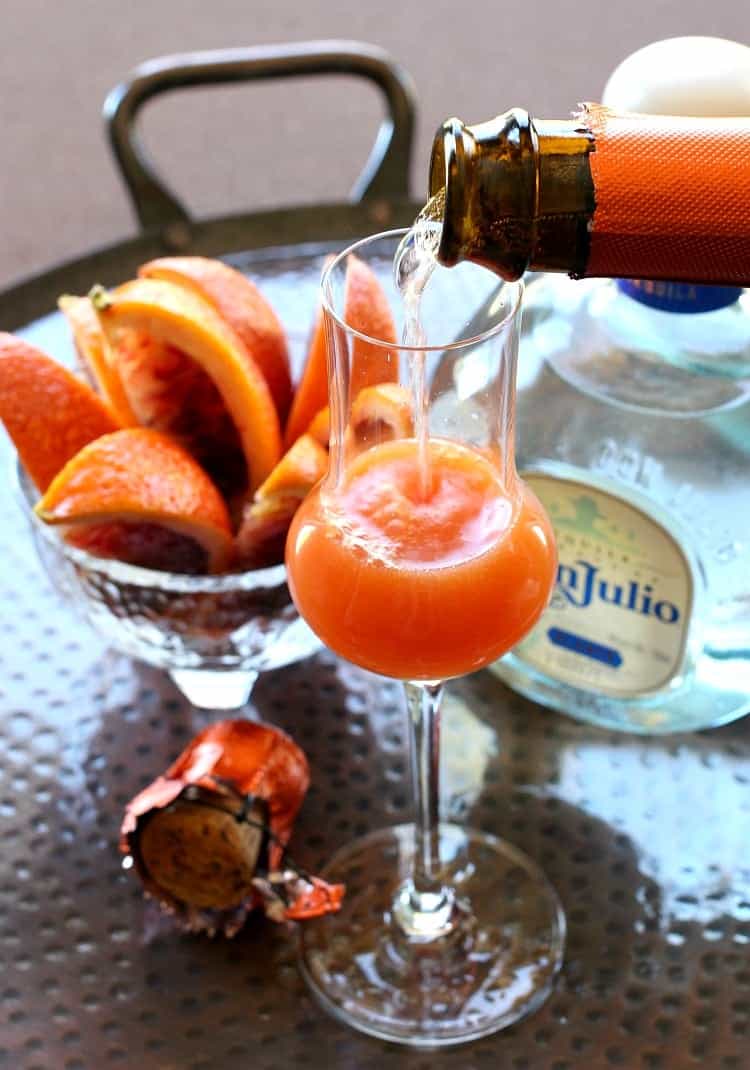 I know a lot of people substitute prosecco in drinks like this (including me) and that's totally fine. But for this one I'd see about trying actual champagne. Real champagne isn't usually as sweet as prosecco and I think it works a lot better for this cocktail since you've already got the sweet blood orange juice. If you do a little research, or ask around at your liquor store you can find very inexpensive but still good quality bottles.
And then…bottoms up. Then repeat.
Don't worry, it's the weekend. Feel free to take a nap after lunch!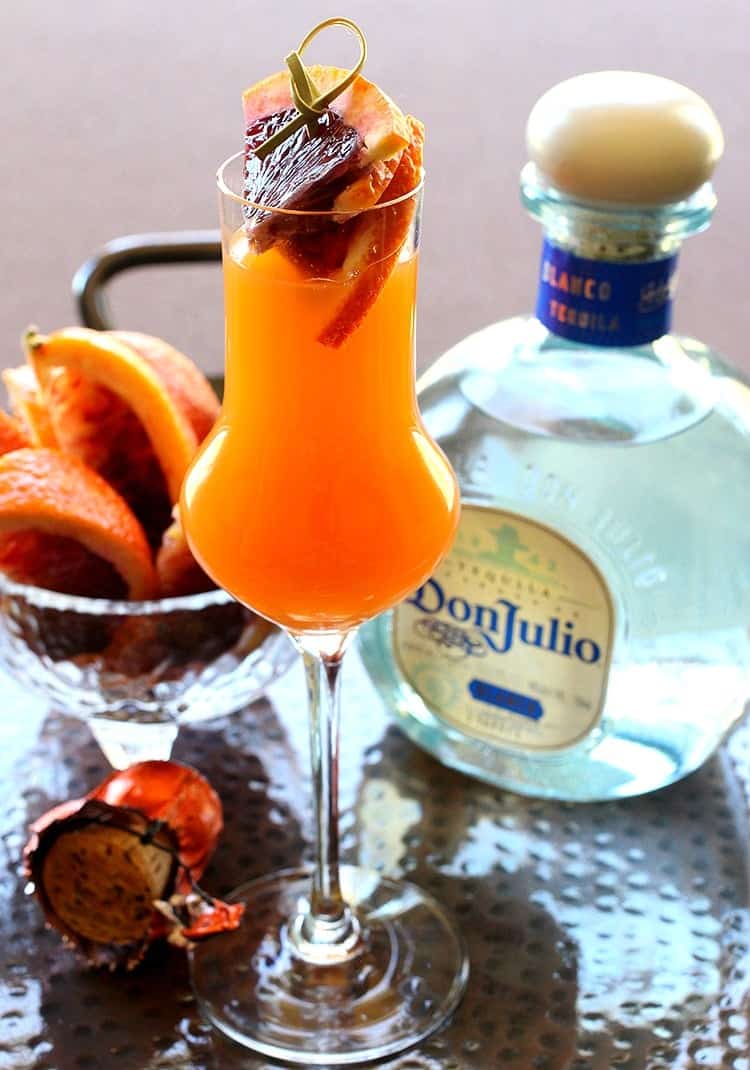 This Blood Orange Mimosa has been brought to you by thebar.com, head on over and check out some more awesome cocktail recipes!
Print
---
Ingredients
3/4 ounce

Don Julio Blanco tequila

1 1/2 ounce

blood orange juice
Champagne for topping
Blood orange slices for garnish (optional)
---
Instructions
Add the tequila and the blood orange juice into the bottom of a champagne flute.
Top off with champagne.
Add slices of blood orange for garnish if desired.
---
Notes
If you want to make this ahead of time in a pitcher for a crowd, add the tequila and blood orange juice in the amounts needed and keep in a pitcher in the refrigerator. Then when it's cocktail time, add a couple ounces of the mixture to each glass and then top with champagne.