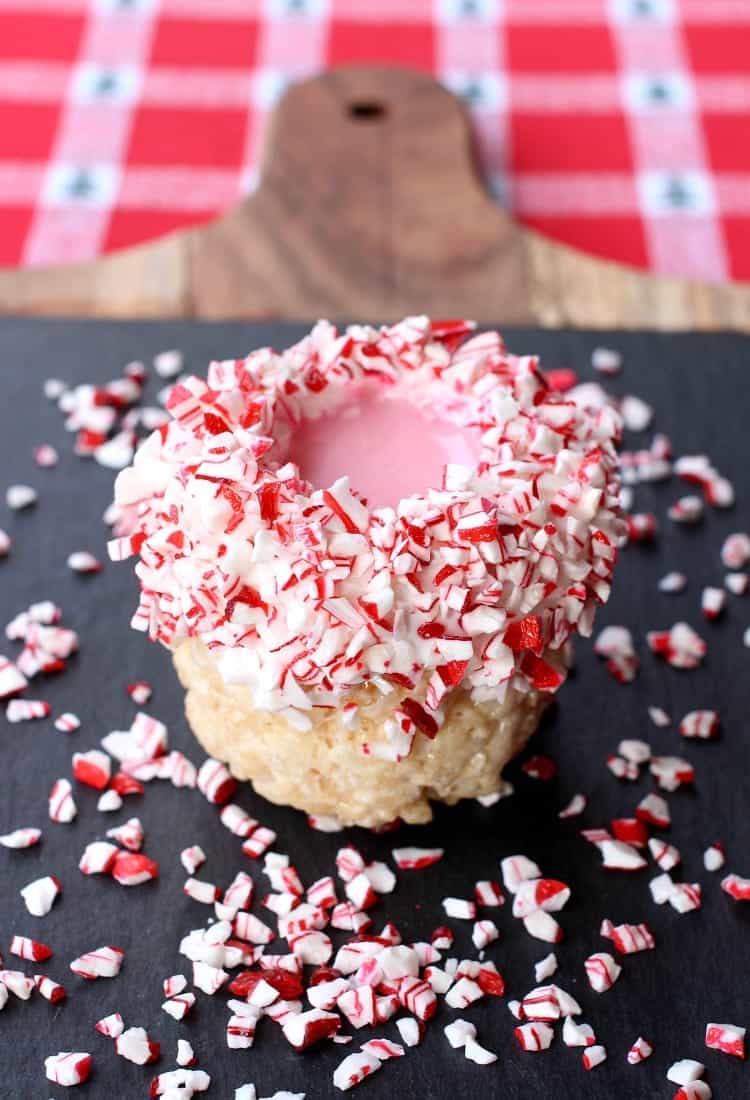 Peppermint Krispies Treat Shots
Peppermint Krispies Treat Shots are a fun (and tasty) way to get your Christmas cocktail party started, and keep it going right into dessert!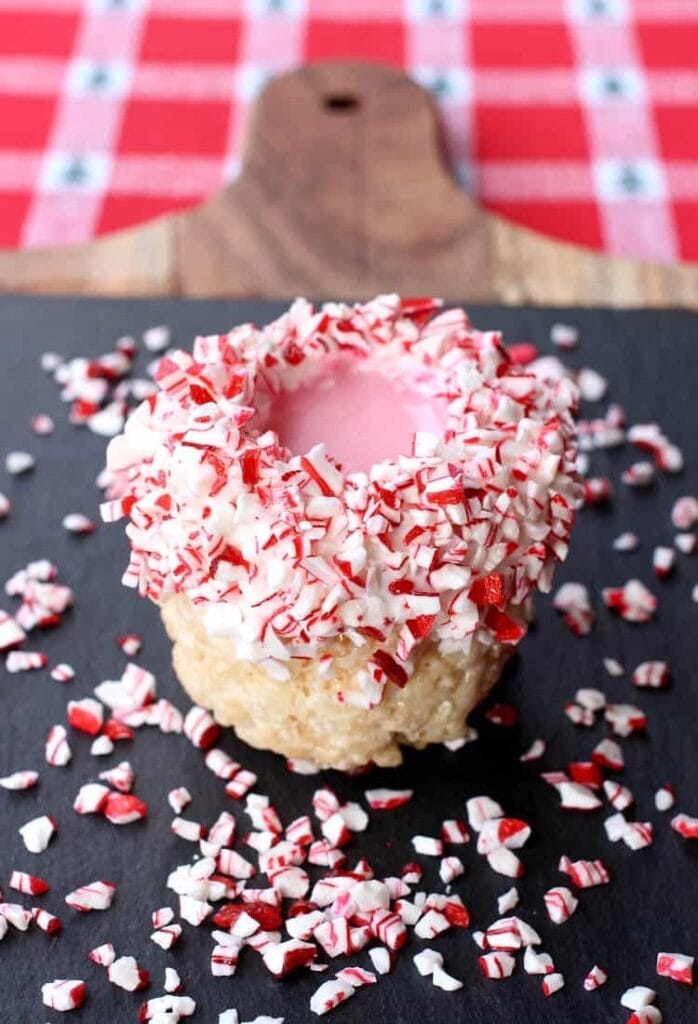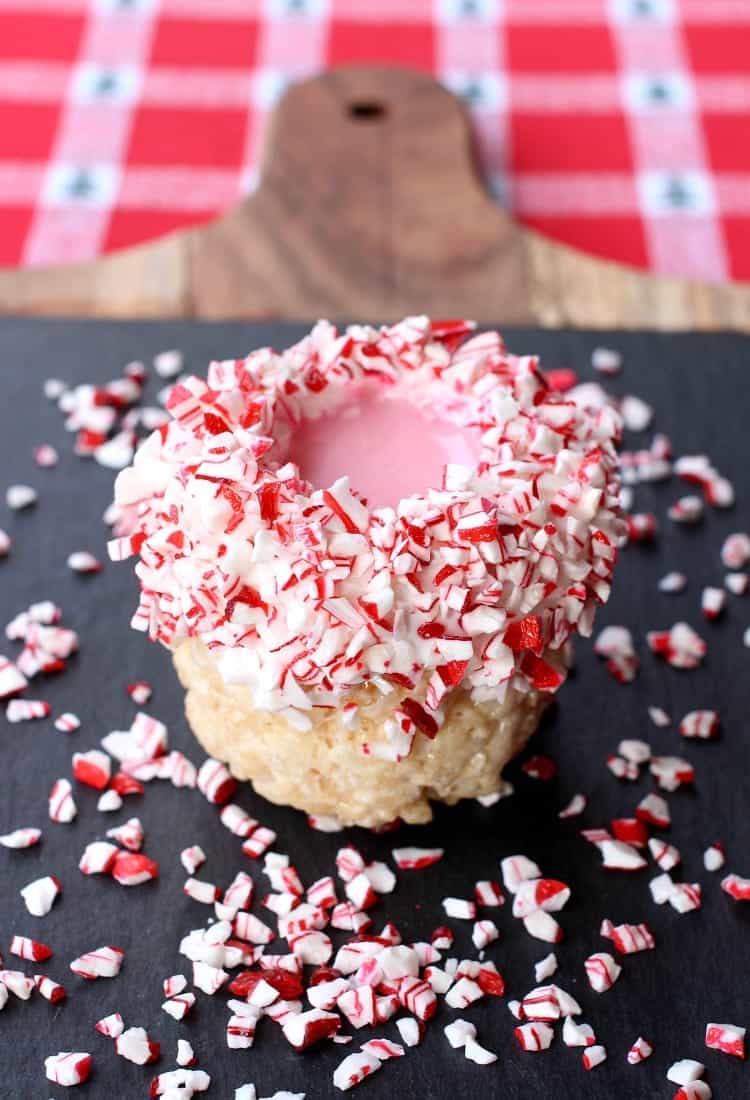 Boozy, edible, Christmas shot glasses.
Bonus that there's a really tasty drink inside – that's a bonus for sure.
We make all sorts of cocktails come holiday time like these Eggnog Cocktails or these Cranberry Whiskey Sparklers.
We've been on a Rice Krispies Treat binge lately (that's a killer recipe if you don't have one)…we made these Peppermint Krispies Blossom cookies last week and they were a huge hit with our boys, I might have eaten a few myself, but the boys, they ate most of them.
I'm going to stick with that story.
Actually let's stick with that story for a minute. Am I the only Dad that has to hide food around the house? I mean, it seems crazy but if I want something like a fresh baked cookie – maybe tomorrow – I literally have to hide a few in a cabinet somewhere so the scavengers don't eat all the 3 dozen cookies in one day.
I'm telling you, if I didn't resort to hiding I'd get zero.
SO I may or may not have hid a few of those cookies we made last week, so I could enjoy just a few for myself.
Moving on to these Peppermint Krispies Treat Shots, I also had to hide a few of these from the kids. Of course they didn't enjoy these with a boozy drink inside – what did they do? Scooped vanilla ice cream in like it was an ice cream cone.
Pretty great idea, so if you end up making these for your Christmas party, make a few extra for the kids to eat with ice cream!
Once you get the hang of how these are made, they go fast.
And they do have to get done pretty quickly or the treats will start to harden up on you – but I found a quick trick to fix that – just heat them up in the microwave for 20 seconds and they'll be warm and soft again so you can keep making your shot glasses.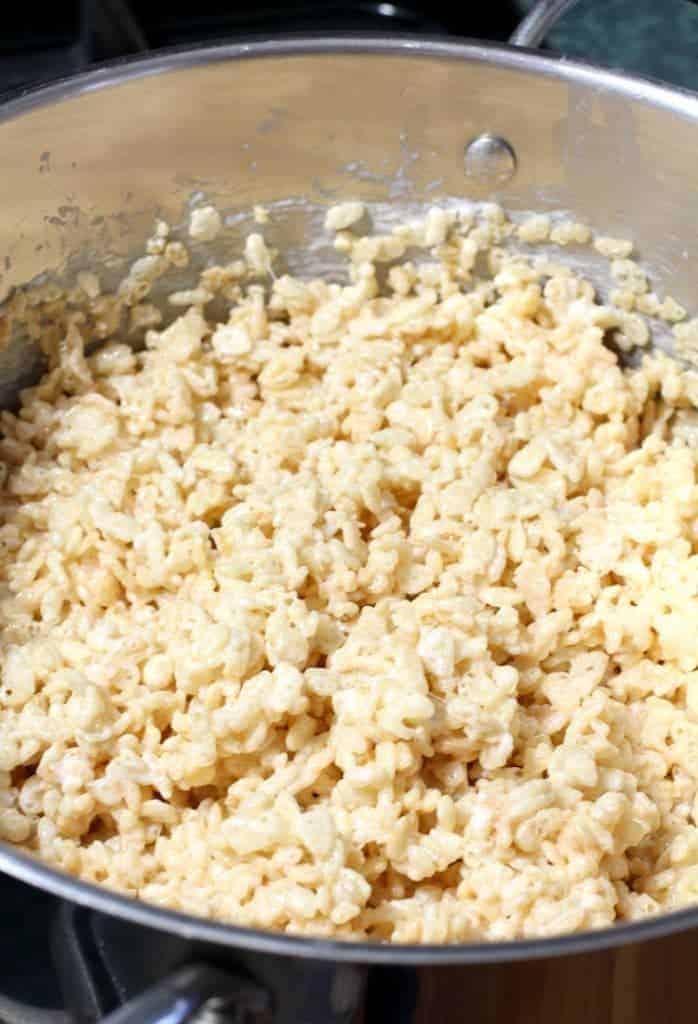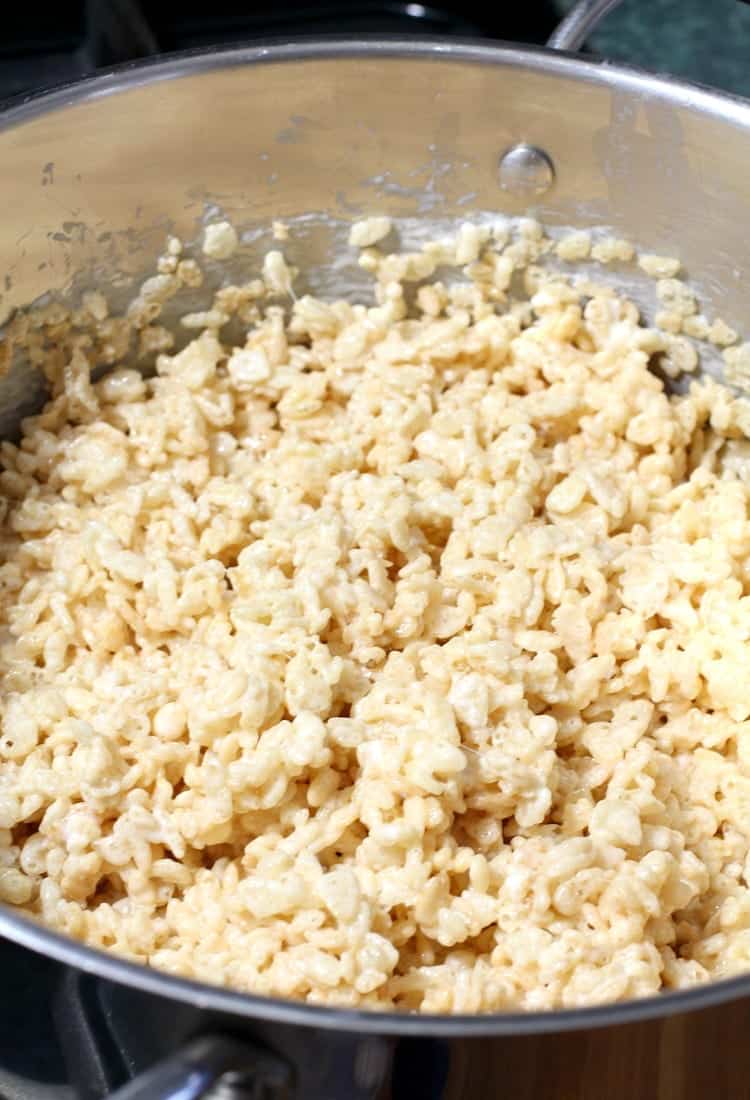 Now comes the fun part. Grab two different size shot glasses like the ones I have here, they can be any size or shape. Basically you want one smaller glass to fit into a larger glass.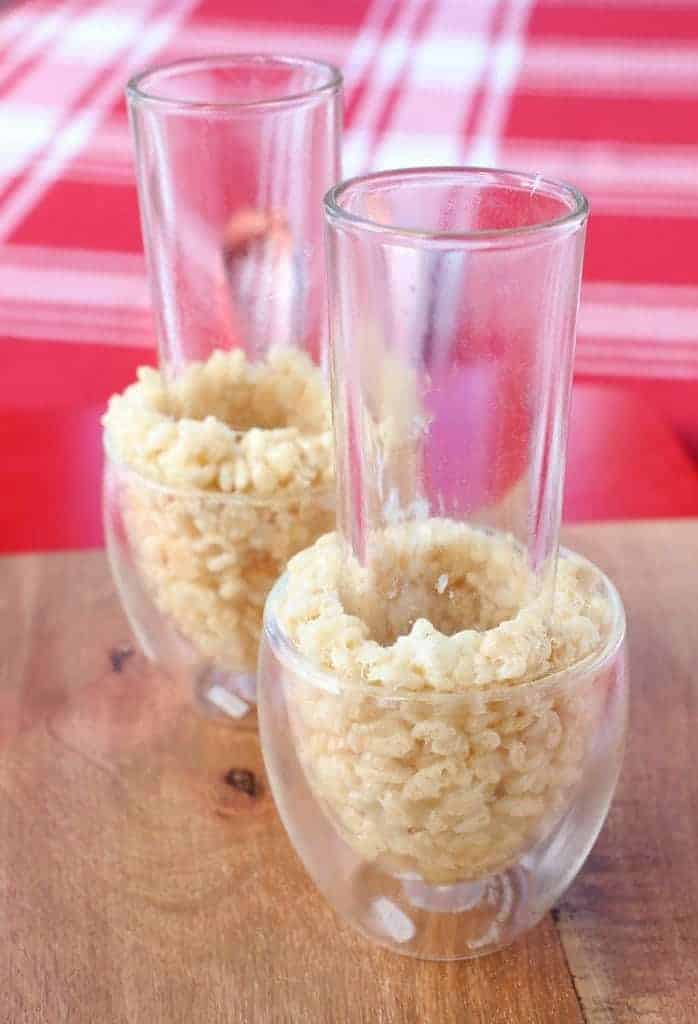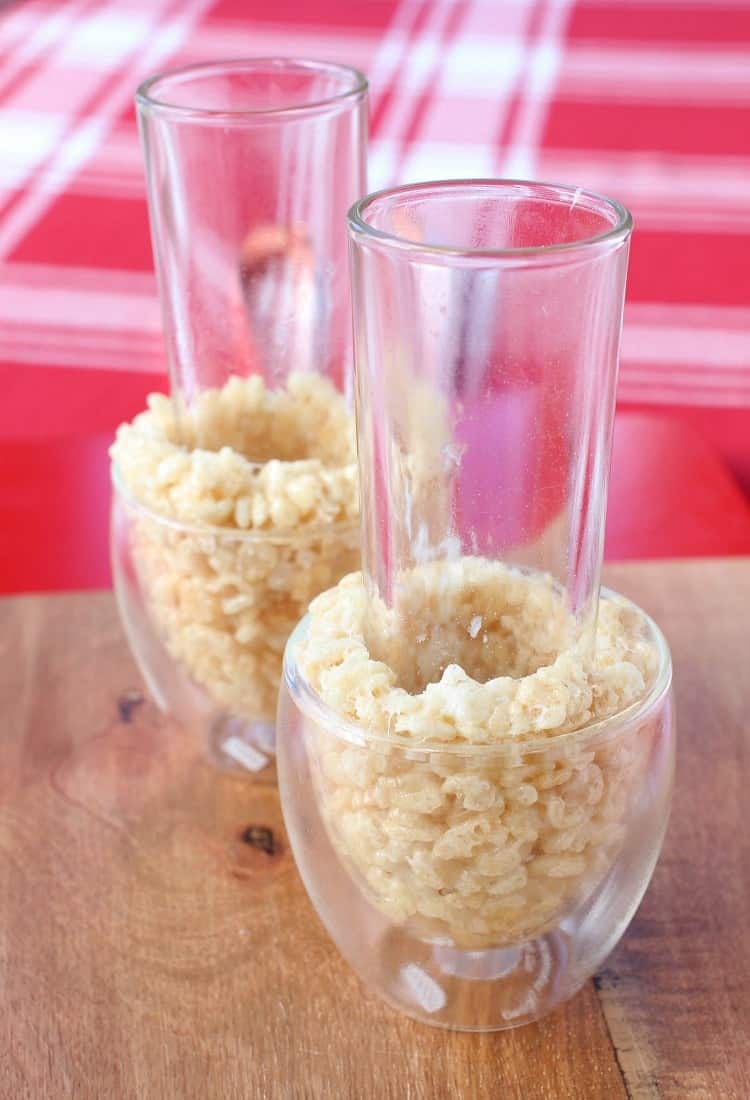 I sprayed mine with non-stick cooking spray so they would slide out easily – and it worked! They came out perfect.
Now you need to coat the insides to make these shot glasses leak proof. The easiest way is to grab that Magic Shell stuff – you know the kind you pour over ice cream and it freezes on contact? Yep, grab it, coat the inside of the shot glasses and stick them in the freezer. Another way is to melt down some peppermint chocolate kisses (or you can use the regular chocolate kind, or really any flavor you like!) and coat the inside with the melted chocolate. Totally up to you – both work.
After about and hour in the freezer you can take them out, rim them with the frosting and crushed peppermint and fill them with the boozy cocktail mixture.
Then it's bottoms up.
And don't forget to eat the glass when you're done!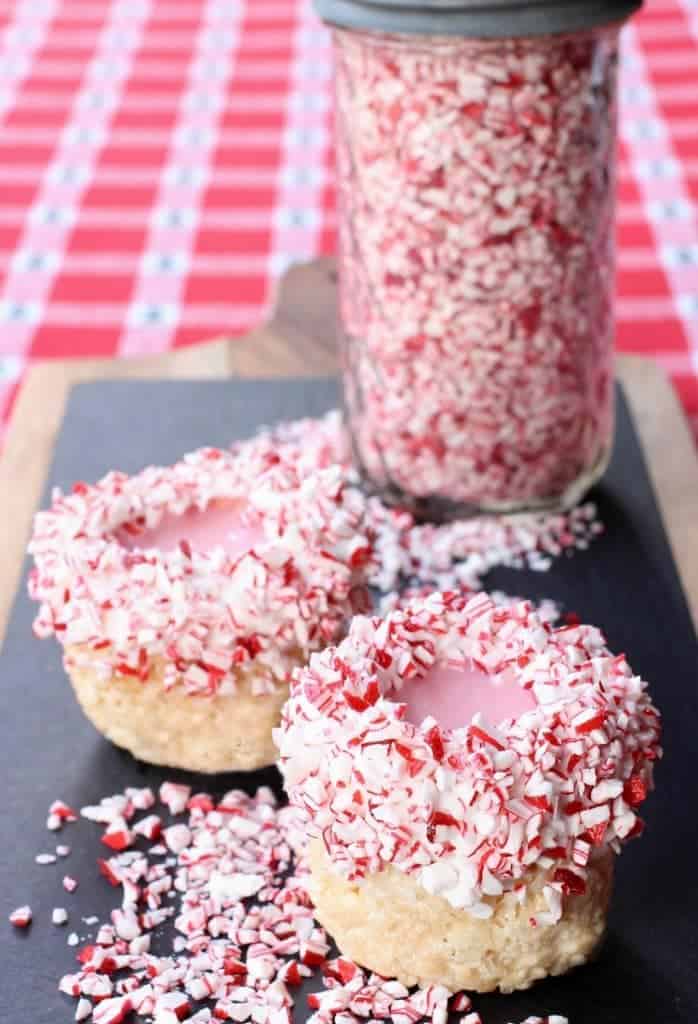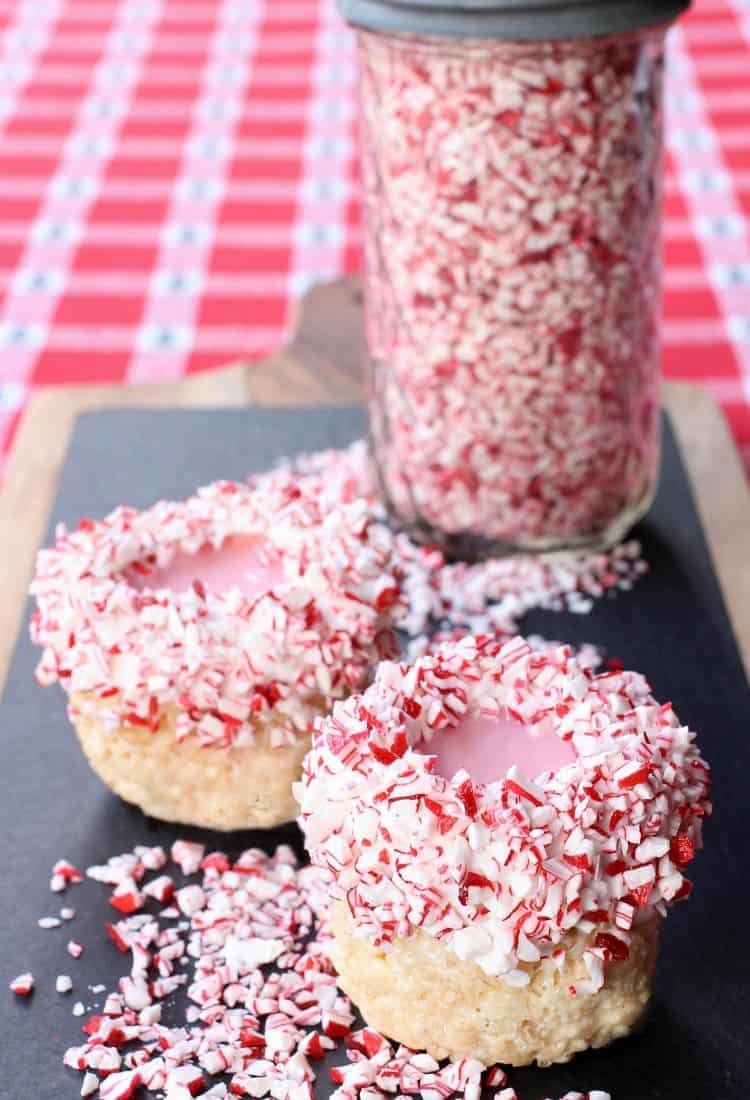 Print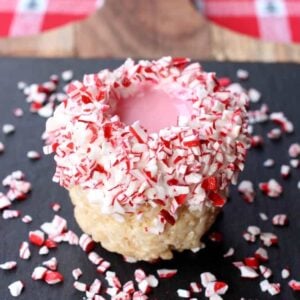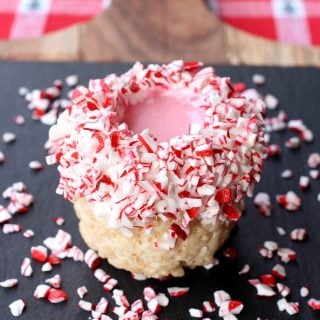 Peppermint Krispies Treat Shots
Author:

Yield:

24
---
Ingredients
For the Drink:
1 shot UV Cake vodka
2 shots Rumchata
2 tablespoons crushed peppermints
For the Glasses
5 tablespoons butter
6 cups rice krispies cereal
1 10 oz. bag mini marshmallows
1 can of vanilla frosting
1 cup crushed peppermints
1 bottle magic shell or 1 10 oz. bag melted peppermint kisses. *See note
---
Instructions
Start making the drink by combining all the ingredients into a glass bowl.
Let the drink sit for at least an hour while you make the glasses.
Melt the butter in a large pot then stir in the bag of marshmallows until melted.
Add in the cereal and stir until well combined and transfer to a glass bowl.
Working with two shot glasses, one that fits inside the other, put some of the treats in the bottom of the larger shot glass as the base.
Then take the smaller shot glass and use it to push down the base to flatten it. This shot glass also becomes the mold for the sides, so hold it in the center of the larger shot glass and start filling in the edges until you get to the top.
Push down from the "rim" of the krispies treat glass to make sure it's firm.
Remove the inside shot glass carefully then pull out the krispies treat shot glass.
Repeat with the remaining treats until they're all formed. Depending on what size shot glasses you use will depend on how many you end up with.
If your krispies treats start to harden up on you, pop the bowl into the microwave for 20 seconds and If you're using the Magic Shell to line the insides of the glasses, just squirt some in an then use a spoon or your finger to paint it all around the inside. This is what makes your shots leak proof so make sure not to miss any spots! If you're using the melted kisses, it's basically the same thing, just spoon a little in and paint it all around the inside.
Chill the shot glasses in the freezer for an hour before filling.
Use the vanilla frosting to rim the tops of the glasses and then sip them in the crushed peppermints.
Fill the glasses with the cocktail mixture and serve.
Don't forget to eat the glass!
---
Notes
If you're using the kisses to coat the inside of the shot glasses, just unwrap them and place them in a microwave safe bowl. Microwave for 30 second intervals, taking out and stirring in between until completely melted.