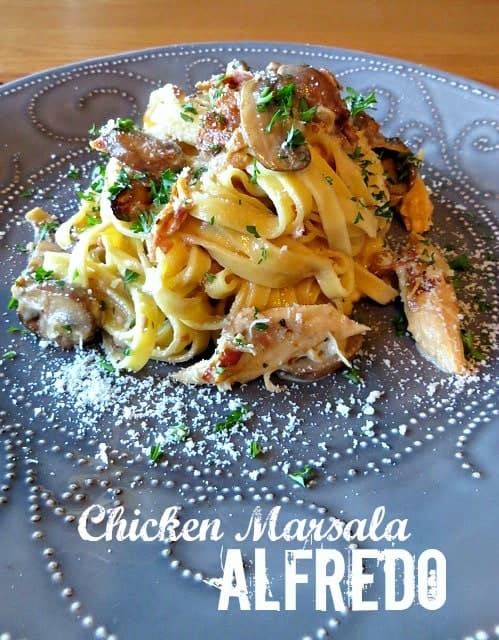 Now that we've had our nice and light Grilled Shrimp and Mango BBQ Sauce appetizer…
Let's move on to dinner. Chicken Marsala Alfredo.
Everyone in my house loves fettuccine alfredo and chicken marsala. I had all the ingredients for both in the refrigerator and couldn't decide what to make.
Chicken Marsala with fettuccine alfredo on the side? Good…but I'm seeing a lot of pots and a big mess. Too much work.
So I thought that if I combined them into one dinner I could have the best of both worlds. It turned out so well that it has been requested for our Valentine's Day dinner this Friday.
This recipe does have a few steps, but I condensed it into 2 pots and pans for you- not such a bad clean up.
You start by cooking up your proscuitto. Make sure it gets real crisp before you take it out, then set it to drain on some paper towels.
Next, to the same pan add in the copped onions and mushrooms. Add in a little more oil and saute until the mushrooms get browned.
While the mushrooms are browning, start a large pot of water to boil for the pasta.
When your pan looks like this…you're going to add in the marsala wine.
When the marsala cooks off a bit, add in the butter and cream and let simmer for about 10 minutes. After it thickens up add in the shredded chicken, the prosciutto and the parmesan cheese.
When the pasta water comes to a boil add in the fettuccine and cook for about 5 minutes if you're using fresh, or 8-10 minutes if you're using dried. Save a cup of the pasta water before draining. Drain the pasta and toss it with the marsala alfredo sauce. If your sauce has gotten too thick, you can use some of the pasta water to thin it out, or some chicken broth. Garnish with some chopped parsley and some (more) parmesan cheese.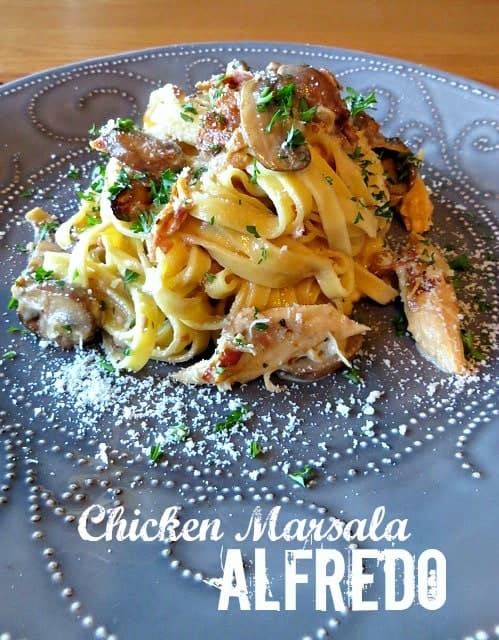 This recipe serves a crowd, it can also be easily cut in half if you're not expecting a crowd on Valentine's Day…
Chicken Marsala Alfredo
Ingredients
2 9 oz. packages of fresh fettuccine
10 oz. package of mushrooms, wiped clean and sliced
1 onion, chopped
2 large cloves of garlic, minced
4 oz. package of prosciutto, chopped
2 chicken breasts from a rotisserie chicken, shredded
2 cups of heavy cream
4 T. butter
¾ c. grated parmesan cheese (plus 2 T.)
½ c. marsala wine (plus 2 T.)
¼ c. parsley, chopped finely
salt and pepper
olive oil
Instructions
Start a large pot of water to boil for the pasta.
Add 2 T. olive oil into a large skillet over medium heat. Add in the chopped prosciutto and brown for 5 minutes until crisp. With a slotted spoon, take the prosciutto out of the pan and set to drain on a paper towel.
Add in 1 T. of olive oil to the same pan and add in the mushrooms and chopped onions. Add ½ t. salt and a few grinds of black pepper. Cook for about 10 minutes, stirring often, until the mushrooms get browned. Add in the garlic and cook for another minute.
Add in the ½ cup of marsala wine and scrape up the brown bits at the bottom of the pan. Let reduce for 2-3 minutes, then add in the cream and the butter. Season with more salt and pepper to taste, stir and let simmer for 10 minutes.
Next add the shredded chicken, the prosciutto, and the parmesan cheese, stir and let the sauce sit until your fettuccine is ready. Make sure at this point you test again for seasoning.
Once the water for the pasta comes to a boil, add in a small handful of salt then cook the fettuccine according to the package directions, drain and return to the pot. Add the remaining 2 T. of marsala to the sauce and stir. Pour the chicken marsala alfredo sauce over the fettuccine and using tongs, toss well to combine.
Garnish with chopped parsley and the 2 T. of parmesan cheese.
:
6
Calories:
828
Fat:
44g
Saturated Fat:
25g
:
17g
Carbs:
71g
Sugar:
4g
:
707mg
Fiber:
4g
Protein:
33g
Cholesterol:
166mg