Follow along with me on my weekend of Beer, Food and Fun in Baltimore! Great food, a new brewery and tons of sights to see!
When I got the invite to the opening of the new Guinness brewery in Baltimore, I knew I was going to have to make it happen.
The Open Gate Brewery and Barrel House opened on August 2nd to a few special people, my luck self included, along with the workers there and a whole bunch of VIP's in the Guinness world. The brewery opened to the public the next day on August 3rd.
This is the first Guinness brewery to open in the United States so I knew I had to get there and check it out. Since Maryland is only about 3 1/2 hours from me I knew I could make it work.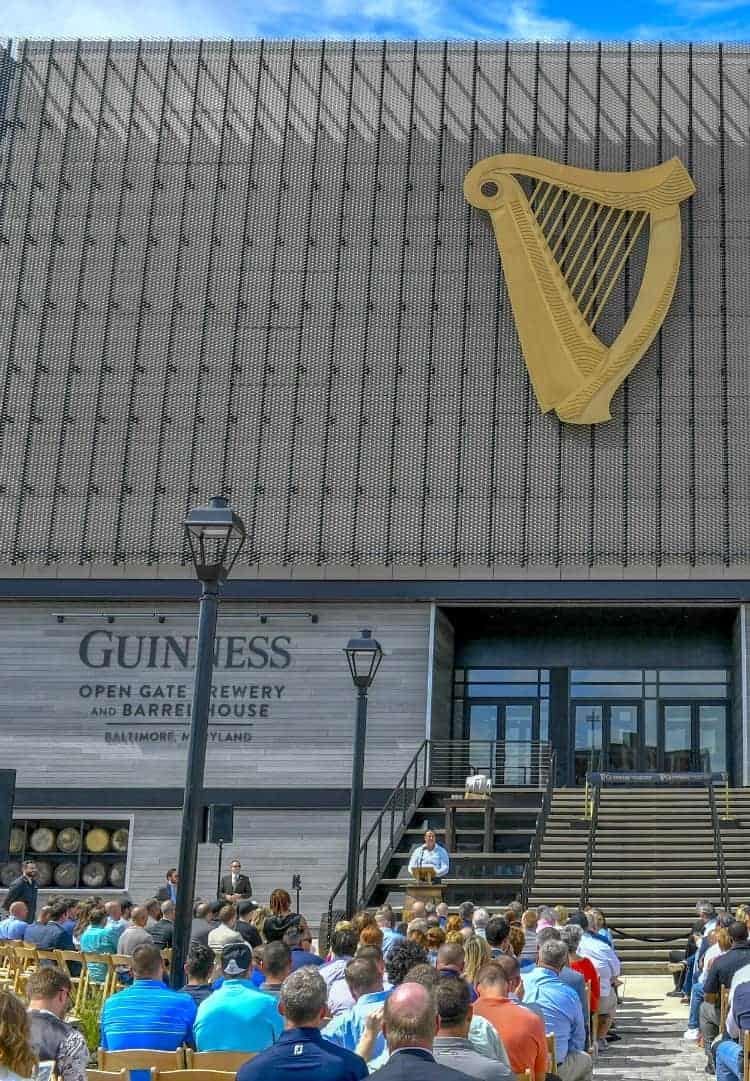 A Weekend Of Beer Food and Fun In Baltimore
We drove up early in the morning so we could head straight to the event. There was an opening ceremony with a live band playing and some speeches…and then the fun started.
The history of Guinness was really interesting to learn about, a 200 year old beer brand that just keeps expanding and growing and getting bigger and better.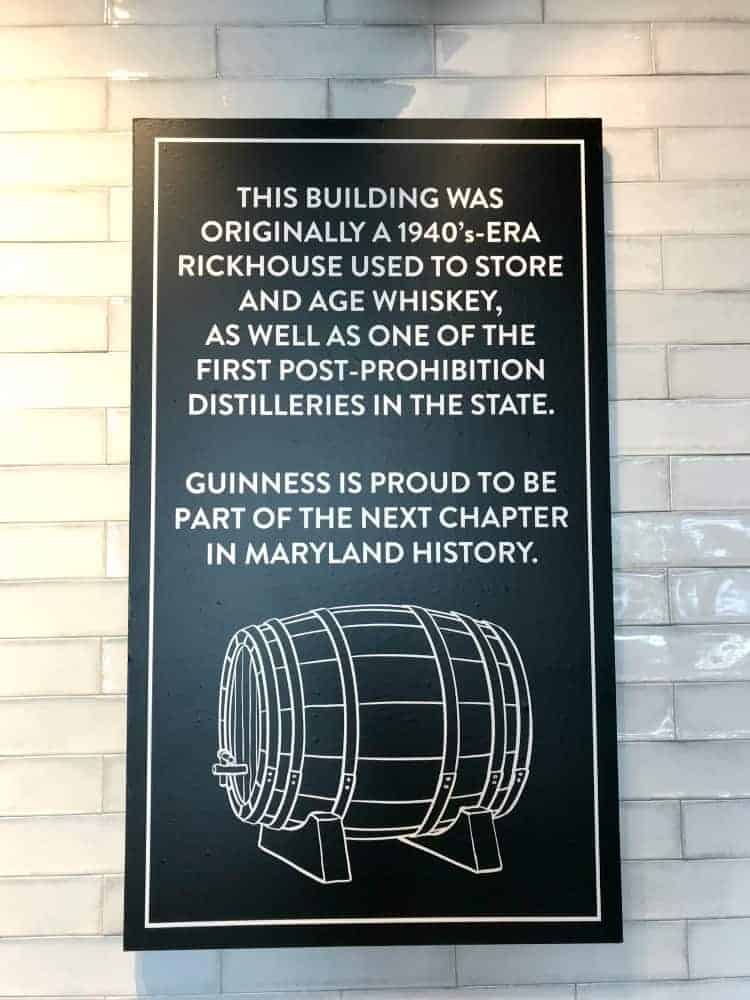 I have to say, I'm a big fan of anything beer related and history being made but Guinness isn't a go-to beer for me.
Or I should say, it wasn't before. But now it is.
My favorite of the day was Guinness Blonde and it might be my new favorite beer going forward. It's lighter than you'd expect from a Guinness beer but still strong enough in flavor to keep on brand.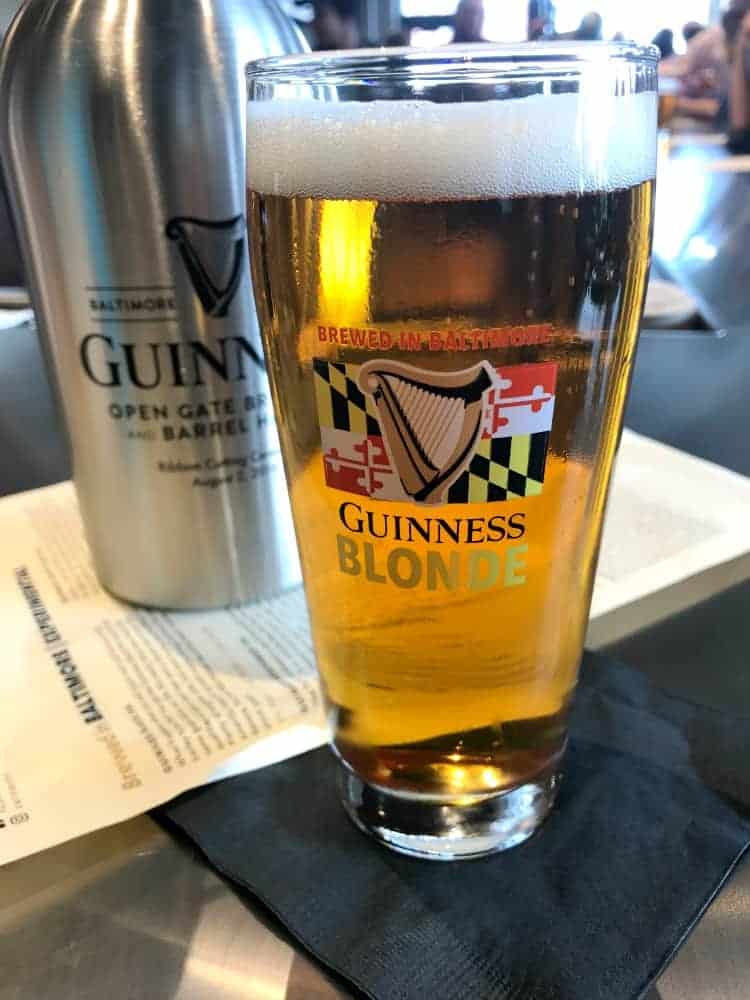 Next it was the ceremonial tapping. This was so much fun to watch, these guys literally have the BEST job in the world.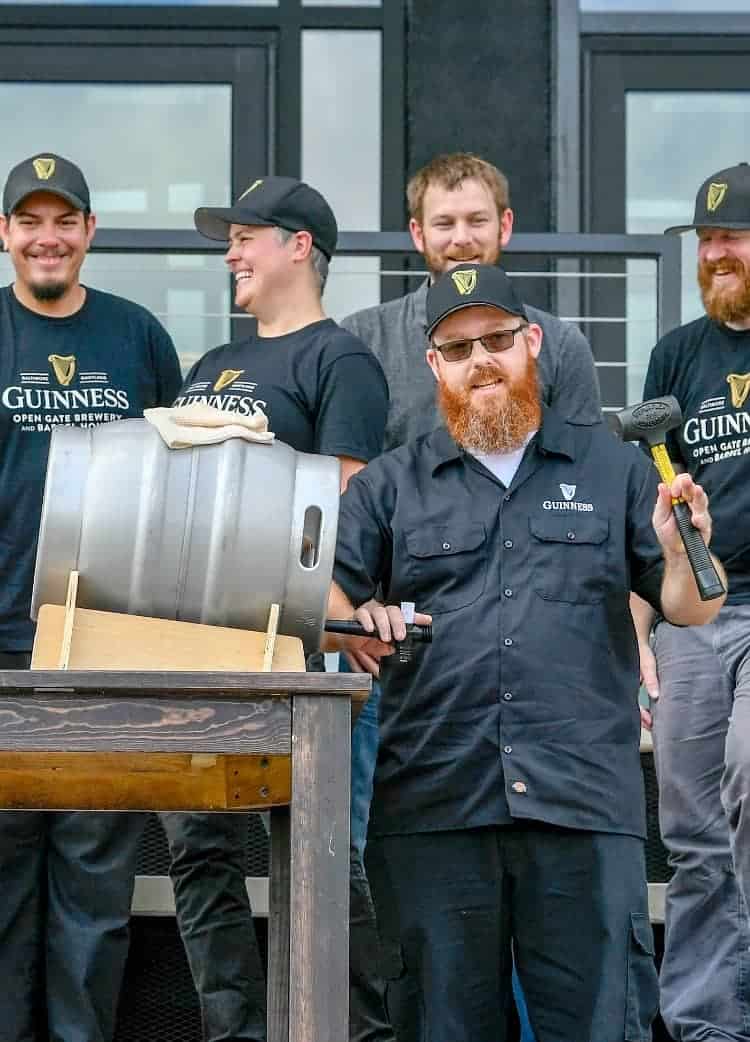 But…I gotta say…mine's pretty top notch too. We all got to sample a beer from the first keg of Blonde tapped. Pretty darn cool if I do say so myself.
Nope, I'm not having any fun here guys. No fun at all.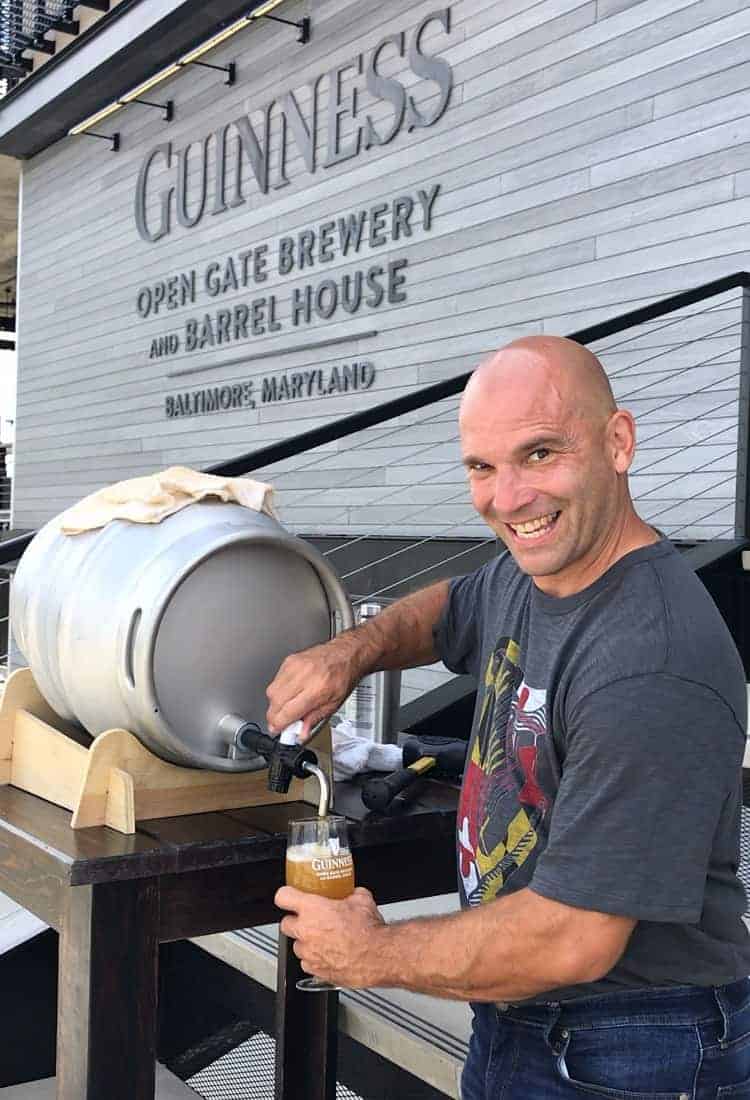 I was luck enough to snag a picture with Tom Day, Diageo Beer Company Chairman and Emma Giles, Guinness Brand Director. I can't say enough about the people that work for this company, everyone was so nice and so willing to take a million pictures with us.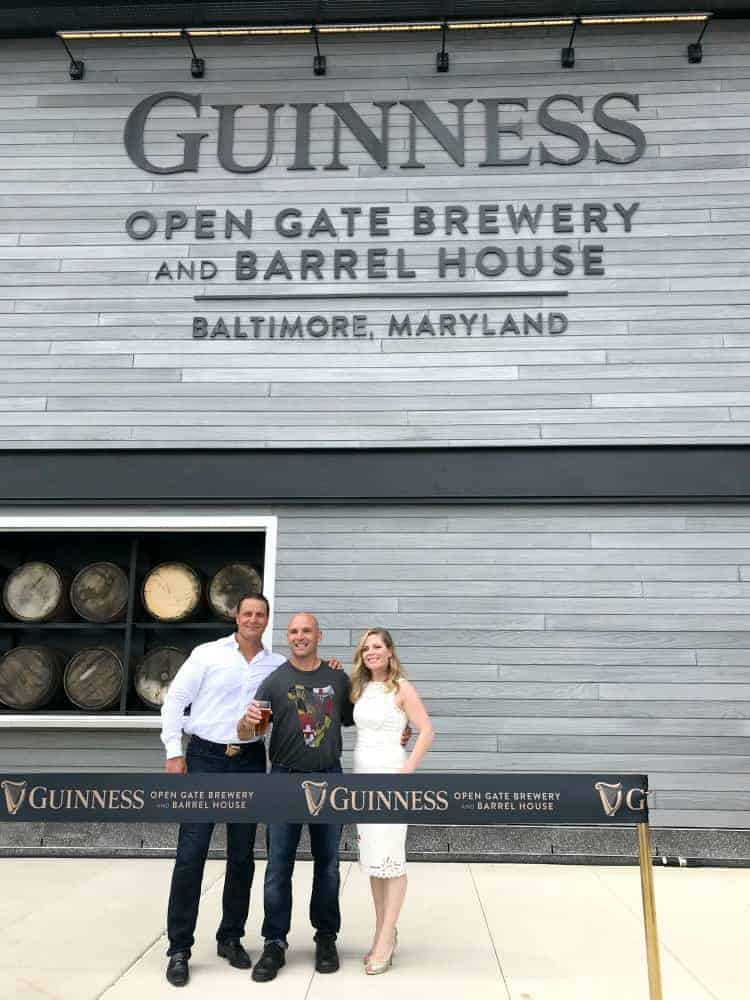 This is me and ______doesn't it look like everyone is my BFF? I really love this part of what I do, yes of course the beer drinking is awesome.
But I really enjoy meeting all the people behind the brands, that's the fun part for me. Nuno Teles is the President of Diageo Beer Company, I practically begged him for a quick picture and as busy as he was he obliged.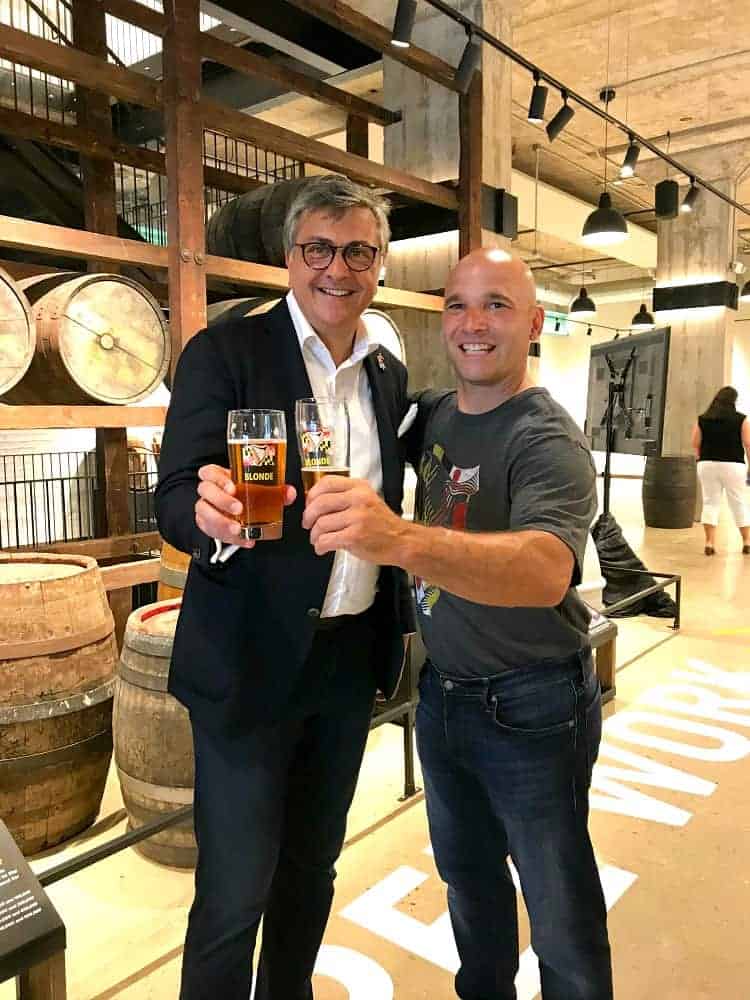 Rows and rows of these glasses were everywhere. This place was done so nicely, I have to say it was the best looking brewery I've ever stepped foot in.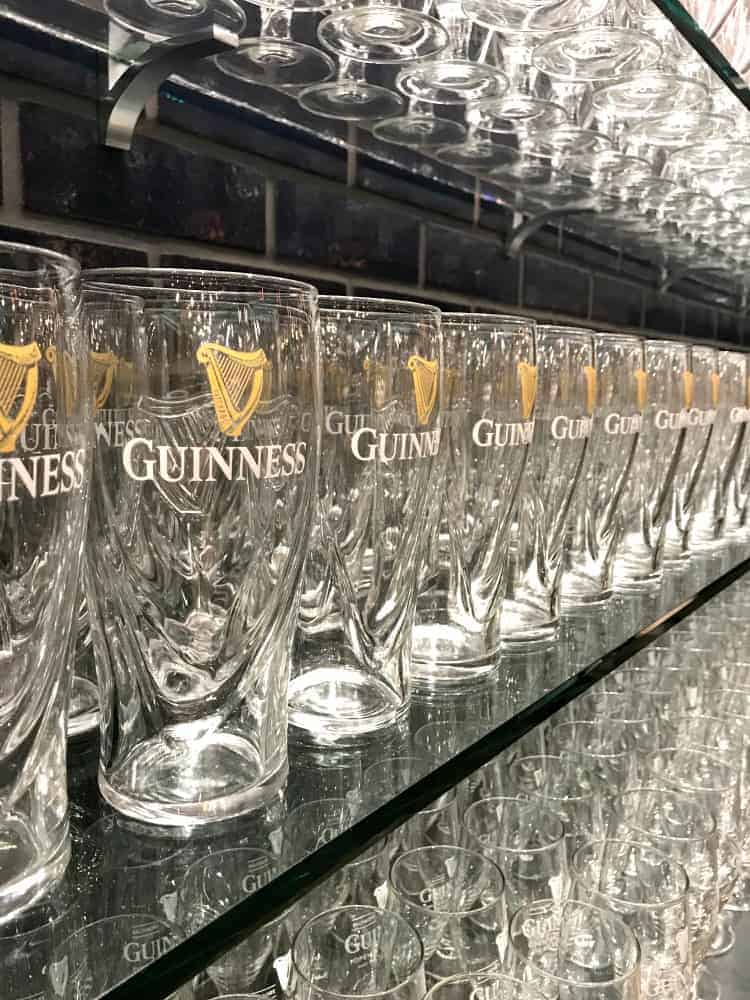 Finally I found a place to sit and enjoy the cold beer and the nice day, this was my hang out place for a while.
I was actually with a friend but someone's gotta take the picture and I wasn't about to let go of my beer for even a minute.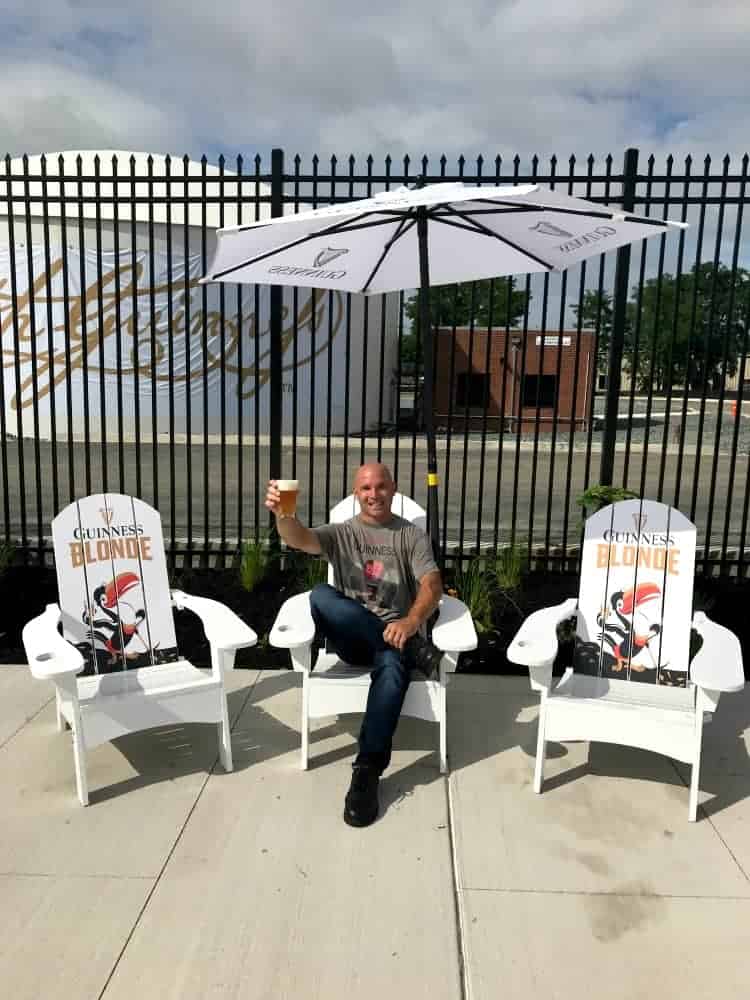 After the event it was off to check into our hotel and see the rest of the sights in Baltimore. We stayed in the Inner Harbor area, a great place for lots of shopping, restaurants, the aquarium and more.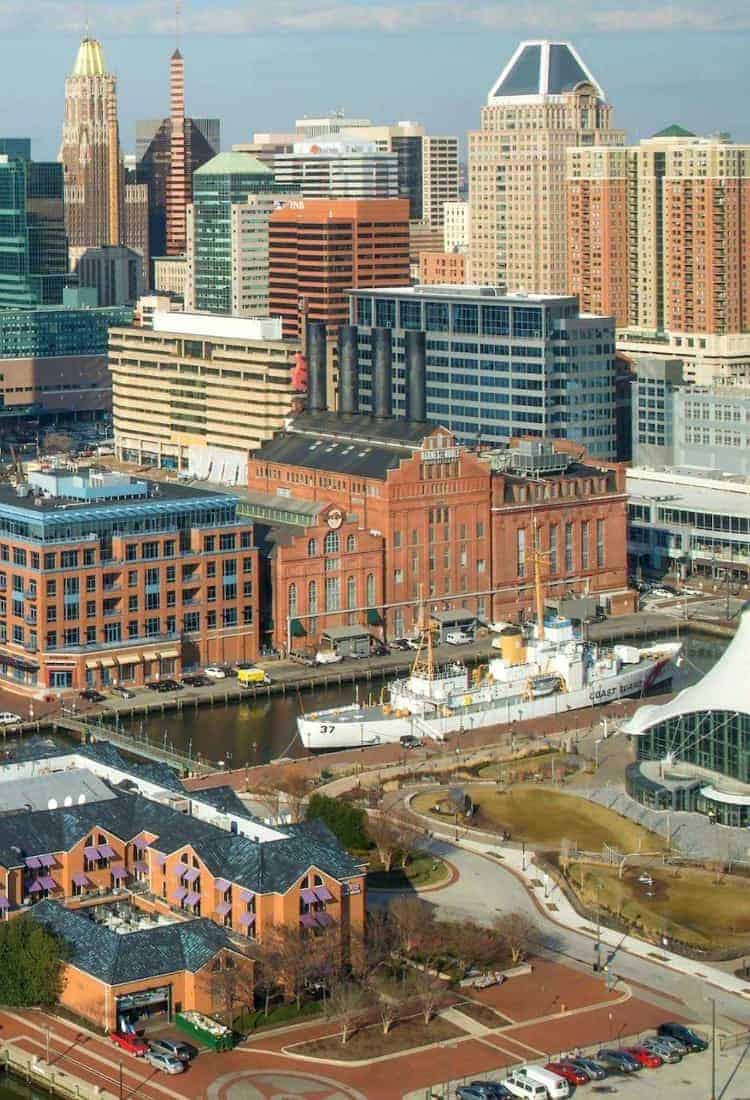 The view from our room was pretty amazing, even though it was rainy and overcast that day it still looked beautiful.
For dinner it was off the the famous Rusty Scupper. I was searching for a true authentic Baltimore dining experience on this trip. So crab cakes and somewhere on the water was a must.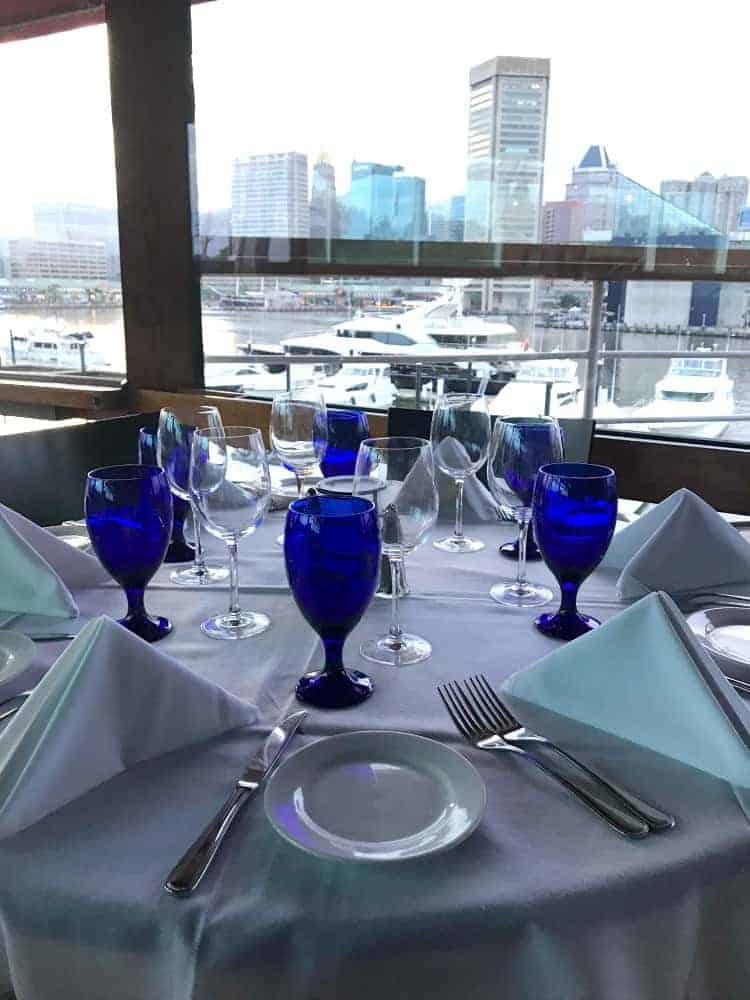 The kind folks at the Rusty Scupper hosted my friend and I that evening for dinner and we couldn't have been more grateful. It truly was one of the best seafood dinners I've ever had.
Of course we had to start off with a crab cake – or two.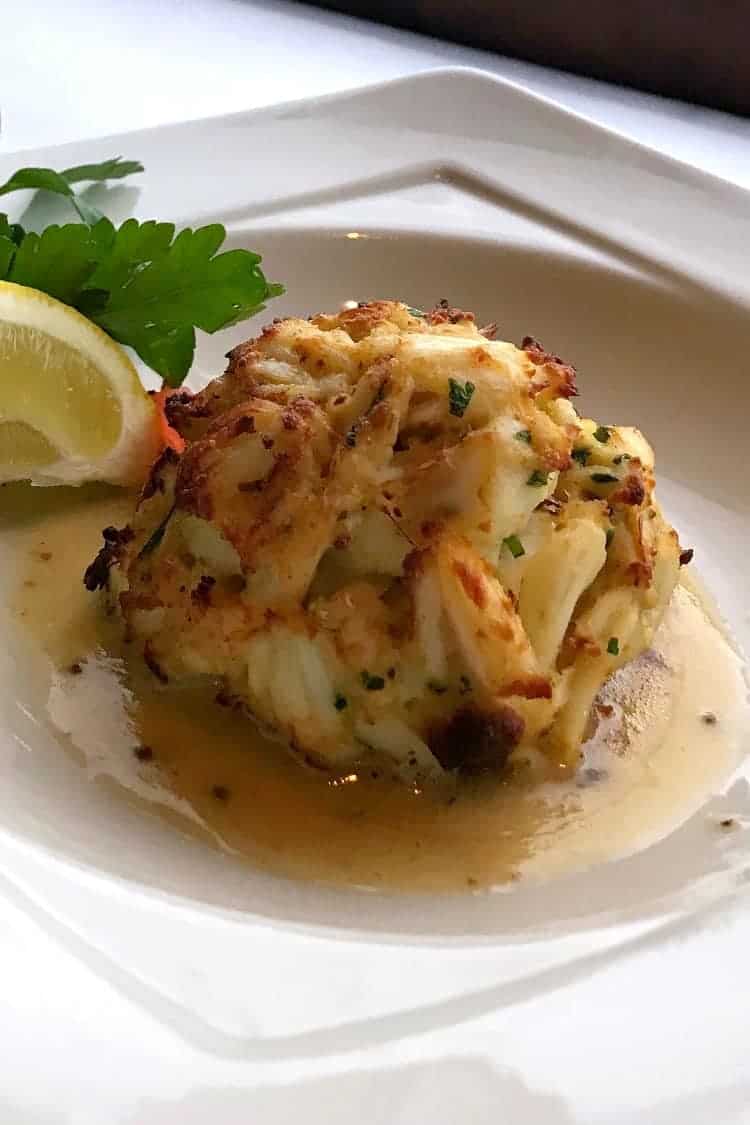 Take a look at that crab cakes…there's hardly anything holding them together but somehow they do stay together.
Just all crab, no filler, and the most amazing flavor.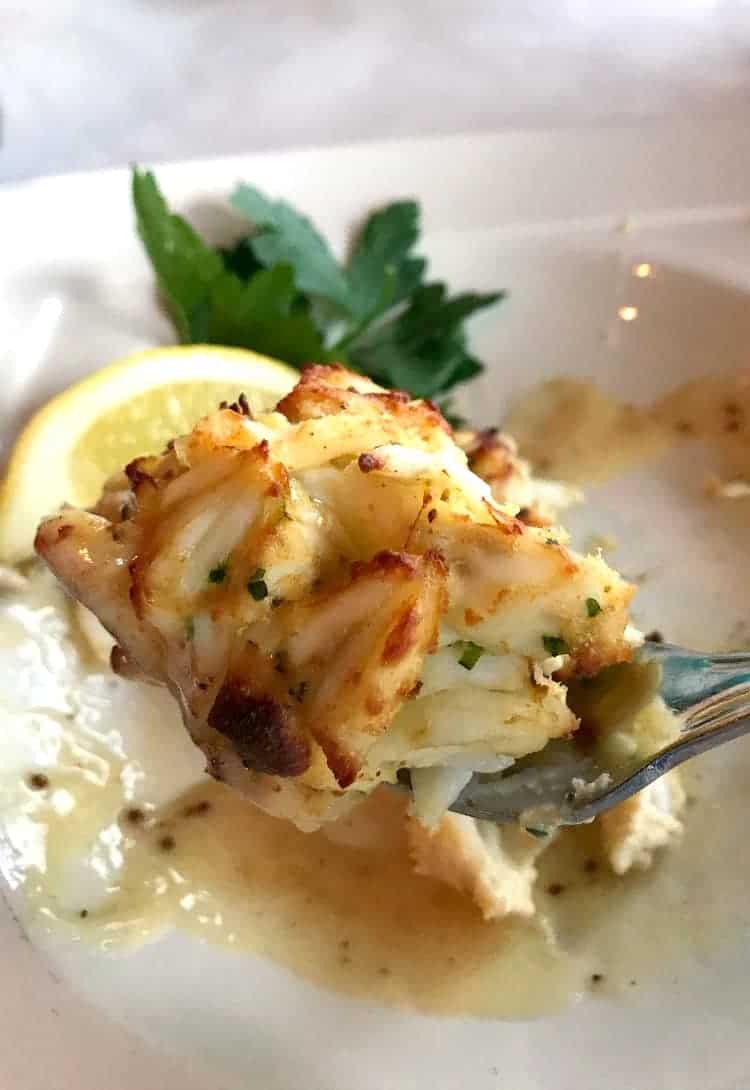 We had to order this whole fried rockfish that we saw on the menu too. With feta cheese, tomatoes and quinoa in a chimichurri sauce…well that was definitely happening.
True story – as I was carrying this awesome platter back inside from taking a picture the platter slipped. I caught it so thankfully I saved the fish but it went ALL over me.
There was a really nice guy who was just a diner at the restaurant that saw the whole thing and offered to go and buy me another fish – and a shirt. I've never met the man before in my life.
That just gives you an idea of how nice the people are not only at this restaurant but in the Baltimore area in general. I declined his generous offer but I just had to tell you about it. You don't run into people like that too much these days.
We devoured this fish and then some. We also had the lobster mac and cheese, the Maryland Crab Soup (which is a signature soup on the menu) and the coconut fried shrimp.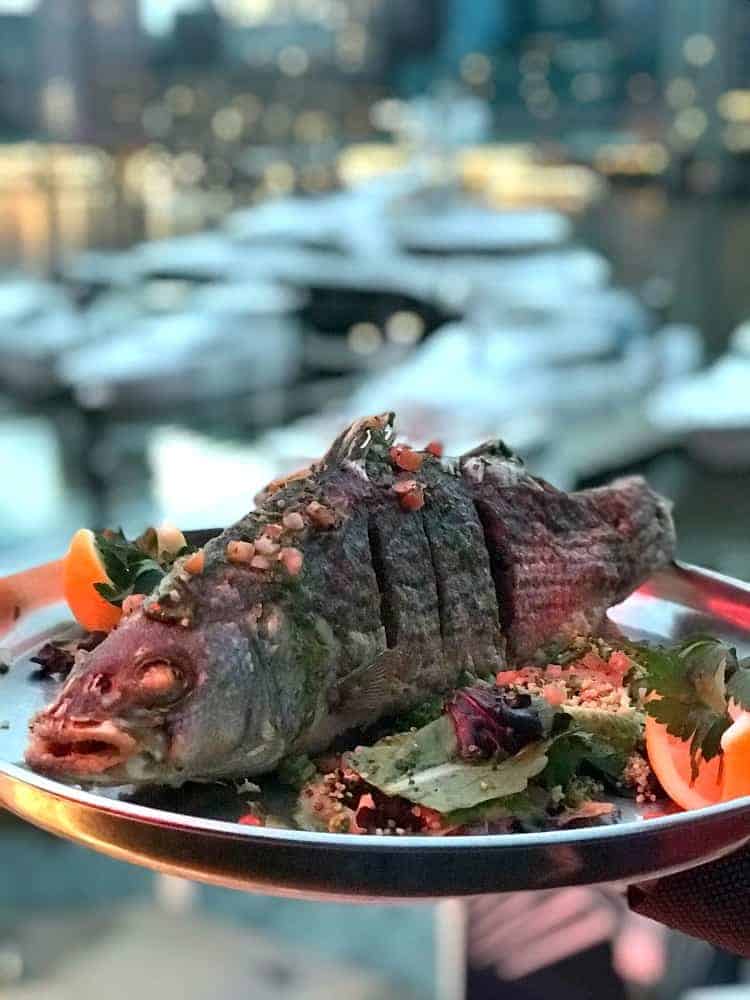 Full. Yes.
Ready for more the next day. Heck yes. We also tried another Maryland favorite called Jimmy's Famous Seafood for lunch the next day.
We weren't about to go home hungry I can tell you that. Also, I think it's interesting to see different restaurants versions of the same thing, like the infamous crab cake.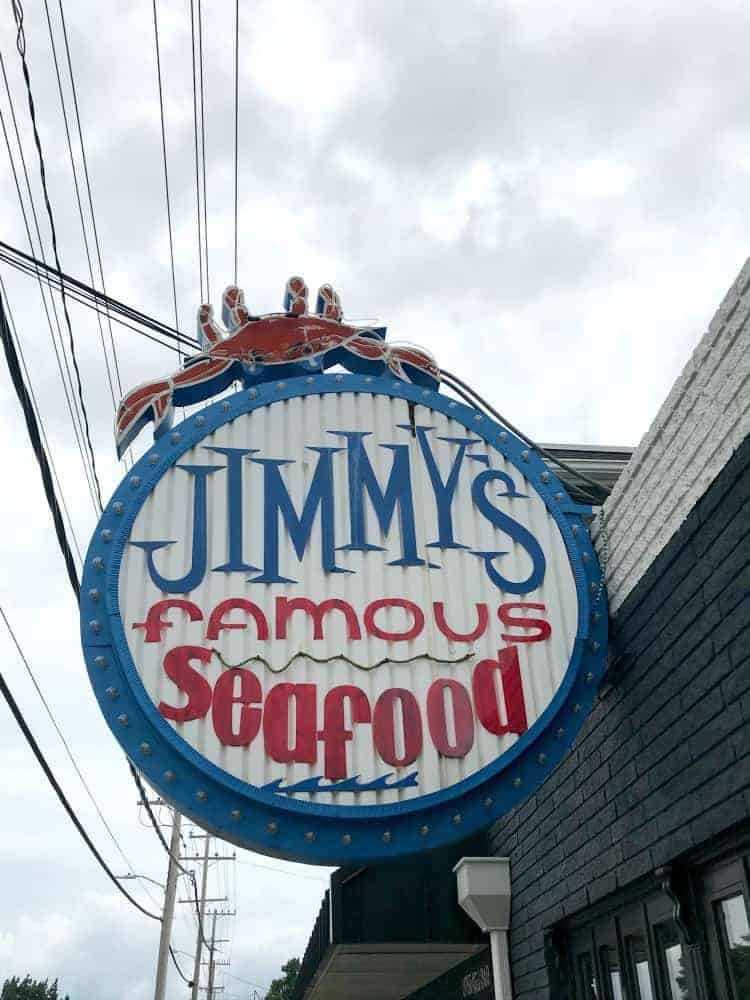 The crab cake here was great too. I'm going to say that I preferred the crab cake at the Rusty Scupper for it's simplicity.
This crab cake was breaded and fried – no problem with that at all – it was delicious and I'd definitely recommend a stop here, it's just what your taste is.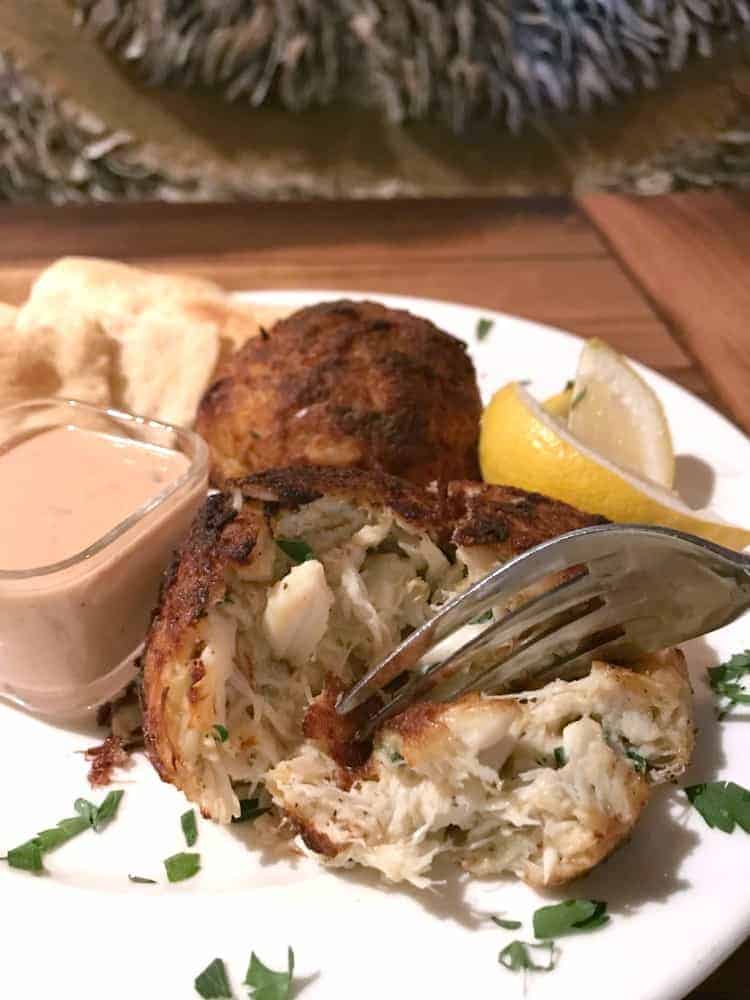 I did love the remoulade sauce that was served with this crab cake, too. So we got our fill of crab, we can honestly say that.
Sort of on our way home we ran across this winery, that's right. Dudes can hit up wineries too. It's not just for the ladies…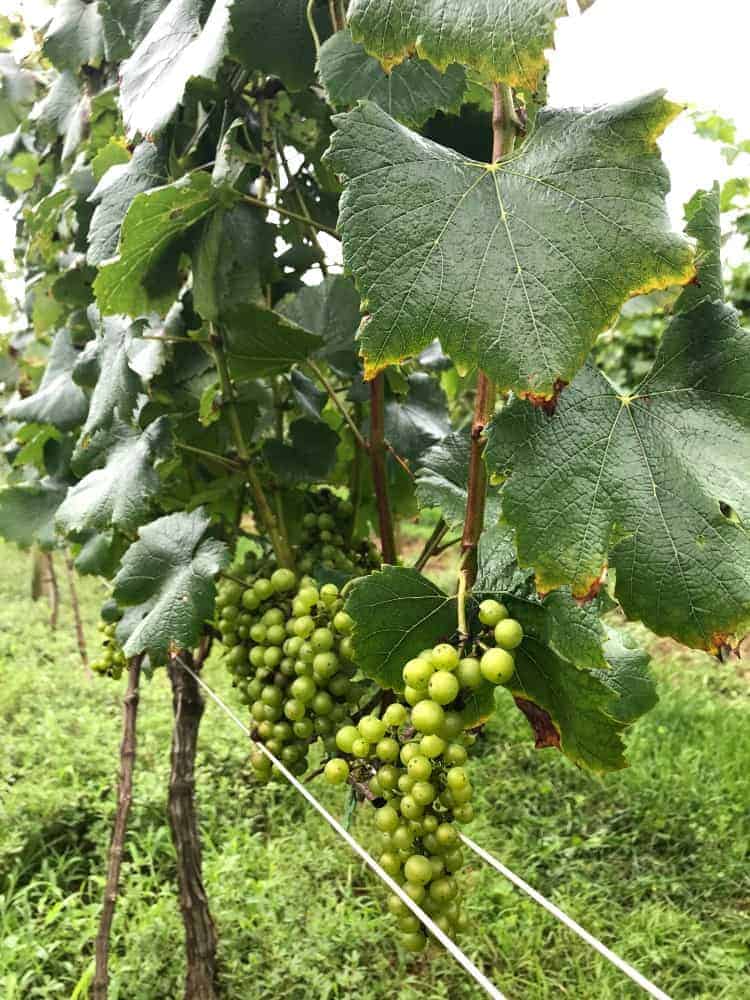 Basignani Winery was absolutely beautiful, we got a short tour or the grounds and the wine cellars from the owner himself. Then we sat down to do some tasting.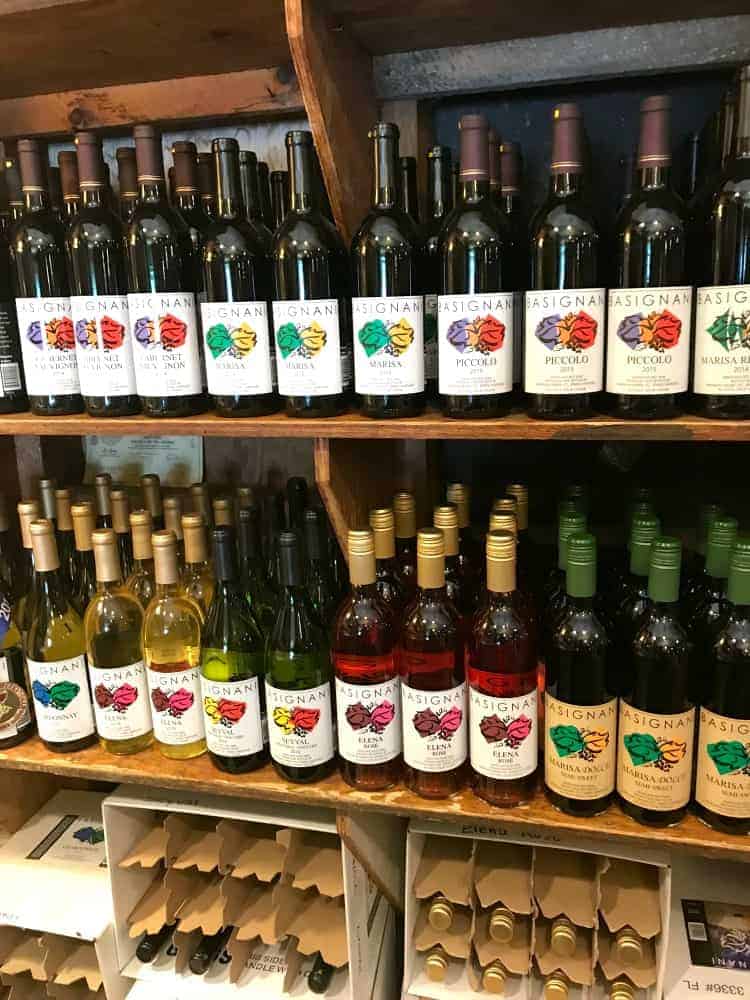 You know I had to grab a few bottles of their rosé to bring home to Christie. I know what's good for me, never come home empty handed!
Then I saw this sign that I loved by the bar. So before checking out I posed for a quick picture!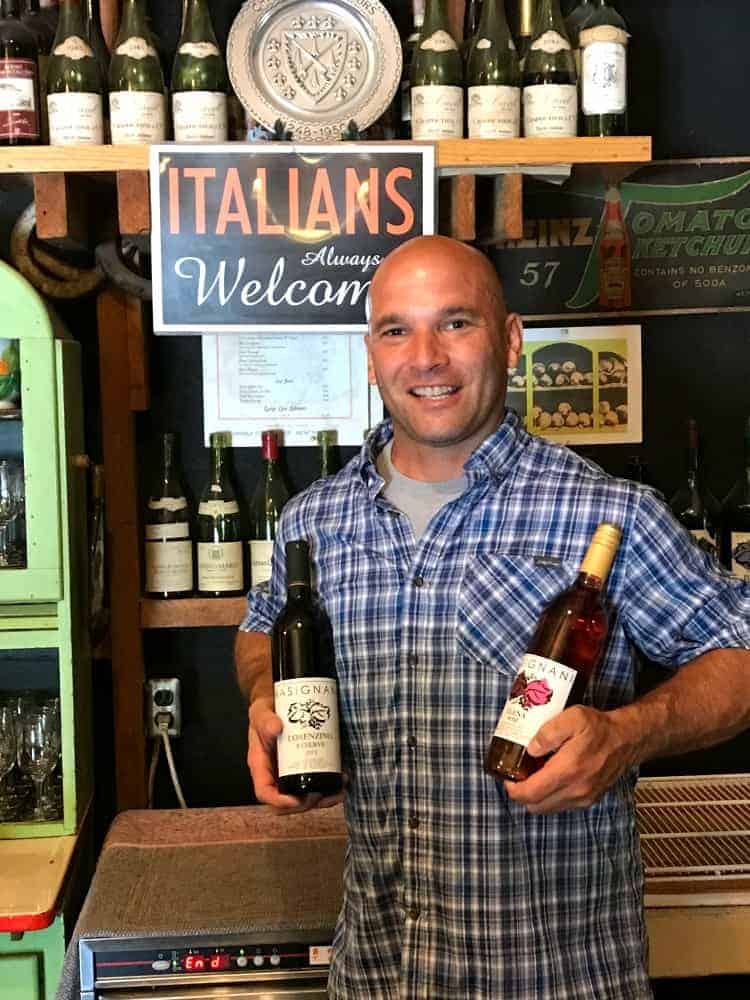 I certainly didn't get to everything I wanted to get to on my Beer, Food and Fun in Baltimore trip but I will get back. Hopefully with the whole family so we can hit up more places like the aquarium and definitely some more restaurants.
Hit me up with any of your questions about the area, I'll be happy to answer them for you!