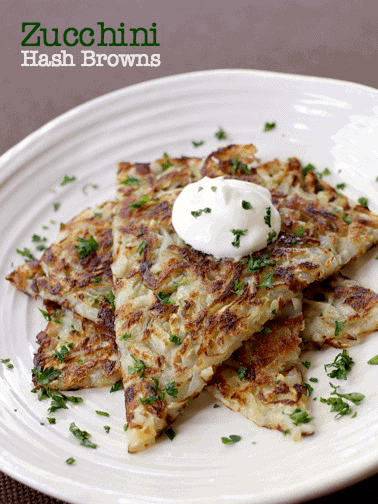 Zucchini Hash Browns Recipe
I'm kicking up regular potato hash browns today with these Zucchini Hash Browns Recipe. Any way we can get some more vegetables in our diet is a win in our house!
These go great with our Taylor Ham Egg and Cheese Breakfast Casserole and Pancake and Maple Sausage Sandwich so be sure to check them out for your next family breakfast!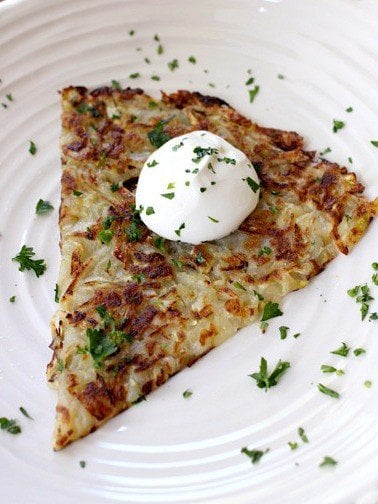 Are Zucchini Hash Browns Easy To Make?
We usually buy the big 5 lb. bag of potatoes at the grocery store so we always have them in the house. We eat a lot of potatoes…
And I know everyone is always looking for a way to get more vegetables into their kids (and also us husbands) and this is a great way to do it.
These Zucchini Hash Browns are really easy to throw together too…the hardest part might be the flipping…but I'll get to that.
How Much Zucchini Do I Need To Make Has Browns?
You'll need 2 cups of shredded zucchini and 2 cups of shredded potatoes for one large hash-brown. We used a 13″ skillet and it makes a perfect, thin and crispy hash-brown. If you don't have a 13″ skillet then just cut the recipe in half and make the hash browns in batches.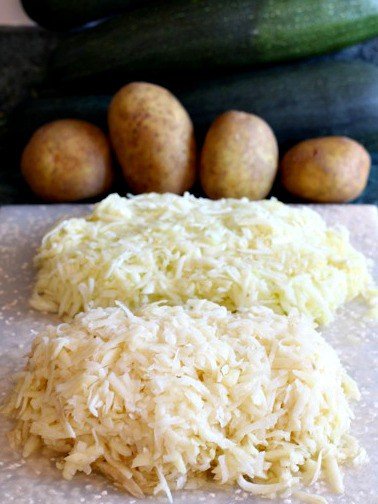 Put the grated zucchini and potatoes in a large bowl, add the seasonings and mix together well. Then heat up your large skillet with a tablespoon of olive oil over medium-high heat and add the mixture.
Using a spatula, go around the skillet and press the hash browns down into an even, solid layer. Let that cook for 7-8 minutes until you see the edges of the hash brown starting to get brown and crispy.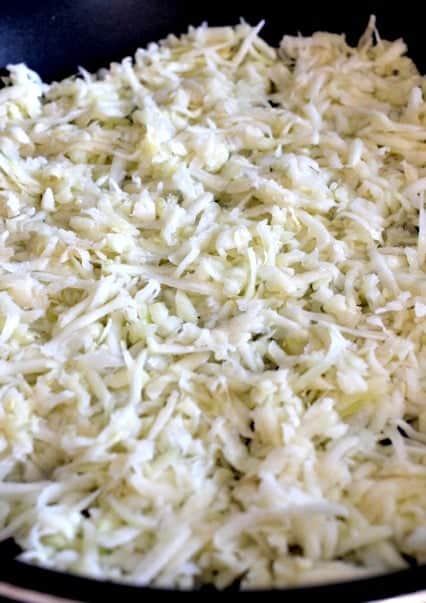 Here's where it gets a little tricky. I admit to calling for back up on this part. The wife is a pro at it since she's been doing it for so long but me – not so much. So what you can do is get a large dinner plate and place it face down on top of your hash browns, then with your hand on the top of the dinner plate, flip the skillet over so the hash brown is on the plate. Then just slide the has brown back into the skillet, the uncooked side will be down now.
I did it, I swear, it's not as complicated as it sounds. And the end result is unbelievable. Crispy, Zucchini Hash Browns.
Maybe one day I'll get the flipping part down, but for now I'm using the plate trick.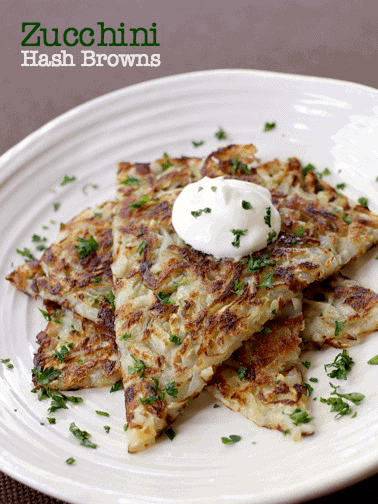 Print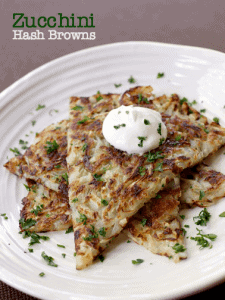 Zucchini Hash Browns
---
Description
These Zucchini Hash Browns are a yummy and easy way to sneak more veggies into your diet!
---
Ingredients
2

c. grated potatoes, squeezed dry with paper towels

2

c. grated zucchini, squeezed dry with paper towels

1/2

t. garlic powder

1/2

t. onion powder

1/2

t. salt

1 1/2

T. olive oil, divided
Sour cream for serving
---
Instructions
Add the grated zucchini and potatoes to a large bowl along with all of the seasonings, mix well.
Place the mixture in a 13″ skillet with 1 tablespoon of the olive oil over medium heat.
Using a spatula, press the hash browns into the pan in an even, thin layer. This should take up the whole diameter of the inside of the pan.
After 7-8 minutes when the edges of the hash brown start to brown, take a large dinner plate and place it face side down on the hash brown.
Hold your hand on the plate and flip the skillet over so the hash brown sits on the plate, uncooked side down.
Add the other 1/2 tablespoon to the skillet.
Then slide the hash brown into the skillet, uncooked side down and cook for another 7-8 minutes.
Slide the hash brown out of the pan and onto a cutting board.
Slice into wedges and serve straight up or with sour cream.
(or with ketchup!)