We're on week 3 of What We Ate This Week! This week was a mix of healthy food and comfort food and even a no meat meal! And all were delicious.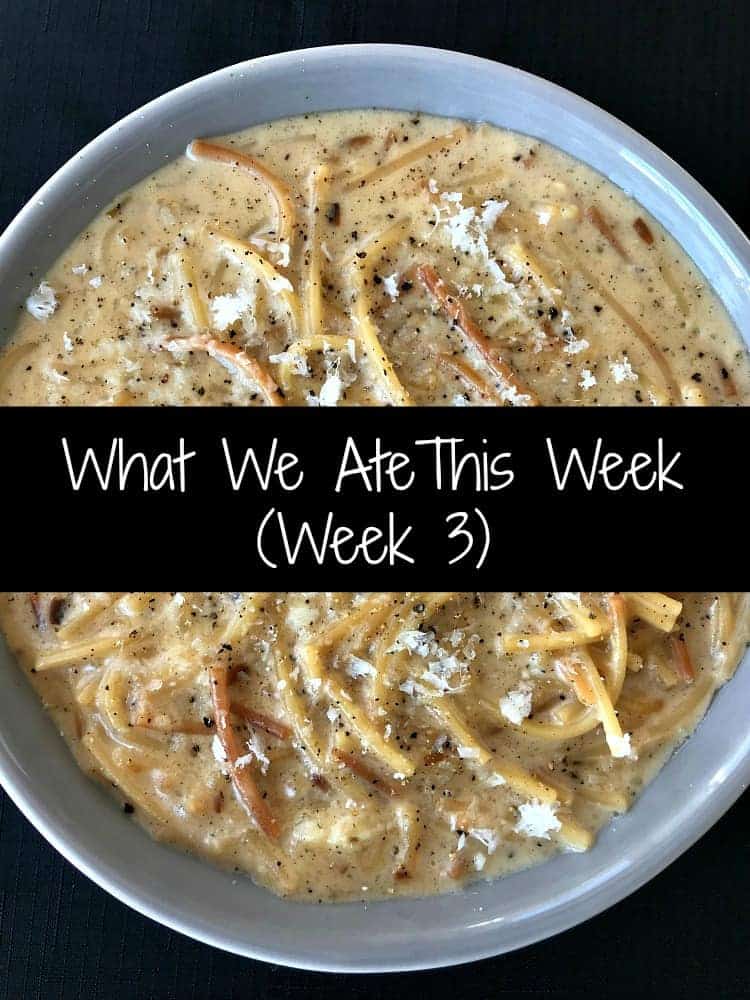 This week was a much calmer week than the weeks before have been.
Our little wrestler is coming to the end of his season – so there's a little break there but not for long until baseball starts for them both.
I'm really trying to work on meal planning, which is hard for us because we really don't meal plan at all. Our meals come from what we're making for the site so if it's Cheeseburger Quesadillas then that's dinner.
That doesn't always work though when I'm trying to eat a little healthier. I'm so glad we have our boys that will eat almost whatever we put in front of them…so even if I have to make something separate for me that's OK.
So I started out the week making whole bunch of roasted chicken thighs.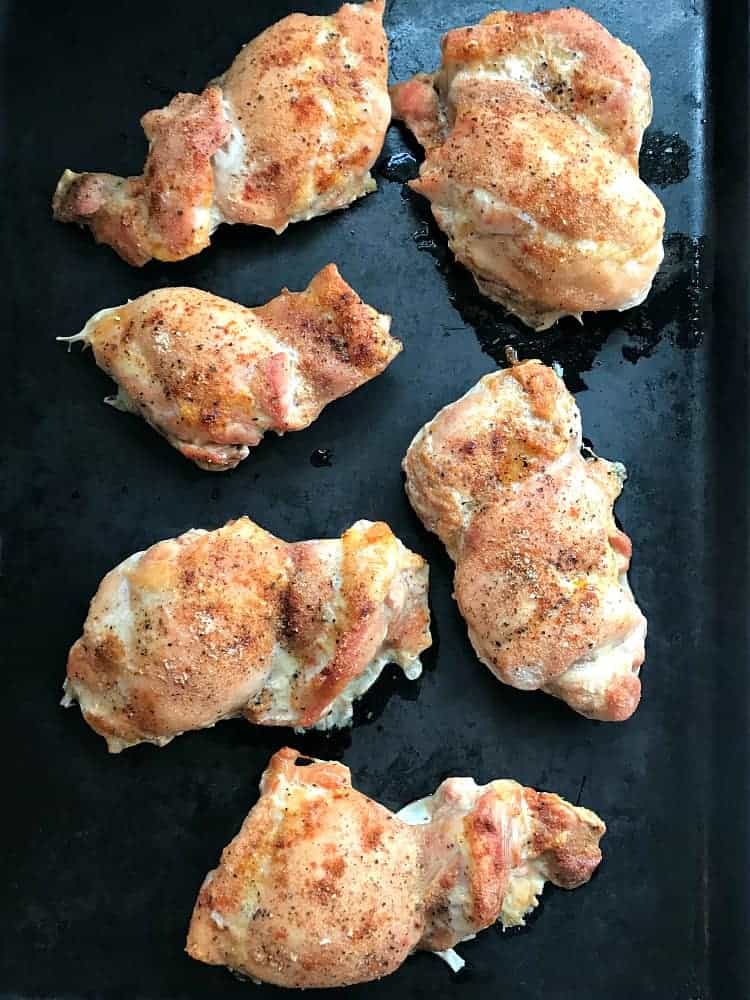 If you ask our younger son, chicken thighs are the way to go. We call it "his" chicken…he says they're much juicer and tastier than the other kind. He's referring to chicken breast, which he thinks can be dry, and he can definitely be right about that.
I shred these thighs or cube them up and leave it in the fridge for salads, stir fry, tacos or chicken salad. It's so easy to do and when you open the fridge and find a big bowl of cut up, ready to go chicken it makes me so happy.
It's the little things.
But true, right? When you have something right in front of you to make something with or eat it's half the battle.
And then I won't find myself grabbing chips and salsa instead.
Here's a few recipes we like to make with this shredded chicken:
Asian Chicken and Brussels Stir Fry (easily swap out broccoli if you like)
Caramelized Onion Chicken Salad
And always – Nachos
Next night was this Cacio e Pepe Chowder –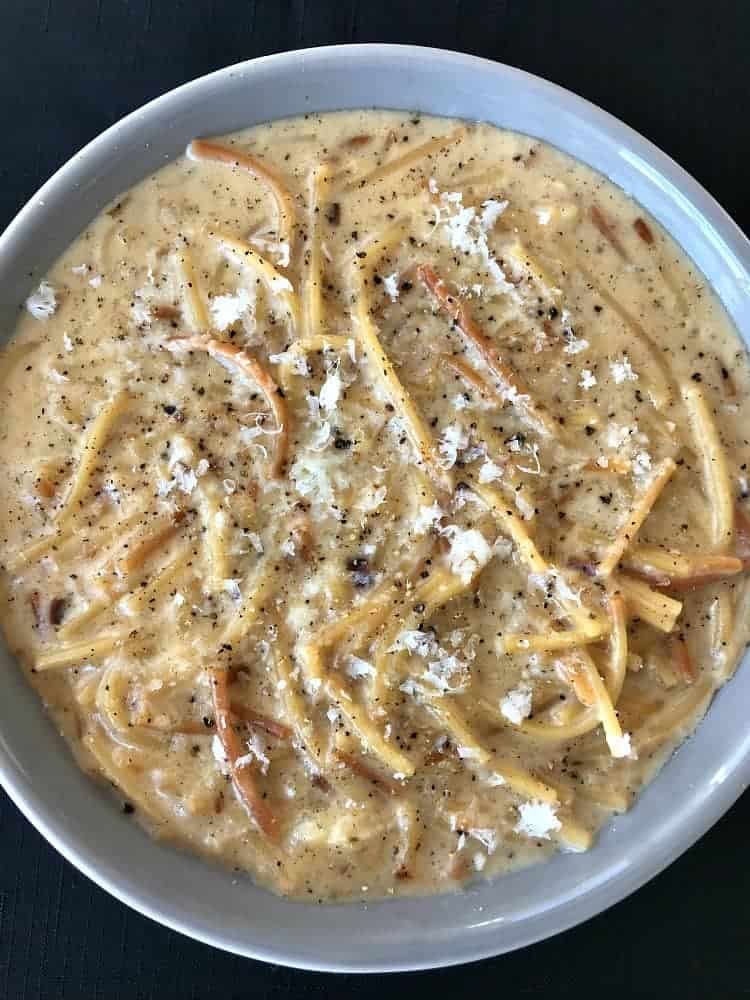 NOT kidding when I say that this invention is the BOMB. Like seriously crazy delicious. Cacio e Pepe is one of my favorite pasta dishes so turning it into a chowder like this with fresh parmesan and cracked pepper on top…so, so good.
Recipe coming soon!
On to a healthy dinner night I made these Chicken Fajita Roll Ups –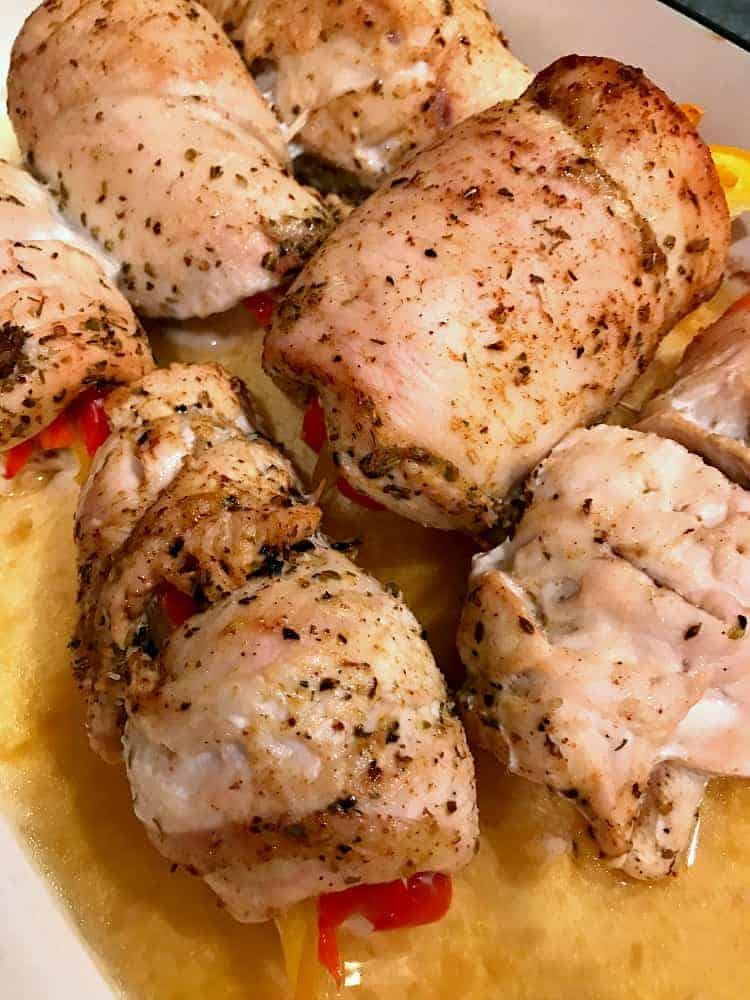 I don't think I marinated them long enough even though they were in the fridge for four hours or so because these were a little bland. I was tempted to throw some cheese in there but this was a healthy dinner night so I didn't. But low carb recipe for sure – so definitely make these if you're on that plan.
The boys liked them well enough, I sliced them up and put them over rice pilaf. Empty plates = dinner win.
We shot a video this week for our Baked Garlic Parmesan Chicken Wings –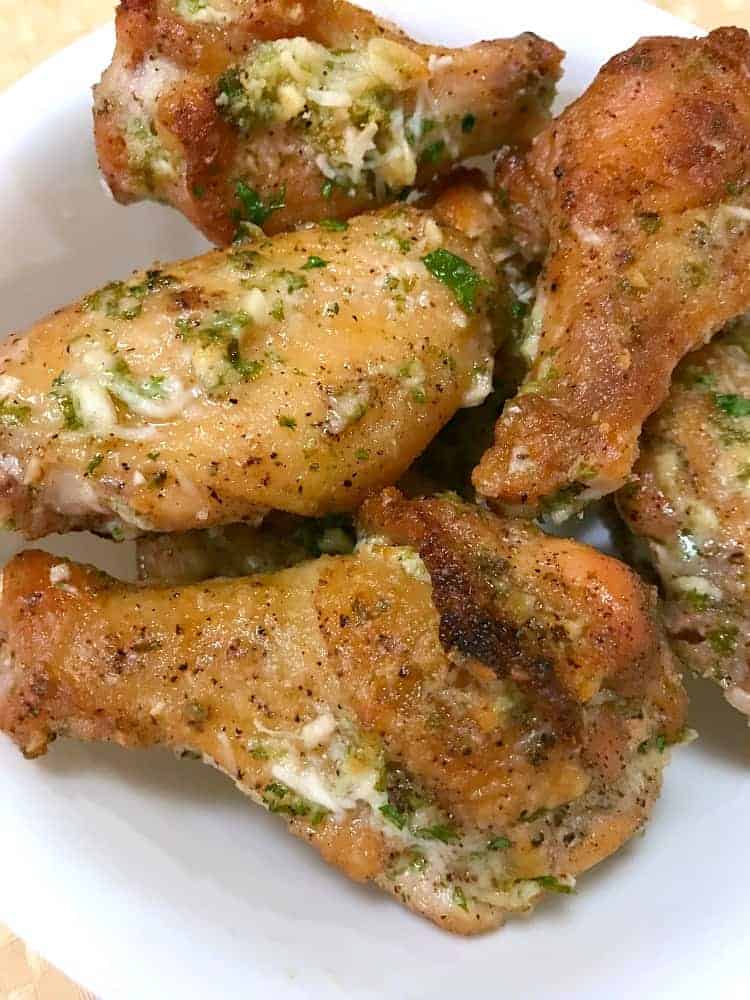 I mean, there is NO ONE resisting these wings. No one. Low carb, yes…but crazy indulgent. They are baked though, not fried so I guess there's that. But the sauce is where it's at and you don't want to skimp on it.
These are a huge hit at our house though so luckily for me they were gone in one dinner. No leftovers on the wings.
The video came out pretty cool too if you want to check it out!
Let me know if you guys have any meal planning ideas I can check out. I'd love to hear them!
I'm already working on week 4 of What We Ate This Week so I'll take all the help I can get!