This Tactical BBQ Apron would be a great Father's Day gift! Or birthday, or Christmas present…Hint, hint, I know I'd love one!
If only I had found it in time. I was searching and searching for a great gift, something really cool.
He's a guy that has a lot of hobbies, one of them being grilling. I've been lucky enough to taste several of the meals that he has made and I have to say, he knows what he's doing. He actually has his own blog called Cooking in my Yard, you should check it out and see some of the awesome stuff he's made.
But what do you get a a guy who has all of the things that a guy who grills could want? I was looking at practical gifts, gag gifts, anything to do with grilling…and then I found this…
The ThinkGeek Tactical BBQ Apron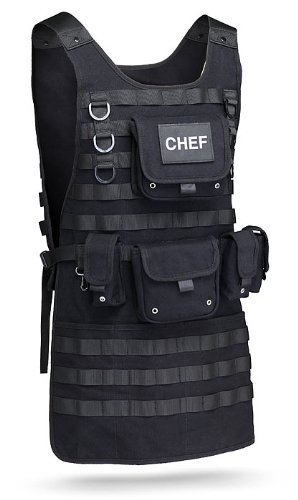 I mean, seriously, how cool is this?? It's got pockets everywhere! You'll never have to run back inside the house because you forgot a spatula, or the salt, or your phone to use as your timer or to check the temperature of your meat.
I wasn't sure at first which category this fell into, a gag gift or practical gift, but after reading the reviews I think that it's actually a little bit of both.
I know a lot of guys don't necessarily wear aprons, but the Tactical BBQ Apron may change some minds. I love that they use a real MOLLE loop system storage for the pockets and that it has several clips for hanging things – you know this apron is going to be durable.
And I can promise you – no one's going to get out of hand at your house if you're wearing this BBQ apron.
No one.
I only wish I had found it a few days sooner so that I could have given it to my friend for his birthday…
But there's always next year! Happy grilling!