Game Day Food is the best part about watching football! We've got appetizers, snacks and the main course for the perfect menu!
OK, so I know a lot of you are football fans, but for me, it's all about planning the perfect menu from appetizers and snacks to the main course! These recipes will not only make your game day food epic, but help you to enjoy the party you worked so hard to make happen.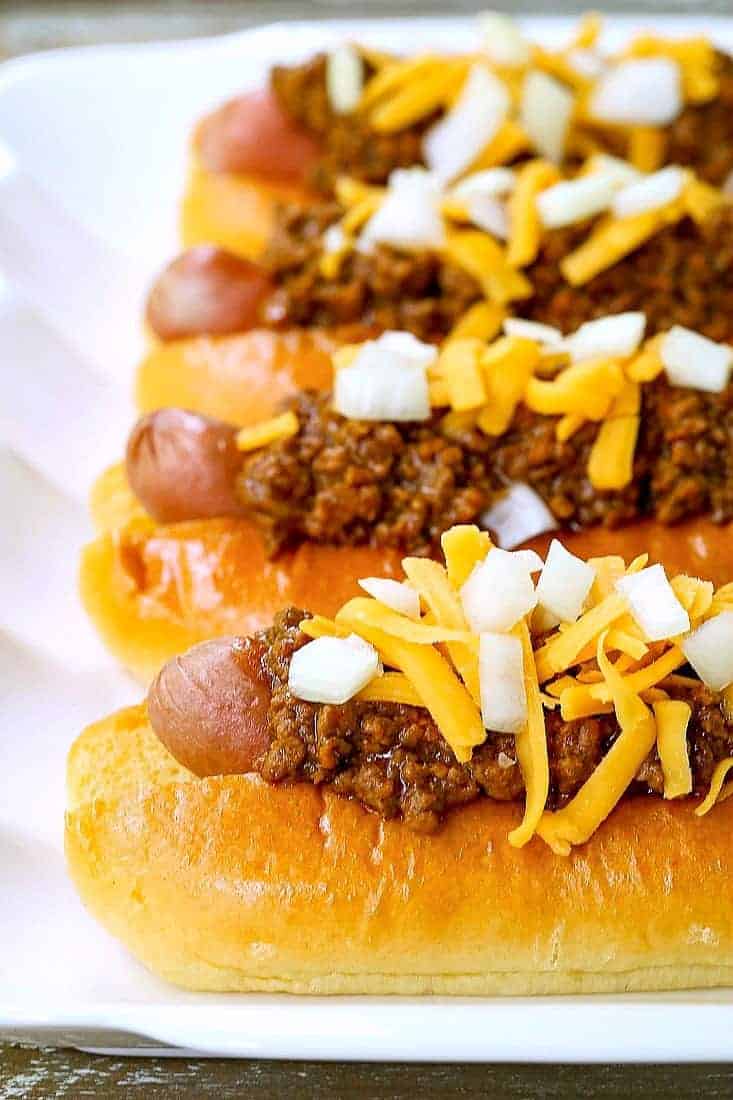 We've tried to make a list of almost all make ahead appetizer and main course recipes so that you can do the work ahead of time and then sit back and actually enjoy your own party!
Let's start with the appetizers and snacky-snacks and then we'll head on to the main courses!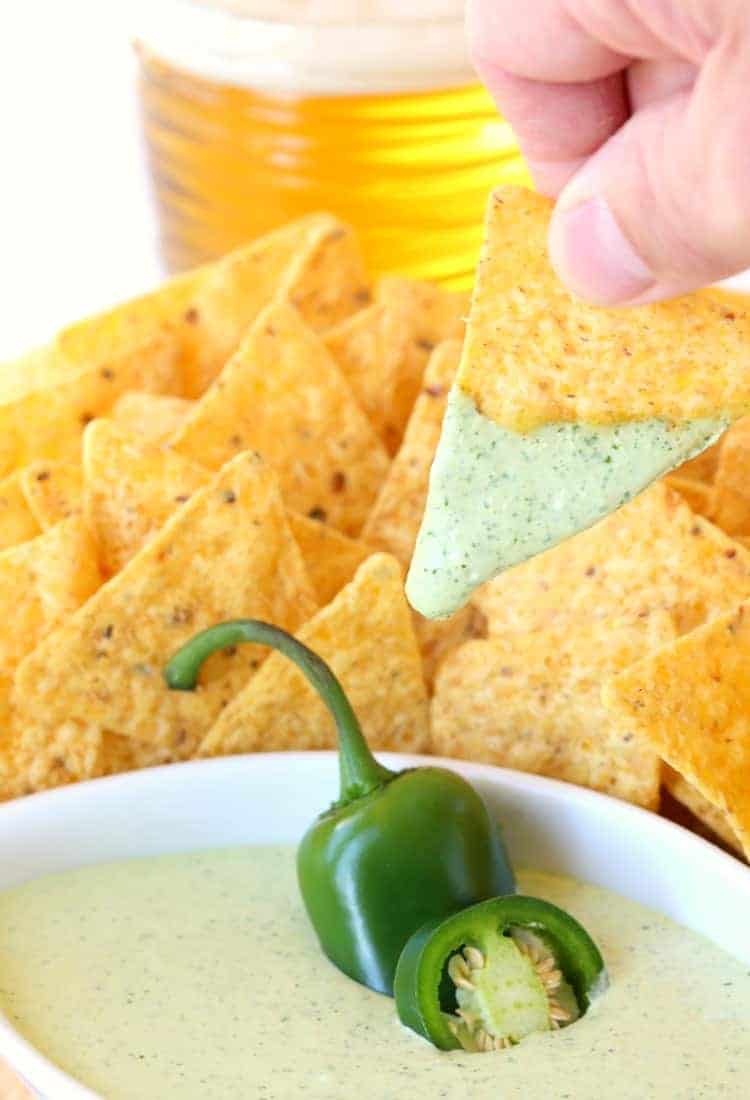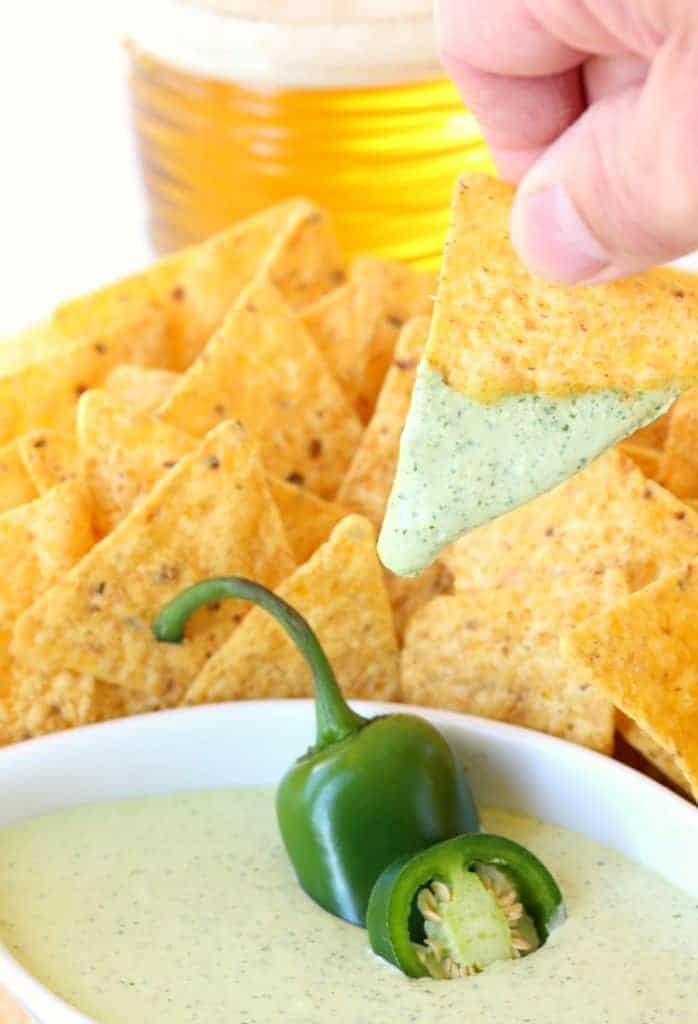 This dip recipe is so easy to make, it literally takes about 5 minutes in a blender. And not to worry, it's not the blow your head off kind of spicy. Just a little heat that's balanced out by all the creaminess.
Buffalo Chicken Celery Sticks –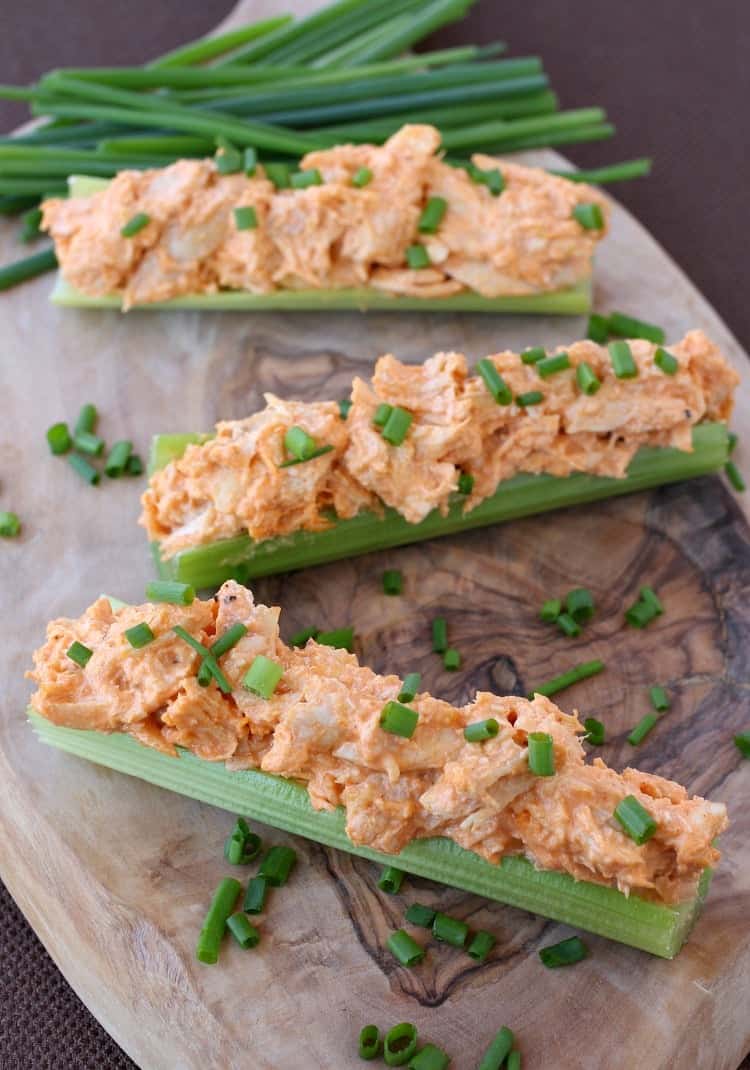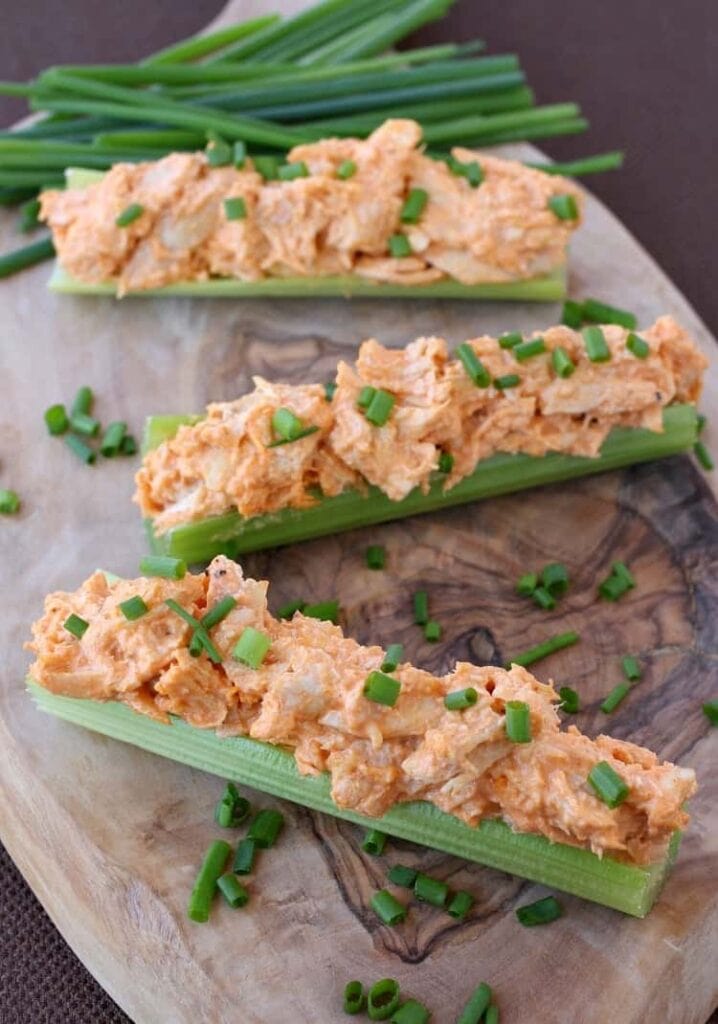 Buffalo chicken anything…am I right? This easy appetizer recipe will be a hit with everyone! You can control the heat in the chicken salad, as little or as much as you like! We even make this easy chicken recipe for lunches or low carb meals!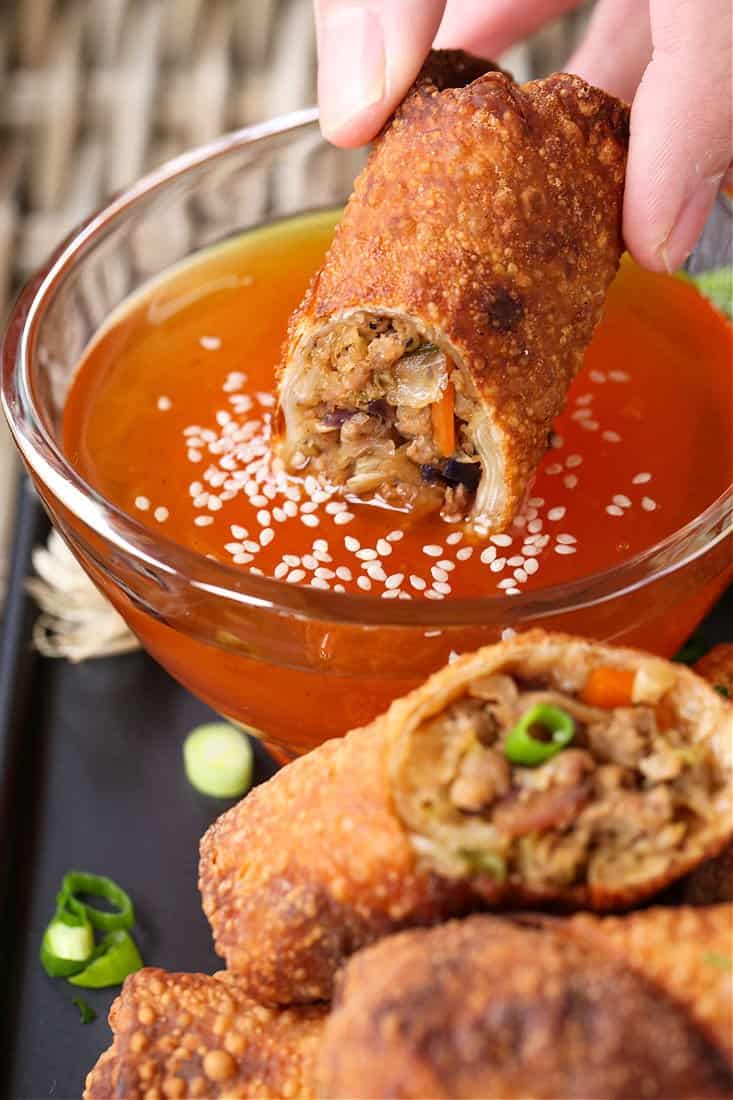 Never tried making egg rolls at home before? Well now is the time! These pork egg rolls are WAY better than anything you'll get from take out, and you can make them a little bit ahead of time and keep them warm in your oven until you're ready!
Because a game day food menu wouldn't be complete without some sort of Tex-Mex delicious appetizer that's covered in sour cream and guacamole. These taquitos are baked, not fried, so dig in there and get your share!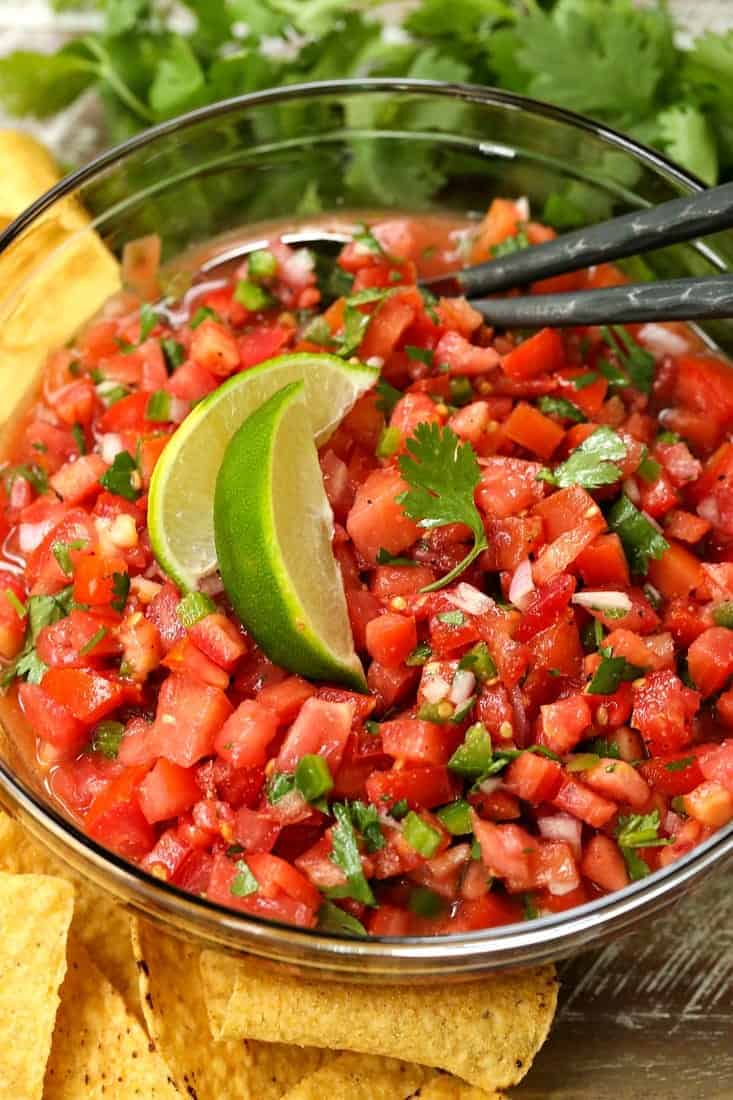 To use on the above mentioned beef taquitos, chips, tacos or anything else you're serving for the big game! This fresh salsa recipe is easy to make and should be made ahead of time so that the flavors can blend together.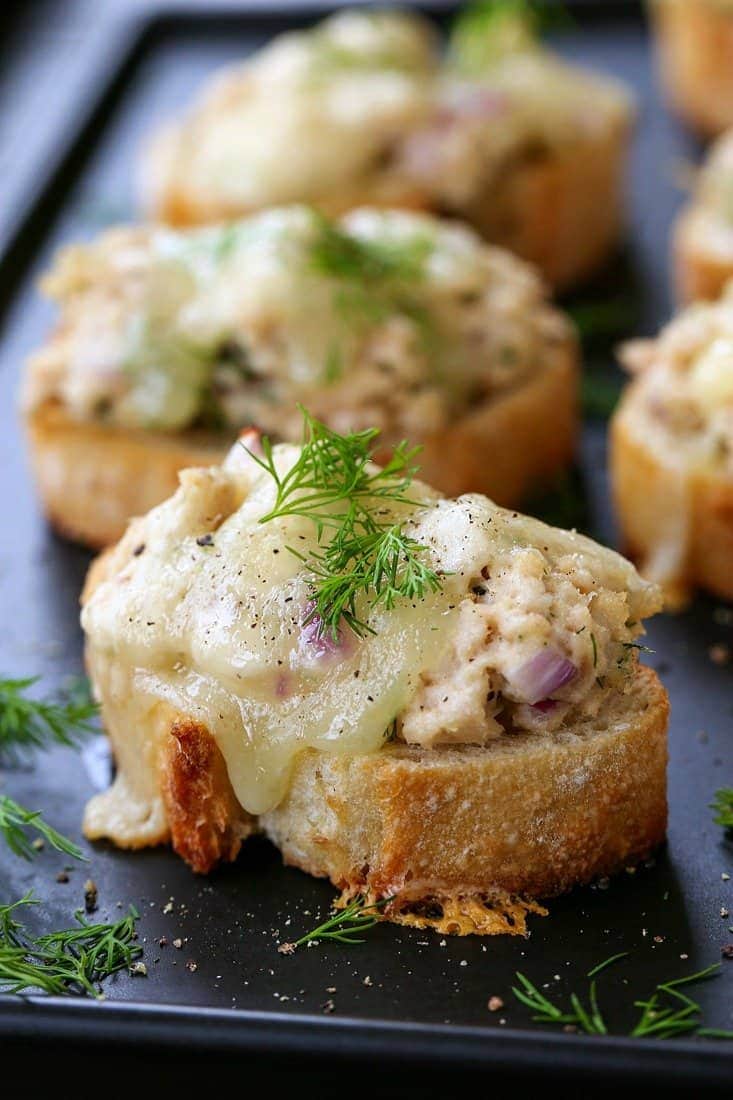 For all you tun melt lovers out there, we've turned the most delicious tuna melt into this bite sized bruschetta! An appetizer recipe that's perfect for your Game Day Food menu, it's affordable, can be made ahead of time and leaves you a hand free for your beer!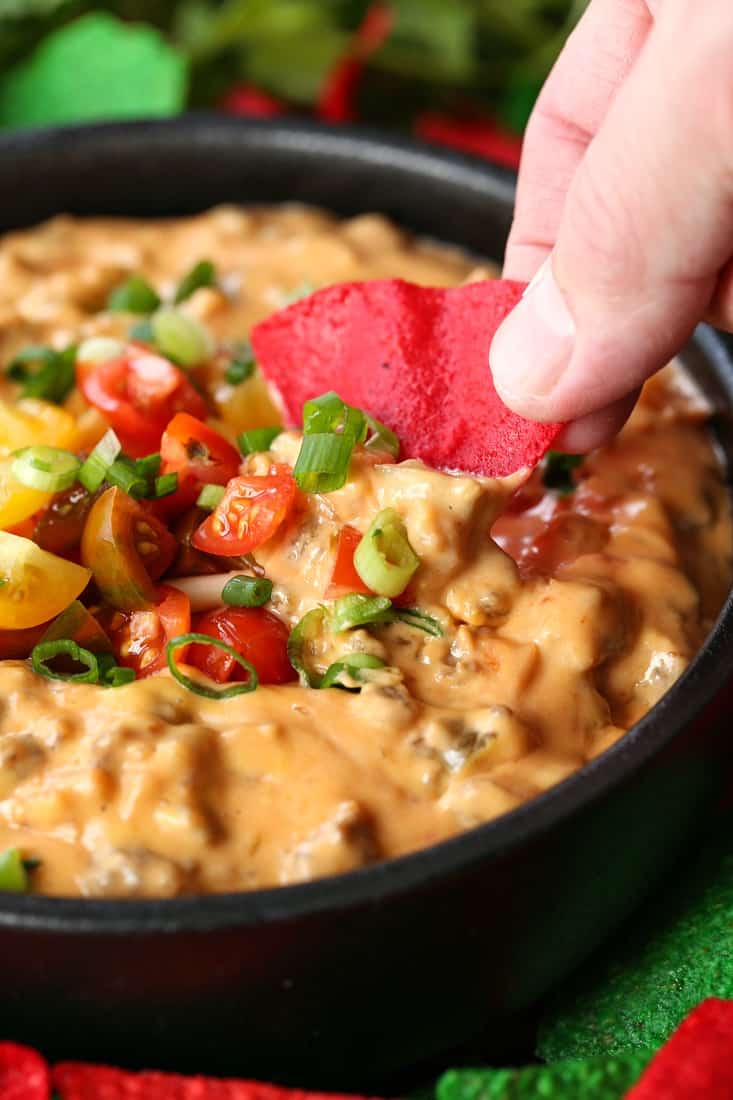 No Super Bowl menu would be complete without a gooey sausage queso! Pile on the tortilla chips and let your friends dip away in bliss.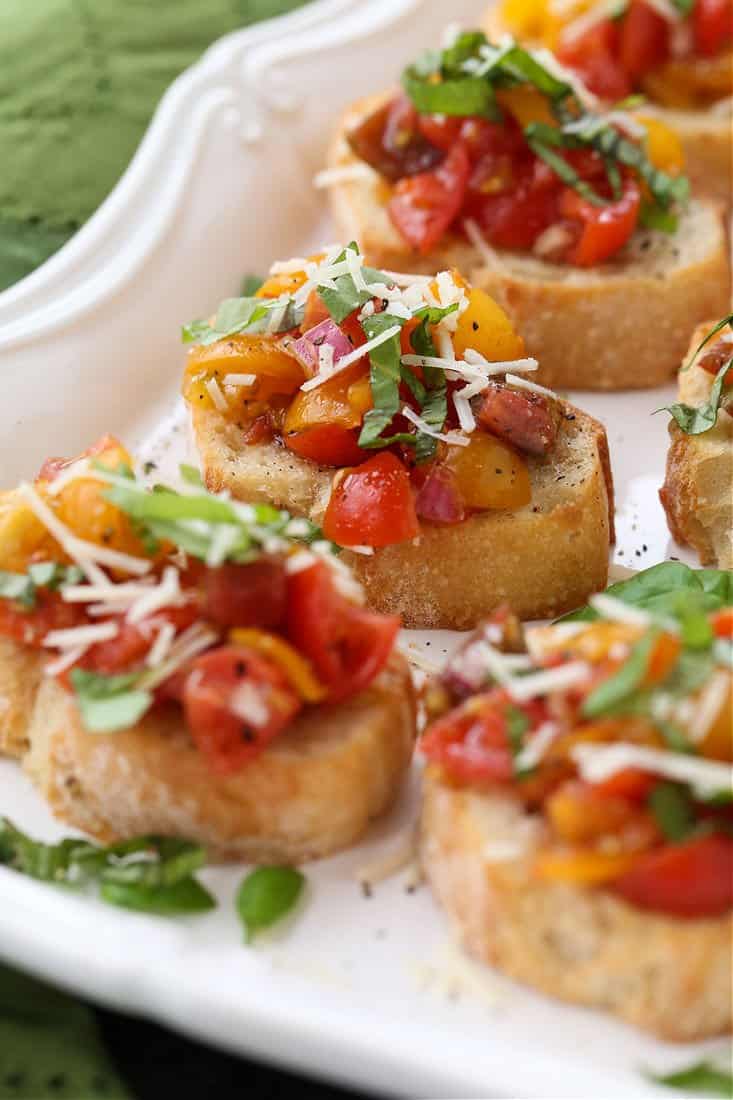 Bruschetta is always a hit for appetizers! These appetizers should be assembled right before serving, but the tomato topping can be made ahead of time, even the day before!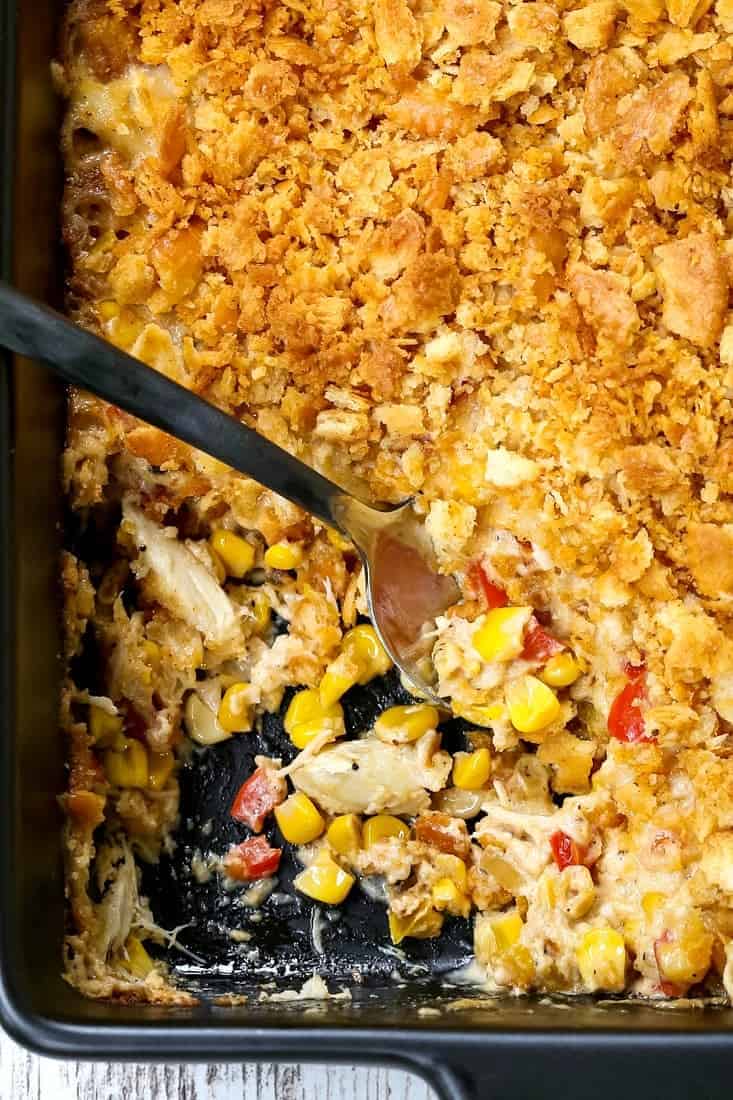 Hot Crab Dip is always a hit! Creamy crab dip, slightly spicy, topped with crushed buttery Ritz crackers. No one will be able to resist!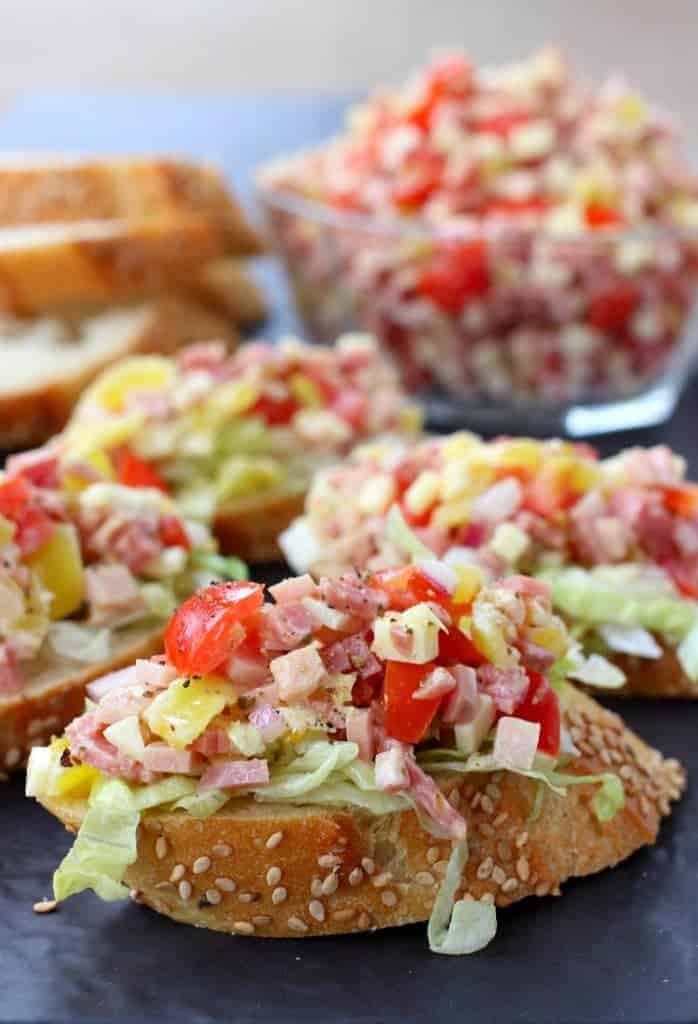 This recipe is a fan favorite! Make the Italian sub topping the morning of or even the day before and assemble right before party time! Just like a giant Italian Sub in bite size form!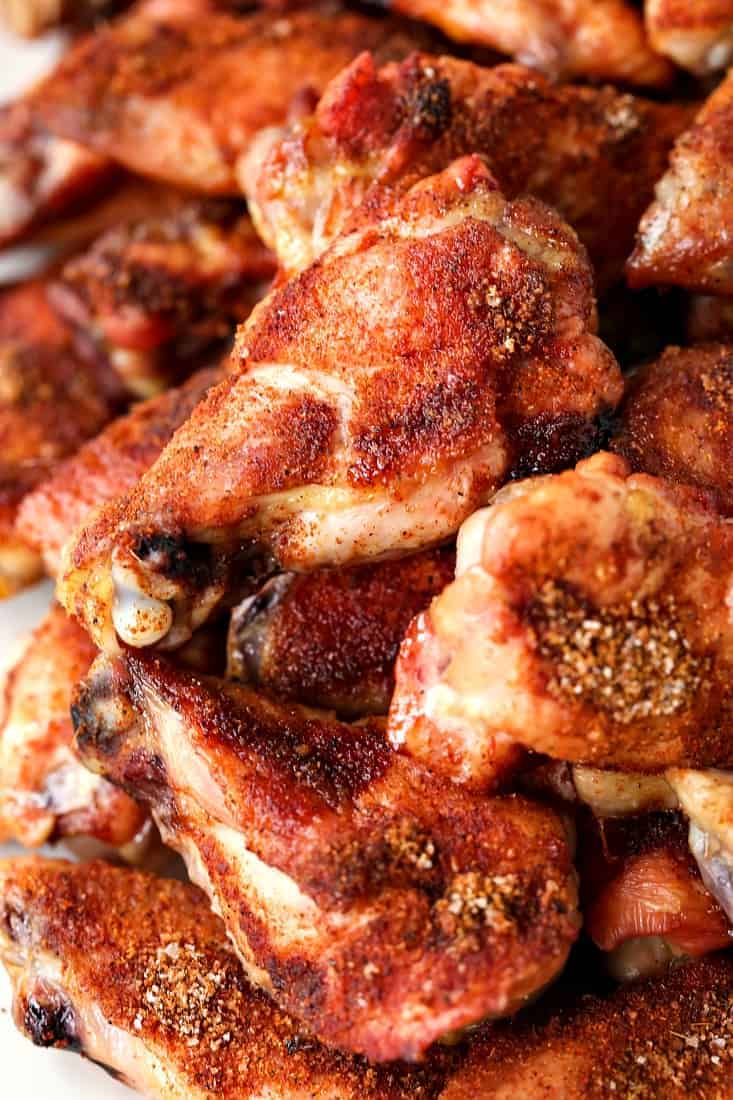 Chicken wings have earned their place on your Game Day Food menu. We've got a TON of chicken wing recipes on the site here so take a poke around. These wings re made with our homemade dry rub for a no mess, finger lickin' chicken wing!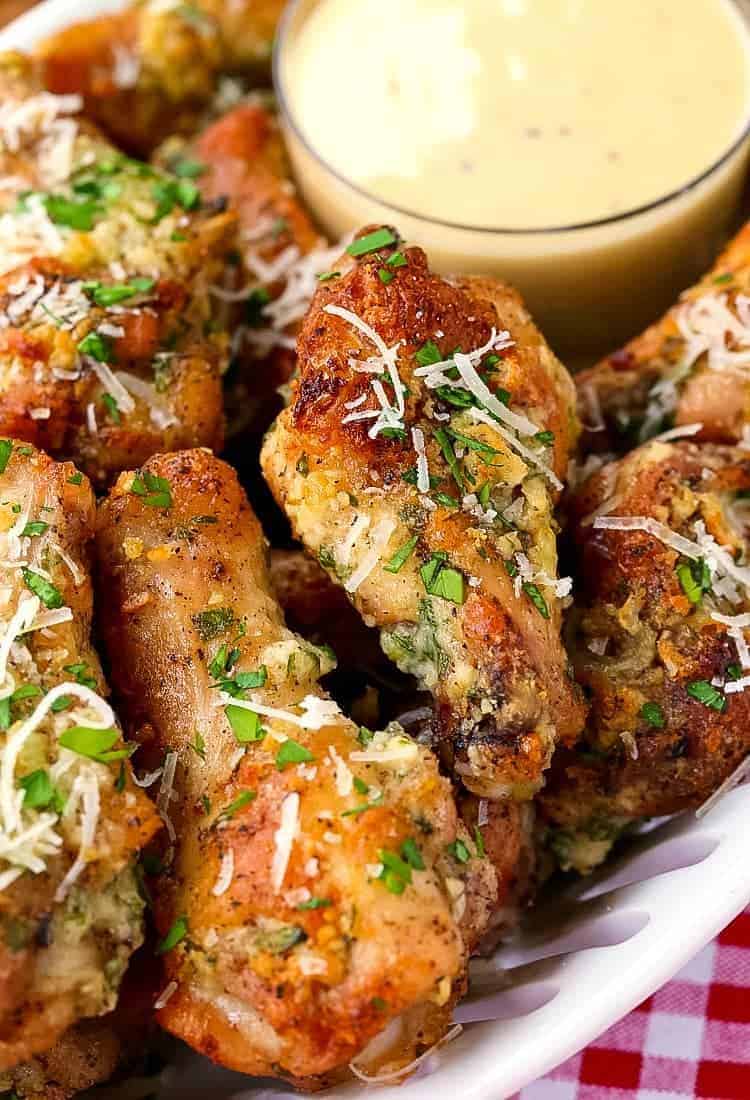 OK now on the other hand, these chicken wings require a few napkins but man, they are WORTH it. You can make them super saucy or a little more cooked with the sauce baked on. Either way, these chicken wings are at the top of our appetizer menu list.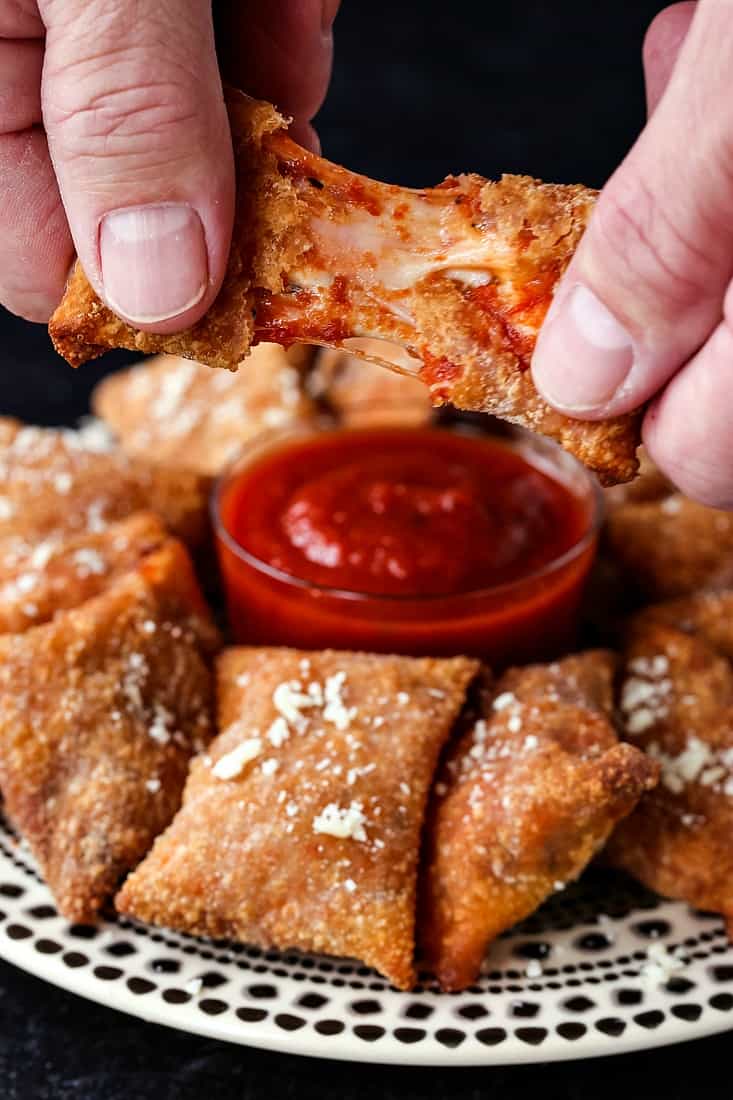 Do not buy the frozen bag – I repeat don't buy the frozen pizza rolls from the store. These pizza rolls are SO much better, you're family and friends are going to flip when you serve these!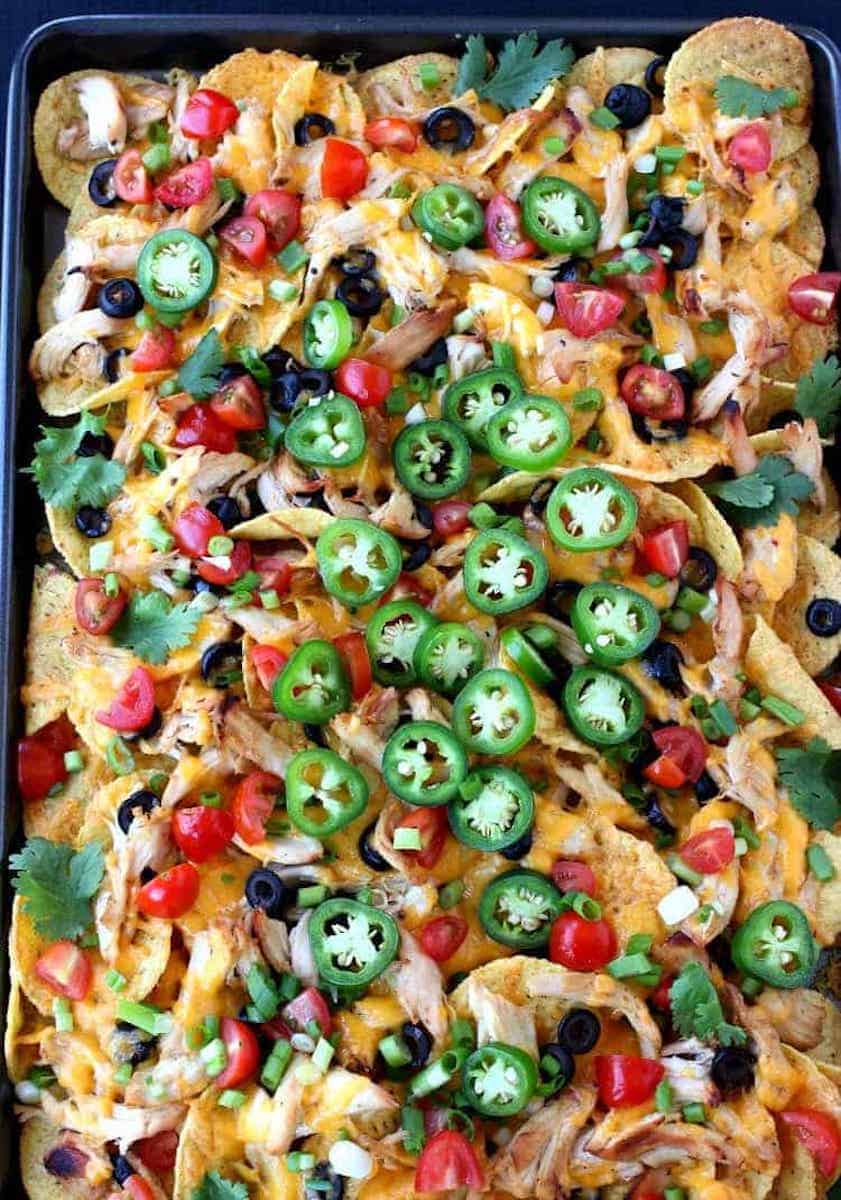 No party is complete without nachos! Literally, one of my most favorite things to eat, and you can customize this nacho recipe to your liking. Assemble, bake and serve right on the sheet pan and let your friends dig in!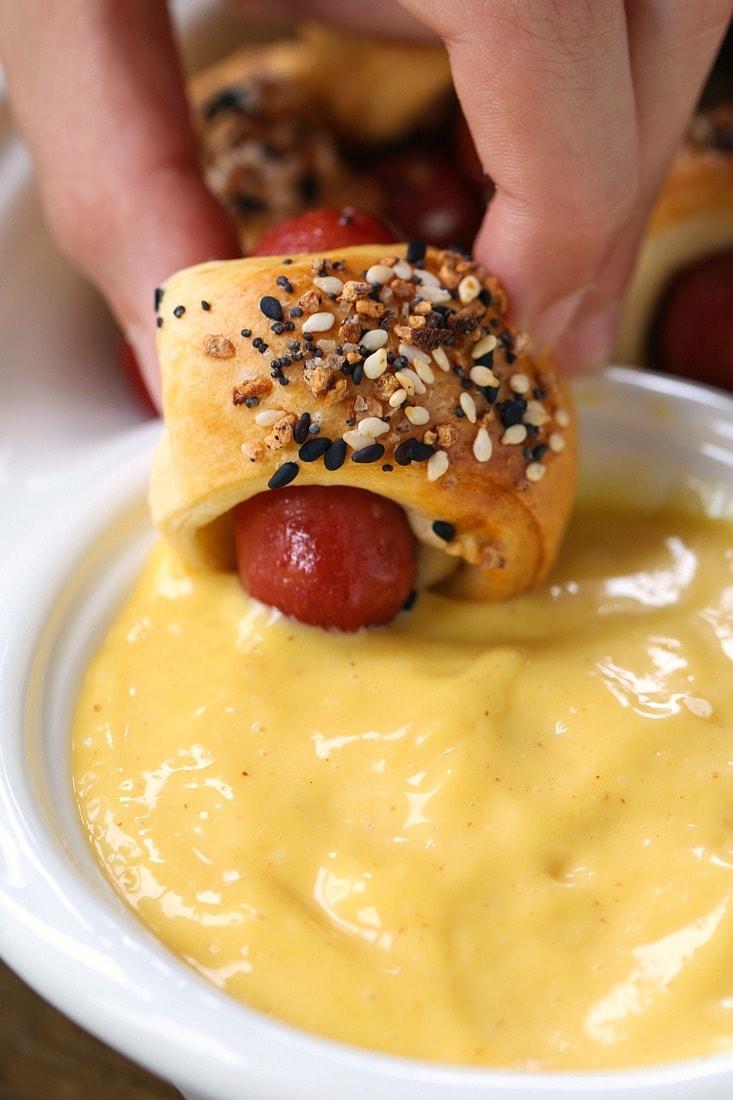 This twist on a classic recipe uses everything bagel seasoning! No one can refuse pigs in a blanket, so make sure you have enough on hand!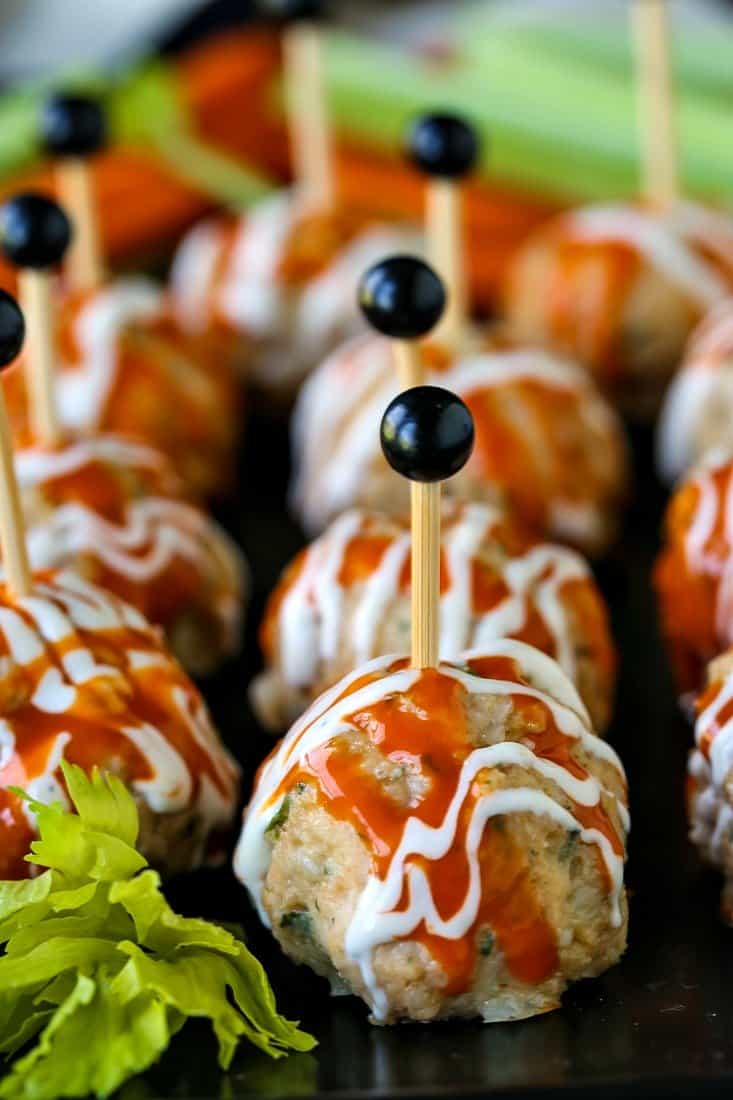 These chicken meatballs have it all. low carb, low fat, high flavor! Make these meatballs ahead of time and drizzle the sauce on at the last minute or serve the sauces on the side for dipping!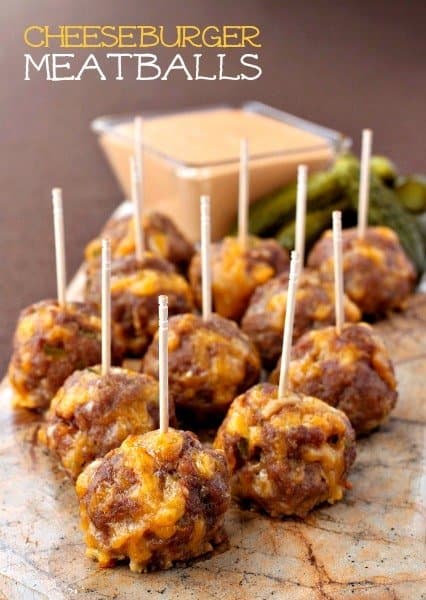 One of my all time favorite appetizers on the site here, they taste just like biting into a Big Mac! You can make these meatball appetizers ahead of time and keep them warm in a slow cooker for the party.
There's nothing like a perfectly fried artichoke heart with a crazy good dipping sauce. This aioli dipping sauce has fresh garlic and creamy mayonnaise – it's totally addicting!
Philly Cheesesteak Stuffed Peppers –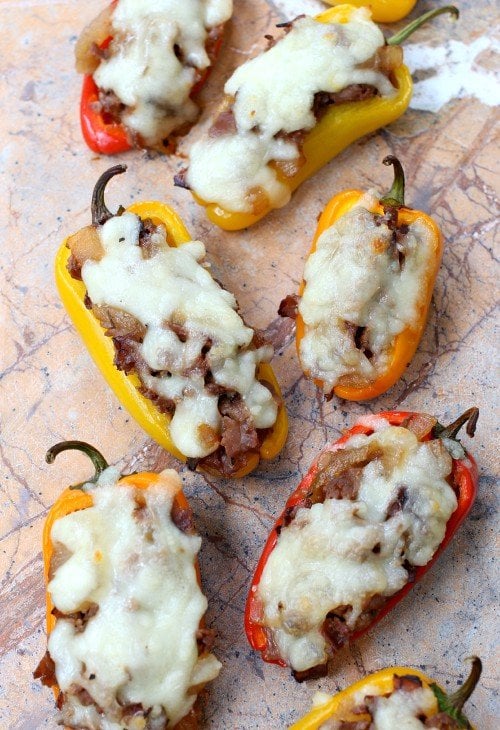 If you're looking for another low carb appetizer, these beef filled peppers are for you! Bite-sized mini peppers stuffed with roast beef, onions and cheese, it doesn't get much better than that!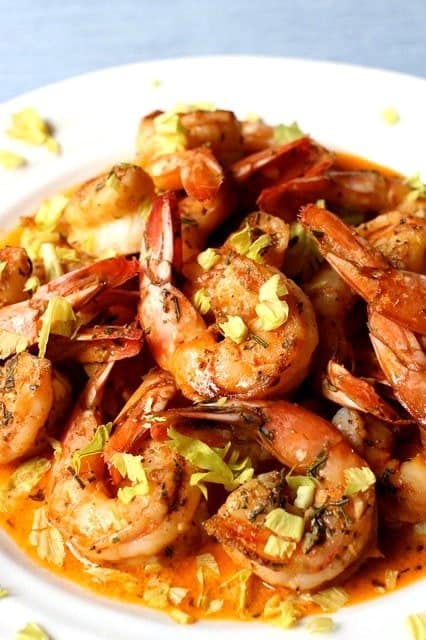 This shrimp recipe…we love it. That's all I can say. The sauce is SO good you won't leave any on your plate, grab a hunk of bread and get it all up! You can set these shrimp out in a big bowl with lots of bread out for dipping, or serve this as a dinner recipe too!
No appetizer recipe goes better with an ice cold beer, promise.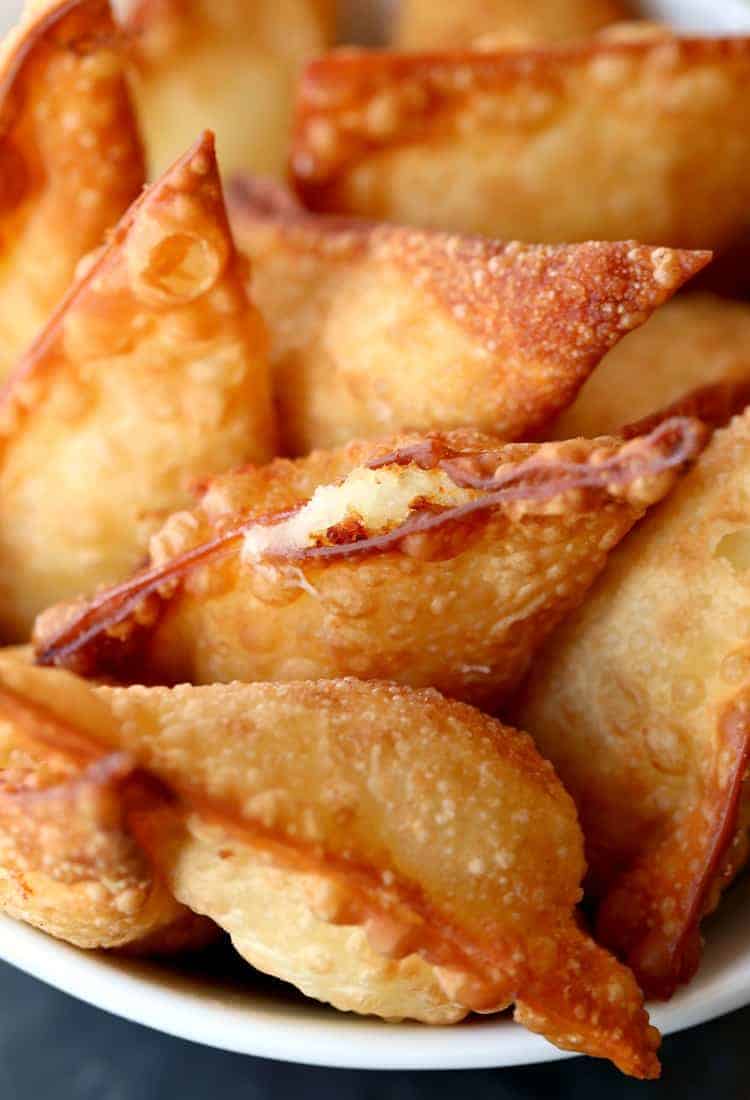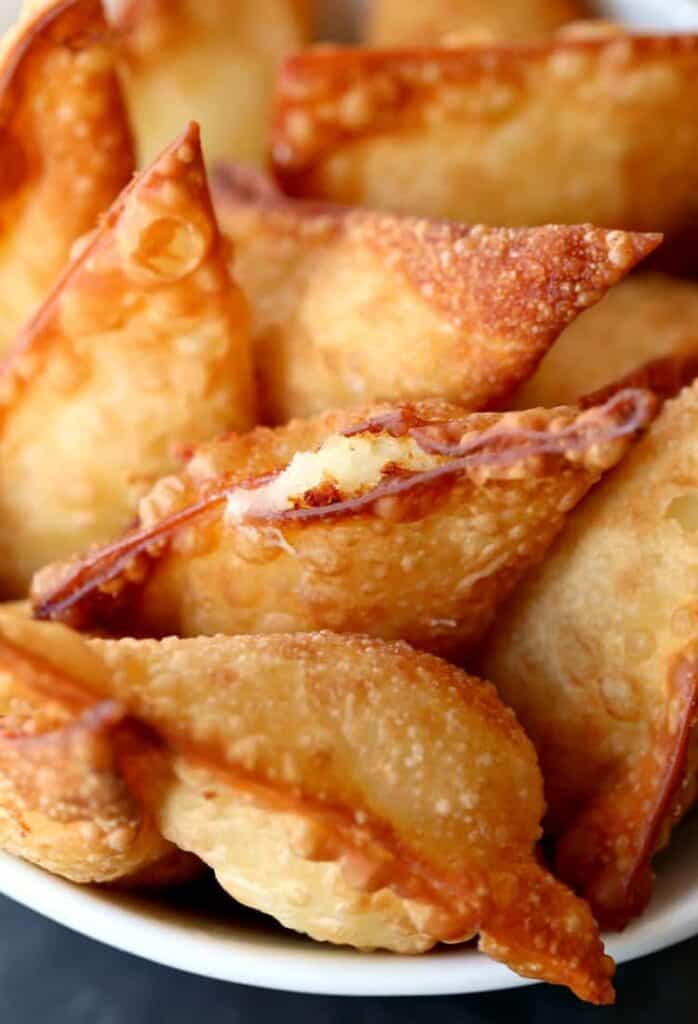 I mean come on, you've got potatoes, cheese and fried crispy wontons dipped in a delicious brown gravy. What more do you need to know about Super Bowl Party Food?
These fried wontons are so crispy on the outside and creamy on the inside – it's the perfect flavor and texture combination!
Honey Mustard Pulled Pork Taquitos –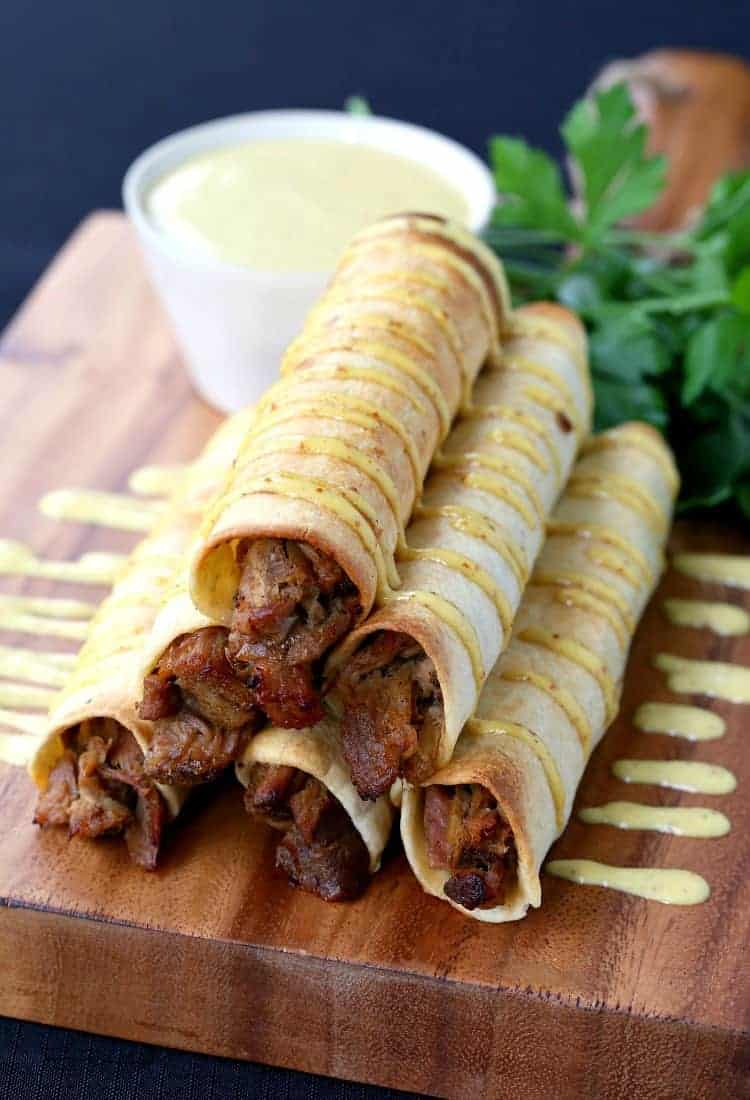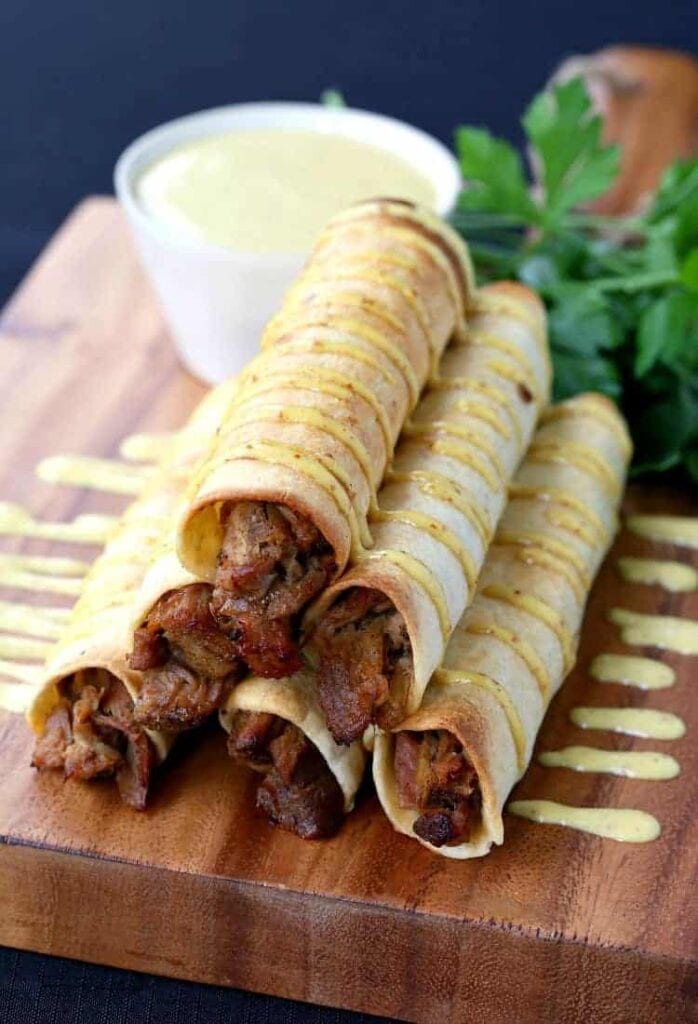 You can make this slow cooker pork ahead of time and finish making these taquitos right before your party. The dry rub on this crock pot pork is so perfect, you'll have to force yourself to stop eating it. This recipe works for both appetizers and the main, so pick your battle.
You can make these beef sliders ahead of time and bake them right before your party. Make sure you make a double batch of these sliders though because they will be gone in seconds.
You can fake out your friends by serving this addicting dip recipe, because it's really not lobster! The imitation lobster in this hot dip won't set you back more than a few bucks so you can be sure to have plenty to go around!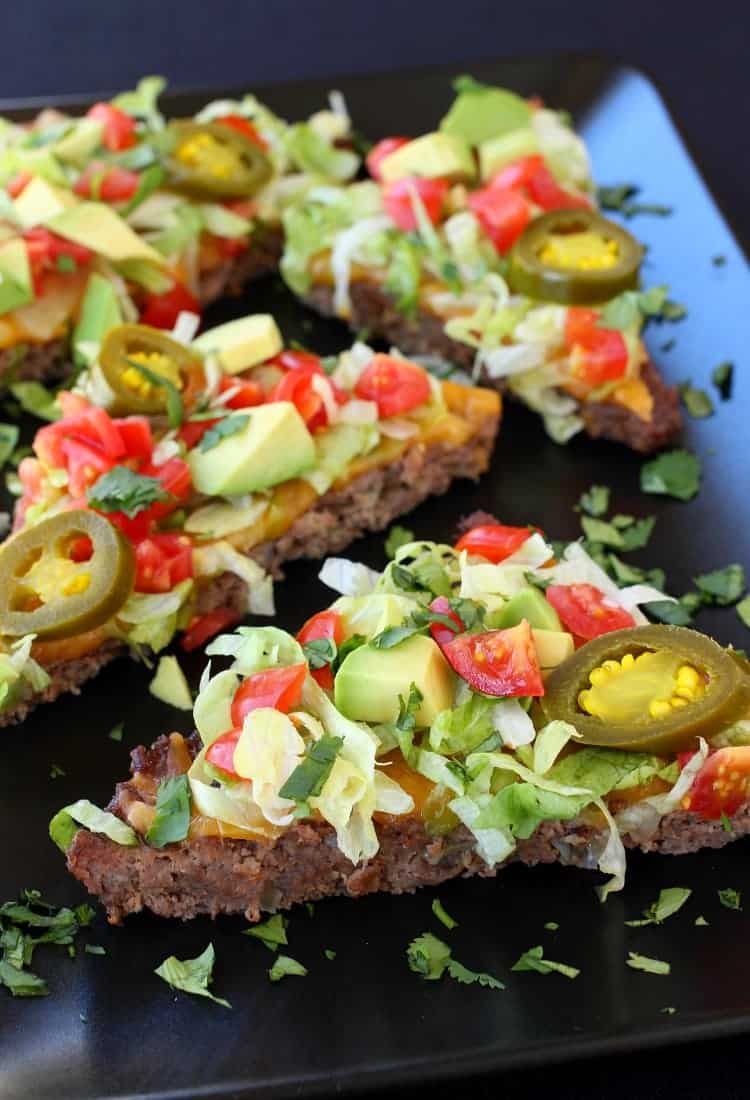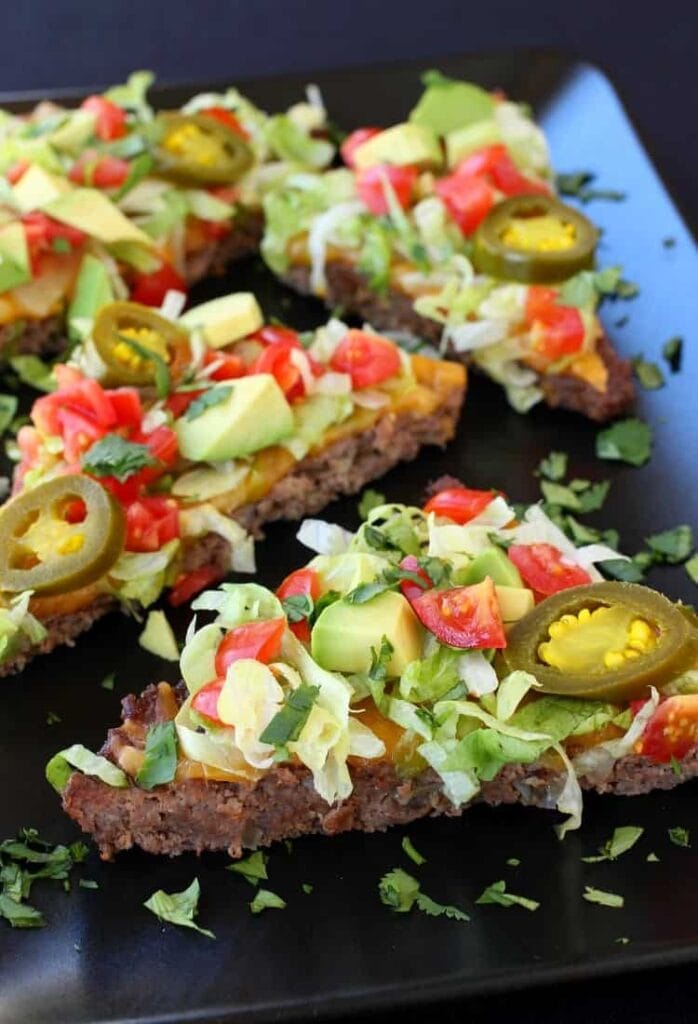 Another low carb recipe we LOVE. These "naked tacos" have all the flavor you love without the shell. Load them up with all your favorite taco toppings!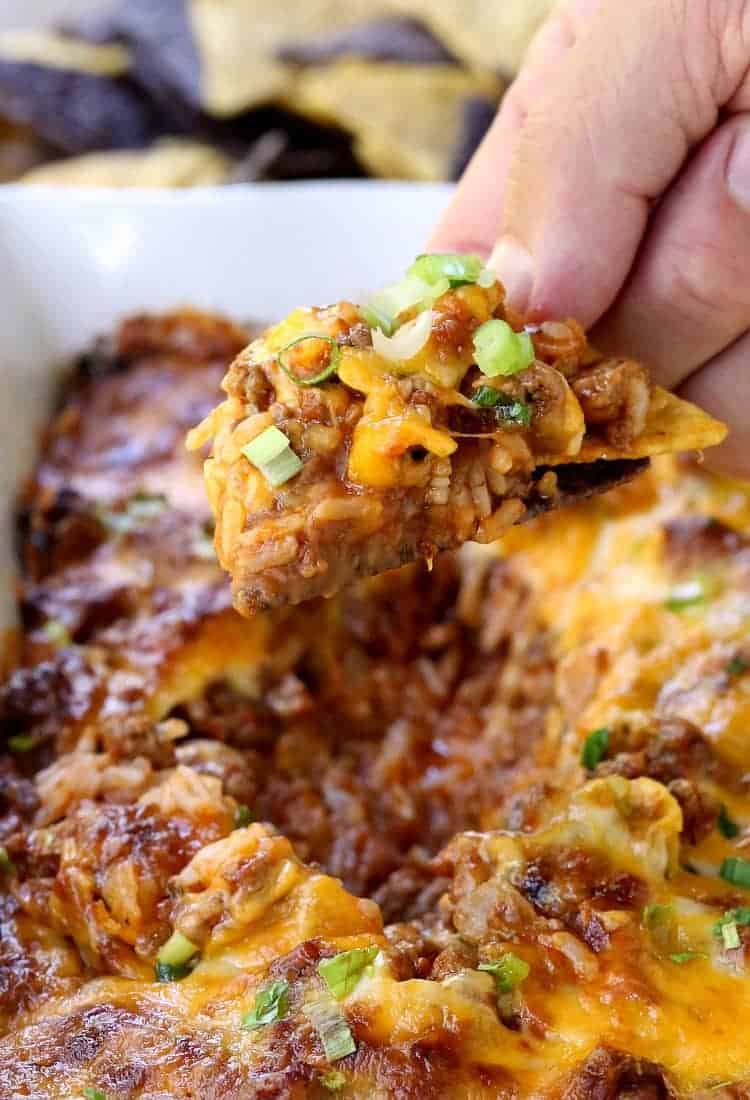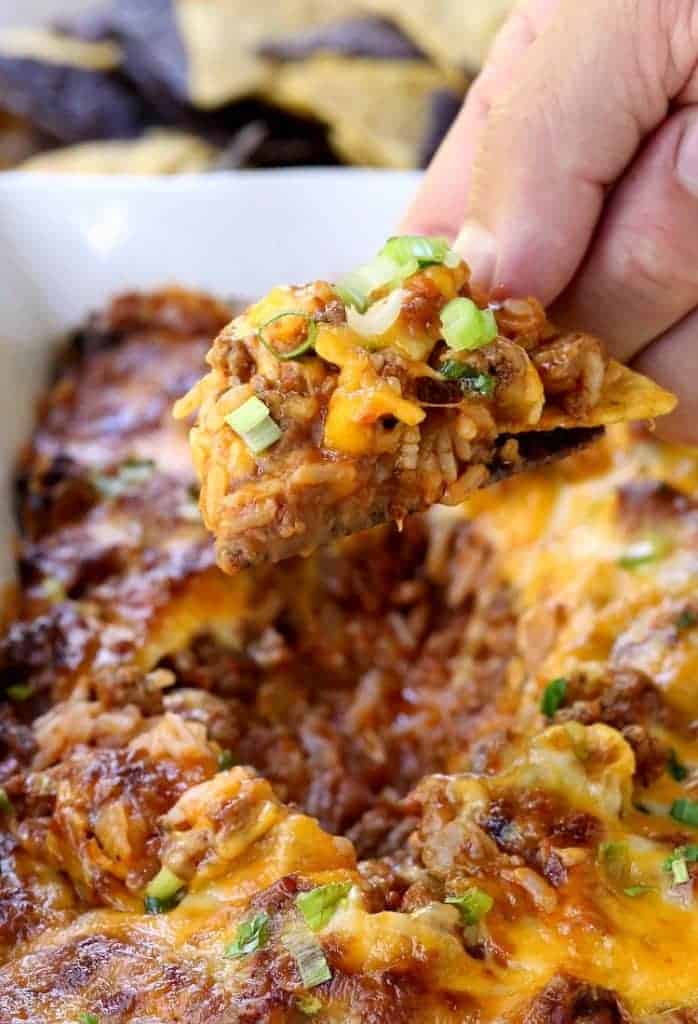 This easy appetizer dip has all the makings of a fiesta. You've got beef, cheese, beans and rice all in one layered casserole! I'm not sure what to call this one, an appetizer recipe or a main meal…either way, you're going to love it.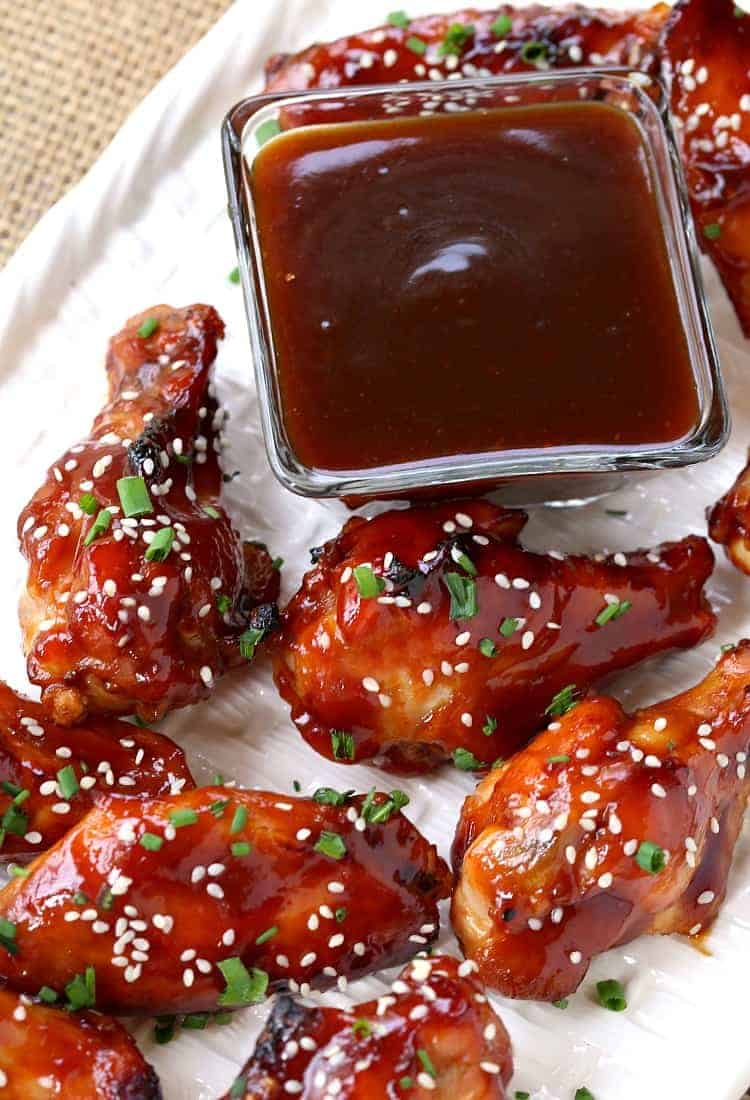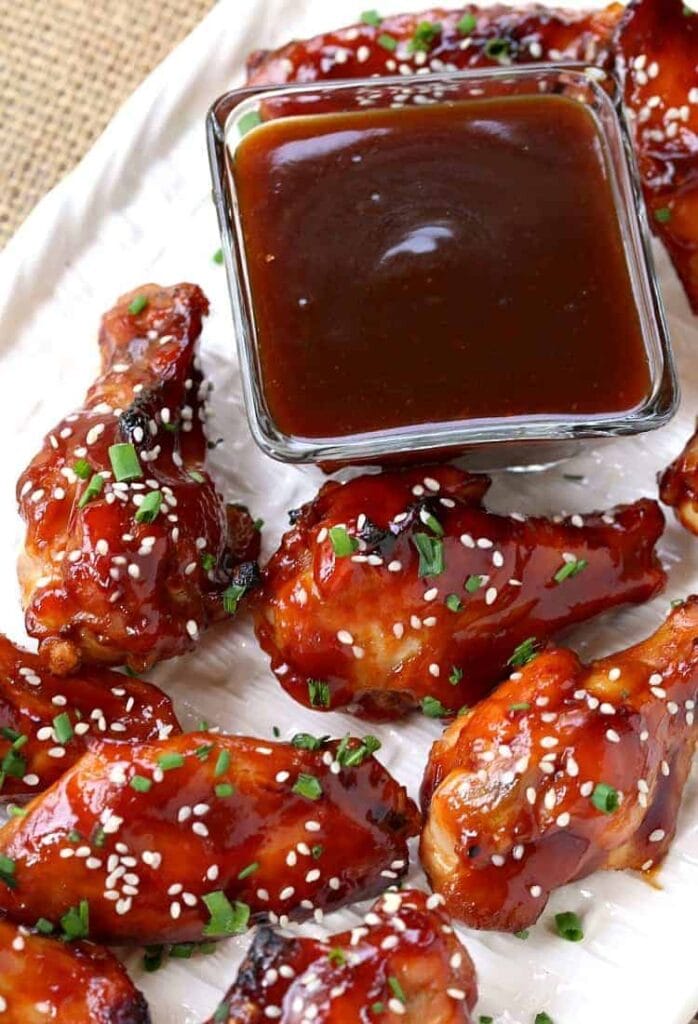 Because you can't have a Super Bowl Party without chicken wings! These baked chicken wings are covered with a sticky, sweet hoisin sauce, so don't forget the napkins!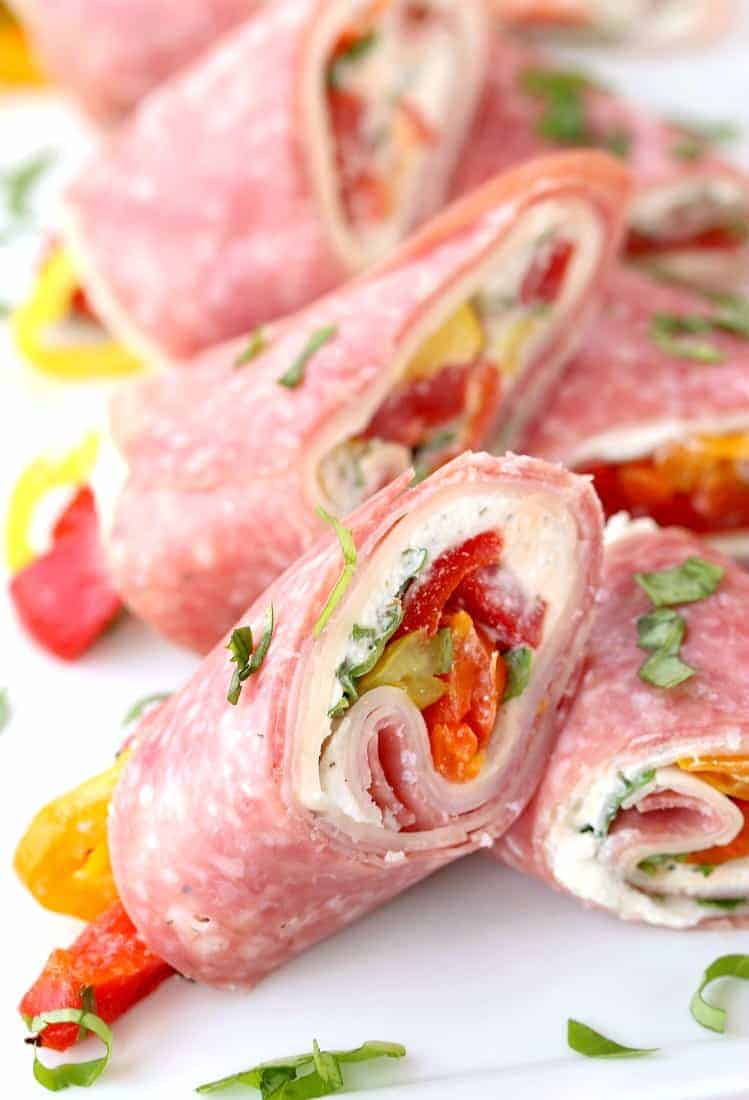 This fun appetizer is like an Italian sub without the bun! you can switch up the fillings and the meat in this recipe to whatever you like. Your low carb dieting friends are going to love these!
Skillet Spinach Artichoke Dip –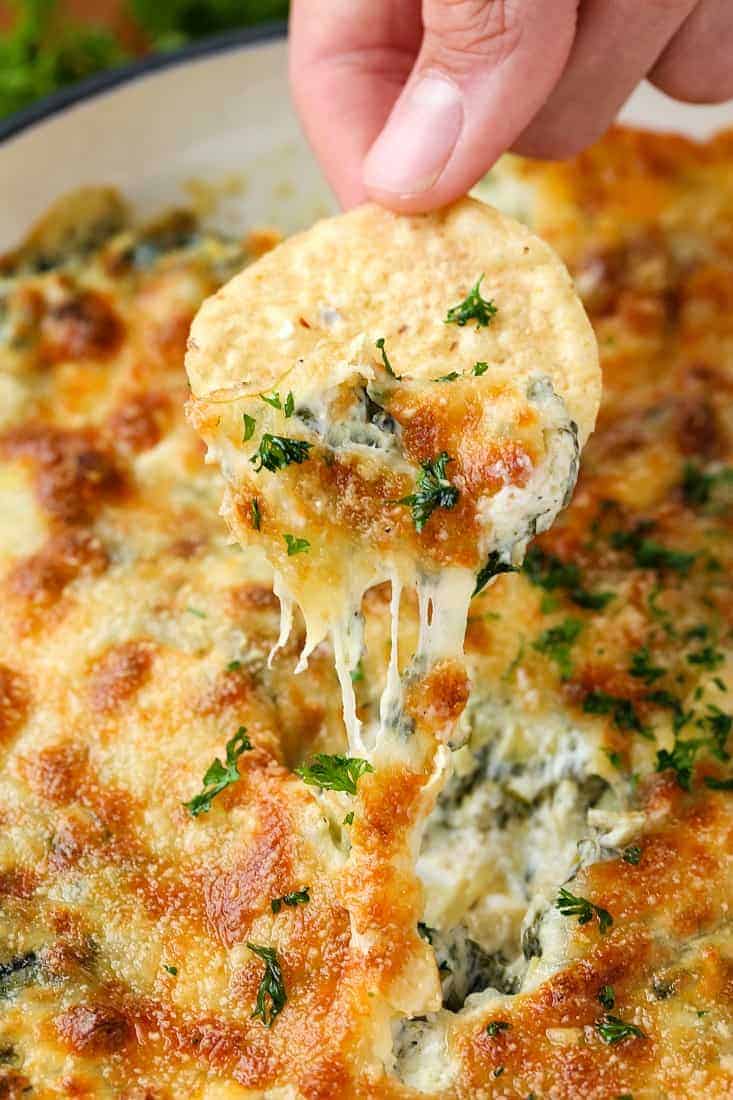 This cheesy, creamy dip is always a popular appetizer recipe! You can use tortilla chips, pita chips and even vegetables for dipping!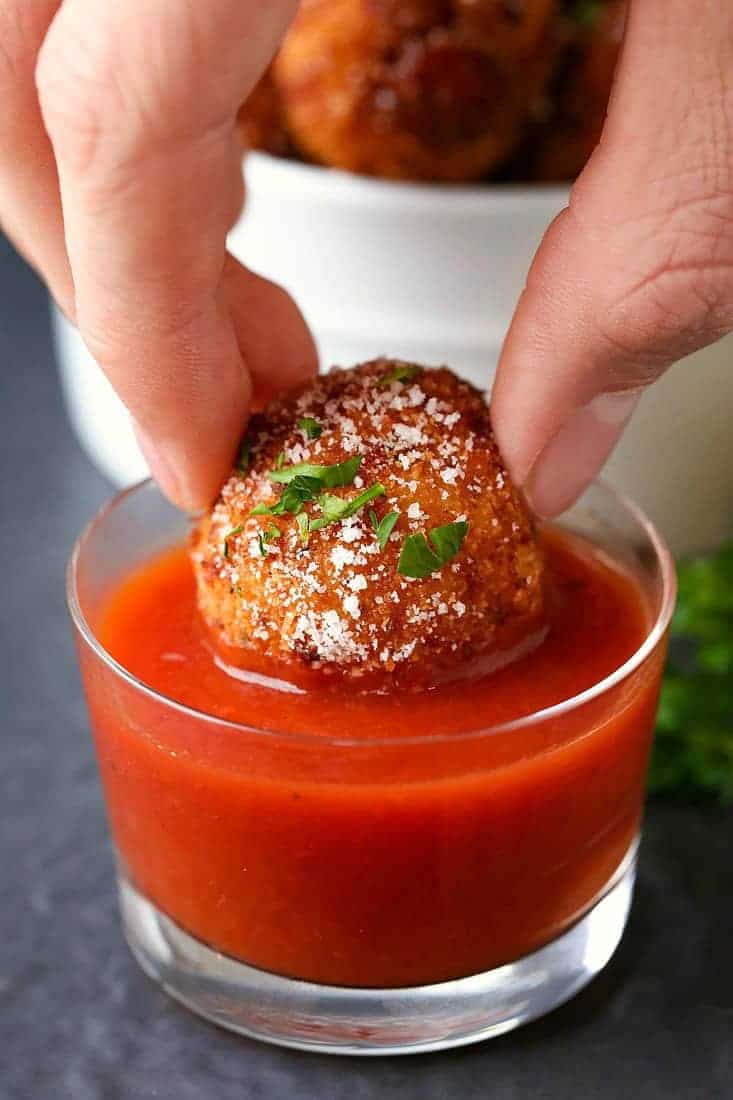 What's not to love here? Fired rice balls with mini pepperoni dipped in marinara sauce. This one is an appetizer home run. Or touchdown, if you will…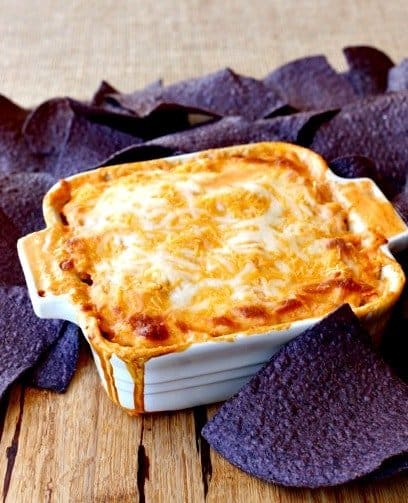 This classic hot dip is kicked up with a secret ingredient that make it even more flavorful! Grab a beer and pull the dish over to your corner of the table, you might not want to share this dip!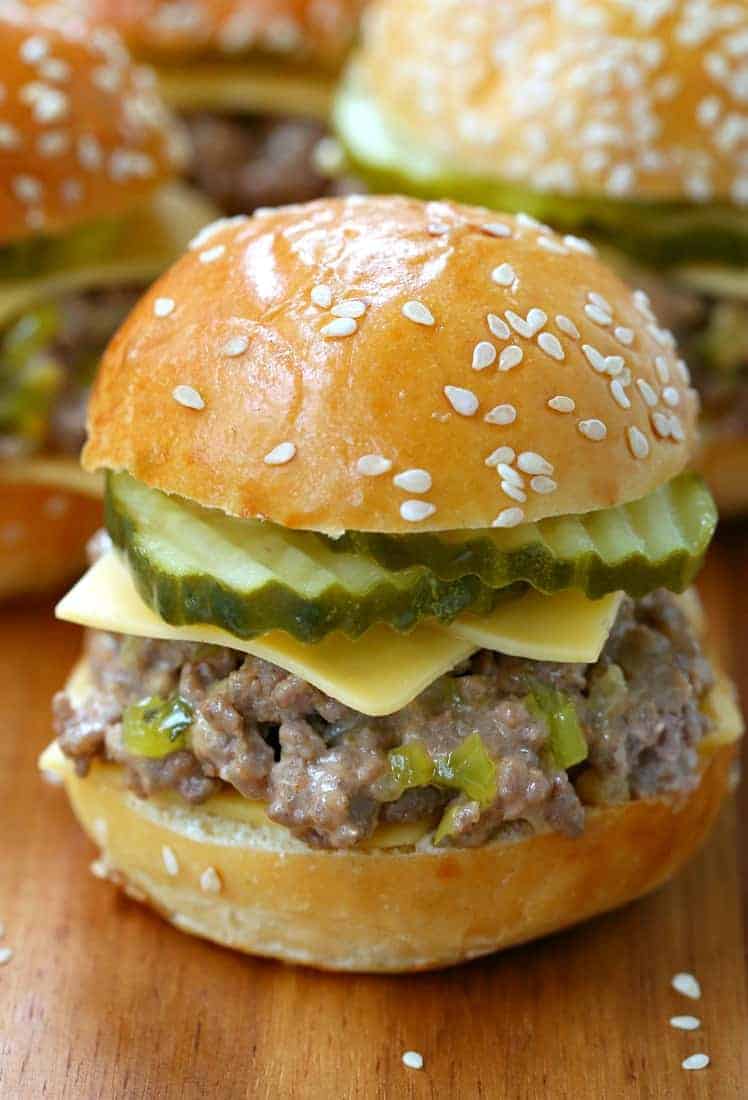 I mean, just look at that beef slider. It's pretty hard to resist mini anything, especially when these sliders are SO packed with incredible flavor. If you're looking for a homemade big mac flavor, you have to try this slider recipe!
We have so many more appetizer recipes to share, but this is a good start! Head on over to our Appetizer Menu for more ideas! Let's move on to the main course…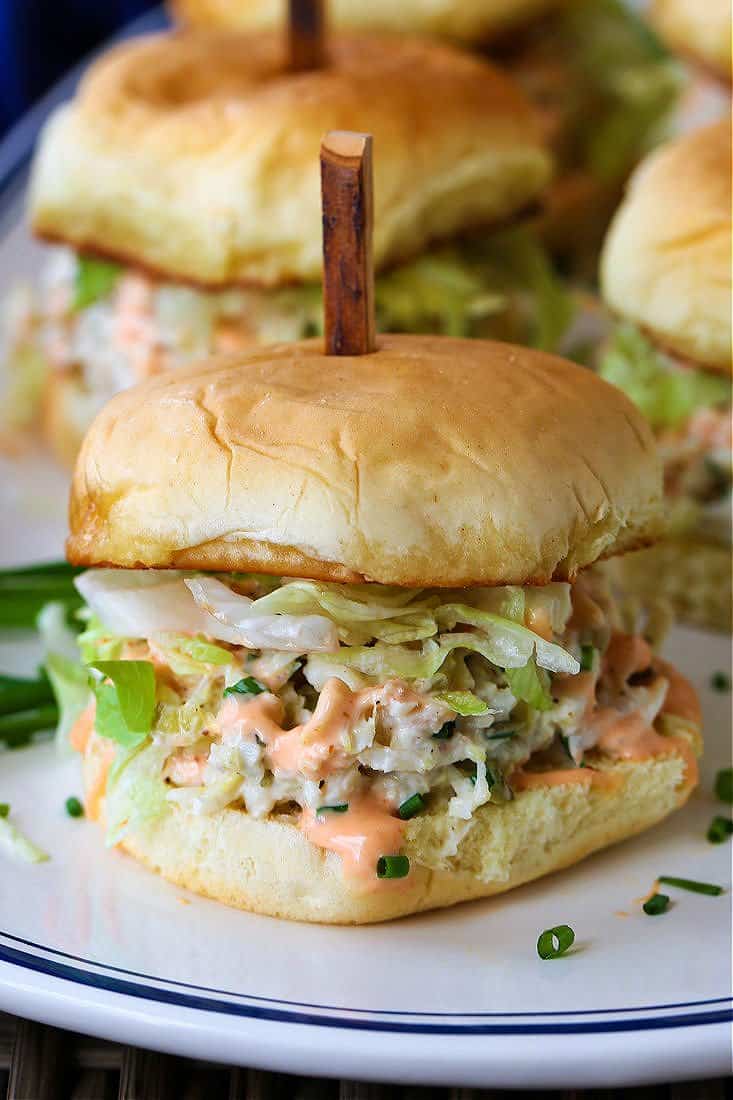 There are so many things I can say about these crab sliders. Creamy, light crab salad topped with a drizzle of sriracha mayo piled onto a crispy, buttery toasted bun. It's total perfection.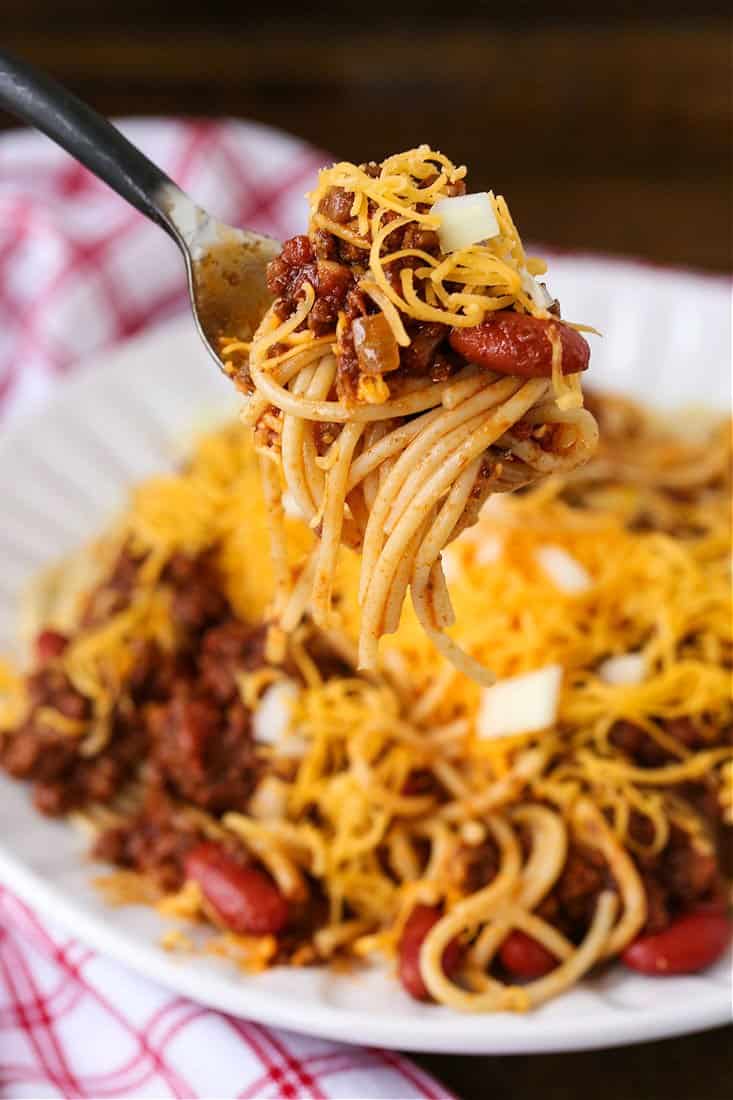 Cincinnati Chili is a cult classic chili recipe. Obviously originated in Cincinnati but is so good that it has spread from coast to coast. A no-bean chili recipe that is served over spaghetti and topped 2-Ways, 3-Ways, 4-Ways or 5-Ways. Head on over to the post to check it out!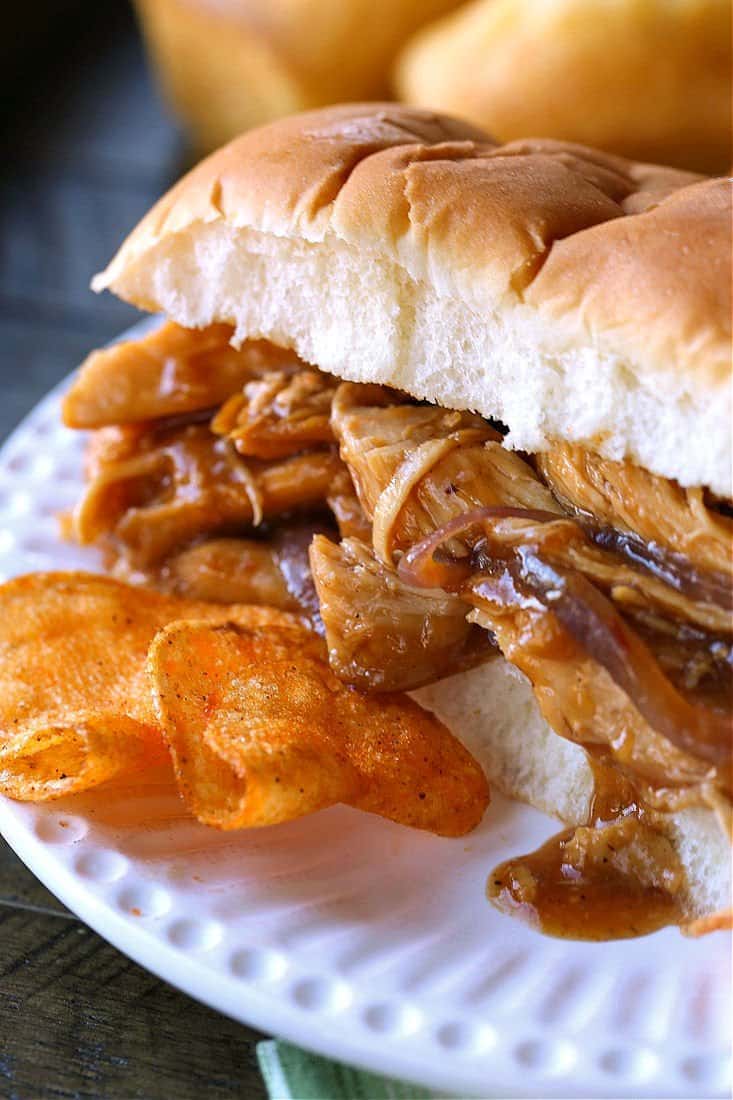 Slow cooker recipe like this pulled chicken are always a hit, with both your guests and the party host! Game Day Food should be easy to make and make ahead recipes so that you can enjoy the game along with your guests!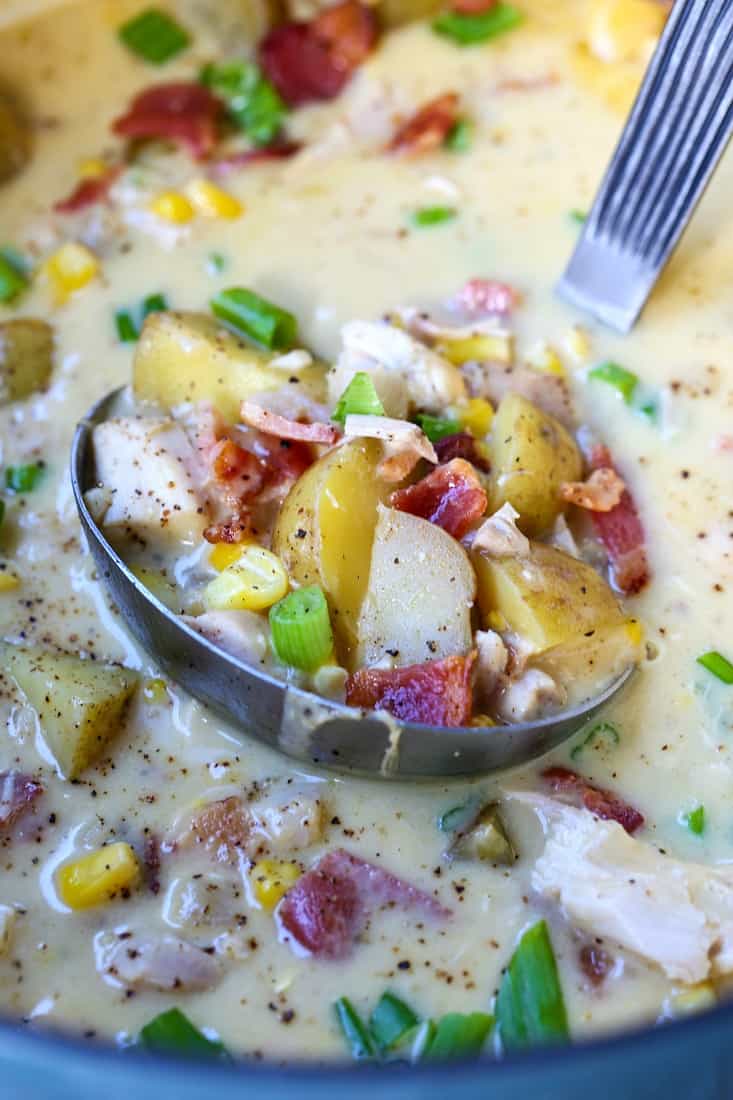 How about a nice, big pot of creamy chicken corn chowder? This chowder is hearty enough to be served on its own, but can also be served in a cup along with another main course. Keep it warm on the stove or transfer it to a crock pot!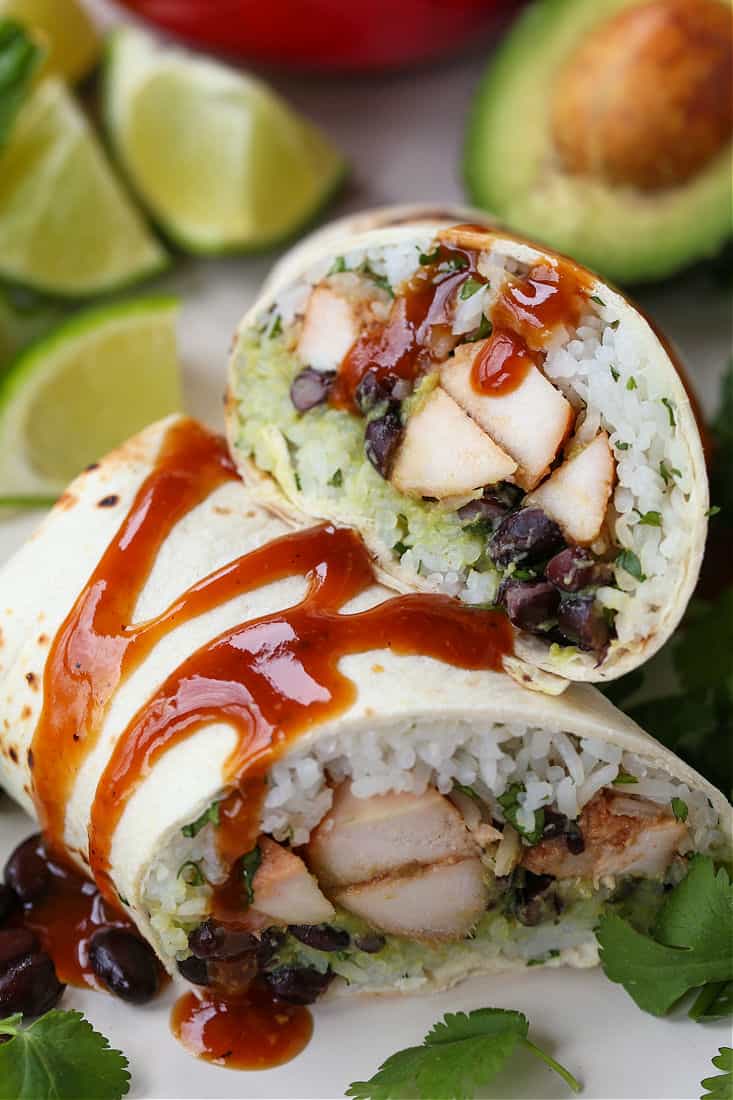 These chicken burritos are definitely party worthy! This burrito recipe is one of those recipes that make you feel like you're indulging but actually it's a pretty healthy one. Lean chicken, beans and rice make up the filling, and you can swap out a whole wheat or low carb tortilla if you like!
Make this beef taco meat is large quantities and let your guests assemble their own tacos! Taco bars are perfect Game Day Food – a totally make ahead main course and you don't even have to serve it!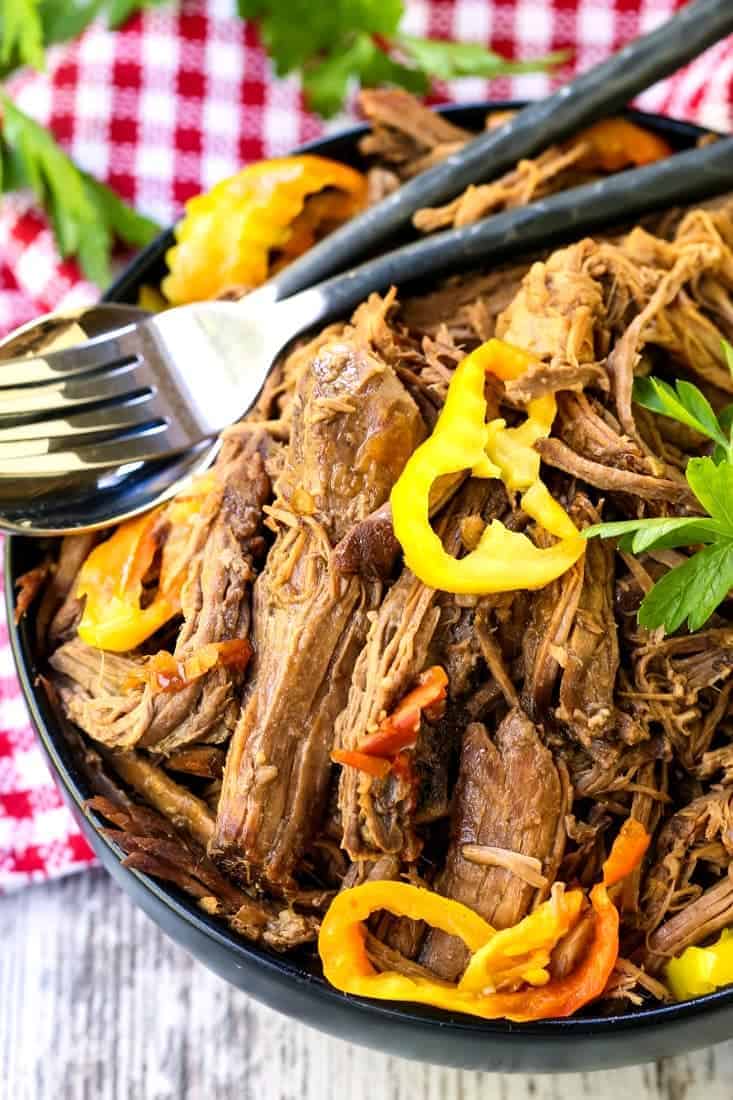 One of my favorite recipes for parties or game days, this Italian beef practically cooks itself! Serve it on sub rolls with melted provolone cheese, eat it on its own or pile it into a baked potato!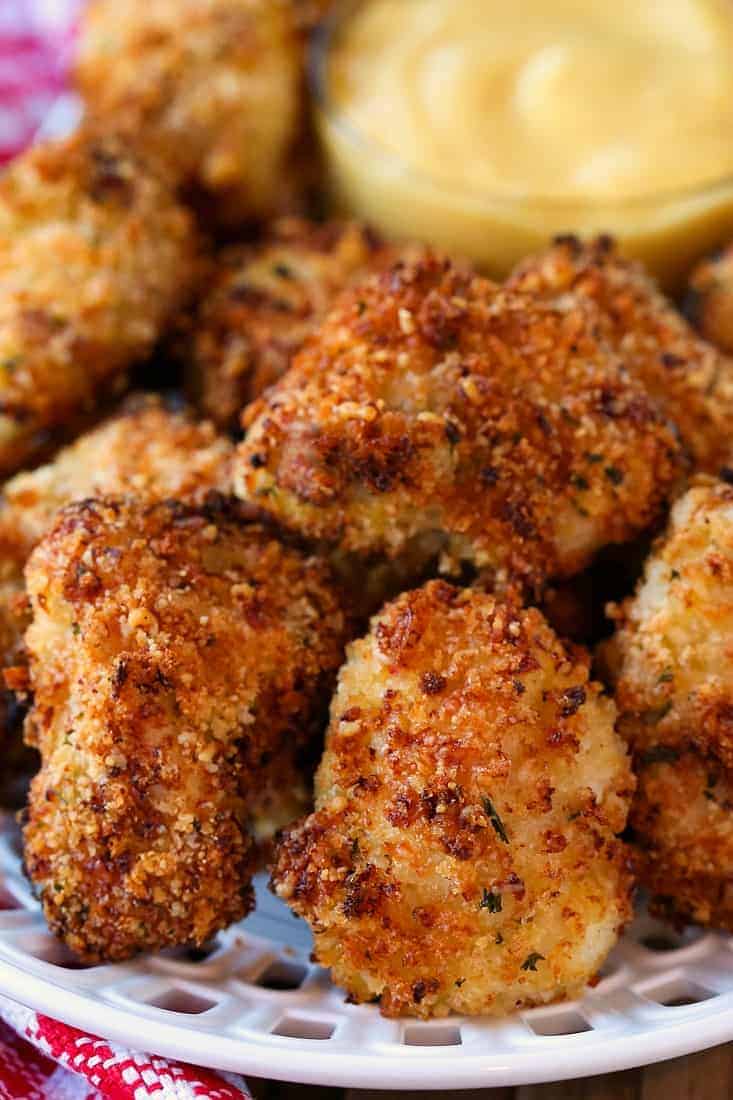 I'm sure a lot of you have kids to think about too when planning your Game Day Food and these chicken nuggets are the answer! Make sure that you do make enough for the adults because they're pretty hard to resist. Oven instructions also included.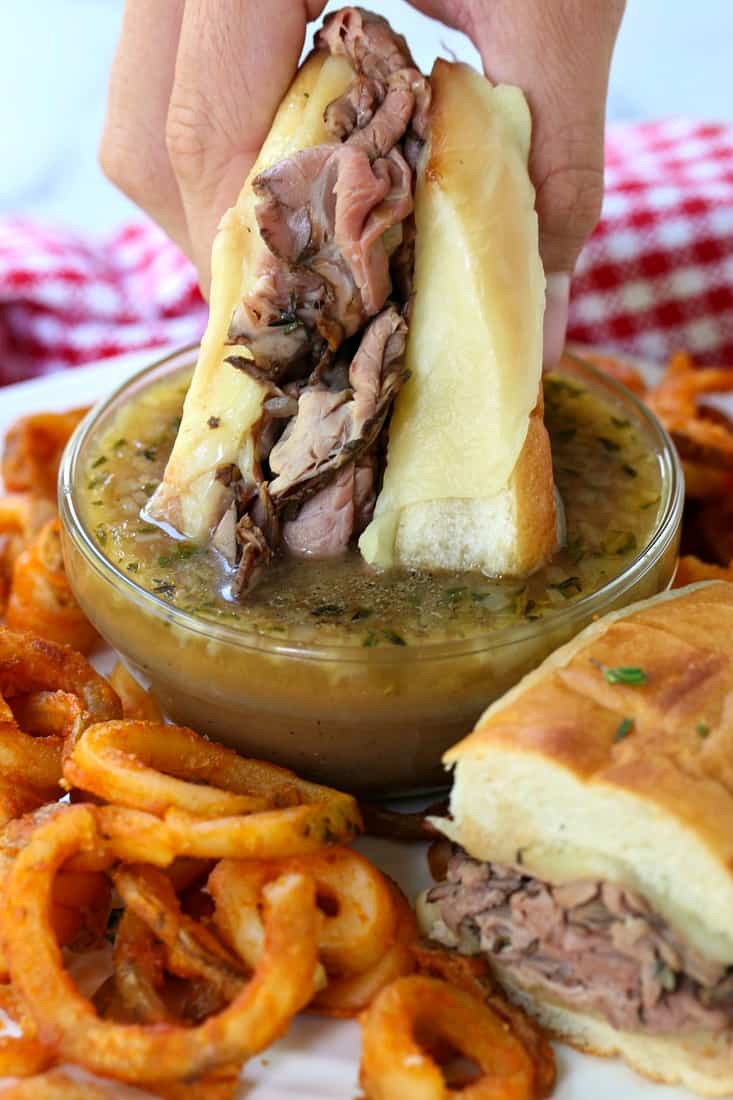 Love a french dip sandwich but don't want to make the whole roast beef? Follow this recipe link for the easiest and most delicious french dip sandwiches ever!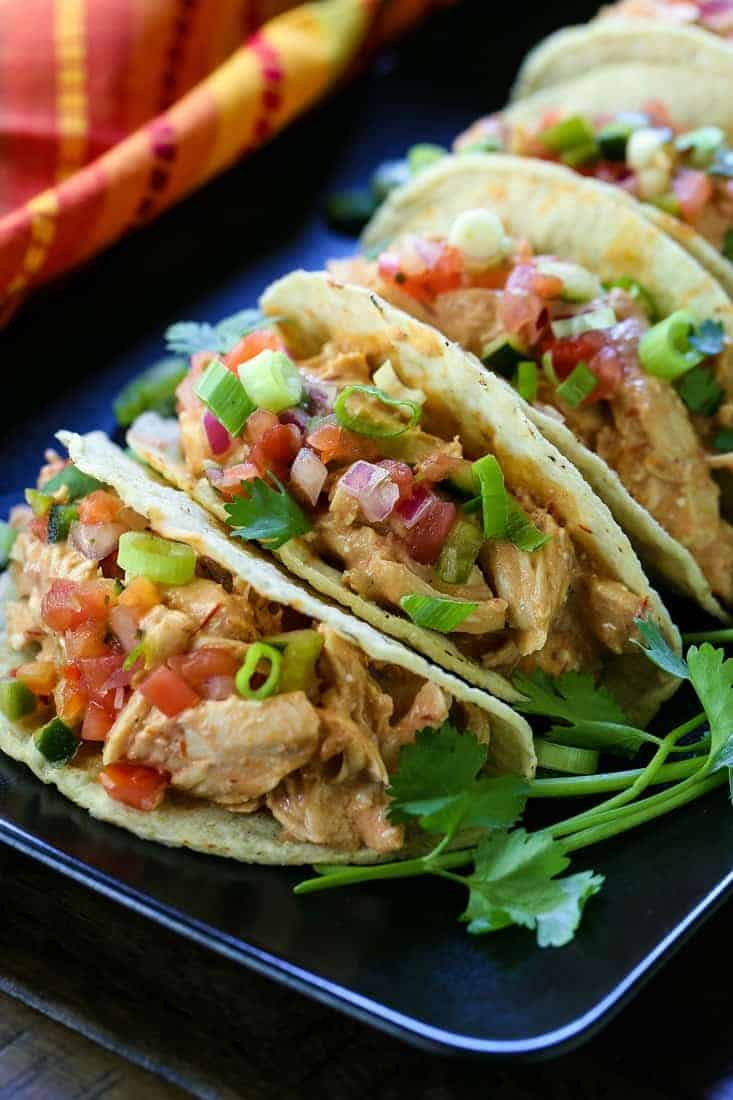 One of our newest favorites, this salsa chicken recipe is made right in your crock pot! The mild chipotle flavor mixed with this creamy salsa chicken makes this recipe stand out from the rest!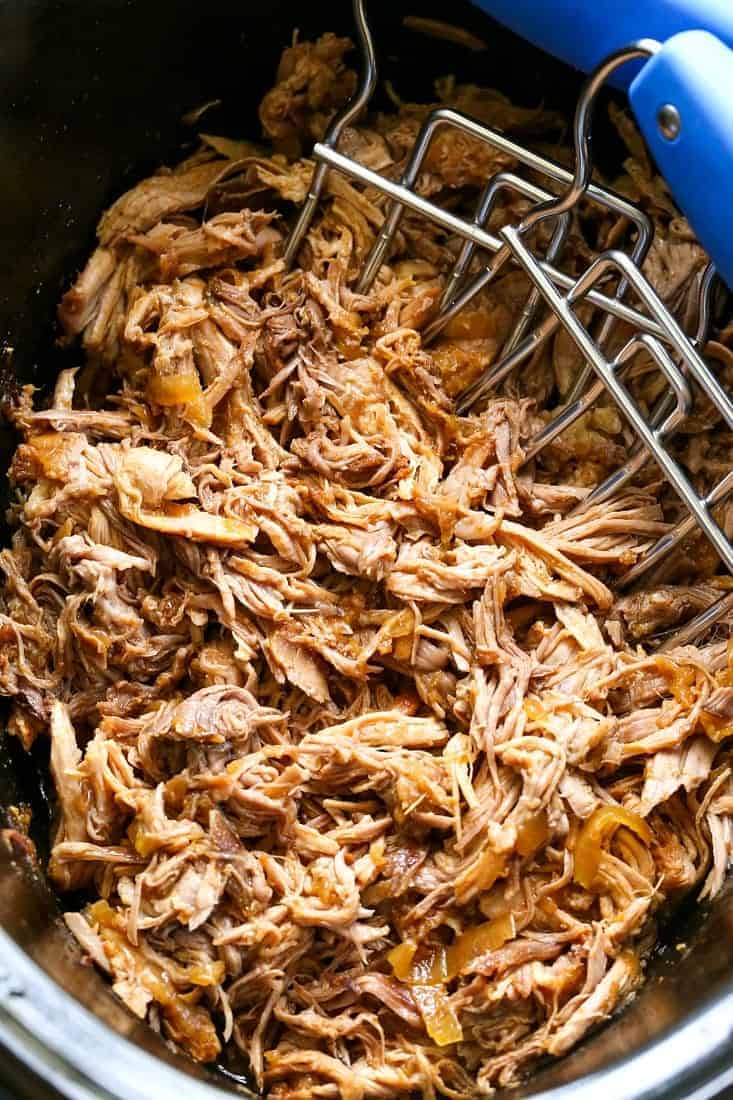 Of course we have to include a pulled pork recipe on our Game Day Food menu! This pulled pork is cooked with a dry rub and sweet onions that practically melt into the pork when you shred it. You can serve this pulled pork as is or top it with your favorite BBQ sauce!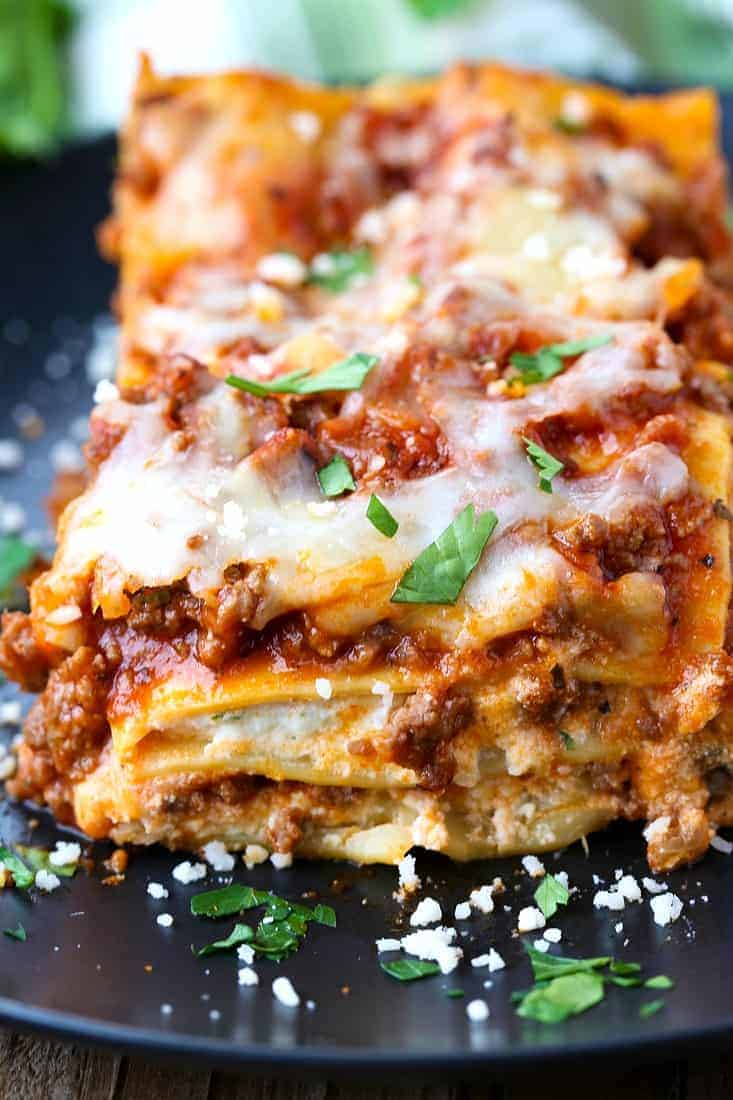 If you're looking for a foolproof lasagna recipe, this is IT. We've made this lasagna so many times it comes out perfectly for you every single time. Perfect slices, the right amount of sauce to cheese ratio and the best flavor ever.
Grandma's Sunday Meatballs and Sauce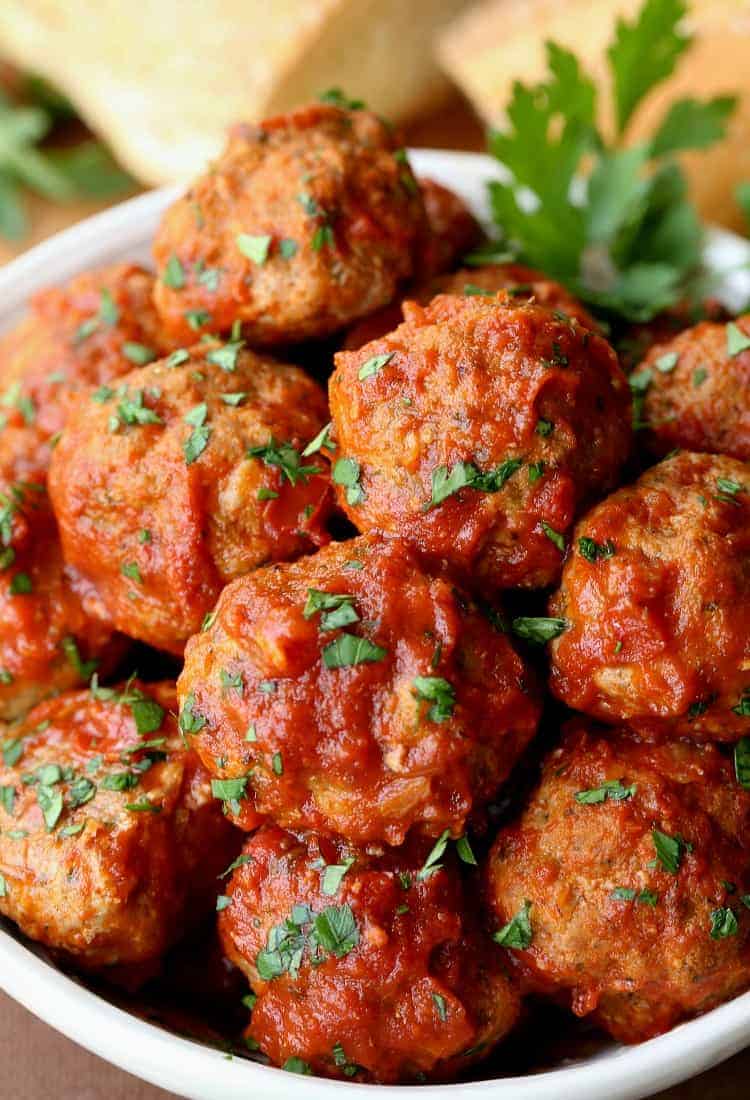 Make these meatballs the day before and warm them up on your stove top for your party. You can make spaghetti for serving or grab sub rolls for making meatball subs! We usually have both on hand to let everyone pick what they want. Again, a totally hands off dinner, so grab a beer and sit yourself back.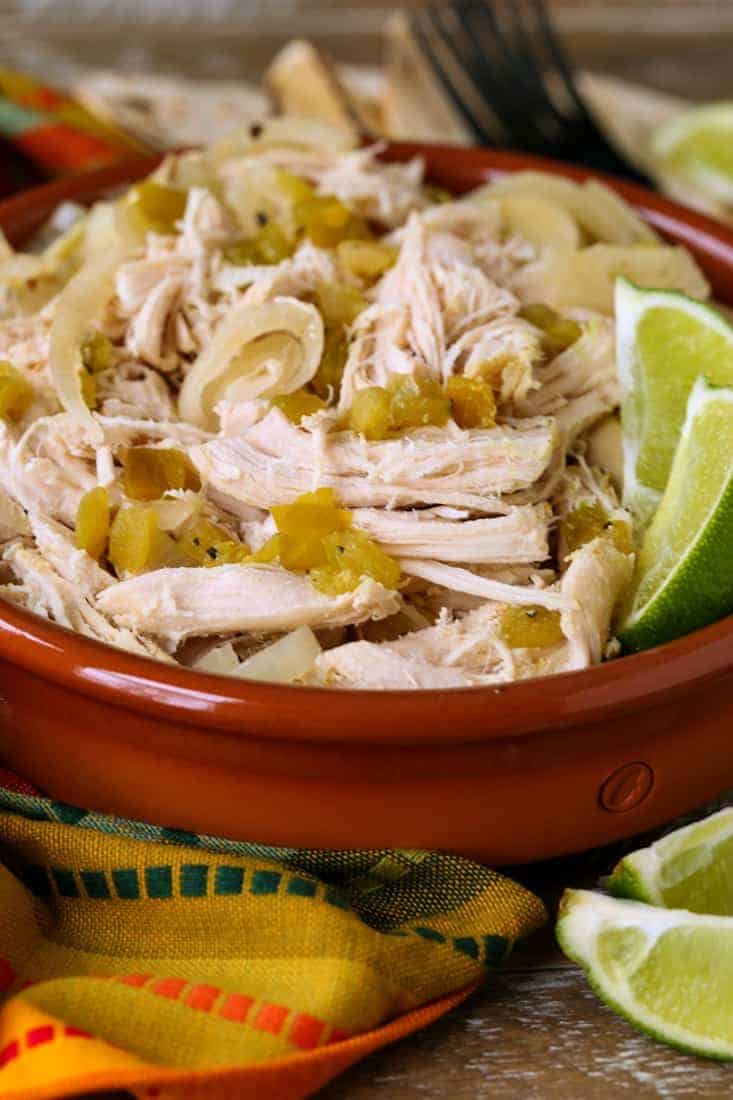 This simple shredded chicken recipe has so much flavor! Use it in tacos, burritos, salads or just on buns. Made ahead of time in your slow cooker, so you can keep it warm for the whole game!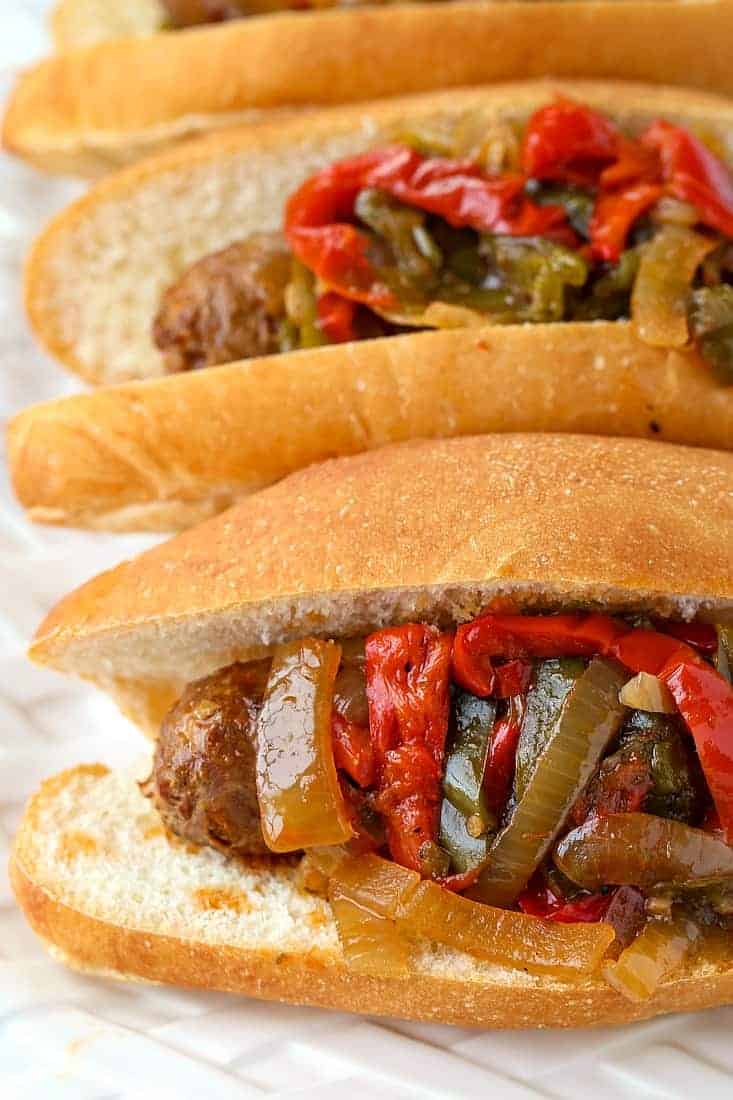 This sausage and peppers recipe is honestly the best you'll ever have. Not covered in tomato sauce like other recipe, these sausage and peppers are cooked in a light tomato sauce with marsala wine and they come out so tender you won't believe it!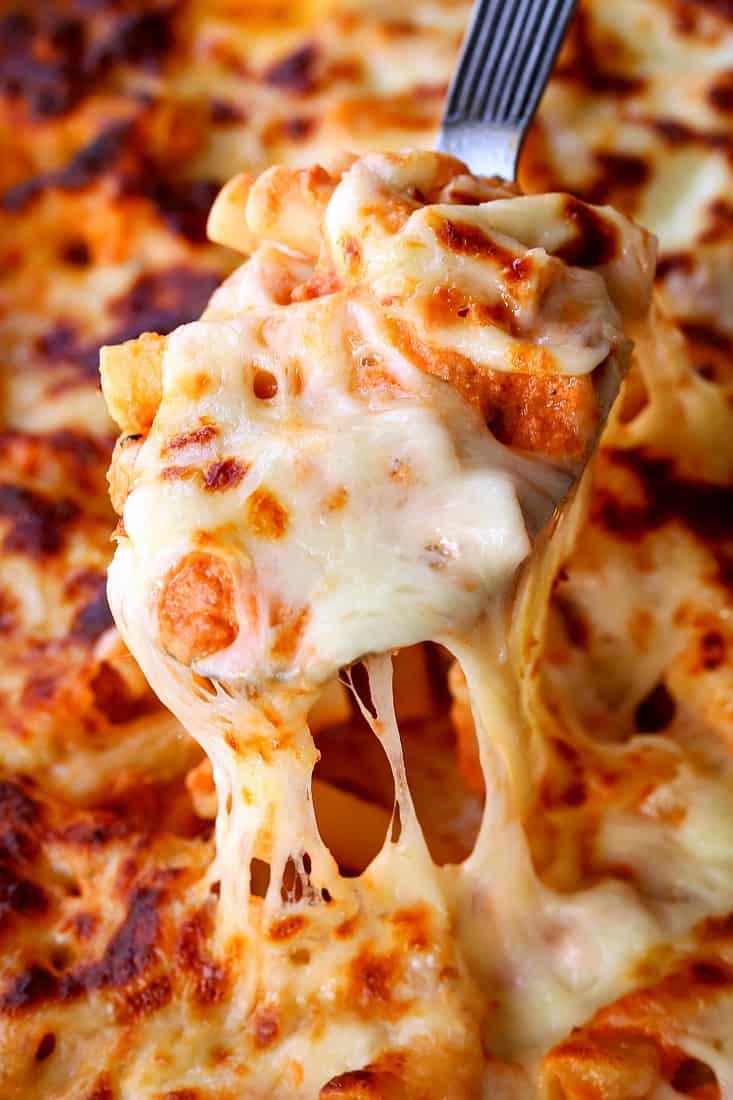 Everyone loves baked ziti and we do think our recipe is the best! Again, you don't want to just throw pasta, cheese and sauce together in a baking dish. There is a little bit of a recipe to it. Try ours and see for yourself, we guarantee there will be cheers all around.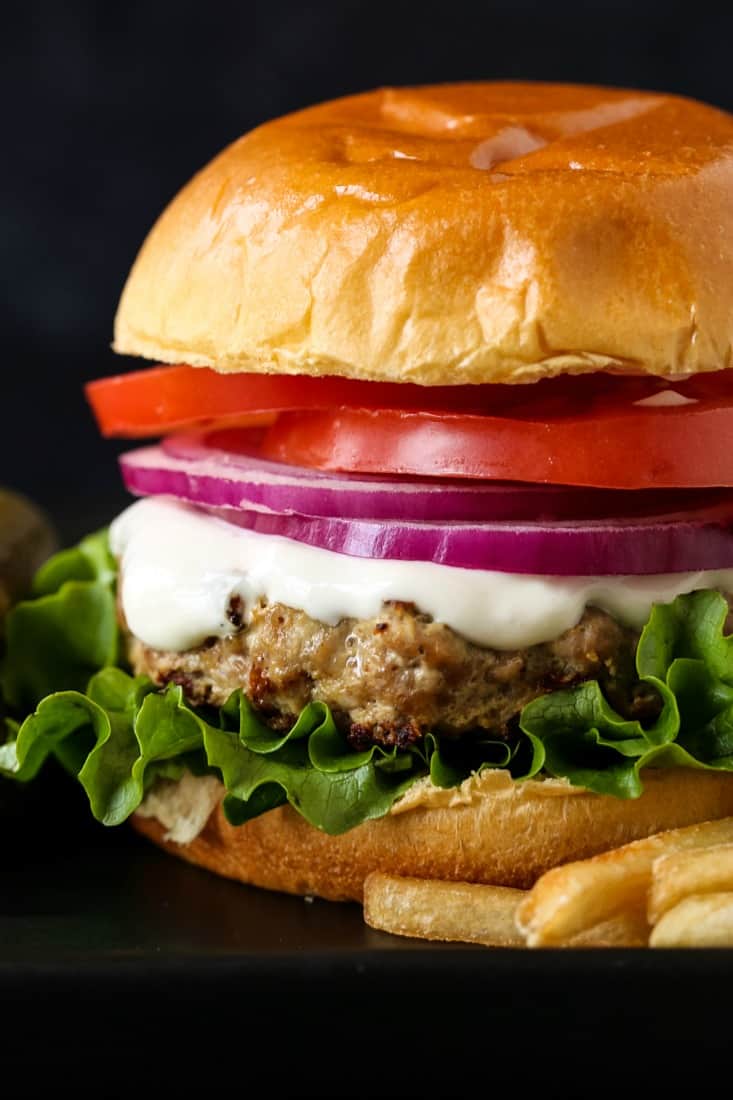 These turkey burgers are made right in a skillet, so if you're in an area like we are that you don't have access to a grill, or just don't want to go out in the cold, you can still have amazing burgers! Check out our other recipes, Caramelized Onion Turkey Burgers and these 10 napkins needed BBQ Bacon Turkey Burgers!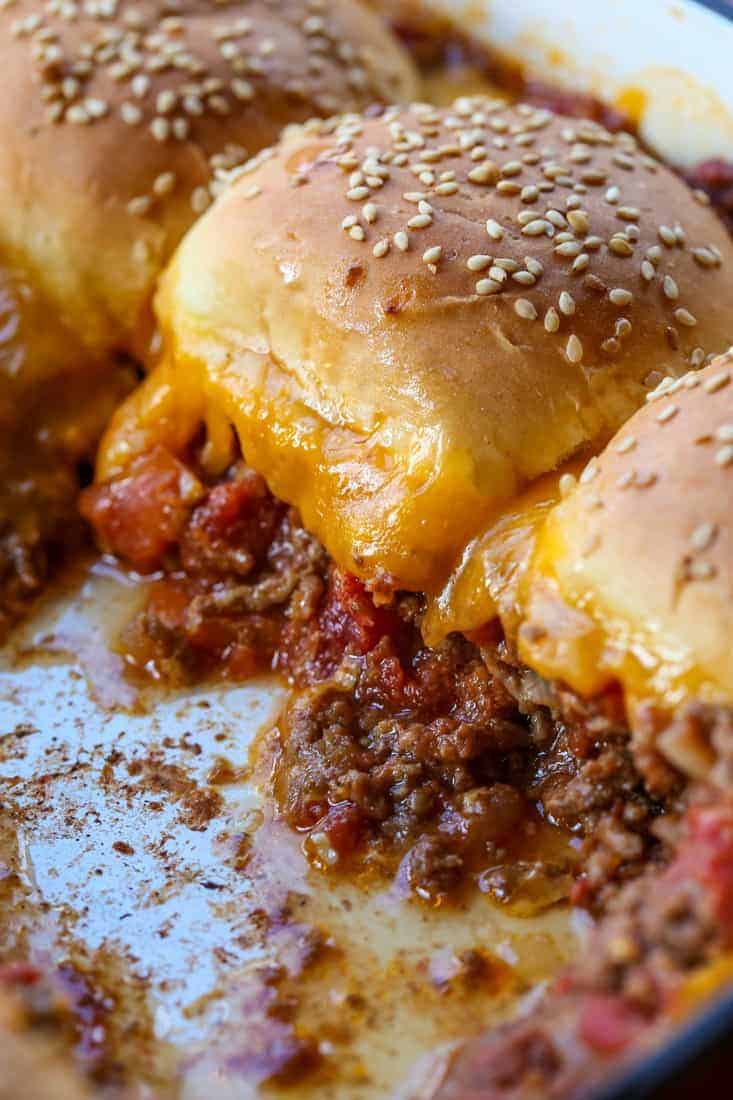 This casserole recipe is pretty much the epitome of Game Day Food. Cheesy, juicy ground beef filling topped with a layer of sliders buns! Kids and adults will flip for this one!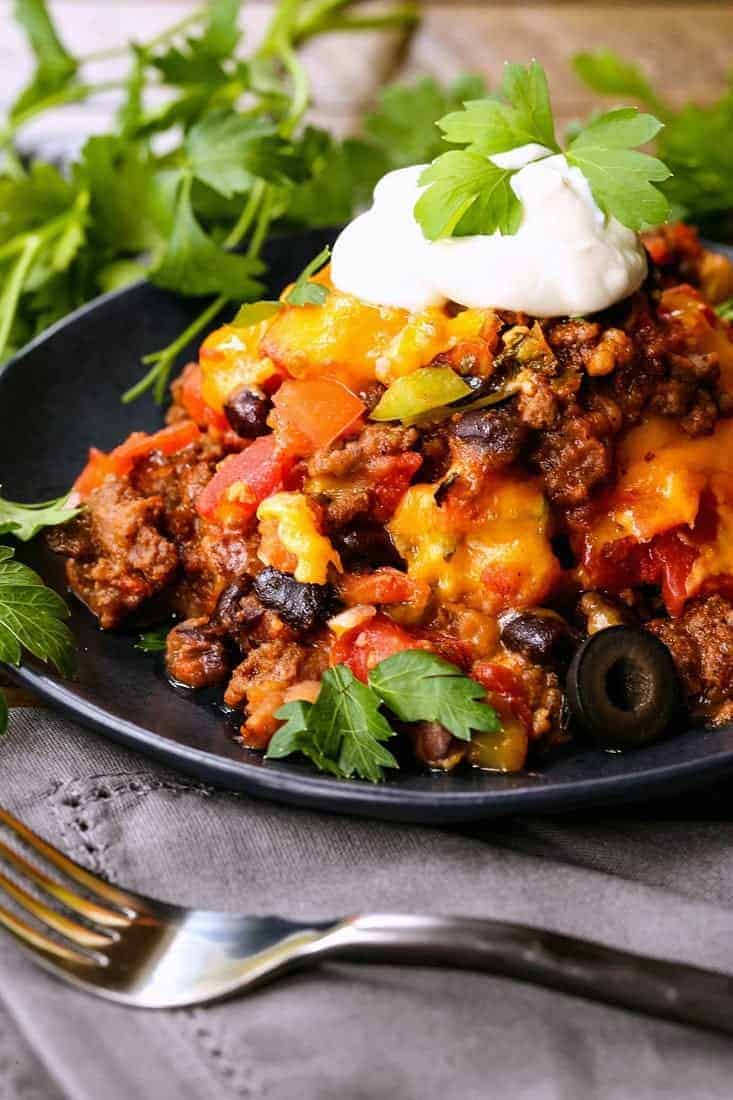 Make sure you don't leave this taco casserole off the menu. Everything you love about a loaded taco baked into a cheesy, crazy delicious casserole! Make ahead party food has never looked or tasted so good!
15 Minute Buffalo Chicken Spaghetti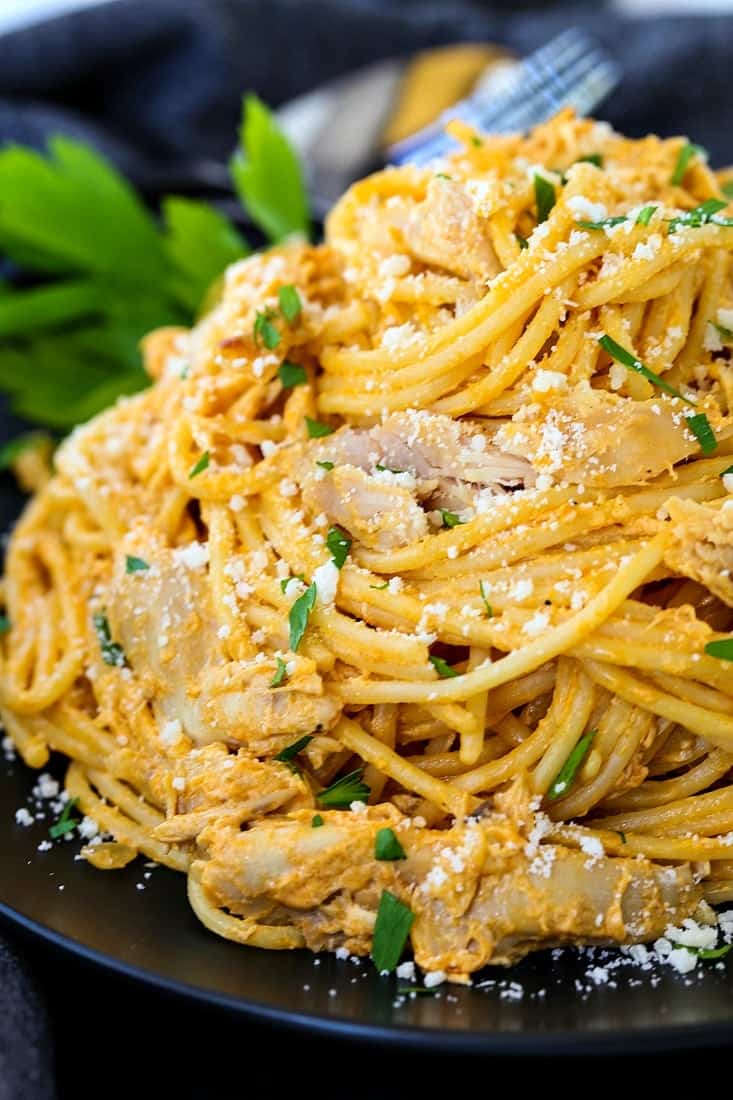 This chicken spaghetti recipe is absolutely mouth watering! Our boys love this spaghetti and it's a perfect party main course! Make the spaghetti ahead of time, mix up the sauce and dinner is done!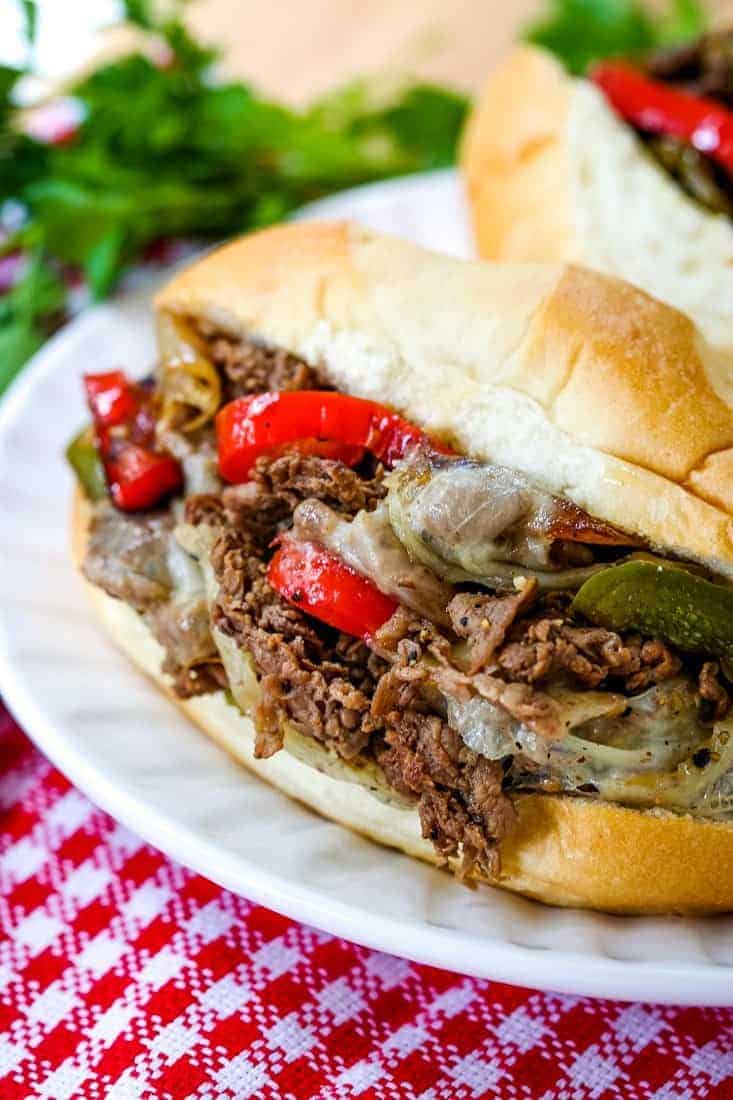 Shaved beef bought right at the grocery store makes these sandwiches come together fast! Grab your sub rolls and let your friends make their own sandwiches!
Easy Stove Top Macaroni & Cheese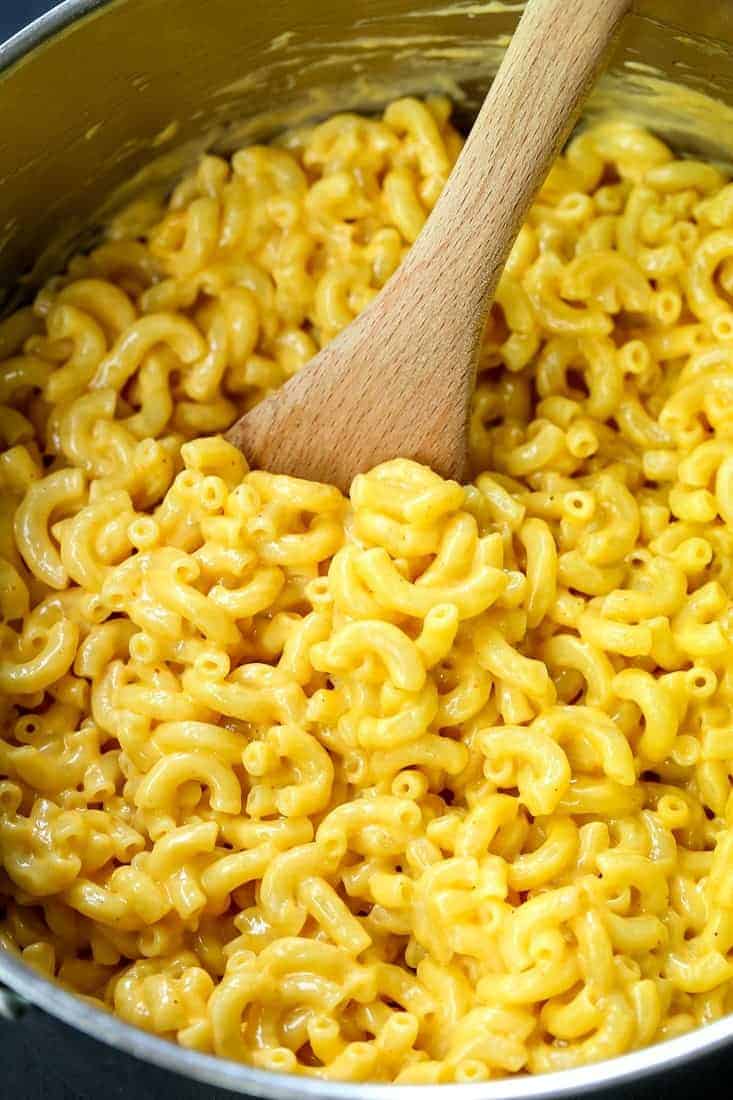 Instead of opening 10 boxes, make this easy mac and cheese! This recipe taste really close to the blue box stuff, and I can tell you that the kids and adults are going to love it! You can also transfer this mac and cheese to your slow cooker to keep it warm.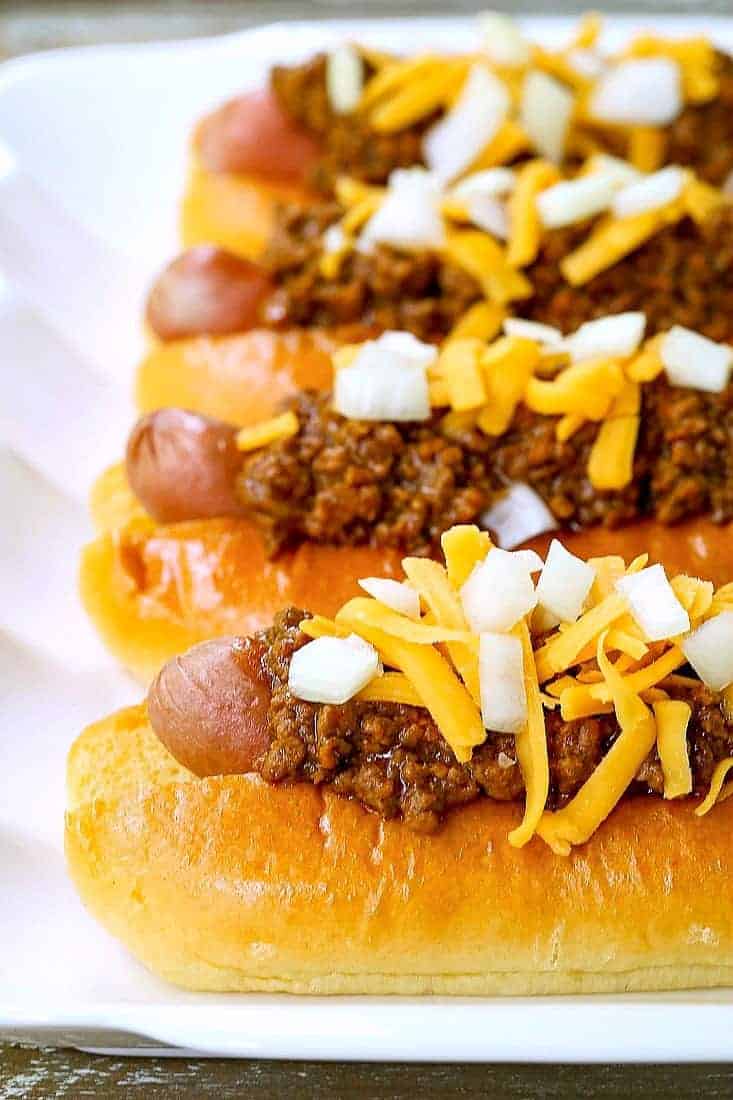 Don't you just want to bite into these hot dogs? Make our homemade hot dog chili, keep it warm in a crock pot and spoon it over your hot dogs. Set out toppings for a hot dogs bar and everyone can make their own!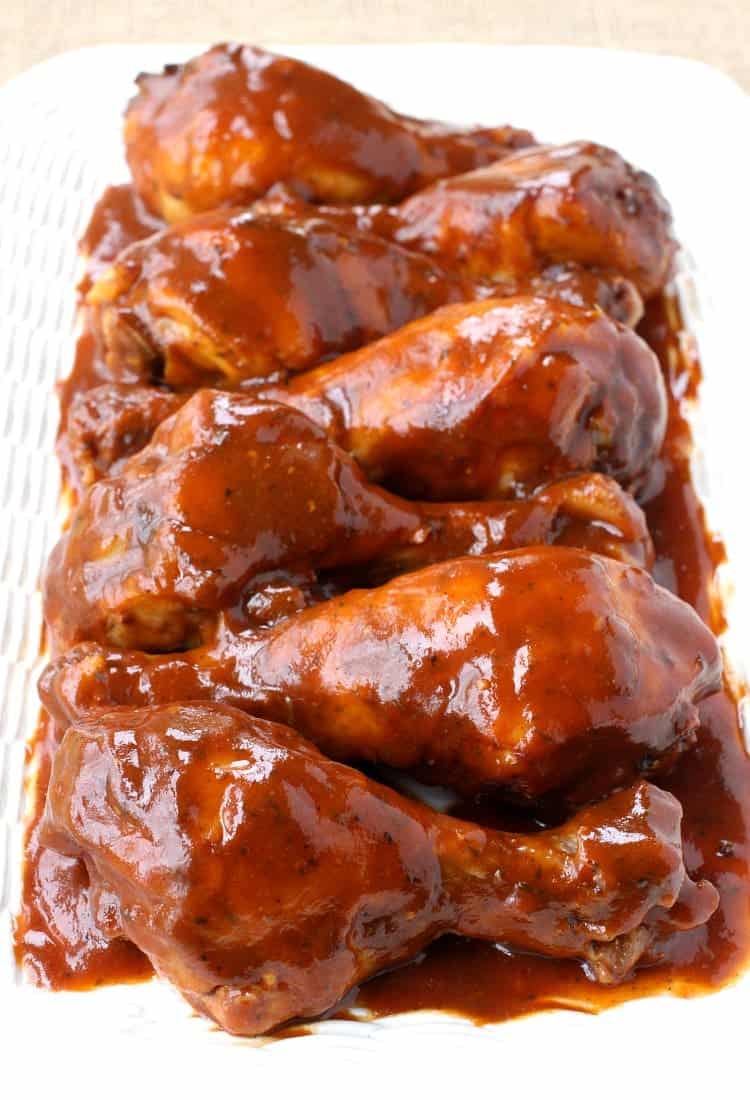 There's so much to be said about this chicken leg recipe. Super tasty, super affordable (especially if you're feeding a crowd) and honestly so easy your kids can make it!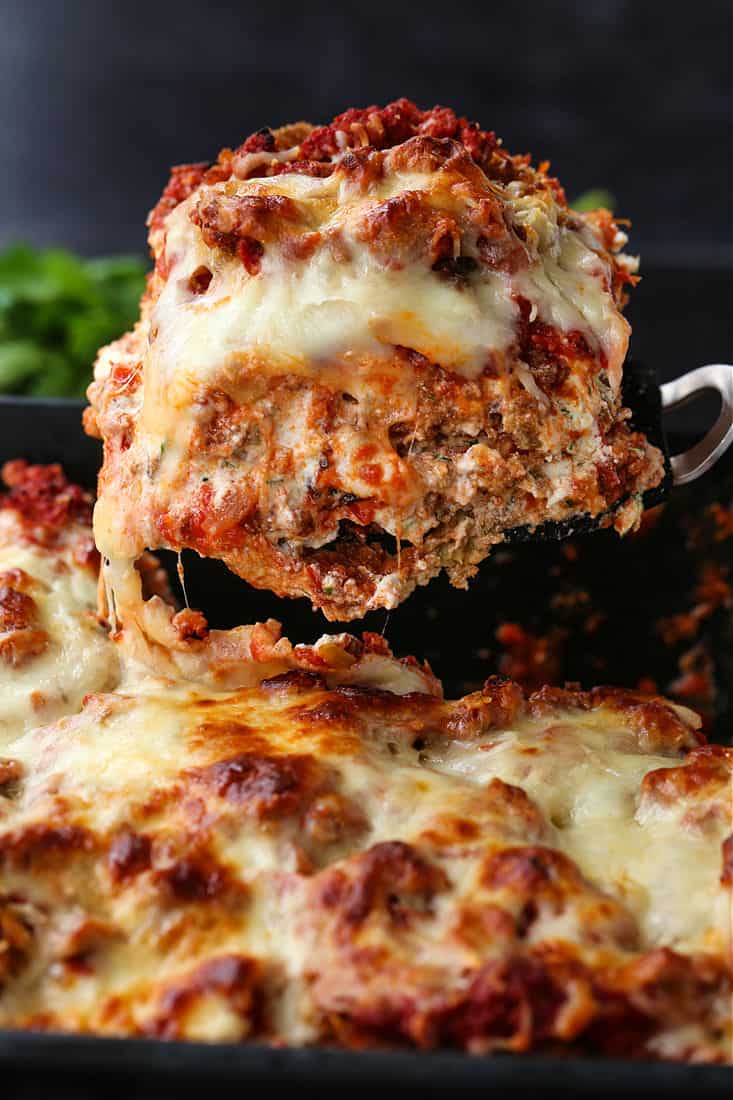 It took us a few tries to perfect this recipe but it was well worth it. When you're making a casserole recipe like lasagne or this eggplant parmesan the ratio of ingredients is really important. You don't want to slice into your eggplant parmesan and just have it slide all over the place. Nice slices, but still saucy and gooey with cheese….that's perfection!
Last updated on Sep 24, 2023 1:42 pm