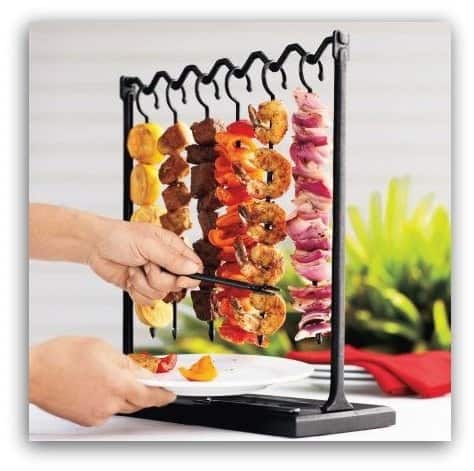 This week at Mantitlement we're going to be talking about kabobs. Some different twists on kabobs…So of course I had to look up some sort of a gadget that had to do with kabobs
This Skewer Station from Sur La Table reminded me of going to one of those Portuguese restaurants and ordering rodizio. If you haven't gotten a chance to go for rodizio, it's definitely something worth trying.
Kabobs are definitely a summer food for me, grilling up meats and vegetables, whatever you have fresh on hand. I've made a couple grilled kabob recipes that were a huge hit in my house and I can't wait to break them out again this summer…but I think would have been even better if they were served on this skewer station!
So it's a pretty simple idea, but anything to make dinner more fun, what you do is skewer your meats and vegetables separately onto each cast-iron skewer, throw them on the grill and when they're done you hang the skewers on the rack. Then your guests can take whichever ingredients they like from each skewer so they can customize their plate with the things that they like.
We all know that not everyone likes everything…so this skewer station is perfect for a party or just serving your family at dinner time. This would be great idea for serving fajitas and tacos too.
At $39.95 this would be a great Father's Day gift or even just something to pick up for yourself. I also found this set on Amazon for a little bit less, BBQ Hang & Serve Kabob Rack, they aren't cast-iron but they seem like they'd do the trick.
So have some friends over and get your kabobs on the grill, even for the pickiest eaters, there will be something for everyone with the Skewer Station!