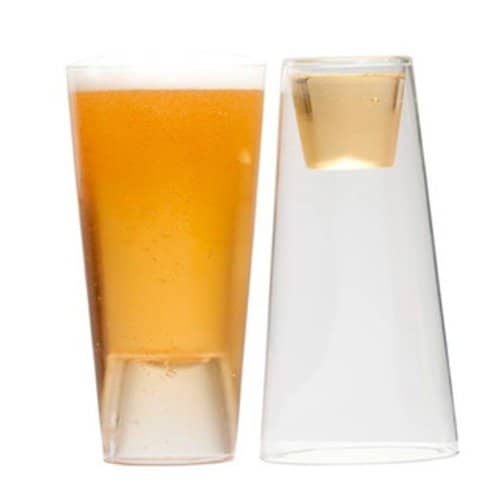 Beer and a shot? Shot and a beer? Which comes first…with this Shot in the Pint Drinking Glass
it's totally up to you.
I'm going to be volunteering this Saturday at The New Jersey Brew at the Zoo in West Orange NJ. It was such a great time when I went the first time, I had to sign up again. There's 75 different craft beer available, food vendors, entertainment and, of course this time, the animals. They offer extended viewing hours to all those who attend the event., so you can walk around drinking your craft beer while checking out the penguins.
I guess I had beer on the brain from thinking about the brew fest this weekend because I kept coming up with all beer-related gadgets. Not that that's a bad thing…I just kept finding the same stuff over and over.
But these beer glasses were pretty unique. These glasses combine the shot in the bottom of the pint glass so you can do your shot and the flip the glass over and down a beer. They're made from mouth blown glass that holds a 16 oz beer and a 2 ounce shot.
I've actually seen them in disposable form too with the shot built inside the glass. So you'd pour a shot in first, then fill it up with beer. Or you could fill the shot part up with orange juice and then have your guests top the glass of with champagne for a mimosa…Vodka and tomato juice…the list goes on.
Obviously these are more for a party-type atmosphere as I'm sure you won't be drinking out of these in your kitchen, or maybe you would…I don't know. But I'm thinking for a BBQ or a gathering with friends these beer glasses would be pretty entertaining.
Maybe good for a Mantitlement giveaway? Let me know what you think!