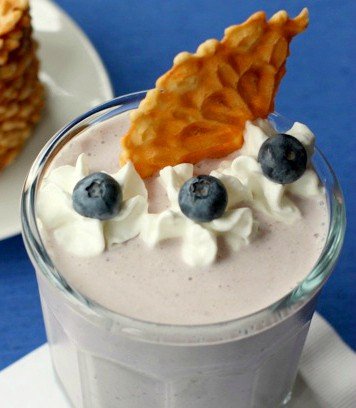 White Whiskey Blueberry Milkshake
This White Whiskey Blueberry Milkshake is my kind of dessert! The boozy kind…not that any milkshake isn't good but add a splash of booze and it becomes amazing!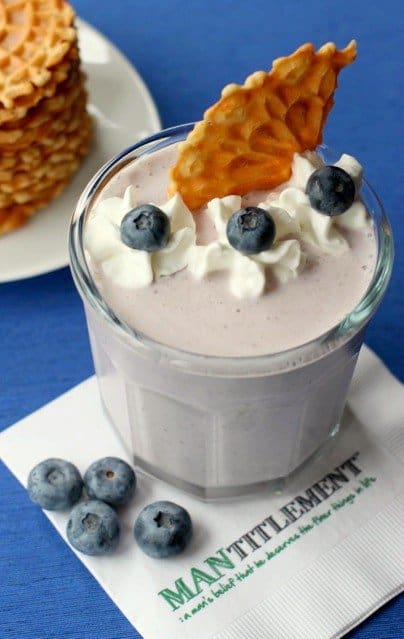 I love dessert. Cake, ice cream, pie, cookies. Whatever you got, I'm in.
I'd have to say that my favorite dessert is probably a cannoli…but it has to be the right kind of cannoli. Crispy shell, not soggy. Light cream on the inside. My favorite cannoli of all time if from Eataly in NYC. It's an orange flavored filling with the thinnest, crispiest shell you've ever had.
But Eataly is not right around the corner for me so I don't get to have them very often.
So I have to compromise.
This milkshake is the perfect make at home dessert for me. It's creamy, boozy and it has fresh fruit – so it's sort of good for you right? OK, maybe not really but I'm going to stick with it for now. It at least counts as 1 fruit serving for the day.
Not that dessert needs to be healthy in any way, that's why it's dessert. It's not something you need as part of a healthy diet, it's a treat. So if there's no cookies laying around (which there usually isn't) my go to is ice cream.
Tonight I thought I'd switch it up and make milkshakes with white whiskey and blueberries.
If you've never tried white whiskey I highly recommend that you do. I had a bottle of Jim Beam Jacob's Ghost White Whiskey that I had been wanting to try for a while so I thought this was a good time to break it out.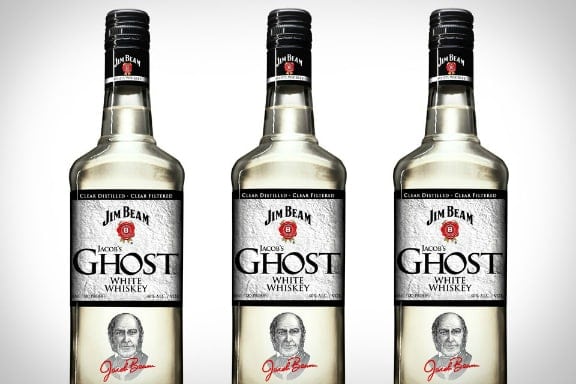 I had to take a few sips first before adding it to the ice cream of course…and it was good. Strong, but good. Not as strong as regular whiskey, but still up there. I'm definitely going to experiment more with this stuff – I would say that you could substitute this white whiskey out for and cocktail recipe with vodka. It has a lot more flavor than vodka – but the flavor's all good.
Start buy adding 4 scoops of vanilla ice cream to a blender with a teaspoon of vanilla extract.
Add 1/2 cup of fresh or frozen blueberries and 2 ounces of Jim Beam Jacob's Ghost White Whiskey.
Blend away.
Garnish with blueberries, whipped cream and wafer cookies. How 'bout that? A boozy, fancy looking milkshake all made in 5 minutes.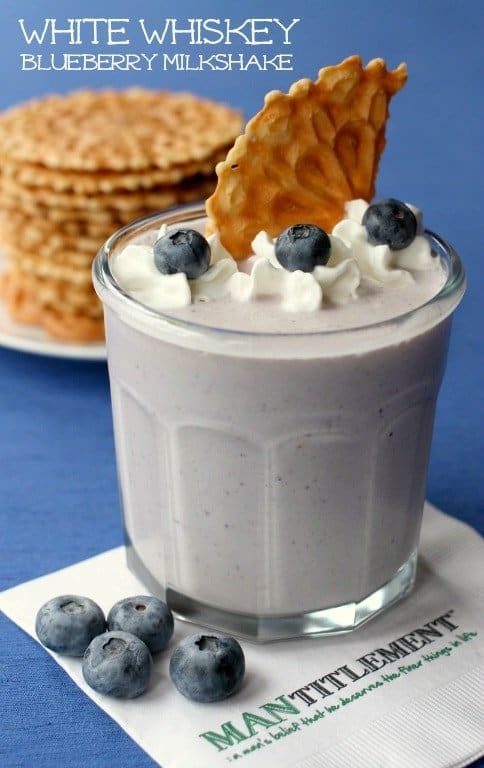 Print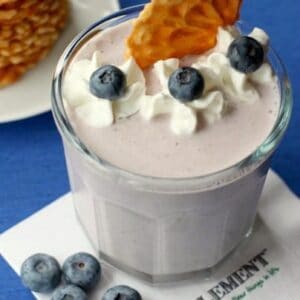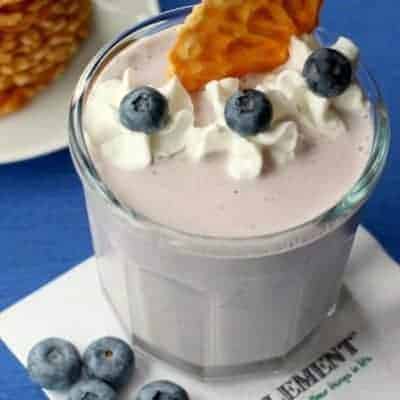 White Whiskey Blueberry Milkshake
---
Ingredients
4

scoops vanilla ice cream

2 ounce

s Jim Beam Jacob's Ghost White Whiskey

1

t. vanilla extract

1/2

c. blueberries, fresh or frozen
Pizzelle cookies and whipped cream for garnish
---
Instructions
Add the ice cream, vanilla extract, whiskey and blueberries to a blender.
Blend until smooth.
Garnish with pizzelle cookie and whipped cream.
---