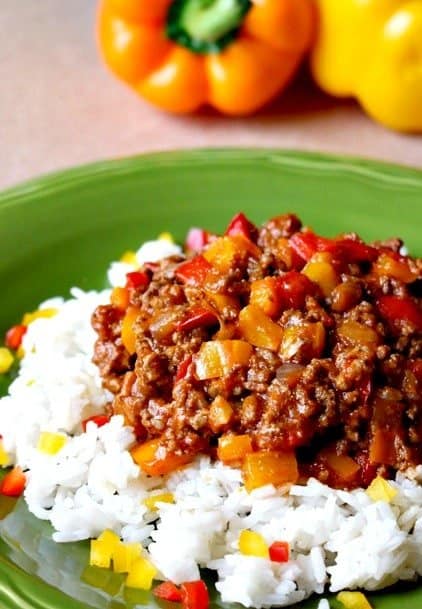 Unstuffed Peppers are my families favorite way of making stuffed peppers…unstuffed! This way the pepper doesn't get left behind after the filling is gone!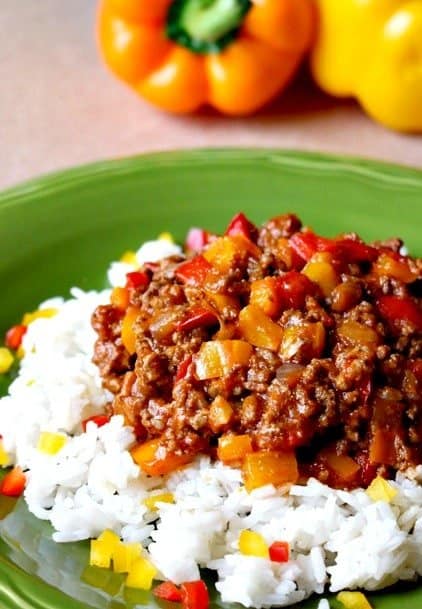 The theme for this week seems to be peppers…but instead of Stuffed Peppers, I made Unstuffed Peppers for you today!
The truth is that I bought a little to many peppers for the Sausage and Pepper Stuffed Bread so I had to find a way to use them up.
Maybe my wife's stuffed peppers? I asked her to write down the recipe for me, then while we were talking I asked her which one of the kids liked the stuffed peppers and which one didn't.
Both of them eat very well, I can't complain, but they each seem to like certain things better than the other.
My wife said that they actually both love stuffed peppers except she has to cut the pepper up into small pieces and mix it together with the filling so that they eat it everything.
As a result, they'll just eat the meat and rice filling and probably leave the pepper on their plate.
So I thought why not just skip that step altogether and make Unstuffed Peppers? Everybody wins that way.
This recipe is so easy and takes about 20 minutes to put together, start to finish. A perfect weeknight or any night of the week dinner, watch and see how easy it is to make!
So how do you make these Unstuffed Peppers? Well we're going to get into that but first I want to talk proportions here.
Because the ratio of meat to peppers is about 50/50 for this recipe. Just the way it should be. So that way you get a little of everything in every bite.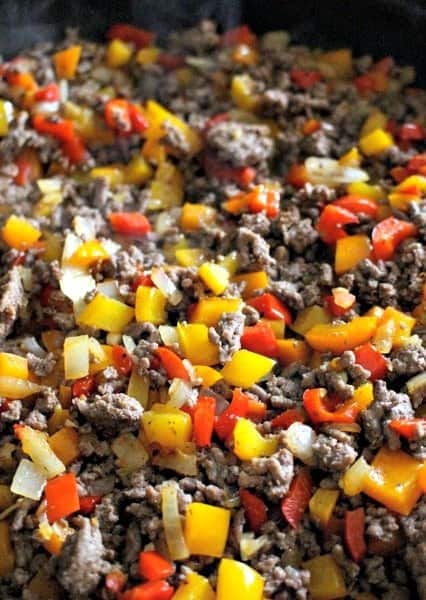 These Unstuffed Peppers get cooked right in a skillet on your stove top. There's no rice IN this recipe, but you definitely can serve it over rice.
My boys do prefer it that way…but for a more low carb meal you can eat it as it!
After you brown the meat and cook down the peppers and onions and garlic, all you do is add in the tomato sauce and seasonings.
Serve it over rice, or even pasta, these Unstuffed Peppers a perfect all in one dinner that everyone will love!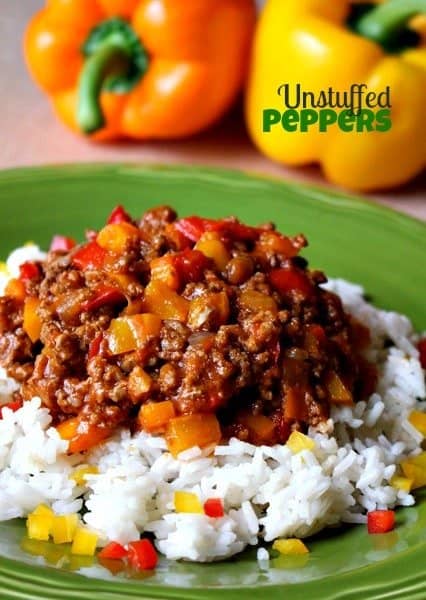 I hope you love these Unstuffed Peppers as much as our family does! It seems like everyone that I've made them for so far loves them and I hope your family does too.
You could switch up this recipe to and make these Unstuffed Peppers with sausage or ground turkey. Even serve over brown rice, quinoa or cauliflower rice!
Print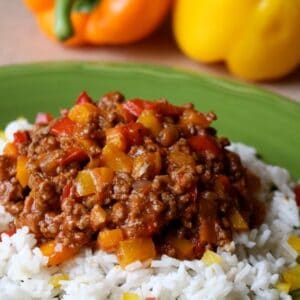 Unstuffed Peppers
Author:

Yield:

4

1

x
---
Ingredients
1 tablespoon

olive oil

1 1/2

lbs. ground beef

3

large bell peppers (mixed colors) diced

1

large onion, diced

3

cloves of garlic, minced

1 tablespoon

soy sauce

1 1/2 tablespoon

s worcestershire sauce

2 teaspoon

s cumin

2 teaspoon

s kosher salt

1/2 teaspoon

black pepper

2 cup

s of tomato sauce
---
Instructions
Brown the ground beef over medium heat in 2 T. of olive oil.
Once the meat is cooked drain off any excess grease and return to the pan.
Add the peppers, onions and garlic to the beef. Stir and cook for 8-10 minutes until the vegetables are softened.
Add in the cumin, salt and pepper, soy sauce, worcestershire sauce and the tomato sauce. Stir well to combine and then taste for seasonings.
Let simmer for 15 minutes on low heat, then serve over rice, pasta or eat as is!