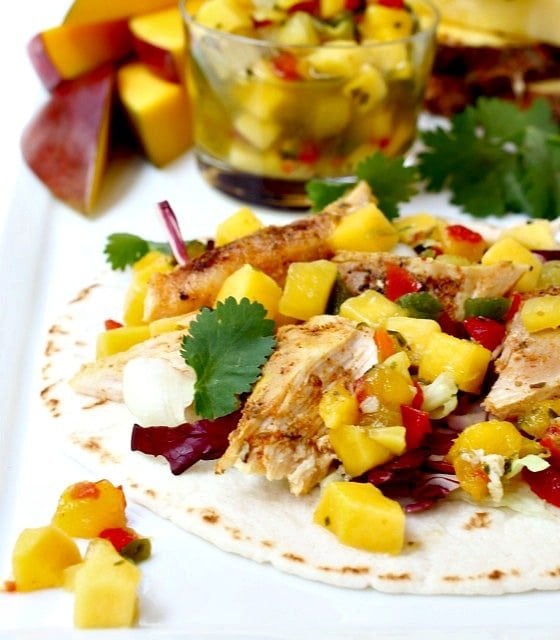 These Tropical Chicken Tacos are another quick and easy slow cooker dinner! A healthy and delicious taco dinner is always going to be a hit!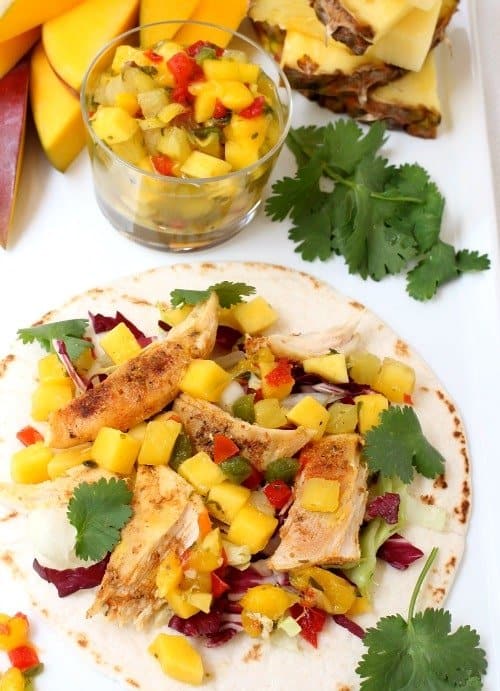 Crock pot – slow cooker – whatever you want to call it, it's a time saver.
But it's not just a time saver. It makes whatever you put in it tastier somehow. The low and slow cooking method definitely works.
At first I wanted to do this recipe on the grill – and you still could if you wanted to – but the day that we were planning on making this it rained. So we swtiched gears and threw the chicken into the slow cooker.
We had to wait for our chicken tacos a little longer but the chicken turned so good I think it was a lucky thing it was raining that day.
If you wanted to grill the chicken though, just add the seasonings and the pineapple juice to a container or a bag with the chicken and let marinate for a couple of hours before you out the chicken on the grill.
Or (if it's raining) you can grab your slow cooker and start adding the ingredients. Turn it on high and let it go for 3-4 hours.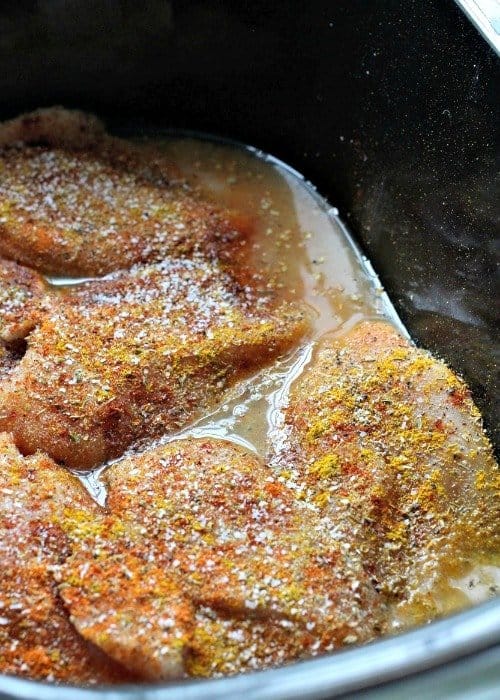 The seasoning make these tacos taste tropical…there's even some curry powder in there…Christie snuck that in and it makes a big difference in the flavor.
The other "tropical" flavor is the salsa. We're big fans of Trader Joe's. My only complaint is that there's not one closer to us but we try and get there once a month to stock up on our staples. The last time we went they were sampling their Tropical Mango Pineapple Salsa. Of course we tasted it, loved it and grabbed a couple containers. One just got eaten with chips and the other is what made us think of making these tacos.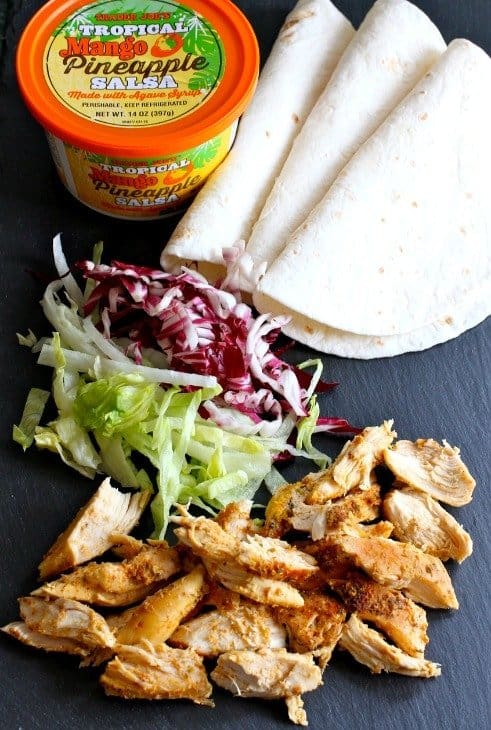 It's turned out to be perfect for these tacos, right from the package. The only other toppings we added were some shredded lettuce for crunch and a few cilantro leaves.
These Tropical Chicken Tacos would be prefect for entertaining. Just lay out your toppings on the table and let everyone assemble their own – but a quick and delicious family dinner is always around our house! Don't forget the Beer-Ritas!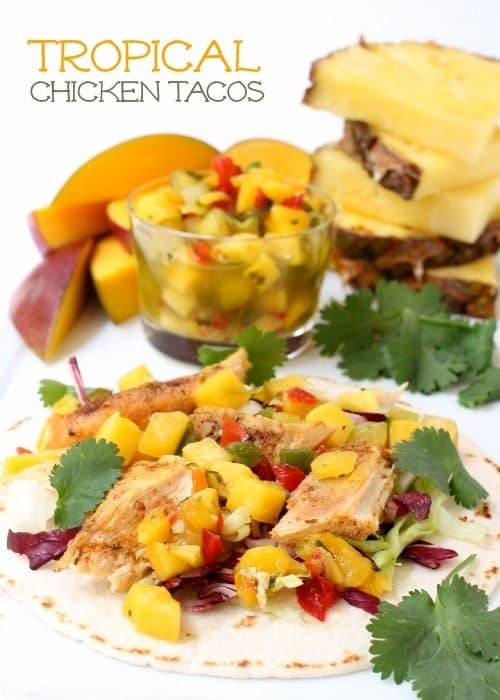 Print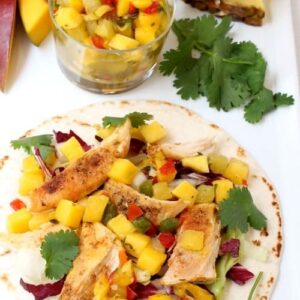 Tropical Chicken Tacos
---
---
Ingredients
2

lbs. boneless, skinless chicken breast

1

t. garlic powder

1/4

t. cayenne pepper

1

t. cumin

1/2

t. chili powder

1/4

t. curry powder

1/2

t. salt

1/4

t. black pepper

1

T. brown sugar

1/3

c. pineapple juice

1

container Trader Joe's Tropical Mango Pineapple Salsa

1

package flour tortillas
shredded lettuce
cilantro
---
Instructions
Add the chicken, seasonings and pineapple juice to a slow cooker and set on high for 3-4 hours.
Remove the chicken to a bowl and shred into large chunks, adding some but not all of the cooking liquid.
Serve the chicken in the tortillas, topped with the salsa, lettuce and cilantro.
---
Notes
Alternately as described you can marinate the chicken and cook it on the grill or in the oven.
If you don't have a Trader Joe's nearby, most grocery stores have a fresh pineapple or tropical salsa in the produce section.