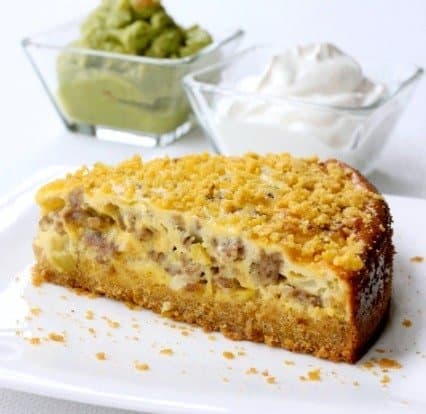 Real men eat quiche. Especially when it's this Tex-Mex Quiche loaded with sausage and cheese and tortilla chips!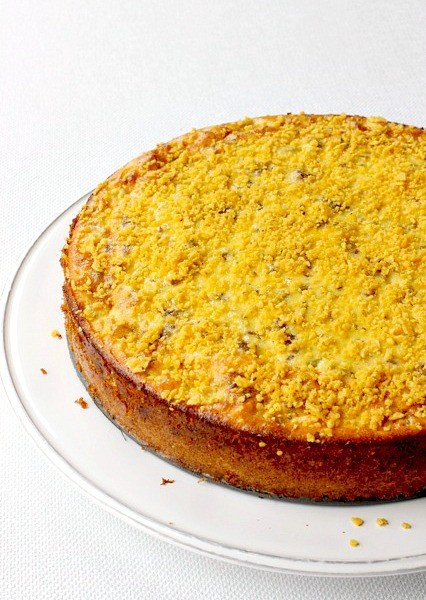 Especially when it's this Tex-Mex Quiche with a homemade tortilla chip crust!
I actually love quiche. Anything with eggs and cheese and sausage in some sort of buttery crust is alright in my book.
With the holidays right around the corner we're all looking for some comfort food recipes or recipes to entertain with that don't require a ton of work and this Tex-Mex Quiche is one of those recipes.
The crust is actually made from just ground up tortilla chips and butter. Pretty genius if I do say so myself.
I used Tostitos® Simply Yellow Corn tortilla chips because they have a more authentic corn flavor and a little less salt than regular chips. I did a ton of testing on these corn chips for this recipe. Lots of chips and salsa…
The best part about this quiche is that you can do it a day ahead of time and warm it in the oven the next morning or that night for dinner. I almost think that it tastes even better if you make it up the day before – another bonus.
It's real easy to make the crust, just throw a few handfuls of tortilla chips into your blender or food prossecor and grind them up until they're fine crumbs.
Mix the tortilla crumbs in a bowl with some butter and sugar.
Press that into your spring form pan bottom and bake.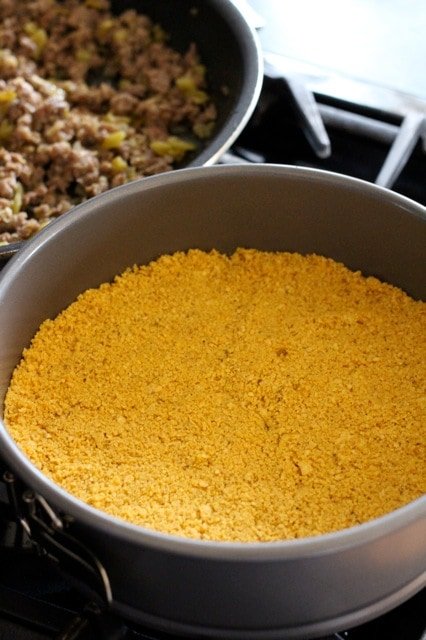 After the crust is baked you're going to mix up the filling. Brown up some sausage with a half an onion and the throw in a can of green chillies. Place in a bowl to cool.
Beat up a few (or like 10) eggs and stir together with you sausage mixture.
Add some cheese, sour cream and salt and pepper then pour into your tortilla crust.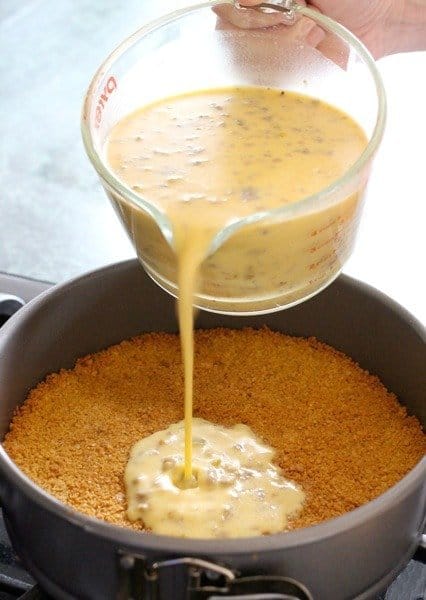 Bake for 30-40 minutes and then top with some extra tortilla chips crumbs.
You can serve this Tex-Mex Quiche up with some extra sour cream and guacamole on the side – or even some spicy salsa.
And definitely a few beers. If your having this as a dinner quiche, I mean.
Because beer at breakfast would just be weird…you'd have to have Champagne Margaritas or something more appropriate for the morning.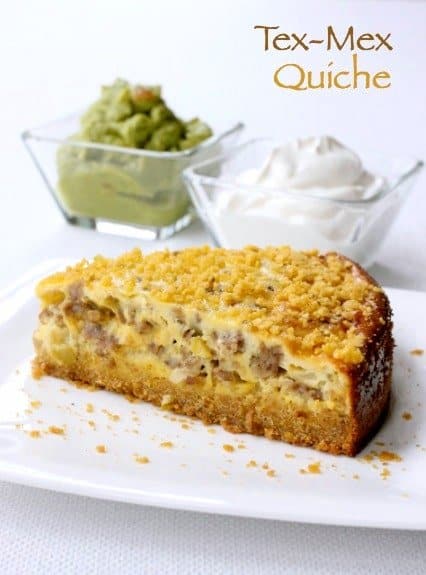 Print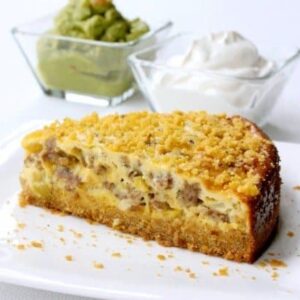 Tex-Mex Quiche
---
---
Ingredients
1

(9 oz. bag) tortilla chips

5

T. butter, melted

1

T. sugar

3/4

lb. Italian Sausage (spicy or sweet)

1

small onion or a half a large onion, diced

1

(4.5 oz.) can of green chillies

10

eggs

3/4

c. sour cream

1/2

t. salt

1/2

t. pepper

1

c. cheddar cheese, grated
---
Instructions
Preheat the oven to 400 degrees.
Take the tortilla chips and grind in a food processor or a blender until the crumbs are fine.
Measure out 2 cups of crumbs and leave the rest of the crumbs for topping the quiche when it's done.
Mix the melted butter, brown sugar and the 2 cups of crumbs together well.
Press into the bottom of a spring form pan and bake for 10-12 minutes until the crust is golden brown.
In a large skillet, brown the onion for 5 minutes, then add the sausage and cook until brown.
Pour in the can of green chillies and stir to combine.
Pour the sausage mixture into a large bowl to cool.
In another bowl, beat the 10 eggs together with the cheese, the sour cream, the salt and pepper.
Pour the sausage mixture into the egg mixture and stir to combine.
Pour the filling into the tortilla crust and set on a baking sheet lined with foil to bake.
Bake for 30-40 minutes, checking after 30 minutes to see if the egg in the middle is set.
Remove from the oven and let cool 15 minutes.
Run a knife around the edge of the quiche to loosen it from the sides of the pan.
Carefully loosen the spring and remove the quiche.
Top with the extra tortilla crumbs and serve with guacamole and sour cream on the side.