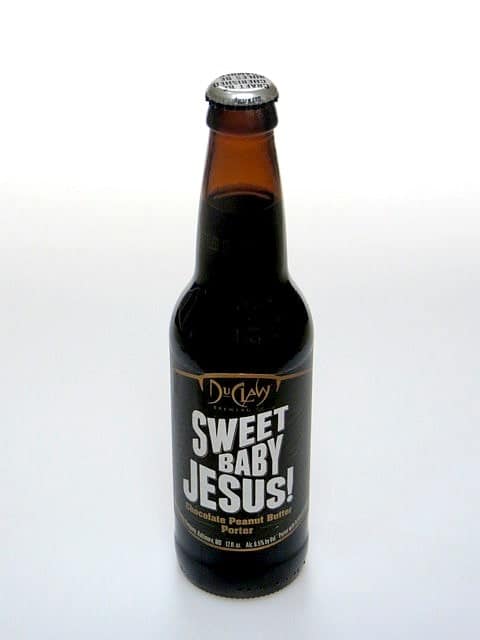 I'm not a huge shopper, but I could spend hours looking at all the new porters and different IPA beers that are out there.
After buying several types of beers over the holidays to test out, Sweet Baby Jesus was definitely at the top of my list!
The DuClaw Brewing Company first opened in 1996 in Bel Air, Maryland. They are a company that is known for their eye-catching beer names- and this one definitely caught my eye!
I found this review at thefullpint.com–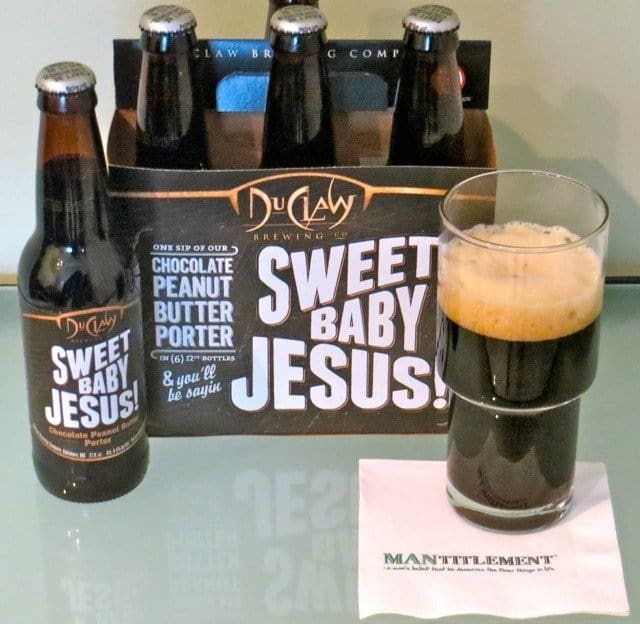 This porter is brewed with Fuggle and Goldings hops and a variety of grains including pale, chocolate, crystal, black and brown malts as well as roasted barley. Sweet Baby Jesus Chocolate Peanut Butter Porter is a complex, robust porter. It is jet black in color with a tan, rocky head, full body and creamy, luxurious mouthfeel. Its lightly sweet, malty flavor is accented by strong notes of chocolate, coffee and peanut butter, and balanced by a subtle hop character and moderate 6.5% abv. Sweet Baby Jesus finishes smooth, dry and roasty with notes of chocolate, espresso and peanut butter so tasty, you'll have no choice but to exclaim the name!
The next beer on my list to try from the DuClaw Brewing company is called "EuForia" it's a meduium bodied beer with caramel, toffee and almond flavors. You can check it out on their web site, http://www.duclaw.com/beers.aspx
You can look at all the different staple beers they make and their ever-growing selection of seasonal beers.
If you guys have any interesting beers that you have found please leave me a comment so I can check it out!