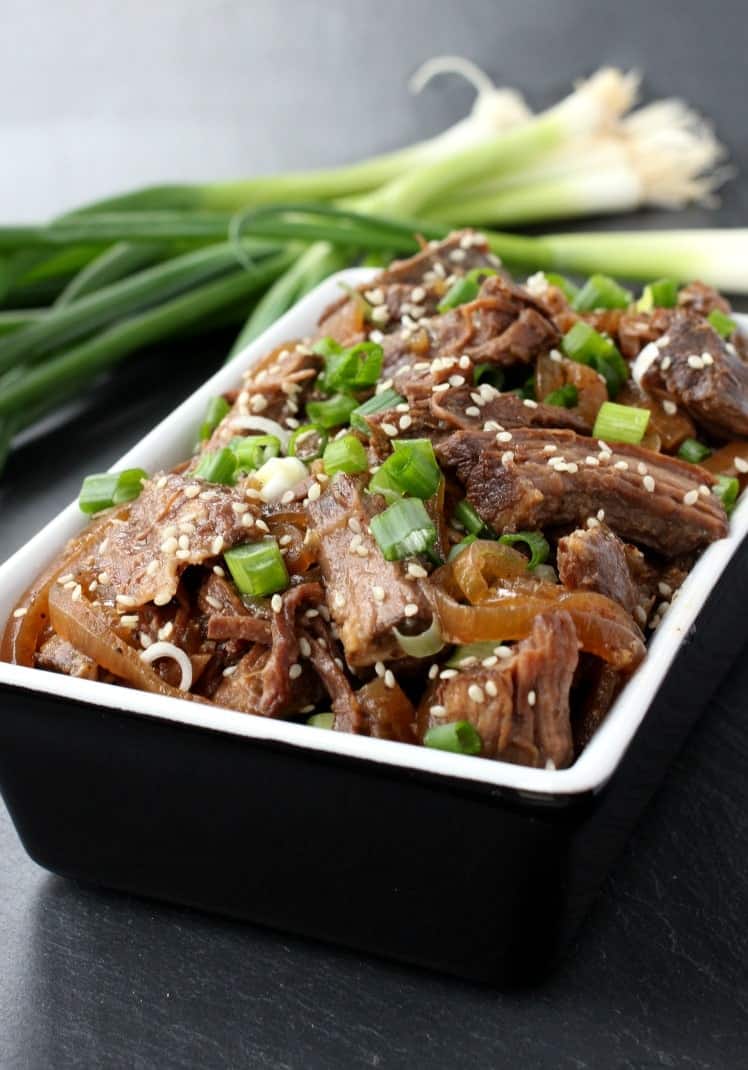 Slow Cooker Shaking Beef is the perfect recipe to get this meal on the table without having to buy filet! This slow cooked beef is to tender, you can cut it with a fork!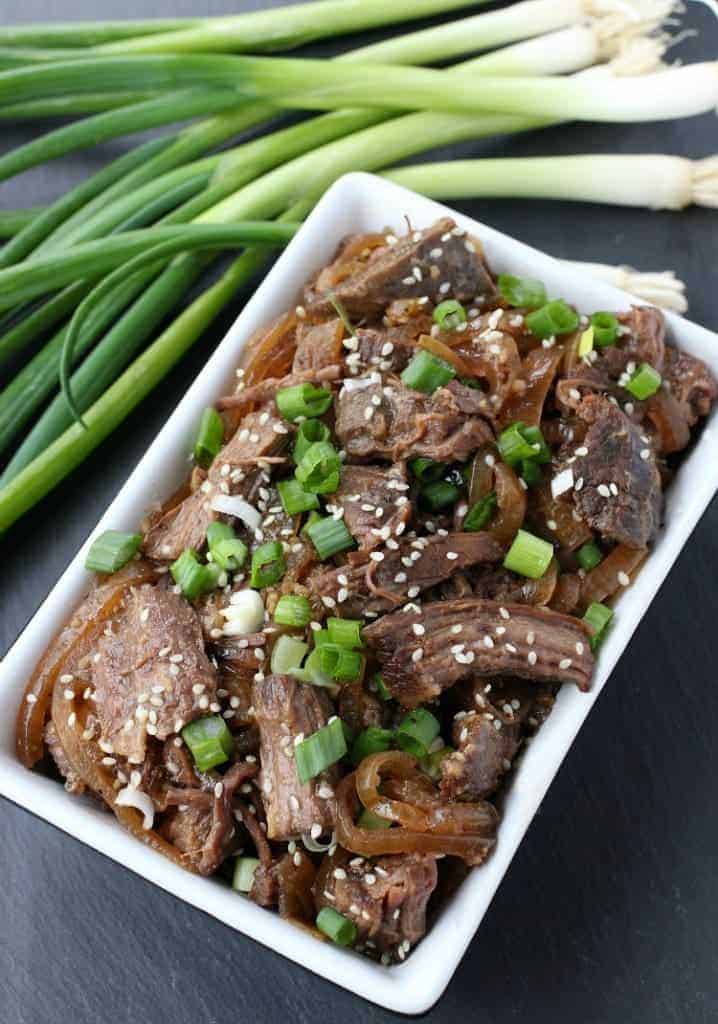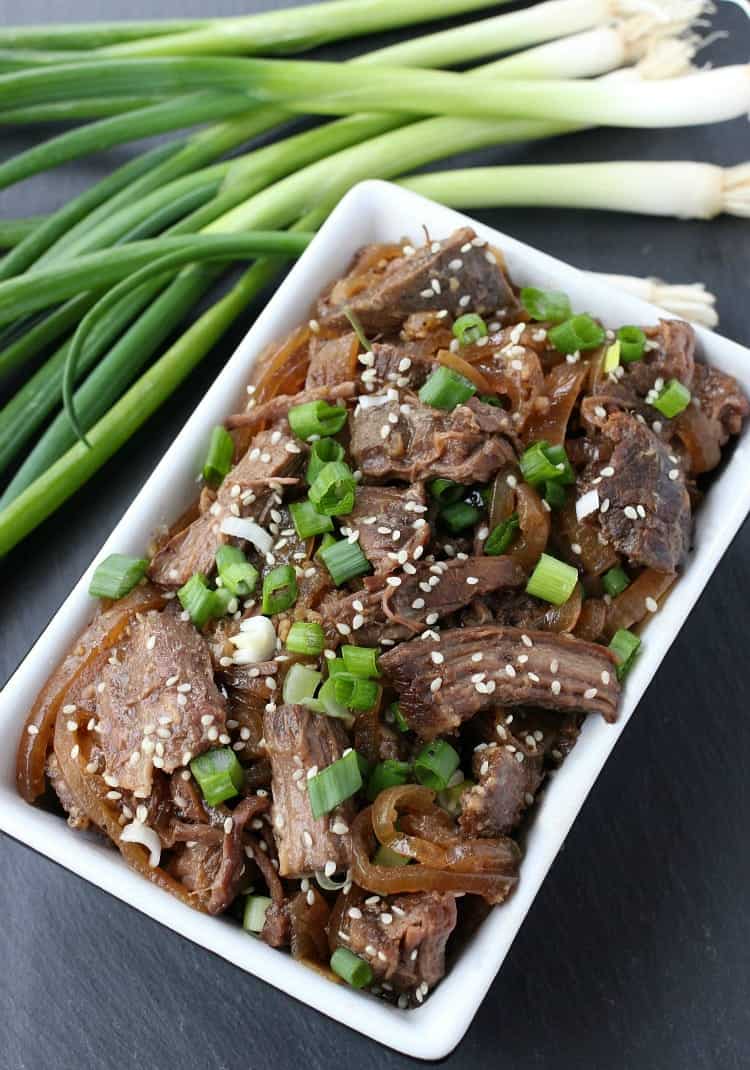 Shaking Beef is a quick, 15-20 minute on the table recipe. But the trick to getting the meat so flavorful and tender is that the recipe calls for filet mignon. Totally fine by me…I'll never turn down filet, but for a steak recipe on a weeknight I don't see a lot of people running out and buying filet mignon for 4. And It would be more like filet for 6 if you are feeding my boys.
So we wanted to figure out a way to get the same flavors and the same tender beef in this recipe without spending a fortune at the store. And we think we nailed it – the slow cooker for the win.
This is definitely a dump and go recipe. No searing before hand, just get everything in there and head out the door. The only extra step is shredding the beef when it's done and thickening the sauce at the end and that will take you about 15 minutes. So really, we're sticking to the 15 minute "on the table" recipe for this Shaking Beef.
Grab a flank steak and cut it into large cubes and place it in your slow cooker. Pour the sauce over the top and then cover it all with thin slices of red onion. If you don't cook with red onion a lot, this is the recipe to do it with. The onions get ridiculously sweet after hours in the slow cooker, almost caramelized like in my favorite onion sauce recipe…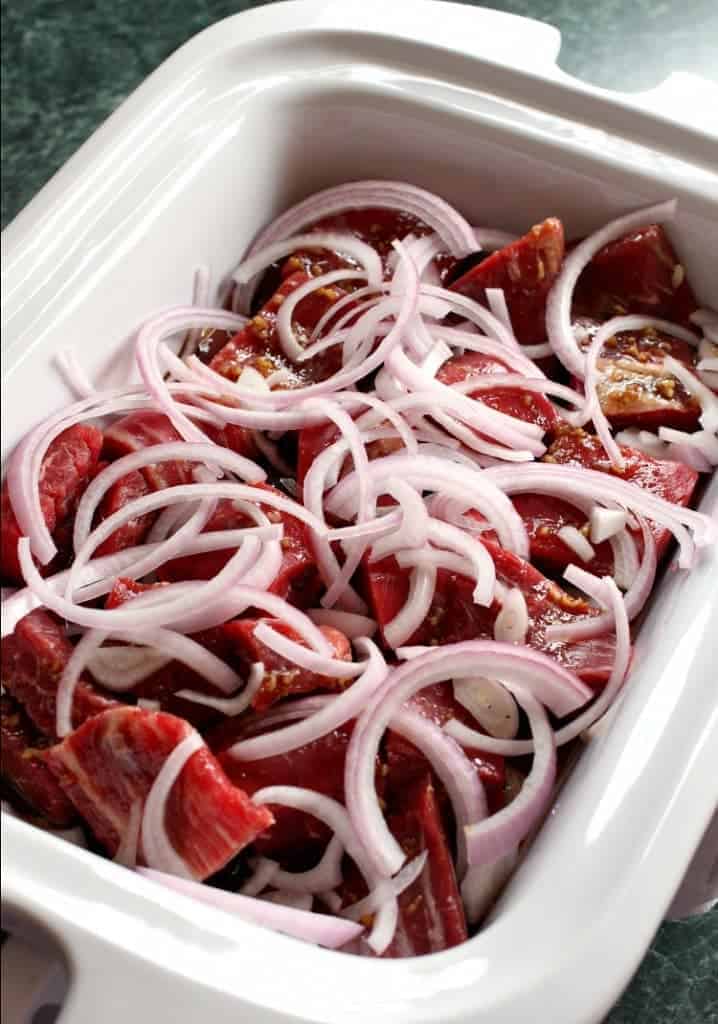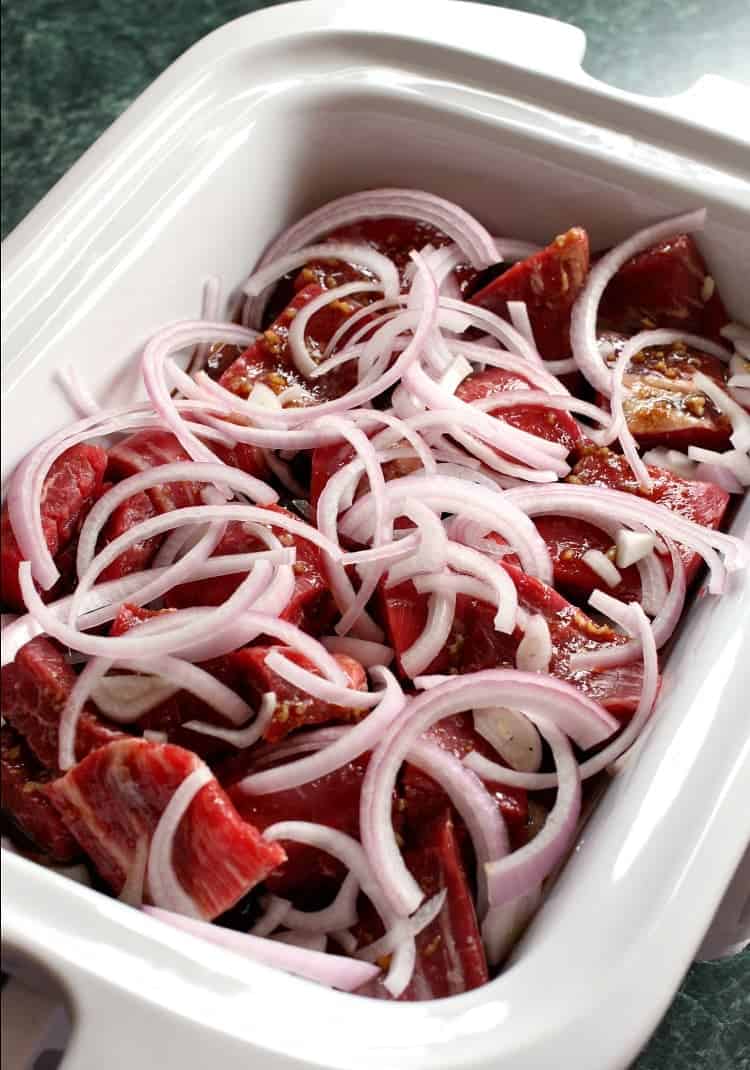 After 6 hours on low, scoop out the meat and the onions into a bowl to cool a little.
Pour the sauce into a saucepan and bring to a boil. Then turn the heat down to a simmer and let it go for 10 minutes while you shred the beef.
Add cornstarch to thicken the sauce, pour it over the shredded beef and onions and dinner is served.
Now – what to do with this Slow Cooker Shaking Beef? Anything you can think of…maybe over rice. In sliders buns or sub rolls. On top of egg noodles with some of the sauce…
Even stuffed into a baked potato. Steak and potatoes, right? Try serving that to you better half on Valentine's Day.
Or you can snack on it right out of the bowl from the fridge when no one's looking. Not that we do that, but it's OK if you do, we won't tell.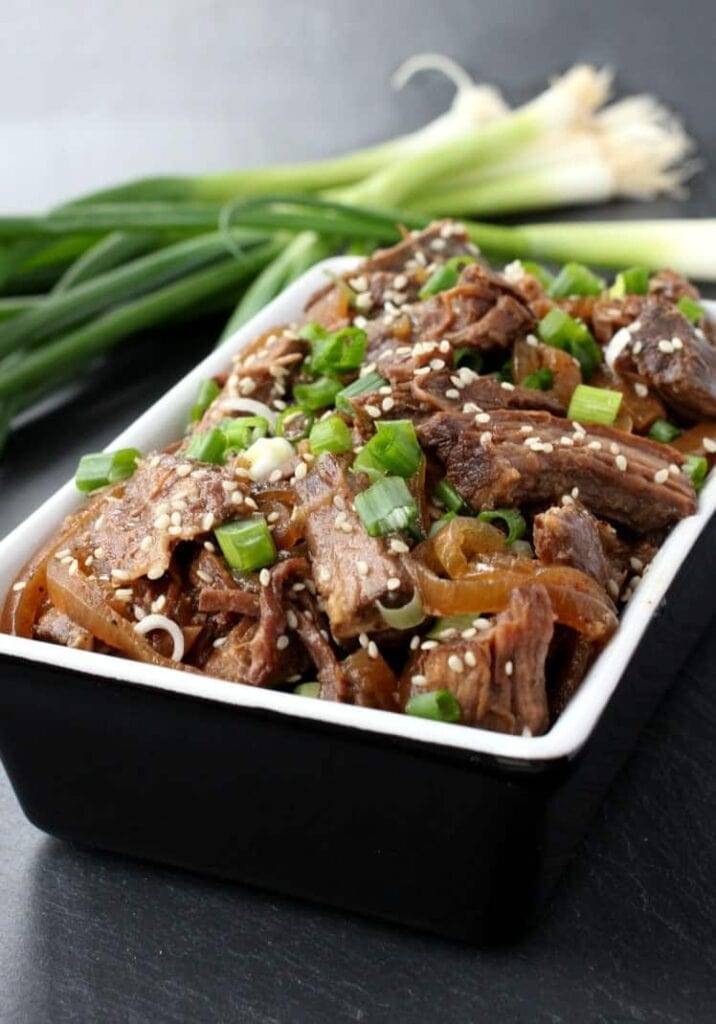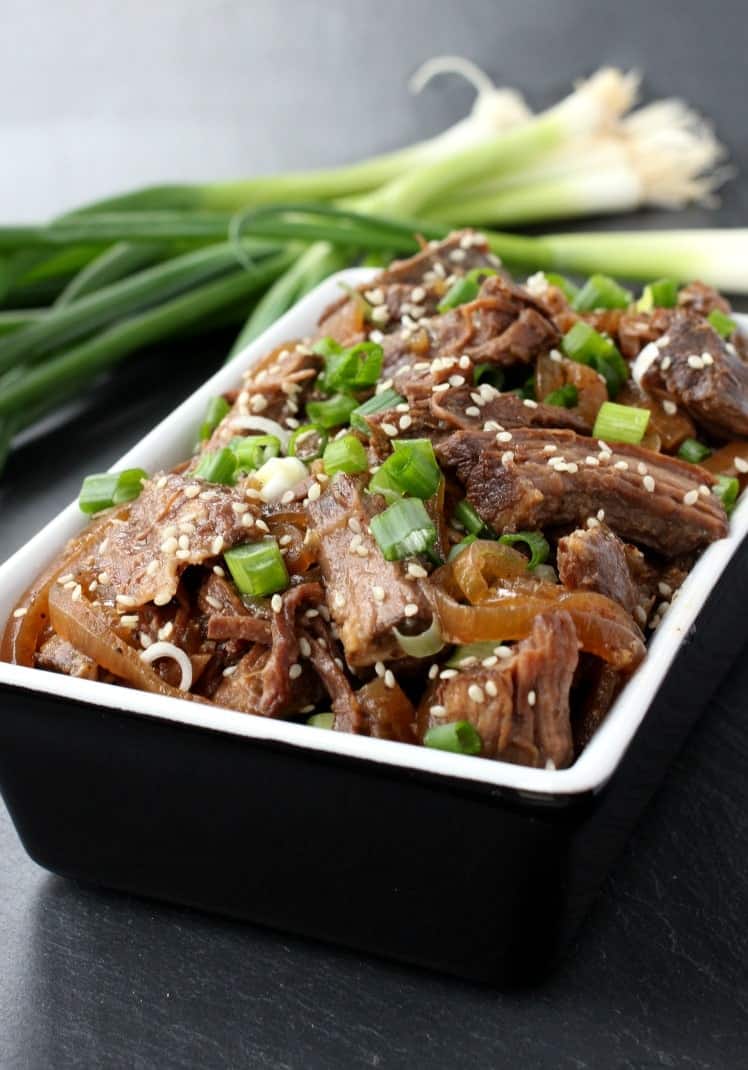 Watch and see how easy this is to make!
Print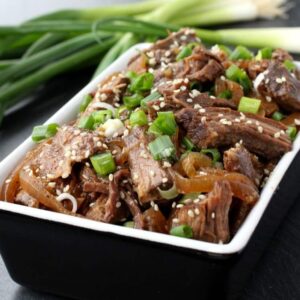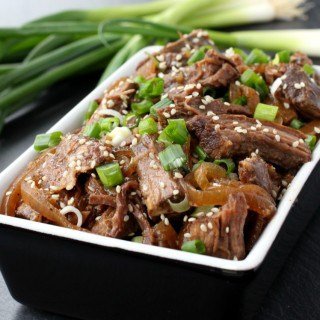 Slow Cooker Shaking Beef
Author:

Yield:

6
---
Description
Have Shaking Beef without buying filet! The Slow Cooker does all the work for you!
---
Ingredients
2 1/2-3 lb. flank steak, cut into large cubes
1 large red onion, thinly sliced
For the Sauce
1 tablespoon sugar
1/2 teaspoon ground pepper
2 tablespoons canola oil
1/4 cup soy sauce
1/2 teaspoon fish sauce
2 tablespoons rice vinegar
1 tablespoon brown sugar
4 garlic cloves, minced
2 teaspoons cornstarch mixed with 2 teaspoons water
4 scallions, chopped (for garnish)
1 tablespoon sesame seeds (for garnish)
---
Instructions
Add the steak cubes to a slow cooker.
Mix the sauce ingredients together (except for the cornstarch) and pour over the steak.
Top with the slices of red onion and cook for 6 hours on low.
Remove the steak and onions to a bowl with tongs or a slotted spoon, leaving the sauce. Let it cool slightly then shred the steak into smaller, bite-sized pieces.
Pour the sauce into a pot and bring to a boil.
Add in the cornstarch mixture while whisking and bring back to a boil, then simmer for 5 minutes.
Pour the sauce over the beef and onions and toss to combine.
Garnish with chopped scallions and sesame seeds.