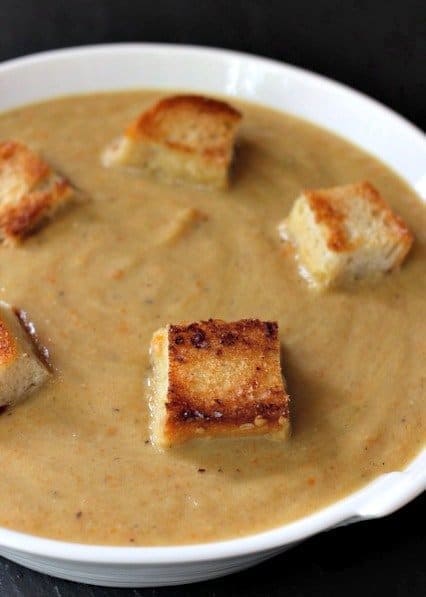 We've been going through a lot of soup at our house this week so instead of more chicken noodle soup we made some Roasted Zucchini Soup…and then we made some more.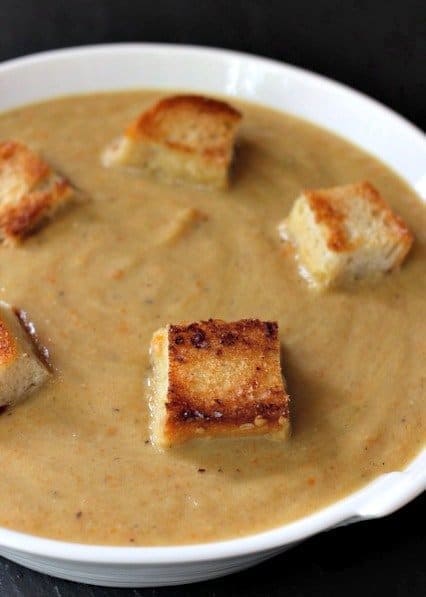 You're going to need a lot of zucchini for this recipe- it uses 12 cups of chopped zucchini. Two really large zucchini (like the torpedo size that you think are no good for anything) will get you the 12 cups. After you roast the zucchini, it turns into only about 5 or 6 cups so you really need a lot to start with.
I peeled the zucchini and chopped the zucchini up into pieces about the size shown below. Then I seasoned with salt and pepper and tossed with a little olive oil and put the trays in the oven to roast 35 minutes. You're definitely going to need two baking sheets so you don't over crowd your pans.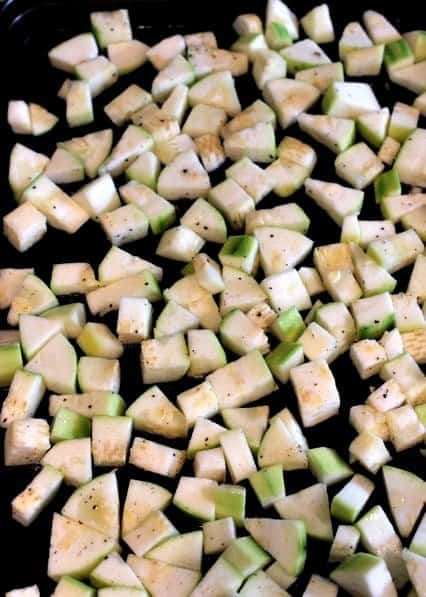 While the zucchini is roasting, you can start cooking a chopped onion, carrot, jalapeño and garlic cloves in a large stock pot with some olive oil. Then after about 15 minutes you can add in a bay leaf and some seasonings then add in the chicken broth and the roasted zucchini.
I got out the stick blender and started blending until the soup was smooth. This might look easy to you – it is not. This was my first time "stick blending" and I'll tell you, hot soup was spitting out at me everywhere, the wife thought it was all pretty funny. I guess I was going a little too fast…next time I'll slow it down.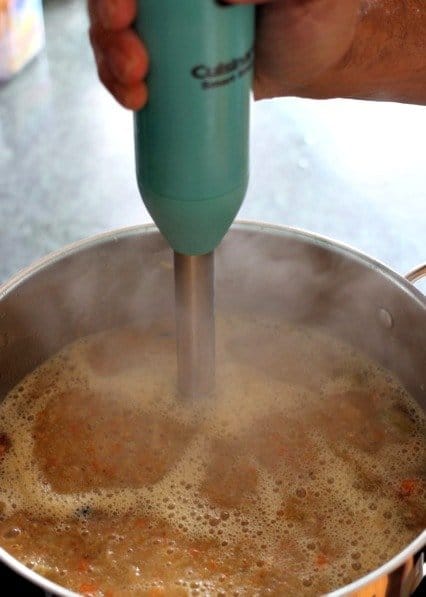 All that's left to do is add the cream and test for seasonings. Well, there are the croutons to talk about…We just so happened to have a loaf of french bread laying around that we hadn't gotten around to eating in a couple of days, so instead of tossing it we made croutons for the soup. I'm not sure why I'd ever throw away two day old bread again – homemade croutons are amazing – especially in this Roasted Zucchini Soup!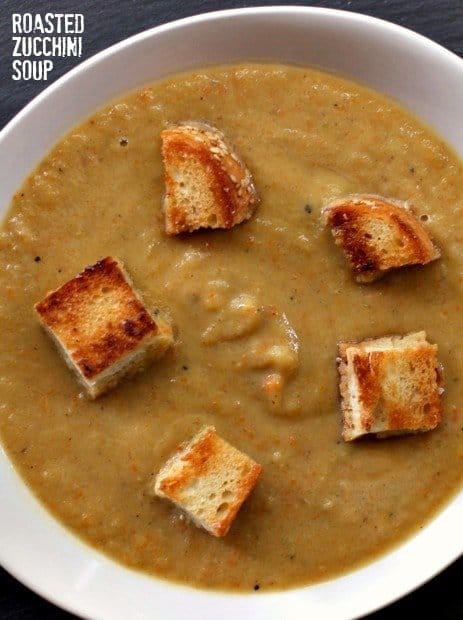 Print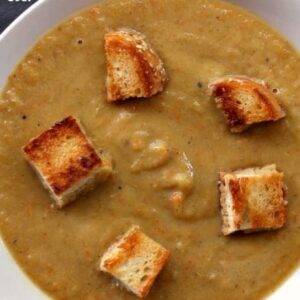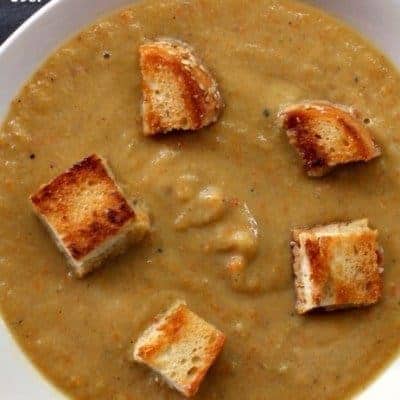 Roasted Zucchini Soup
---
Description
A hearty, comfort-food soup that's good for you!
---
Ingredients
For the Roasted Zucchini
12

c. diced zucchini (

2

extra large zucchini or about

6

small zucchini)

2

t. salt, divided

1

t. pepper, divided

1/4

c. olive oil, divided
For the soup
1

T. olive oil

1

T. butter

1

onion, diced

1/2

of a jalapeno, seeded and diced (if you like it a little spicier you can throw in the whole thing)

2

carrots, peeled and diced

1/2

t. salt

1/4

t. pepper

1/2

t. cumin

1

bay leaf

4

c. chicken stock

1

c. water

1/4

c. heavy cream
---
Instructions
Heat the oven to 425 degrees.
Peel and chop the zucchini into 1″ size pieces.
Spray two baking sheets with cooking spray and divide the copped zucchini between the pans.
Drizzle half of the olive oil onto each baking sheet, 1 t. salt (on each baking sheet), and 1/2 t. fresh ground black pepper (on each baking sheet.
Toss the zucchini and place into the oven to roast for 35 minutes, turning once halfway between cooking.
While the zucchini is roasting you can start the soup.
In a large stock pot, add the oil and butter over medium-high heat.
Add in the diced onion, garlic, jalapeno and carrot.
Cook for 15 minutes until the vegetables are soft.
Add in the salt, pepper and cumin, and bay leaf and cook for another 10 minutes.
Next add the chicken stock and a cup of water and simmer until the roasted zucchini is done.
Add the roasted zucchini carefully into the soup and cook for 20 minutes over medium heat.
Remove the bay leaf, then blend the soup with a stick blender until smooth.
Add in the cream a taste for seasonings.