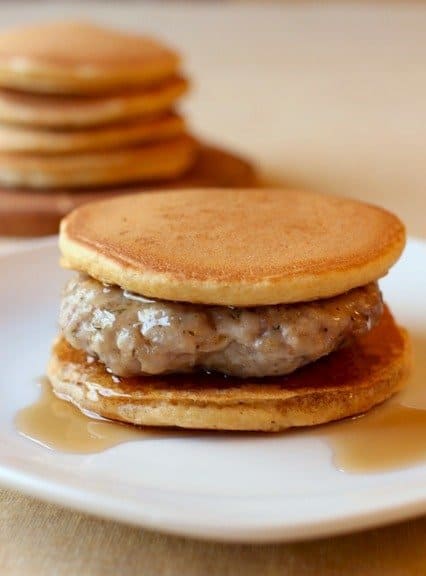 Pancake and Maple Sausage Sandwich
This week is all about breakfast food – but breakfast food that can also be dinner food like this Pancake and Maple Sausage Sandwich. Skip the drive thru and have a better sandwich at home!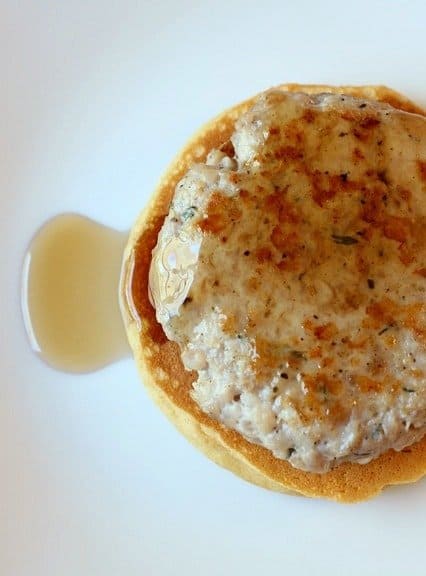 I was thinking of calling this a "Copycat" McGriddle but then I thought about it and changed my mind.
Because these sandwiches are way better than what you would get at McDonalds. And way better for you too. I'm not calling it health food, but it's got to be better for you than the drive-thru.
These Pancake and Maple Sausage Sandwich start out with a homemade maple sausage patty. Then the homemade sausage patty gets sandwiched between two maple flavored pancakes.
You could definitely use whatever pancake mix you normally make but this is the pancake recipe we've been using for a couple of years and the kids won't let us vary from it.
But when you add pure maple syrup to the pancake mix and use it as bread for your homemade maple sausage patty…then it becomes more than basic.
The homemade sausage was really quick to make, I'm talking 15 minutes from the bowl to being done.
You add your ground pork and seasonings to a bowl – mix – form into patties about the size shown below and cook for a few minutes each side.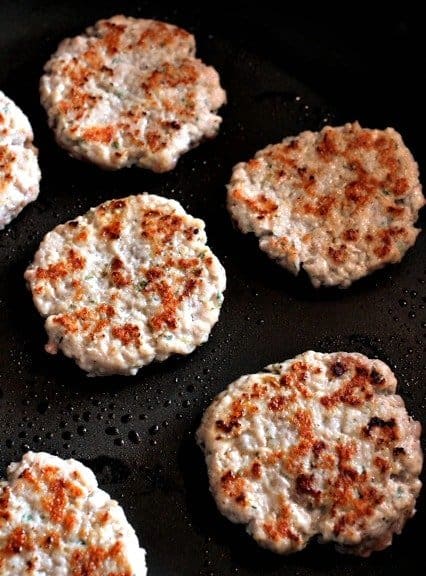 You can make the sausage patties ahead of time and freeze them individually so you can pull them out for a quick breakfast, or dinner like I mentioned before.
Set the sausage aside and wipe out the skillet to make your pancakes. Take your pancake batter and pour onto the hot skillet in 1/4 cup portions. Cook them until they're brown on both sides then remove to a plate to cool.
Repeat with remaining batter until you have 16 small pancakes.
Now it's time to make the sandwiches! Pancake goes on the bottom, sausage on top of the pancake, then another pancake on top of the sausage. You can pour some syrup all over the sausage patty before you put the top layer on if you want to…
We wanted to.
Can you add a fried egg? Yes you can.
How about some cheese? Absolutely.
And of course bacon? Definitely.
Whatever makes you happy.
And this Pancake and Maple Sausage Sandwich will make you happy, whenever you eat it. Breakfast or dinner. Or lunch. Or a snack.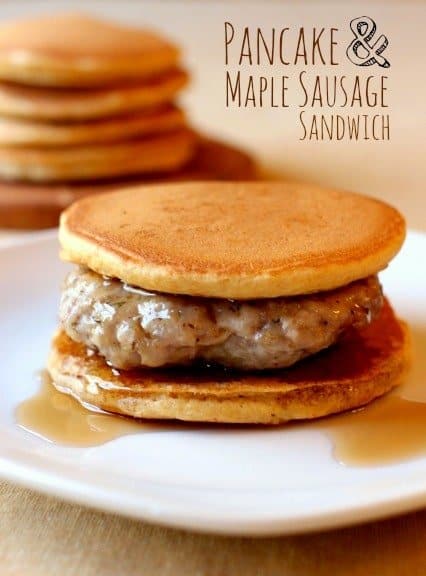 Print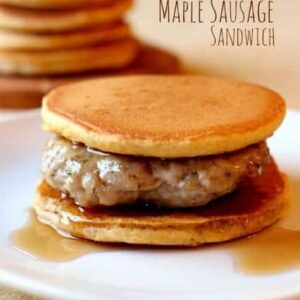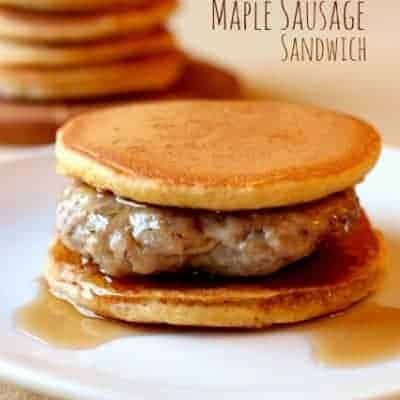 Pancake and Maple Sausage Sandwich
---
Description
Makes 8 sandwiches
---
Ingredients
For the Maple Sausage Patties
1 lb. ground pork
1 egg white
1/2 t. chopped fresh thyme
1/2 t. ground fennel or fennel seed crushed
1/2 t. minced onion
1 1/2 t. salt
1/4 t. fresh ground nutmeg
1/2 t. poultry seasoning
2 t. pure maple syrup
1/2 t. fresh ground black pepper
For the Pancake Dry Mix
6 cups white whole wheat flour
1/2 c. sugar
2 T. baking powder
1 T. baking soda
2 t. salt
For the Pancake Wet Mix
1 c. milk
1 egg
1 T. canola or vegetable oil
2 T. pure maple syrup
Extras
Maple syrup for serving
Fried or scrambled eggs
Cheese
Bacon
---
Instructions
Add all the ingredients for the Maple Sausage into a bowl and mix well.
Refrigerate for 15 minutes.
Heat a large skillet over medium-high heat and coat with cooking spray.
Form the pork mixture into 8 round patties and add to the skillet.
Cook for 3-4 minutes per side until no longer pink in the middle.
Remove to a plate to cool.
Mix the dry ingredients for the pancakes into a large container.
Scoop out 1 cup of the mix into a large bowl.
Add the milk, egg, canola oil and maple syrup to the 1 cup of dry ingredients and mix until just combined.
Wipe out the skillet that you used to cook the sausage in and spray again with cooking spray.
Heat over medium heat, then once hot add 1/4 c. portions of the pancake mix to the skillet, as many as can fit, you'll need 16 small pancakes total.
When they start to bubble after a couple of minutes, flip to the other side and cook for another 2 minutes.
Remove to a plate to cool, then assemble your sandwiches.
Pour maple syrup over the sausage before adding your top pancake if desired.
We desired.
Or you can serve it on the side for dipping.
---
Notes
The pancake recipe is adapted from Weelicious lunches. You'll have dry mix leftover for the next time you make pancakes. Then all you do to make a batch is add the wet ingredients and mix. You can substitute your favorite pancake recipe instead, or use a mix if you have it on hand.
---