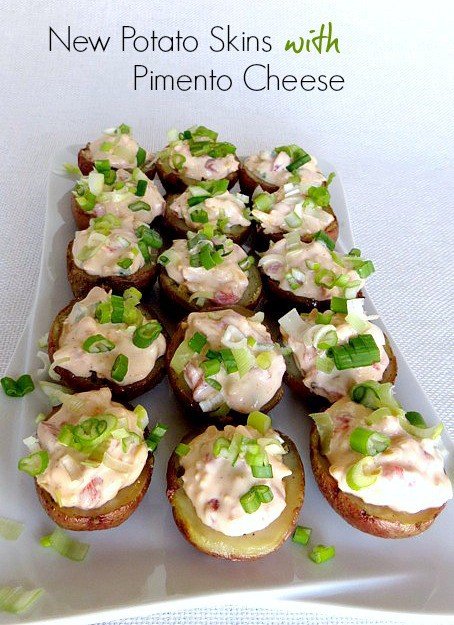 New Potato Skins with Pimento Cheese
I've got another potato appetizer for you to try out, these New Potato Skins with Pimento Cheese.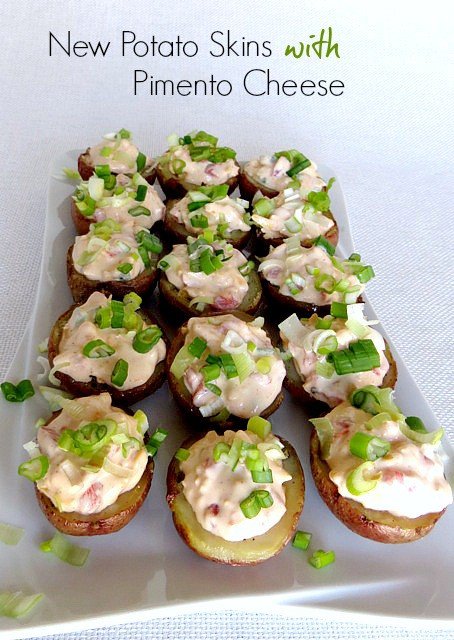 I had first heard of pimento cheese when we had family visiting from Virginia. Pimento cheese, as you probably know originated in the South, maybe that's why I hadn't heard of it..
But if you're from the South, apparently it's one of those recipes that every family has their own version of.
The base recipe is usually the same, shredded cheddar cheese, mayonnaise, garlic and onion powder and of course pimentos. I used Cento® pimentos, they come in a small 4 ounce jar, all chopped up for you.
You can use pimento cheese as a spread to go alongside your cheese platter with some crackers or even in a grilled cheese sandwich. Pimento cheese is also often made with bacon. I left the bacon out of this pimento cheese recipe only because I wanted to do something close to the original recipe, but you could totally add it if you want.
In fact I think it would be awesome in these potato skins. You could crumble up some bacon and just sprinkle it on top when they come out of the oven. As they say, everything is better with bacon…
So you're going to get a bunch of these small red or "new" potatoes, salt pepper and olive oil them up and throw them in the oven for about 1/2 hour.
While your potatoes are roasting, stir up the ingredients for the pimento cheese and put it in the fridge to chill. Some recipes say to beat the pimento cheese in a mixer with the paddle attachment, this makes for a smoother texture, but I thought stirring it well was just fine.
I used a Cabots® Extra Sharp Cheddar cheese because I like the sharpest cheese that I can find for this recipe. It seems to be the tanginess that sets this apart from other cheese spreads. This is the reason why I was told to use the juice from the pimentos also, you can use the juice from both jars if you want, it will just be slightly looser when it comes together.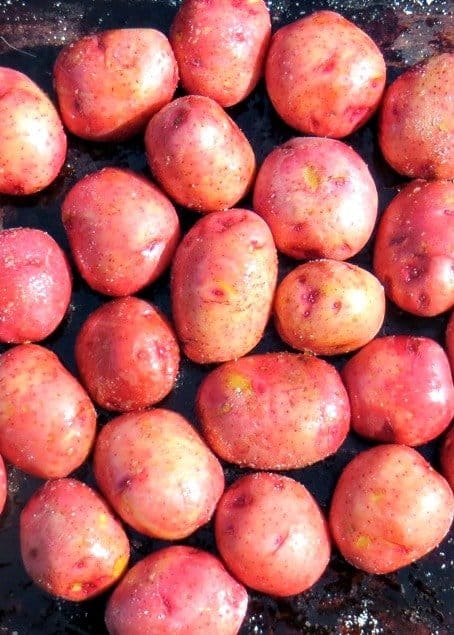 When they come out, split them in half lengthwise and scoop out a small center of the potato leaving a hole for the cheese.
You can save the leftover potatoes and mash them up later on for dinner.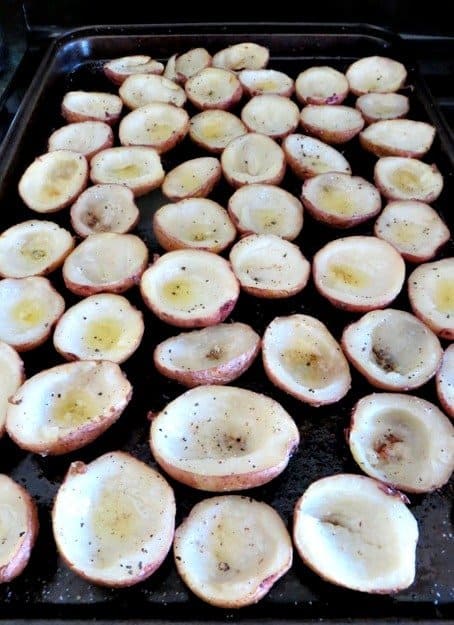 Then you brush the skins with some melted butter, put some salt and pepper on them and put them back in the oven to crisp up.
After they come out of the oven, let them cool and then fill the skins with a spoonful of your pimento cheese.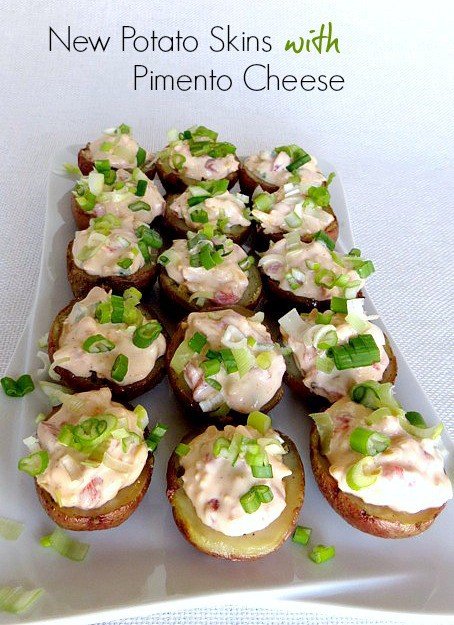 Put some scallions on top (and some crumbled bacon if you'd like) and dig in. These New Potato Skins are best served when the potato is still slightly warm and the cheese is nice and cold, but they are also great at room temperature so don't worry about having them out at a party for a while- they won't last long anyway!
Print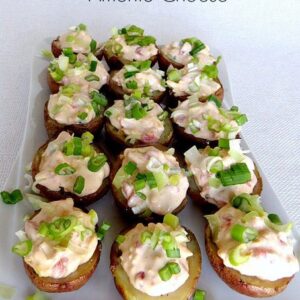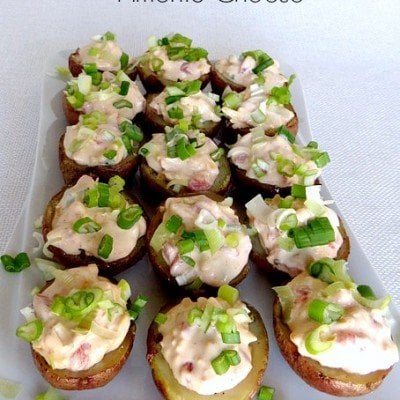 New Potato Skins with Pimento Cheese
---
Ingredients
2

(24 oz.) bag of red potatoes, washed and dried.

1/2

stick of unsalted butter, melted

2

c. Cabot® Extra sharp cheddar cheese, grated

8 oz

. cream cheese, softened

1/2

c. mayonnaise

1/2

t. garlic powder

1/2

t. onion powder

1/4

t. cayenne

1

jalapeno pepper, seeded and chopped finely
salt and pepper to taste

2

(4 oz.) jars of Cento® pimentos one with juice, one drained

1

T. worcestershire sauce

3

scallions, chopped finely
---
Instructions
Preheat the oven to 425 degrees.
For the pimento cheese
Add the shredded cheese and all other ingredients to a medium bowl. You're going to add one jar of pimentos drained but the other jar of pimentos with the juice. Stir well to combine and add salt and pepper to taste. Place in the refrigerator to chill while you prepare the potatoes.
Place the potatoes on a baking sheet and drizzle with olive oil, salt and pepper, toss to combine.
Roast the potatoes for about 1/2 hour, tossing halfway through until the potatoes are tender and can be easily pierced with a fork.
When the potatoes are done, let them cool slightly then slice them in half vertically and let cool for another 10 minutes.
Hollow out the center of each potato, leaving enough around the sides of the potato to hold the cheese.
Brush each potato with the melted butter, add salt and pepper, then place back into the oven for another 15 minutes until crispy.
When the potatoes are done, take them out and let cool for at least 15 minutes.
Add a scoop of the pimento cheese to the center of each potato and garnish with the chopped scallions and any other additional toppings you like.
Serve immediately or at room temperature.
---
Notes
As an alternative, you can assemble these potato skins and put them under the broiler for 5 minutes.