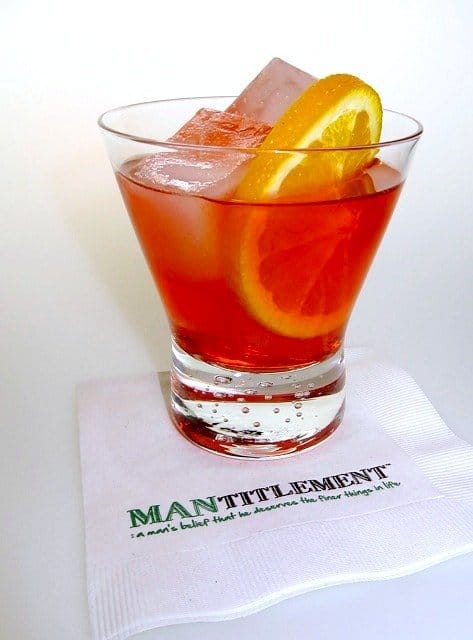 A Classic Negroni, with a Twist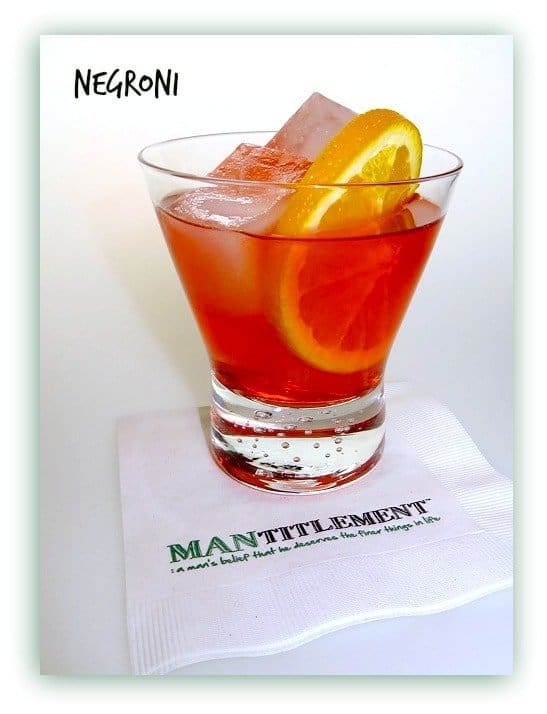 I'm wrapping up Italian week with a Negroni cocktail, with my own twist.
This classic Italian cocktail is definitely a drink to be sipped – don't let the fun red color fool you, it's all booze.
If you love bitters, you'll no doubt love a Negroni. Campari has a very strong bitters flavor that I have grown to love. I would say that it's a flavor you can love or hate, but I think you should give it a second taste even if you don't like it at first because it does kind of grow on you.
I amped-up the bitters flavor in this drink by adding some Angostura Orange bitters to the glass before pouring…
A Negroni cocktail is considered to be a classic aperitif, which is a drink that is typically served before a meal to stimulate your appetite. I usually don't need much appetite stimulation, but I can guess that after a couple Negroni cocktails whatever you're eating must taste like the best meal ever since your probably feeling the effects of that Campari by now…
When we visit Little Italy in New York City, I have to start the night off with a couple these drinks. Somehow being in Little Italy makes drinking Negroni's seem that much cooler.
One of my favorite places to eat is Puglia's on Mott and Hester. It's totally low-key, food is served family style and you get your wine served to you in small juice glasses. To me it's the epitome of an Italian restaurant. There's this guy who sings there, or who used to singe there, named Jorge. So you're sitting there sipping your wine or drinking a Negroni and this guy is belting out Sinatra and Dean Martin songs one after another. Oh and yes, the food is also amazing. They have brick oven pizza that's pretty much the best pizza ever, but my favorite thing to order there is the lobster ravioli. The ravioli are huge and it's literally stuffed with chunks of lobster and ricotta cheese.
I hope you'll try this Negroni cocktail tonight, and maybe try it again if you think you don't love it. I think the addition of the orange bitters really adds another level of flavor to this drink, but if you don't have it, just make it without it and it'll still be delicious. The classics are classic for a reason. Salute!
Print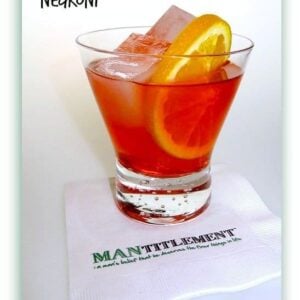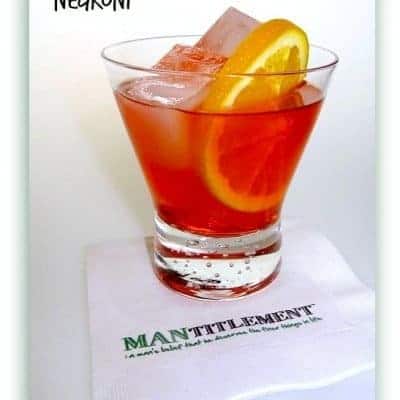 Negroni
Yield:

1

1

x
---
Ingredients
3/4 oz

. dry gin

3/4 oz

. sweet vermouth

3/4 oz

. Campari
Angostura orange bitters
Orange for garnish
---
Instructions
Add all the ingredients, except the orange bitters, to a shaker filled with ice.
Add 3-4 (or 5 if you're like me) drops of the orange bitters to a low-ball glass filled with ice.
Shake the drink well in the shaker and then pour over your glass with ice.
Garnish with an orange slice or a twist.
---