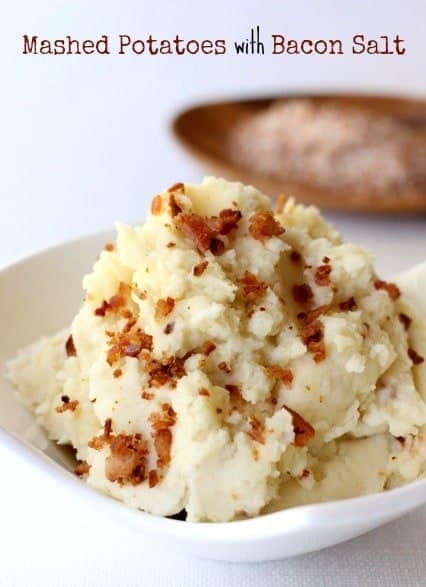 Mashed Potatoes with Bacon Salt
From now on, these Mashed Potatoes with Bacon Salt might be the only way you make mashed potatoes. The bacon salt adds everything to these mashed potatoes, you hardly need anything else!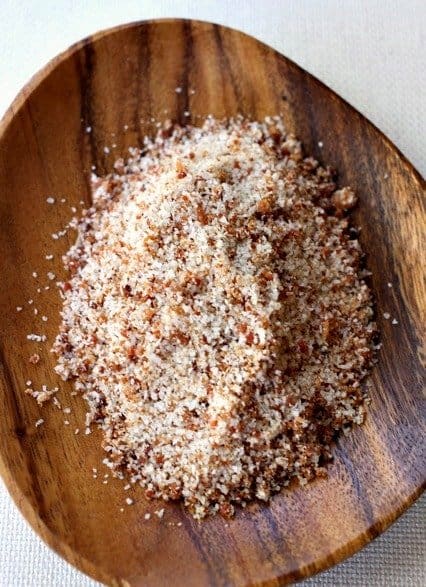 From now on, these Mashed Potatoes with Bacon Salt might be the only way you make mashed potatoes.
Mashed potatoes are my number one favorite side dish. I can even eat them all alone just as a meal. But today we're talking a whole new level of mashed potatoes with these Mashed Potatoes with Bacon Salt.
Bacon salt is just what it sounds like – salt flavored with bacon. So you could put it on anything that you'd normally add salt to …that would also taste good with bacon.
Add it into your scrambled eggs.
Rub some on a piece of chicken or steak and then throw it on the grill.
Sprinkle some onto some otherwise boring steamed vegetables like broccoli or asparagus?
I could go on, but you get the idea.
What I do know is that bacon salt is the best way ever to season up mashed potatoes.
Making the bacon salt is easy, just add cooked bacon to a food processor and grind into small pieces. Then mix the bacon together with kosher salt and you have bacon salt.
The potatoes cook up just like normal mashed potatoes except when you boil the potatoes for this recipe you're going to add 2 strips of bacon to the pot.
Just to infuse that bacon flavor a little more.
Also, I know I said in my last post for the Twice Baked Bacon & Egg Potatoes that the potato masher was out the window – but for this recipe I used it. Potatoes with bacon seemed to need a chunky mashed potato.
When the potatoes are done just mash them up with some cream (you can use milk if you want but the cream is going to be way better) a little butter and of course, the bacon salt.
Then, because there definitely isn't enough yet, add some crumbled bacon to the top.
You can stir the bacon pieces in or leave it sitting on top so it stays crispy. Either way, these are going to be the best mashed potatoes you've ever had!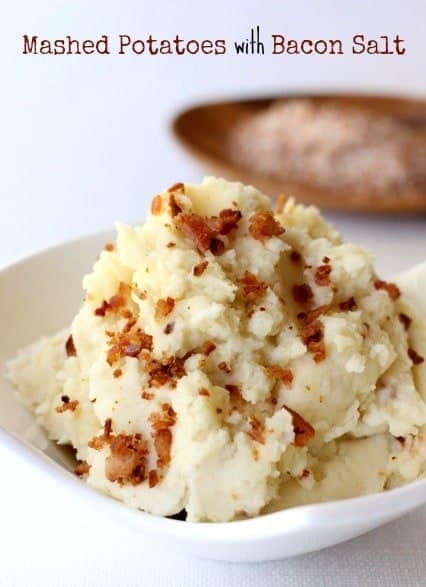 Print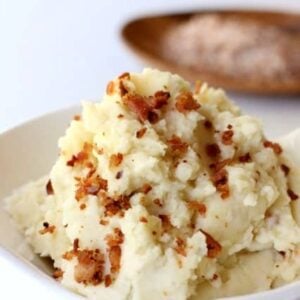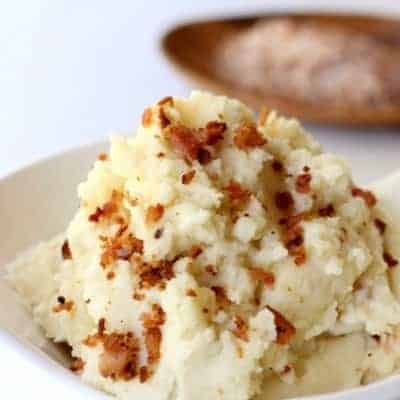 Mashed Potatoes with Bacon Salt
---
Ingredients
3

lbs. russet potatoes

1/2

c. – 3/4 c. of heavy cream

8

slices of bacon

1/4

c. kosher salt

3

T. butter
---
Instructions
Cook 6 pieces of the bacon in a large skillet until crisp then drain on paper towels to get off most of the grease.
Break up 4 of the pieces of bacon into the bowl of a food processor and grind until fine.
Reserve the other 2 pieces of bacon for crumbling over the top of the potatoes.
Pour the bacon out onto paper towels, cover with another paper towel and press down until all the grease is gone.
Add the bacon to a small bowl with the kosher salt and mix together with your fingers until all of the bacon is worked into the salt.
Start a large pot of water to boil and add in the potatoes and the 2 remaining slices of raw bacon.
Cook for 15 minutes, until the potatoes are fork tender, then drain.
Discard the bacon and add the drained potatoes back to the pot.
Add in the cream and butter and 1 T. of the bacon salt.
Mash with a potato mashed until you get the desired consistency.
Test for seasonings, then add the remaining crumbled bacon to the pot and stir to incorporate.
You can also add the crumbled bacon to the top of your potatoes once their in a serving dish.
---