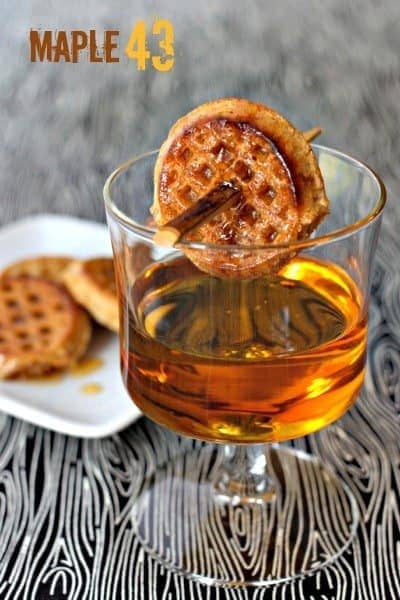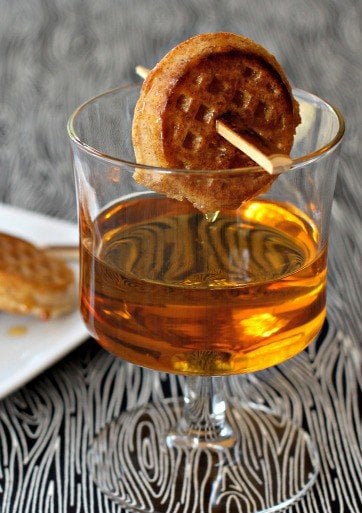 Is it Fall or Winter??
I'm posting early today because it was freezing here this morning! And still is, it's only climbed up to 46 degrees.
And it was only 37° when I got up…so I think this Maple 43 Cocktail is on the drink menu tonight.
This Maple 43 Cocktail is a drink I created for Food Fanatic and it's perfect for a crisp Fall day like today!
This drink combines Licor 43, bourbon and pure maple syrup. And yet another one of my many attempts to get people to drink bourbon. Of course there my friends who are the bourbon lovers, but I still have some to convert! I always hear from them that it's too harsh or that they just don't like the flavor…
So small steps with a blended cocktail like this…
If you start out with a drink like this Maple 43 then you can eventually graduate to a straight glass of bourbon, right? Not that there's anything wrong with an after dinner drink that's a little sweeter, like I always say, combining drinks and dessert is one of my favorite things to do.
I tested this out on my friends, thankfully willing to be my cocktail guinea pigs, and it was a hit with everyone – men and women all around. It was even still summer at the time of this taste testing – but who says bourbon is a seasonal drink? If anyone does, they're wrong.
Also, who is going to turn down a cocktail with a miniature waffle on it that's dripping with syrup?
No one did. I get them every time! My friends will always tell you that there is never a "quick drink" when you come over to my house.
Head on over to Food Fanatic where you can read my full post and check out the other food and drink recipes today!