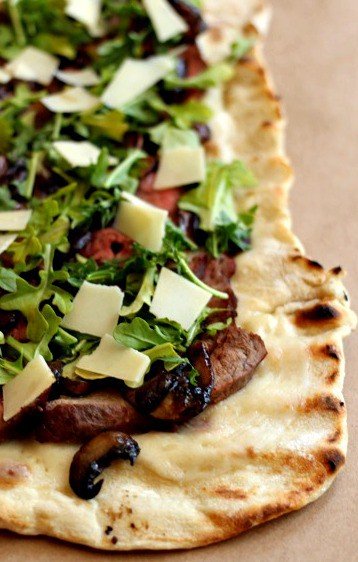 Grilled Steak Salad Flatbread
I declare myself the winner of the topping contest this week. How can you beat this one? Grilled Steak Salad Flatbread with Sriracha mayo? Yep, I win.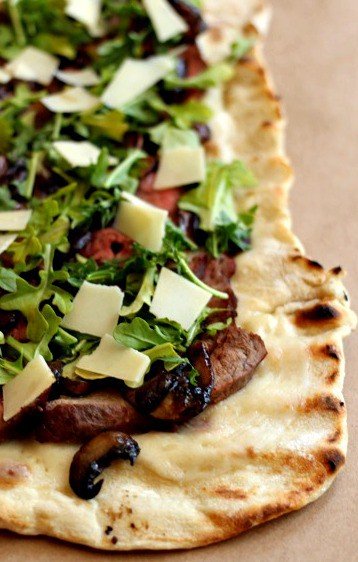 The kids think they won with the Cheeseburger Flatbread and the wife thinks she won with the Cacio e Pepe Flatbread. Both were good- really good. But come on…sliced steak, my favorite sauteed mushrooms, spicy arugula and a sriracha mayo? It's pretty darn good if I do say so myself.
And I consider this almost a healthy meal? There's arugula on it…that pretty much falls under the salad category in my book. My family would agree – me eating arugula, something leafy and green, that's about as close to a salad as I get.
The sauteed mushrooms is a recipe from my wife's Aunt that she made for us when we were on a family vacation at the shore. Here's the recipe:
Mushrooms and oyster sauce.
That's it. And some salt and pepper of course, but they're the best mushrooms ever. Great for steaks and chicken or just as a side. They'll look like you have a lot in the beginning…but they cook down.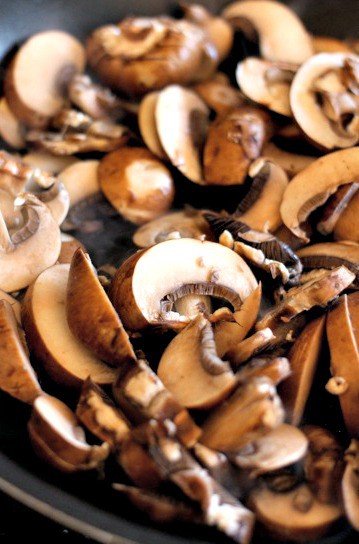 Then you add the oyster sauce and they'll look like this. Good stuff.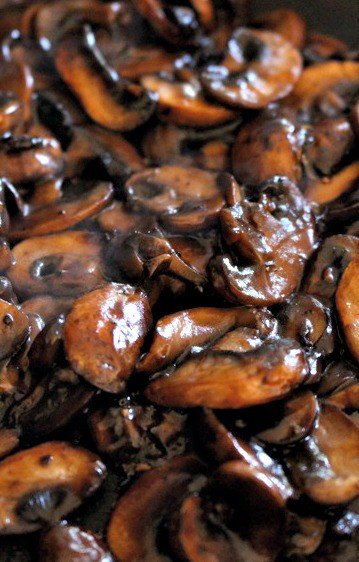 So since this is the third (and final) flatbread this week, I think you all get the drill by now. Store bought pizza dough, rolled out and cooked on the grill for a few minutes each side, and then your toppings.
I just grabbed a sirloin for this but a flank steak would work great too. Just grill it for about 5 minutes each side and then let it rest before slicing it (thinly) you want it to be medium-rare so it's not too tough.
Then all there is to do is add your sauteed 'shrooms, the arugula and the sriracha mayo. This Grilled Steak Salad Flatbread will not be the same without the sriracha mayo- so don't leave it out. You could put all these topping out and let your family or guests pick what they want, kind of put it out like an assembly line. It would be a great party idea…you can get everyone to grill up their own dinner!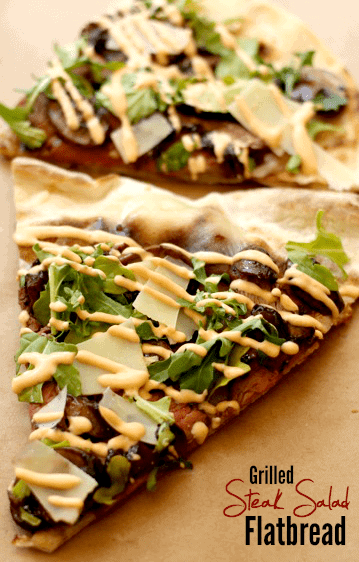 Print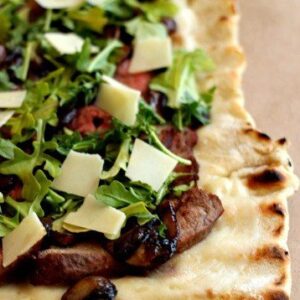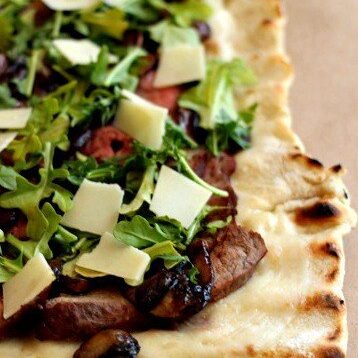 Grilled Steak Salad Flatbread
Yield:

2

1

x
---
Ingredients
1

ball of store bought pizza dough, divided in half
(1) 1 lb. sirloin or small flank steak

1

10 oz. bag arugula

2

T. olive oil
(2) 10 oz. container of white mushrooms

1/4

c. shaved parmesan cheese

4

T. oyster sauce

1 cup

mayonnaise

2

T. sriracha

1

–

2

t. milk

16

slices provolone cheese
---
Instructions
Add 2 T. of olive oil to a large skillet over medium-high heat, then add the mushrooms. Cook for 10 minutes until the mushrooms are browned and all the liquid has cooked out. Add in the oyster sauce, a little salt if needed and some fresh black pepper. Stir to coat the mushrooms with the sauce. Set aside.
Heat your grill to medium-high heat. Season your steak with salt and pepper and cook for 5 minutes per side, depending on how thick your steak is. If it's a thinner cut of meat, then only cook for 3-4 minutes per side. You want it to be medium-rare, 135-140 degrees internal temp. When the steak is done, remove it to a cutting board and cover it with foil. After it rests for 15 minutes, slice very thin against the grain.
Add the mayonnaise and the sriracha to a small bowl, this out with the milk and stir. Keep in the fridge until your ready to use.
Roll out one half of the pasta dough to about 1/4″ thickness. Place the dough on an oiled grill and cook for 4-5 minutes until brown on the bottom. Flip the dough and start adding your toppings.
Place about 8 slices of provolone cheese on the flatbread and close the lid until it's melted, about 3 minutes.
Take the flatbread of the grill and you're ready to add the other toppings. Start by laying the steak slices on top of the cheese. You'll use half the steak on this one and the other half on the second flatbread.
Add as much arugula as you'd like on top of the steak, I used a couple of handfuls.
Top with some shaved parmesan and the sriracha mayo.
Repeat with the other half of your dough. You'll have 2 large flatbreads when you're done.
---