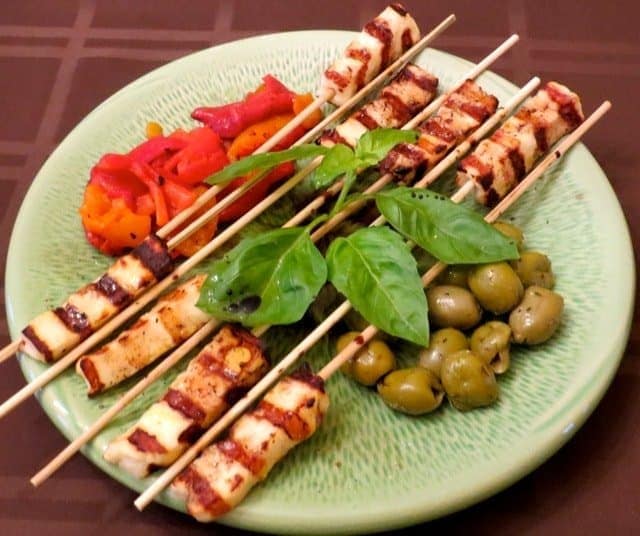 Grilled Halloumi Cheese Kabobs
I was at a Jets game last year (OK, I'm a Jets fan, no one kill me) and was tailgating with a bunch of guys and one of them brought a platter of cheese. After one or two beers…this guy started putting these chunks of cheese on the grill. I had never seen cheese grilled this way before, so I asked him what kind of cheese it was and he told me that it was called Halloumi cheese. I had never heard of Halloumi before, so I was very curious as to how it was going to taste. And wouldn't the cheese just get all melted and stuck to the grill? Halloumi, he told me, is a Greek cheese with a very high melting point so it's great for grilling or frying in a pan. The end result was awesome. I was glad he brought a lot because I ate it up like crazy.
The next day I started on a quest to get myself some of this Halloumi. I found that a lot of stores did carry it, but were out due to some sheep's milk shortage.. I finally found it at a local deli and bought myself a few packs.
First I cut the halloumi into sticks, brushed the grill with some olive oil and threw them on.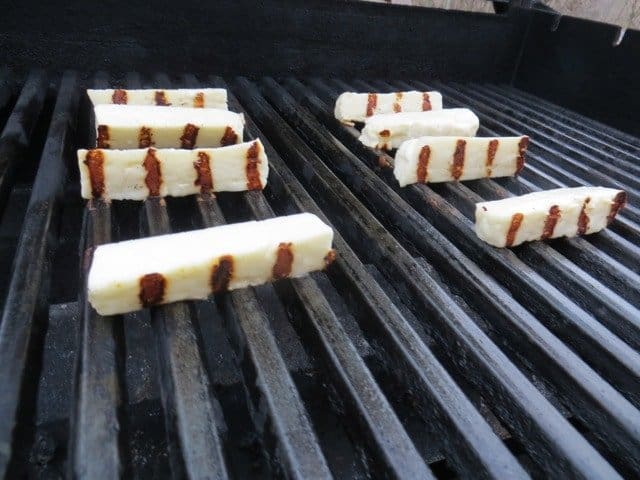 Next I cut the halloumi into chunks, cubed up some vegetables and made up some kabobs.
The kabobs were a little tricky to turn, just turn them gently so the cheese doesn't fall off the stick.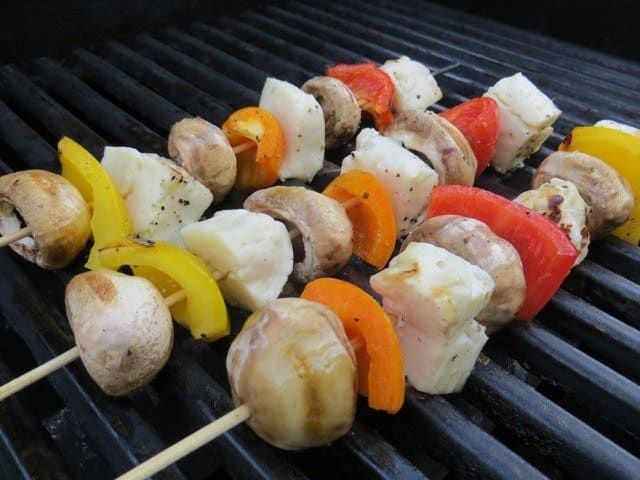 I skewered the plain halloumi sticks after they were grilled, which is how the guy at the Jets game did it, and served them straight up.
You can drizzle them with olive oil and a little balsamic vinegar if you want, that's what we did before eating them and it was delicious.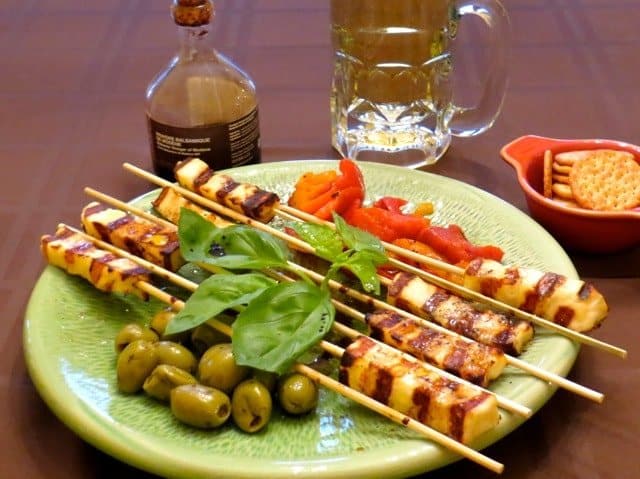 I threw some olives and roasted red peppers on the plate and also a few crackers to eat with the grilled halloumi. The cheese is pretty firm but does gets a little softer when it's grilled up and it's very mild flavor goes perfect with pretty much anything you want to serve it with.
The vegetable kabobs turned out great too, we actually ended up eating this for dinner that night.
I think they would be awesome with some grilled chicken or steak too, but we ate them as is!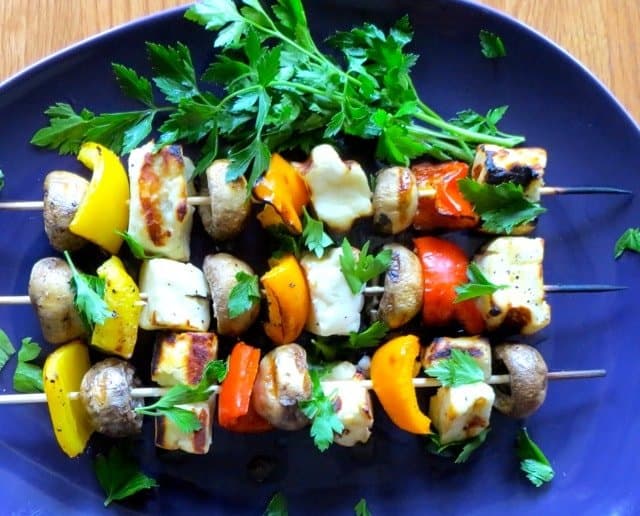 I'd would totally make these up again for a summer BBQ or just a light meal… or maybe the next time I'm tailgating at the Jets game!
Print
Grilled Halloumi Cheese and Vegetable Kabobs
---
Ingredients
2

packages of halloumi cheese, 8.8 oz. each
Your choice of vegetables, mushrooms, onions, bell peppers, cut into large chunks
wooden or metal skewars, if using wooden soak for a couple hours before using
olive oil
salt and pepper
balsamic vinegar
---
Instructions
For the plain cheese kabobs, slice one package of halloumi into strips, then cut each strip in half.
Season the cheese with salt and pepper and drizzle with olive oil.
Spray your grill with cooking spray or brush with olive oil, then place the cheese on the grill
Grill for 3-4 minutes then carefully turn to the other side.
Grill for another 3-4 minutes then pull of the grill and let cool slightly.
Put the cheese onto the skewers, if desired, then drizzle with olive oil and/or balsamic vinegar.
For the cheese and vegetable kabobs
Cut the Halloumi into large chunks and gently thread onto the skewers, alternating with your vegetables.
Season with salt and pepper and drizzle with olive oil.
Spray your grill with cooking spray or brush lightly with oil, then place the skewers on the grill on a medium-high heat.
Let cook for 4-5 minutes, turning carefully then cooking on the other side for another 4-5 minutes. Just enough to get some grill marks and get your vegetables softened up a bit.
You can drizzle balsamic on these as well, or dip in BBQ sauce, or just eat as they are!
---