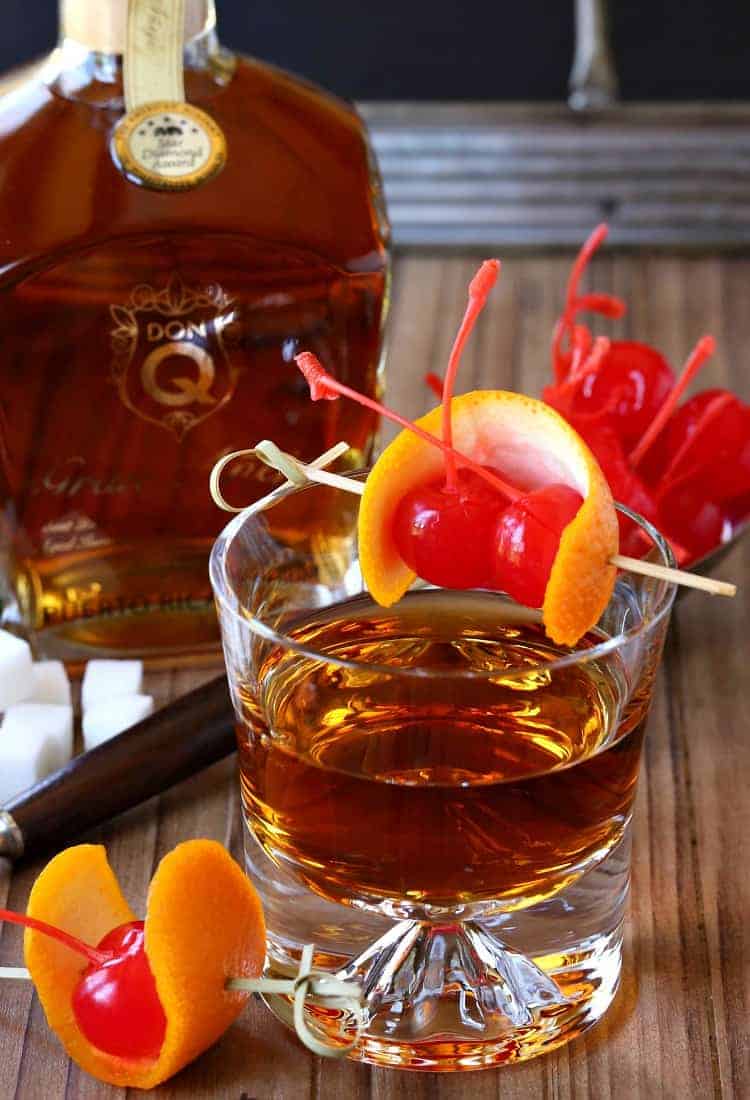 This is a sponsored post written by me on behalf of Don Q rum. All opinions are 100% mine.
Try this Gran Añejo Old Fashioned for an easy sipping cocktail that doesn't take a lot of preparation. Just quality rum and a few simple ingredients!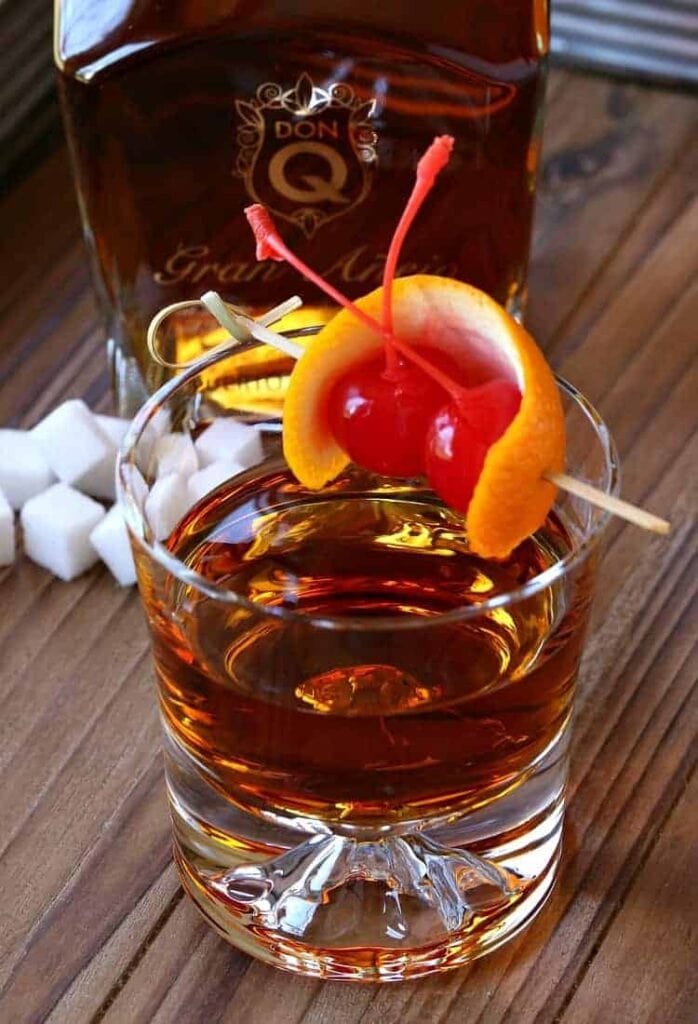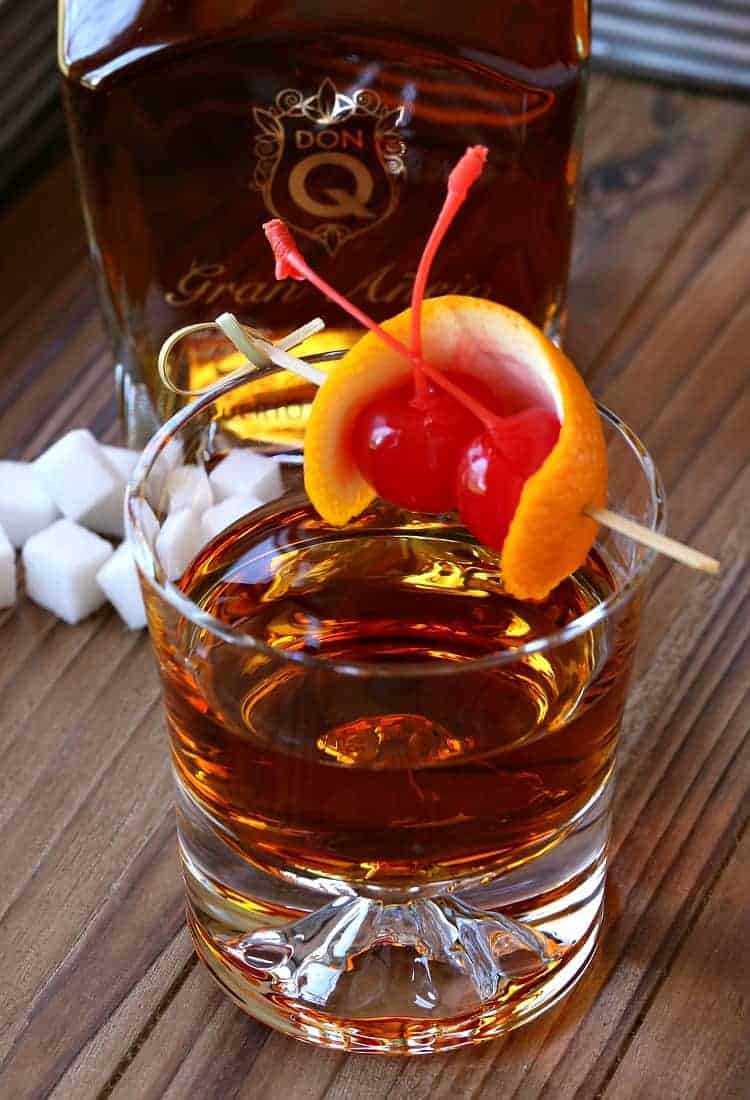 There's nothing like sitting down to a cocktail at the end of a long day. Especially a cocktail like this Gran Añejo Old Fashioned that's not going to take you more than two minutes to make.
Usually I'd just pour a shot or two of this Don Q Rum over an ice cube and drink it that way. When you're drinking an award winning rum like this Don Q Gran Añejo that's made without any added sugar or any artificial colors or additives – you really want to take the flavor in without anything to cover it up.
But this Gran Añejo Old Fashioned actually does just that.
It takes a high quality product an highlights the flavors just by adding a couple of simple ingredients. In this recipe – just a sugar cube and a few dashes of bitters is all you're going to need besides the garnish.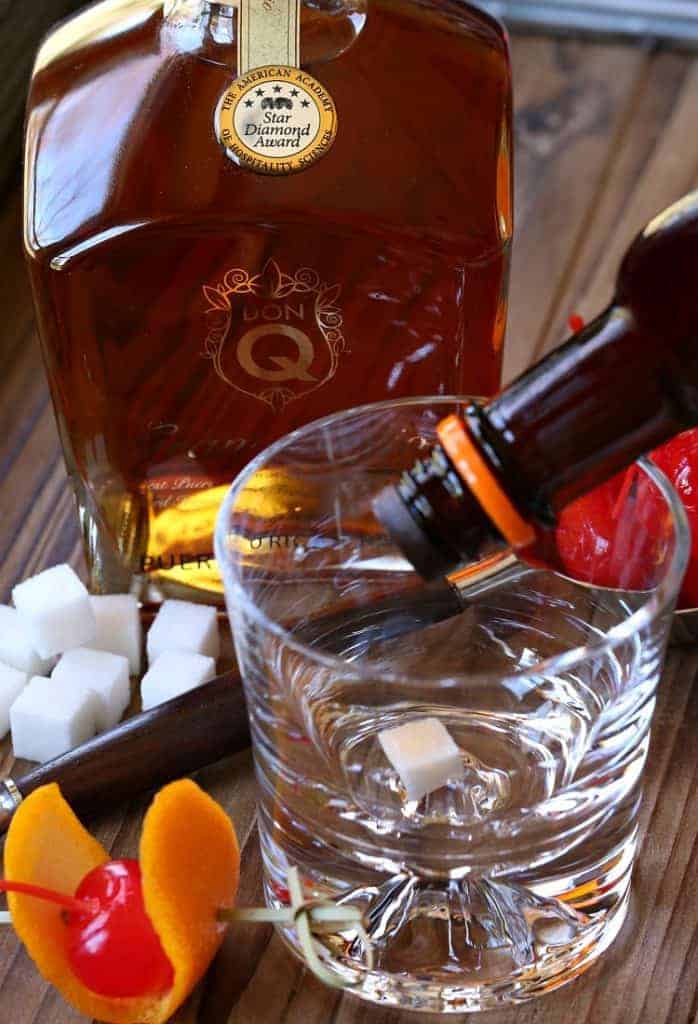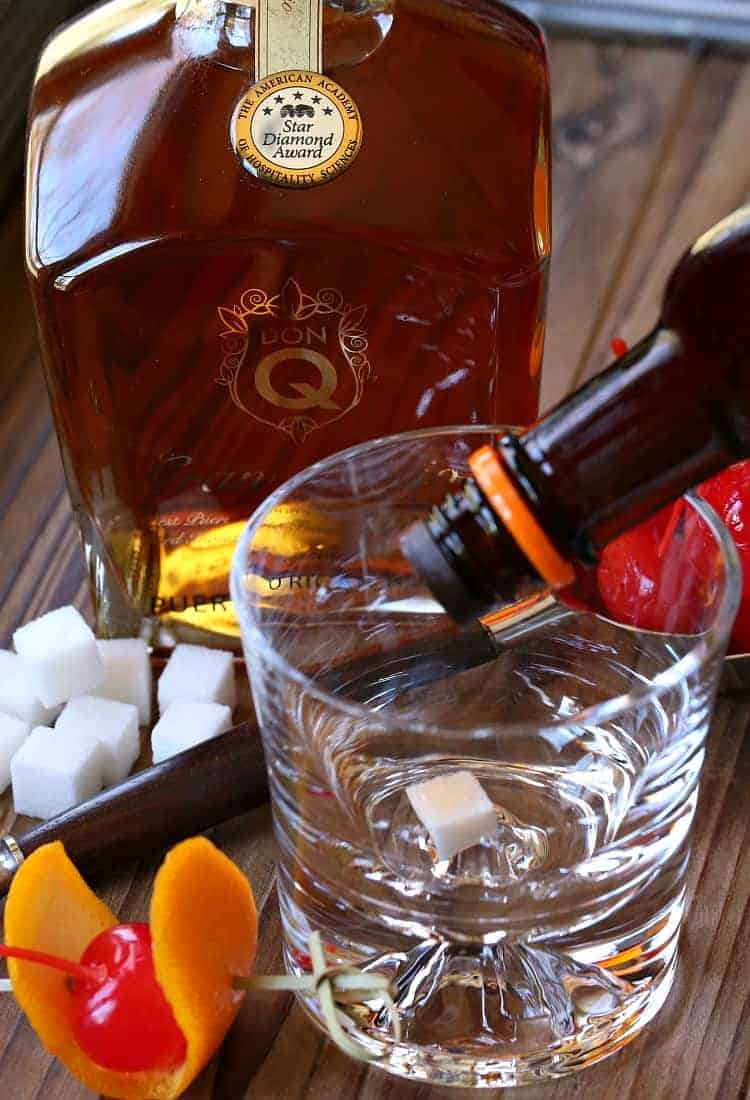 Garnish is key here too, an orange peel will add some orange oils to the drink along with the smell of the orange when you go and take a sip. And the cherry, well, it's an Old Fashioned.
You need the cherry.
If you guys aren't familiar with Don Q Gran Añejo, let me give you a little background.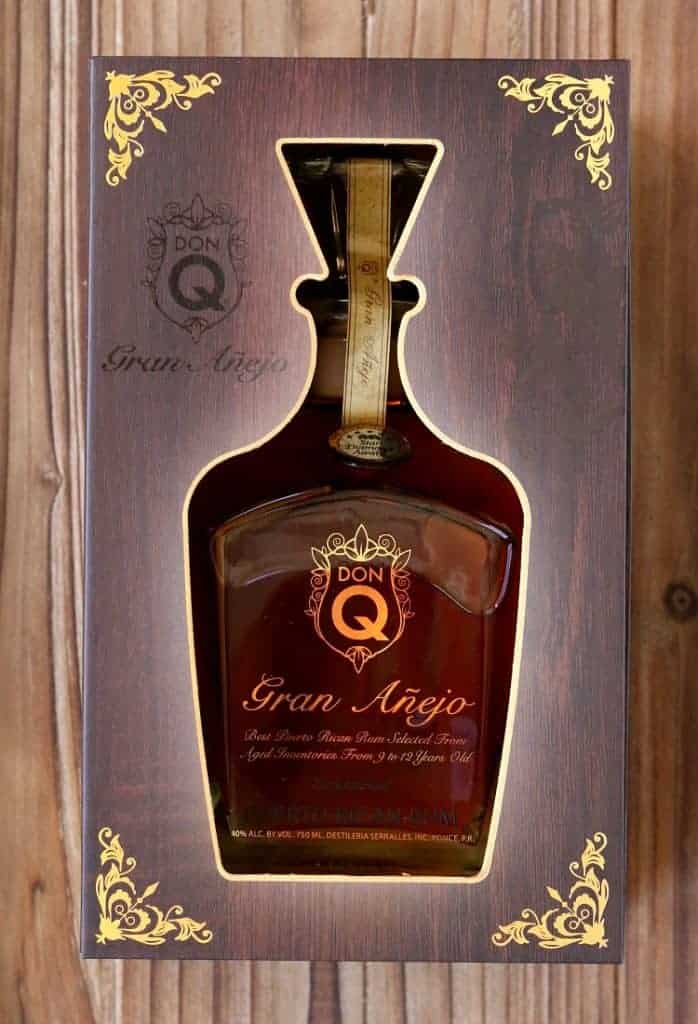 When you first get the smell of this rum in your glass you're going to smell vanilla and dark caramel first. That's because this rum is aged first in American white oak barrels, then finished in Spanish sherry casks. That process takes between 9 and 12 years…a long time to soak up all the flavor and aromas from the barrels.
This is Puerto Rican Rum we're talking about here, these guys know what they're doing.
So that's what you're going to smell…what you're going to taste is hints of molasses, vanilla and honey. It's like drinking a dessert without it actually being sweet.
My favorite thing to do with rum like this is to serve it with big grilled steak or a prime rib. Some type of rich, grilled or roasted meat that this rum is going to taste just perfect with.
My other favorite thing to do is to get together with a few of my friends – you know who you are – and drink a quality rum like this with a few cigars. Yep, and there's always food. Lots of appetizers and things we can grab with one had so the other hand is free for the rum.
And the cigars.
Those nights are my favorite nights, and bottles of rum like this Gran Añejo isn't going to stand a chance with us.
But if your hanging at home with the family or all by yourself – just pour yourself a glass of this rum on the rocks or neat, or you can try this Gran Añejo Old Fashioned after dinner instead of a big dessert.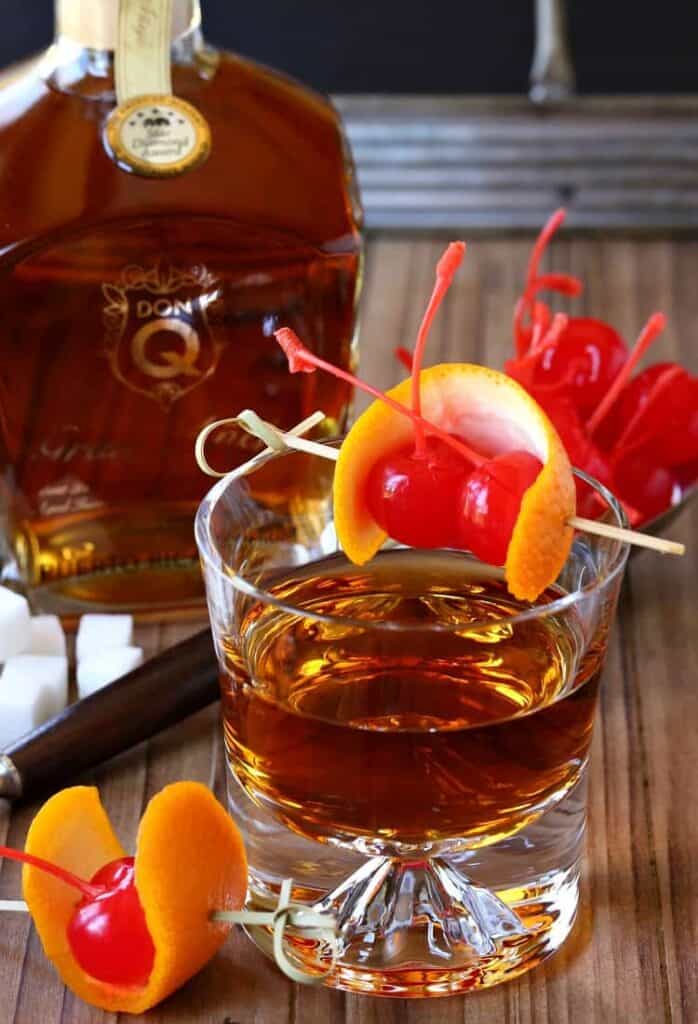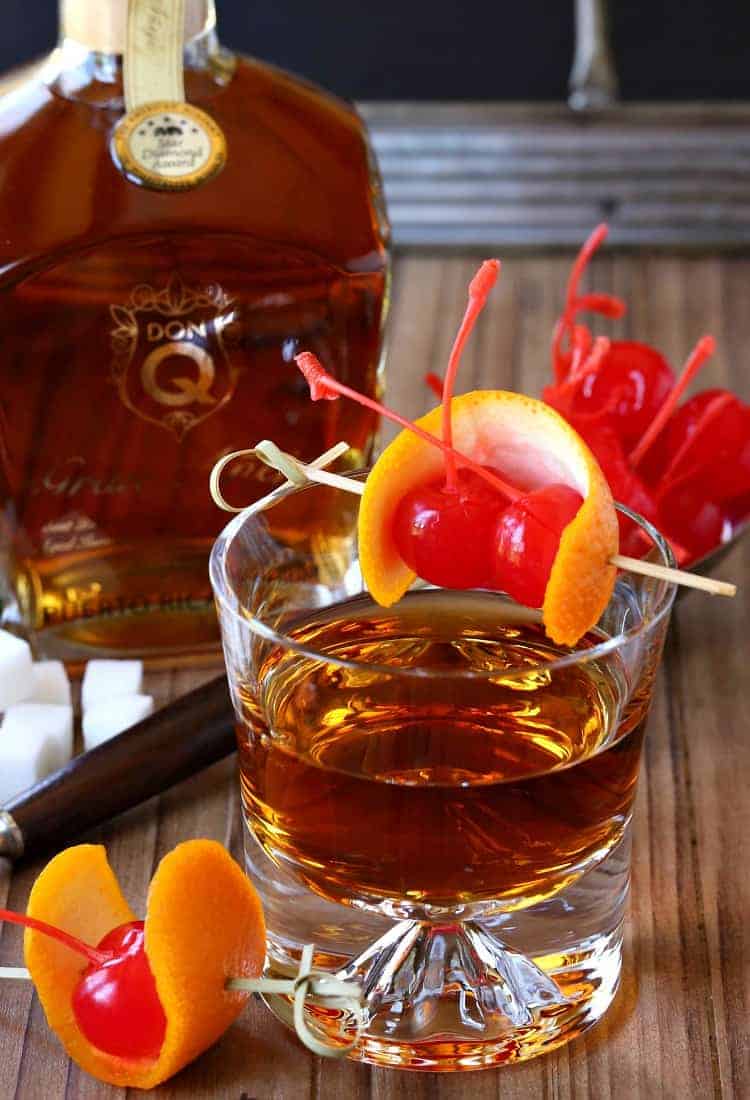 Yes, you can make a drink your dessert. I do it all the time.
Print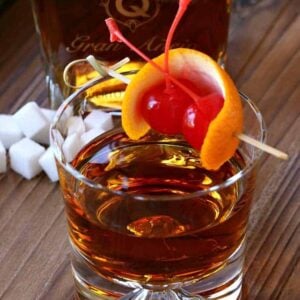 Simple Rum Old Fashioned
Author:

Yield:

1

1

x
---
Ingredients
2 ounce

s Don Q Gran Añjeo Rum

1

sugar cube

3

dashes orange bitters

1

orange peel for garnish

2

maraschino cherries for garnish
---
Instructions
Place the sugar cube in the bottom of a mixing glass.
Add the bitters to the top of the sugar cube, then muddle until the sugar cube is completely broken up.
Add ice to the mixing glass then pour in the rum.
Stir well then strain into a low ball glass.
Garnish with the orange peel and cherry.