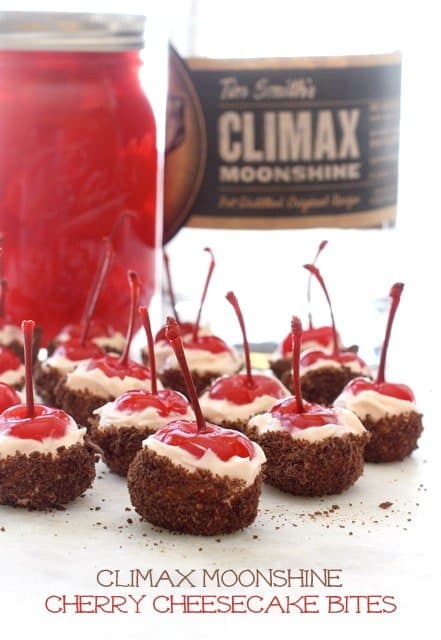 Climax Moonshine Cherry Cheesecake Bites
Climax Moonshine Cherry Cheesecake Bites. It's what's for dessert. This one bite boozy dessert is the perfect way to end a party!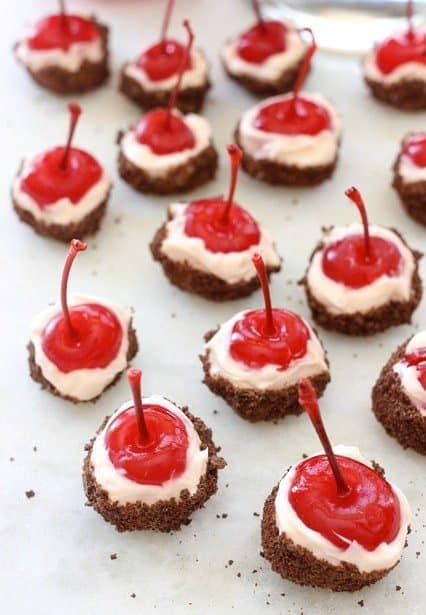 Moonshine soaked cherries covered with a moonshine infused cheesecake and chocolate graham cracker coating.
Who ever said I couldn't do desserts?
Well, I guess I did. But these Climax Moonshine Cherry Cheesecake Bites kind of knock boozy-desserts out of the park.
I've been lucky enough to be asked by Climax Moonshine to help them create a few different shot, cocktail and food recipes. So over the next couple of months you guys are going to be seeing a few recipes that I've created with Climax Moonshine.
I think it's fair to say that traditional moonshine drinkers just drink their shine from a shot glass. Or the bottle. Straight up, no mixers. That's the way it's done.
But in addition to drinking it straight up, Climax Moonshine can be used in tons of different food and cocktail recipes that anyone would love.
And today we're starting with dessert.
Now these Climax Moonshine Cherry Cheesecake Bites do take a few days of prep work…but nothing hard. You're going to drain a couple of jars of maraschino cherries and put them in a container that has a lid. Pour in enough Climax Moonshine to cover the cherries completely, put the lid on tight and stick them in your fridge for a week.
Patience.
Side note: these cherries are good for a ton of recipes – your moonshine cocktails, a cherry in the bottom of a shot of moonshine, or just for snacking on.
Start with your jar of moonshine soaked cherries. Lay them out on some paper towels to dry and grab the rest of your ingredients…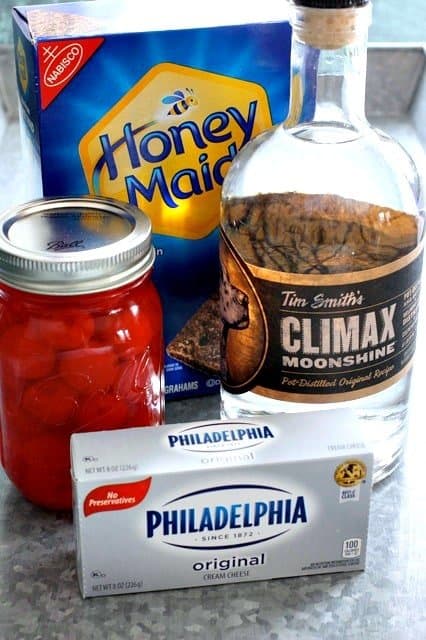 Add the cream cheese, some sugar, vanilla and almond extracts and moonshine to a large bowl and mix together until it's smooth. Definitely feel free to add in more moonshine if you see fit…
Then you grab one of the cherries, dunk it in the cheesecake mixture (you might need to use a spoon to help you get it all around) and then roll it in the crushed graham crackers.
Repeat with as many cherries as you'd like. I did all of them – they aren't going to last long at any party.
I've tried these cherries out on men, women, young (over 21 of course) and old and everyone loved them. You get the boozy taste of the moonshine and the sweetness of the cheesecake all in one perfect bite.
Of course you're gonna need to pour yourself a shot of moonshine to drink on the side just to keep in theme.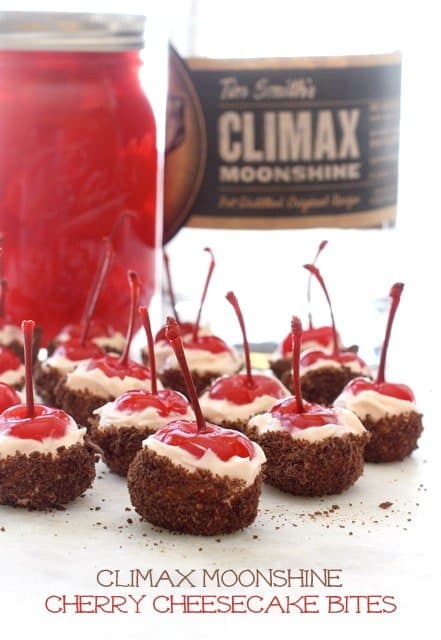 Print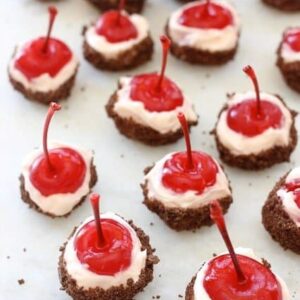 Moonshine Cherry Cheesecake Bites
---
Ingredients
2

jars maraschino cherries, drained

1

bottle Climax Moonshine

12 oz

. cream cheese, room temperature

16

chocolate graham crackers squares, crushed

1/4

c. sugar

1

T. lemon juice

1

t. vanilla extract

1/2

t. almond extract

2

T. Climax Moonshine (for the filling)

1

T. cherry juice (from the jar)
---
Instructions
Add the cherries to a mason jar or a sealable container, cover the cherries with Climax Moonshine and seal.
Place the cherries in your refrigerator for a week and let them marinate.
When the cherries are ready, drain them off (saving the liquid) and place on paper towels to dry.
Add the cream cheese to a large bowl and mix until smooth with a hand mixer.
Next add in the sugar, lemon juice, vanilla and almond extracts, the 2 T. of Climax Moonshine and 1 T. of the drained moonshine-cherry juice to a large bowl. Mix again to blend the ingredients.
Place the crushed graham crackers on a shallow plate.
Grab a cherry and dip it in the cheesecake mixture, using a spoon to help cover the cherry.
Next roll the cherry in the graham cracker crumbs and set on a plate.
Repeat with remaining cherries.
---
Notes
The moonshine cherries can be used in your refrigerator for up to a couple of months as long as they're in a sealed, airtight container.