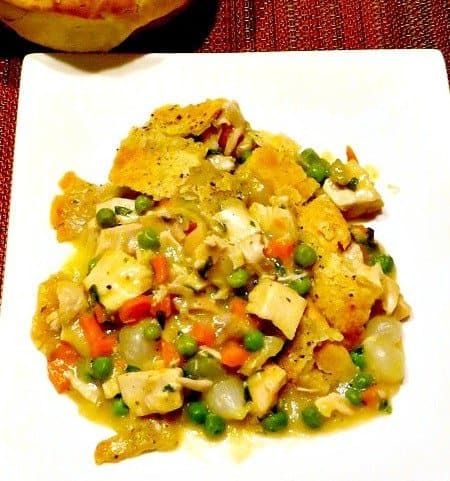 These Chicken Pot Pies are definitely making the comfort food list.
Putting them together kind of seems like a lot of trouble at first, but once you get going it's not that hard at all.
These pot pies are always welcomed at the dinner table, they're even a great dinner to make ahead and bring to someone's house, we just did that recently and it was kind of nice that dinner was done and everyone could enjoy some drinks and relax.
I totally consider these a one pot meal too- it takes only one pot to cook them in and one dish to serve them in! All the vegetables are in them already, so no need to worry about what's going to be served with them. That's one thing I'm still not great at, getting all the sides done to a go along with a meal. Main course I've got covered, but then all the vegetables, salads…I don't know, I guess it's important for the kids to get it all done but I'm usually fine with the main meal and a potato or rice side dish.
OK, and yes I do see that there are pearl onions and also diced onions. Before I ate these pot pies you wouldn't catch me dead eating a pearl onion. But it's what the recipe called for so to make it easier on the kids (and me) I cut them in half before I put them in…no one knows the difference that way.

All you need to do is saute your onions, celery and carrots, then add some flour, cook it out and pour in some warmed chicken stock.
Did I say one pot? One more small pot, you can do this in the microwave though if you want.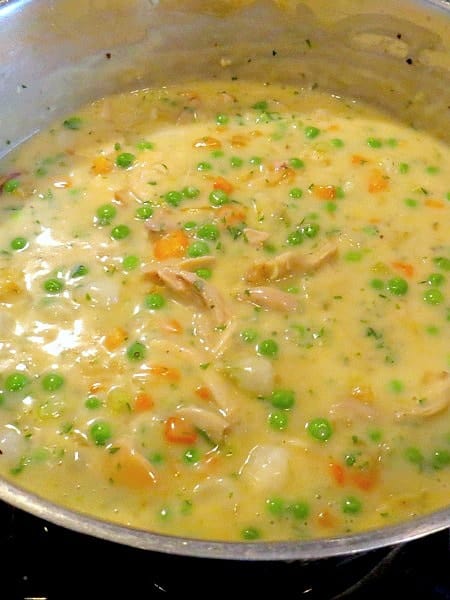 After the sauce heats back up and thickens up, add in the shredded chicken and the peas.
You can make this pot pie individually in crocks or in a pie plate or a baking dish.
You cover the tops with a Pillsbury pie crust and throw them in the oven.
45 minutes later, you get this…
Try it for dinner tonight- it's a great (and delicious way) to get the kids to eat their vegetables.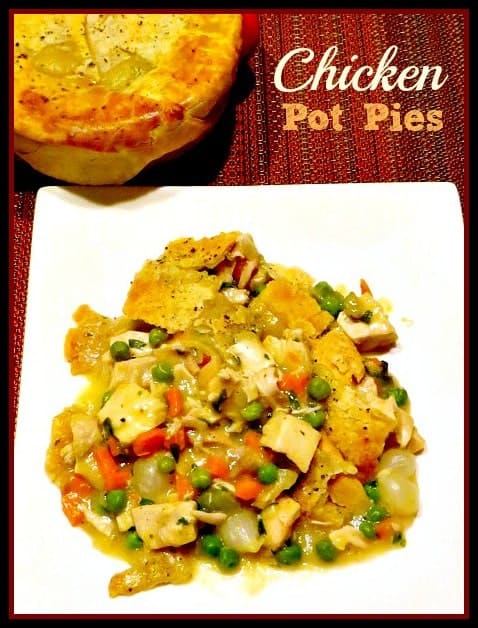 It works on adults too. I speak from experience.
Print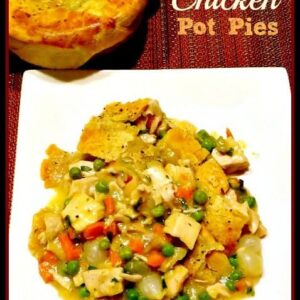 Chicken Pot Pies
Yield:

6

1

x
---
Ingredients
6

chicken breasts

3

T. olive oil
salt and pepper

5 cup

s chicken stock

2

chicken bouillon cubes

5

T. butter

2

c. onions, chopped

3/4

c. flour

2

c. carrots, peeled and diced

1

(10 oz.) package frozen peas

1 1/2 cup

s pearl onions

1/2

c. minced parsley

1

package Pillsbury pie crust

1

egg, beaten and mixed with a splash of water
---
Instructions
Preheat the oven to 350 degrees.
Place the chicken on a baking sheet and cover the tops generously with salt and pepper.
Roast in the oven for 35 minutes, until no longer pink.
Set aside to cool, then cut or tear into large chunks. You should have 6 cups of chicken.
While the chicken is in the oven, heat up the stock along with the bouillon cubes in a small saucepan.
In a large pot, melt the butter then add the onions, celery and carrots. Cook over medium heat for 15 minutes, stirring often.
Add the flour and cook over low heat, stirring, until the flour is cooked out, about 2 minutes.
Add the chicken stock to the pot, stir well and simmer for 2-3 minutes until thickened.
Then add in 2 t. salt, 1/2 t. fresh pepper. I like a little more pepper, but you can add as much or as little as you like.
After the sauce has thickened, add the chicken, peas and parsley. Mix well and let cool slightly.
There should be 2 discs of pie crust in the package. If you are using a larger dish to make one pot pie, then you can roll the one disc out slightly and cover your dish, sealing around the sides.
If you are using individual crocks like I have here, then you're going to cut each disc into the shape it needs to be to fit the top of your crock. You can piece the dough together, it doesn't have to look perfect. I make 6 individual crocks with this recipe and the 2 discs of dough are enough to cover them.
Brush the top of your dough with egg wash and sprinkle the top of the dough with salt and pepper.
Make 4 slits in the crust (or each crust) with a knife to vent.
Bake in the oven for 45-50 minutes, depending on the size of your pot pie. You'll know it's done when the filling starts to bubble out if the slits in the crust.
---