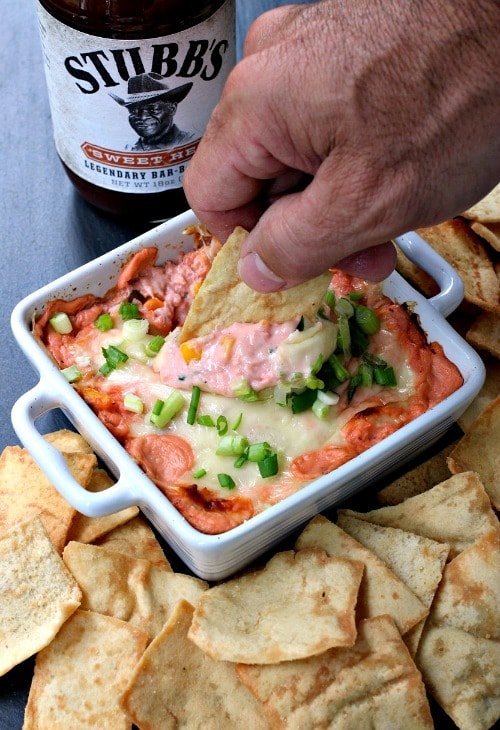 Get ready to break out the chips – you're going to need a ton once you get a taste of this Cheesy BBQ Chicken Dip! You can use rotisserie chicken from the store to make this dip super easy!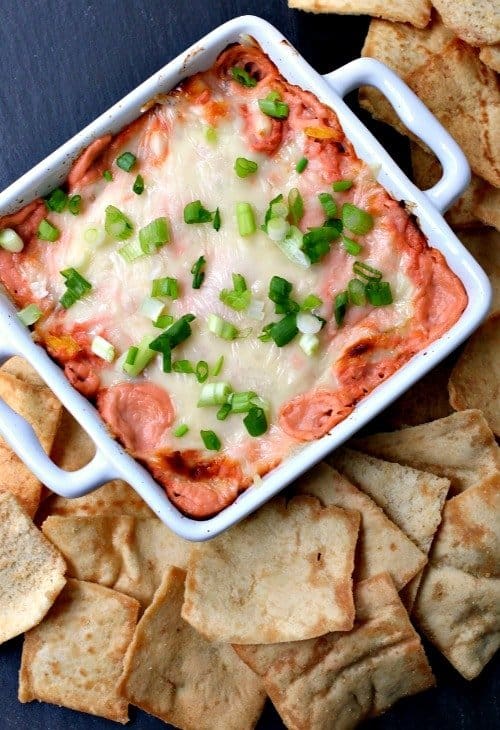 There's nothing better than having dinner outside. When it's it's hot out – but not to hot – and the cocktails and beer are flowing.
To go along with all those cocktails we need food…lots of food…and that's where this dip comes in.
Buffalo Chicken Dip is always a big hit. I like to switch things up a little and make them my own so in ours I swapped out regular cream cheese with jalapeño cream cheese just to make it a little bit spicier. It was like that kind of heat that makes you want to keep diving in for more…and guzzling a few more beers as you go.
This Cheesy BBQ Chicken Dip is just as addictive, but in a different way.
We've teamed up with Stubb's BAR-B-Q as part of their new blogging program to help showcase some of their amazing sauces and rubs. Stubb's has been around since 1968 and all of their sauces are gluten-free, contain no MSG or high fructose corn syrup. The sauces are also enrolled in the Non-GMO project so their in the process of getting their non-GMO certification. All good stuff to know, besides the fact that they taste so good.
To make this dip you'll need about 1/2 pound of shredded chicken mixed together with cream cheese, corn, grated cheddar cheese some scallions and of course the BBQ sauce.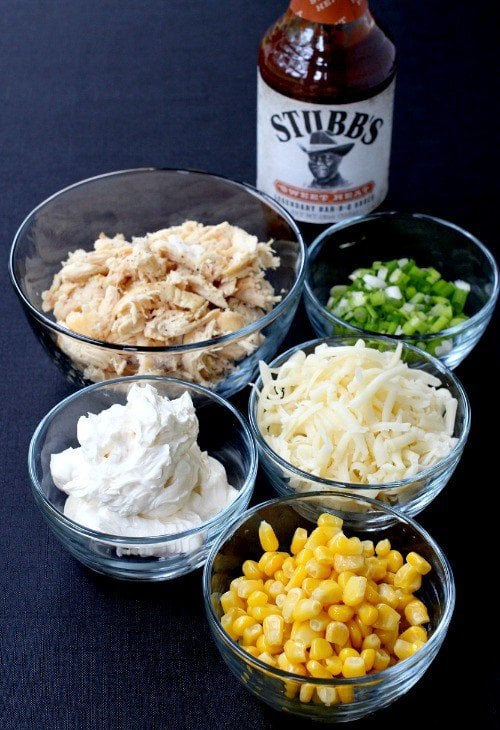 I used Stubb's Sweet Heat BAR-B-Q sauce for this dip – it was the perfect amount of sweet and spicy that this recipe needed. Bake in the oven for about 20 minutes and it'll come out pipping hot and ready for dipping…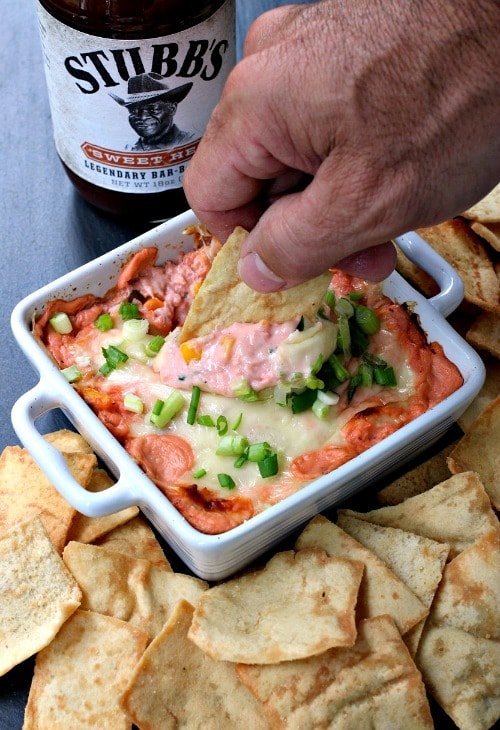 Seriously so good. I decided to use pita chips for this dip since they're a little stronger than a tortilla chip and will hold up to all the chicken and corn and cream cheese going on…nothing worse than your chip breaking off every time you go in for a scoop.
And whatever sauce you have left in the bottle goes on your grilled chicken for dinner! Always thinking ahead for you…enjoy!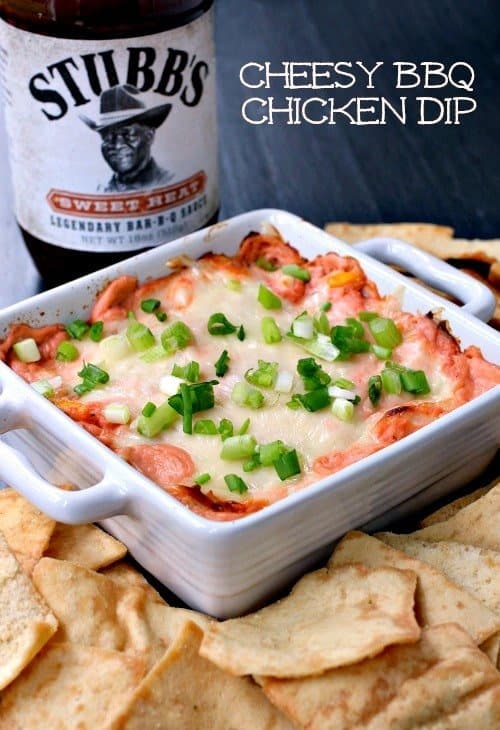 Print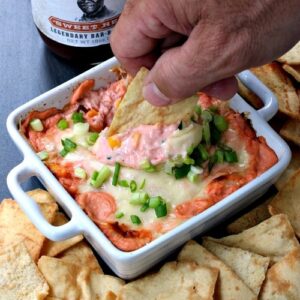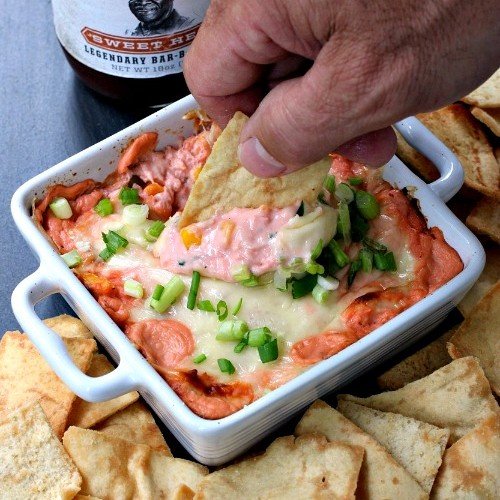 Cheesy BBQ Chicken Dip
---
Description
Serves 6 for appetizers
---
Ingredients
1 1/2 cup

s cooked, finely shredded chicken

6 ounce

s cream cheese at room temperature

3/4 cup

frozen or fresh corn

1/2 cup

Stubb's Sweet Heat BAR-B-Q Sauce

1 cup

grated cheddar cheese, divided

1/4 teaspoon

salt

1/4 teaspoon

ground black pepper

1/4 cup

chopped scallions
Pita or tortilla chips for serving
---
Instructions
Preheat the oven to 400 degrees.
Add the chicken, cream cheese, corn, BBQ sauce, 1/2 c. of the cheddar cheese, and the salt and pepper to a large bowl. Stir to combine.
Pour into an 8″ x 8″ baking dish, top with the other half of the cheddar cheese and bake for 15-20 minutes until the center is hot and the cheese is bubbling.
Top with the scallions and serve with pita or tortilla chips.
---
Notes
This recipe can easily be doubled and cooked in a larger baking dish!