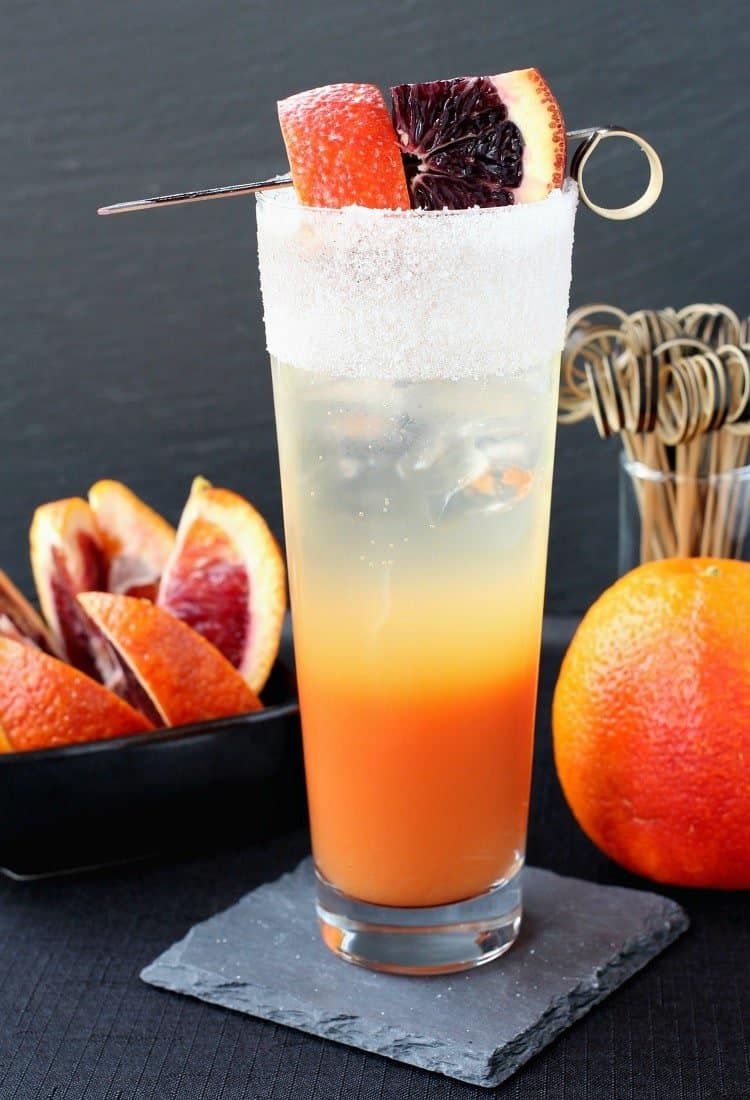 This Blood Orange Gin Cooler is the perfect cocktail recipe for any time of year! This easy drink uses fresh blood orange juice, gin, and a splash of seltzer! So simple to make and just wonderful to drink!
If you love orange flavored boozy drinks, you've got to try this tasty Blood Orange Rosemary Gin Martini, this refreshing Blood Orange Mimosa, and this wonderful Orange Blossom Vodka Martini.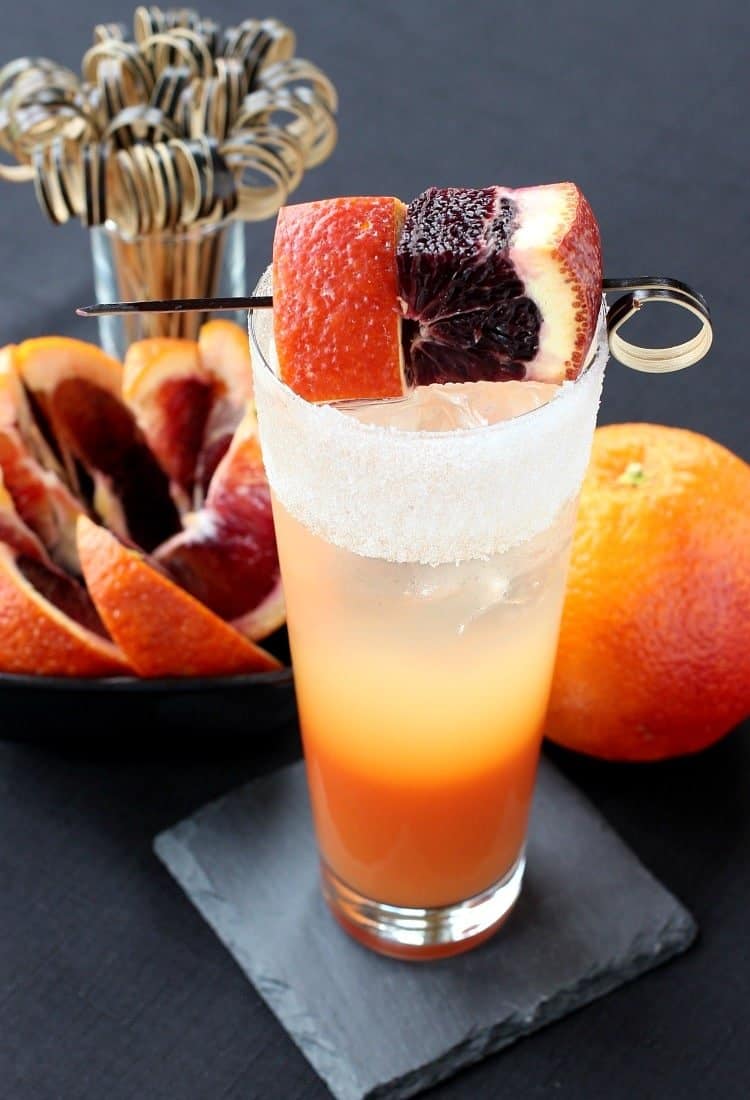 Where Can You Buy Blood Oranges For This Recipe?
We've gotten on a blood orange kick ever since our last visit to Trader Joe's. We get on a lot of food kicks when we visit Trader Joe's, it deserves the cult-like following it has in my opinion.
Unfortunately, there's not one really close by our house, the closest is about 35 minutes away, so when we get there we bring coolers and stock up.
But we've got it down to a system so it's sort of fun.
And unlike when you go to the grocery store and spend hundreds of dollars on food, come home, unpack and then you end up ordering pizza for dinner because you're exhausted… there's always something to throw in the oven from Trader Joe's.
Our favorite is the orange chicken, we do make orange chicken at home too, but this is an easy fix for busy weeknights when you just don't have time.
Besides the prepared dinners that make our life easy, the produce is unbelievable. We're always buying the shaved brussels sprouts for our Asian Chicken and Brussels that we seem to make once a week… So when we found these perfect blood oranges, we knew we had to make some sort of a cocktail with them.
As usual we had to buy 2 bags of the oranges, one for the boys to eat and one for us to make drinks with. We have learned at this point to go shopping without them tagging along because it ends up costing us a fortune if they're with us.
Much easier to buy another bag of oranges and just hand it over.
I started to think about what we could make with these blood oranges — a martini or a margarita or even swap out the watermelon for blood oranges in this Watermelon Margarita Shooters recipe.
But then I started juicing them — yep I juiced the whole bag — and tasted it.
It was unreal how good it tasted.
Not as sweet as you would think but definitely sweet enough.
So when I was trying to come up with our next cocktail for our friends over at Food Fanatic, I looked down at my whole pitcher of blood orange juice.
Perfect.
How Do You Make This Gin Cocktail?
I decided to keep this Blood Orange Gin Cooler simple. A little ice, a little gin and a splash of seltzer and that's all. And it turned out amazing.
Gin to me is a summer drink, gin and tonics or cocktails like this Basil Gin Smash, so it was an easy choice for me. But now I'm finding that gin can really be an all the time drink…not just summer.
Simple and totally refreshing, the kind of thing that you can kick back and hang out with on a hot summer day, or on a crisp Fall night.
Sugaring the rim is totally optional, but it's a quick step and it tastes amazing.
What Other Type Of Alcohol Can You Use In This Cocktail?
You could totally swap out vodka in this cocktail too if you're not a fan of gin. Or even rum or tequila. Whatever your booze of choice is… just don't forget the fresh blood orange juice.
It's definitely what makes this drink!