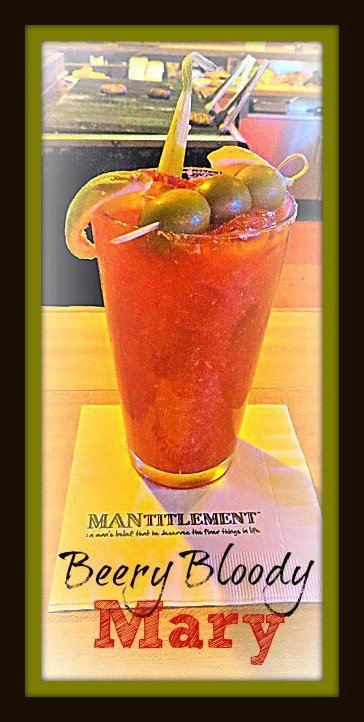 It's Friday and it's not snowing!
Two bonuses if you live on the East Coast.
I thought I 'd start today with a drink for you- a Beery Bloody Mary. The Blue Moon Sangria was a big hit with my friends and family, so I thought I'd try another drink that included some beer.
Then my wife and I went to lunch last week and we got this…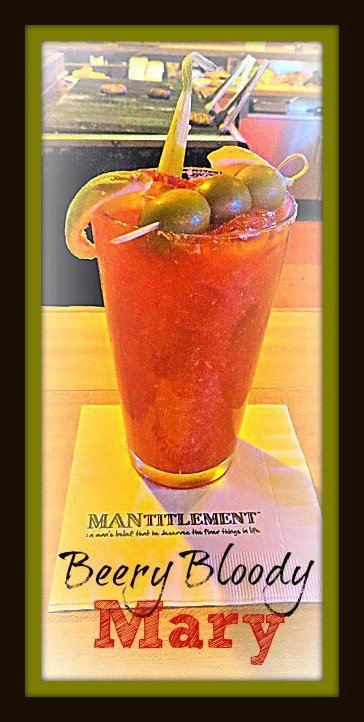 A Bloody Mary topped off with beer. And some nice garnishes too, it's all about the garnish, right?
Lunch was pretty good but this drink was what really made it. The beer kind of mellows out the tomato juice flavor, which is why I really liked it. Even if you're not a fan of Bloody Mary's you should try one of these because the beer gives it a whole new flavor. Also, of course it depends on what kind of beer you add into it. The bartender here said he used a "pale ale".
When I re-created it at home I used a Corona just because that's what I had at the time in my refrigerator. I tasted amazing, even better than at the restaurant that day, so I'm going to stick with that in the recipe.
The Beery Bloody Mary is pretty easy to make, you can make up a whole pitcher if you're having company (or not) and then just add the beer to each glass at the end. If you're really strapped for time, you can use a prepared bloody mary mix like "Zing Zang" and just doctor it up by adding some extra spice, lemon juice, Tobasco, ad of course, the beer.
Happy Friday!
Beery Bloody Mary
---
Ingredients
3/4

c. tomato juice

2

t. Worcestershire sauce

1

t. prepared horseradish

1

t. Tobasco sauce

2 oz

. vodka (or more to taste)

1/2

lemon, juiced
a few grinds of black pepper

1/4

. T chili powder

1

12 oz. bottle of Corona
Garnish as desired with olives, celery, pickles, etc.
---
Instructions
Add all the ingredients to a small pitcher, or double for 4 drinks in a larger pitcher.
Stir well and fill glasses half way. Top the glasses off with your beer.
Garnish as desired.
---