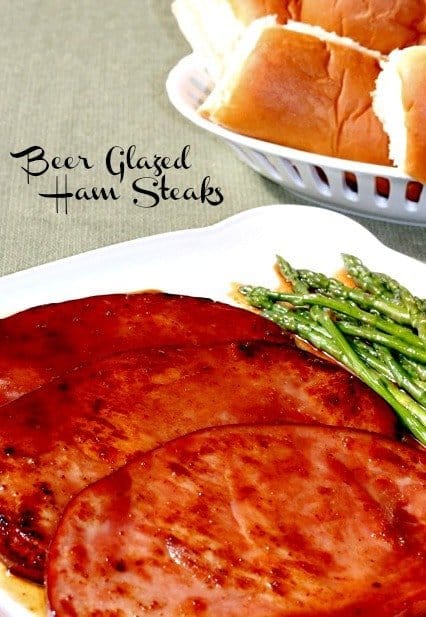 I thought I'd start off the week with these Beer Glazed Ham Steaks to get ready for Easter.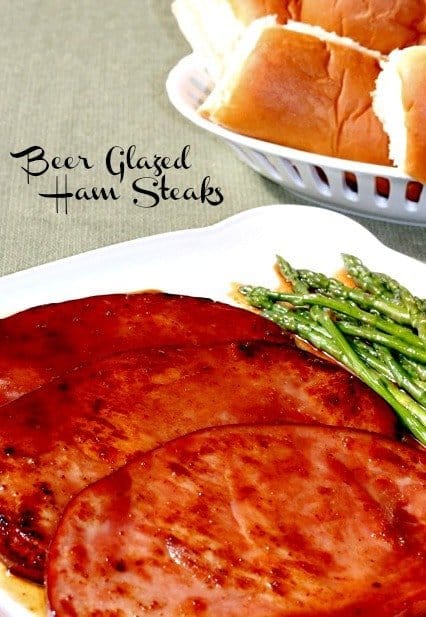 Most people who are having a large family Easter dinner will be making a whole ham, or a spiral sliced ham, that feeds like 100 people.
I love ham, and all the things that you can make with leftover ham so this usually isn't a problem for me, but there have been times when we've been on our own for Easter or we've decide to do something different for the main course like a leg of lamb.
So whether you're just cooking for two, or you just don't want to cook that 20 pound ham, these Beer Glazed Ham Steaks will be perfect for your Easter meal.
I used a brown sugar glaze for these ham steaks mixed with beer instead of using orange juice or pineapple juice like most recipes call for. Because everything's better with beer right?
You actually marinate the ham steaks in the beer for an hour…
While the ham is soaking in the beer you can make up the glaze. Just brown sugar, balsamic vinegar, mustard and of course, the beer.
I like a light beer for this recipe like a Michelob Ultra so that the beer flavor doesn't take over the ham too much.
You're going to pan-fry the ham steaks for a few minutes on each side to give them some color.
Then pour your glaze all over the ham steaks.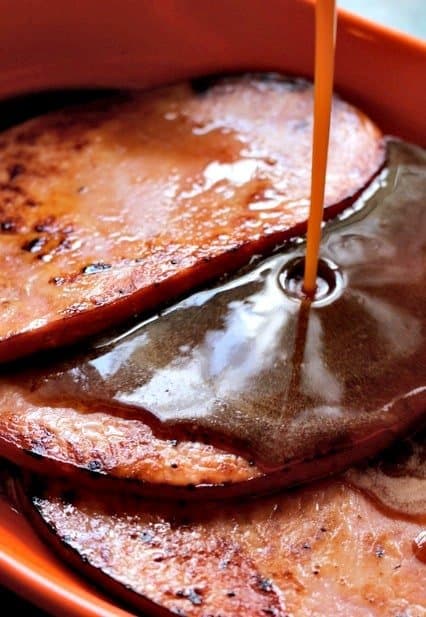 Stick them in the oven for about 20 minutes and they're done! Beer Glazed Ham Steaks.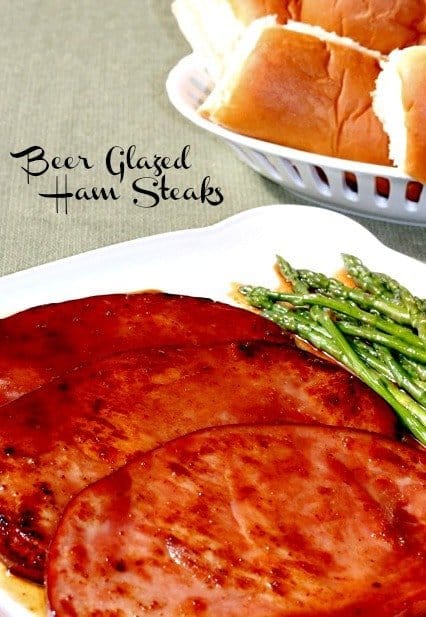 This recipe will definitely become one of your favorites – and it's so easy to make you don't have to wait for Easter to have it!
Print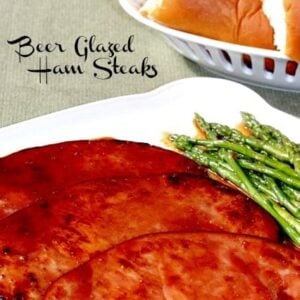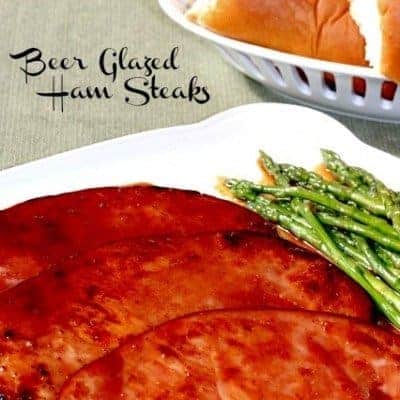 Beer Glazed Ham Steaks
---
Ingredients
3 -8 ounce ham steaks
1 T. dijon mustard
1 cup brown sugar
2 -12 ounce light beers such as Michelob Ultra
2 T. balsamic vinegar
---
Instructions
Marinate the ham steaks in one of the cans of beer for one to three hours.
Make the glaze by combining the brown sugar, mustard, balsamic vinegar and 1/3 cup of beer from the second can. Mix well and set aside.
Take the ham out of the beer and pat dry.
Sear the ham steaks in a large skillet over medium-high heat, 3 minutes per side.
Place the ham steaks on a foil-lined baking sheet and pour the glaze over to coat well.
Cook in a 400 degree oven for 20 minutes.
Remove the ham to a platter and spoon additional glaze from the roasting pan on top. If you didn't use all the glaze to coat your ham you can heat it up and serve it as a sauce on the side.
---