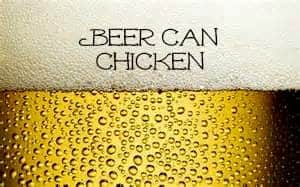 Time to fire up the grill and make this Beer Can Chicken! There's nothing better than sitting out on the deck and grilling up this chicken for dinner!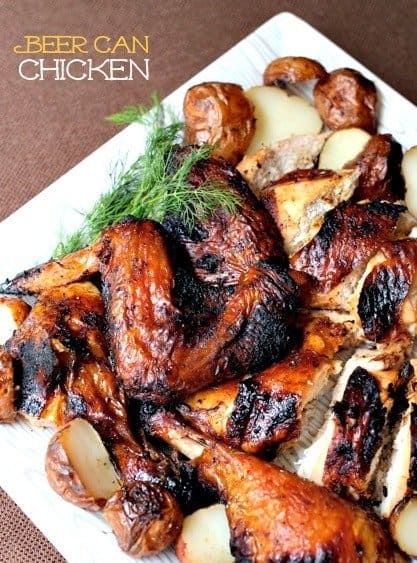 I know there are tons of recipes for beer can chicken, some are pretty complicated and some are easy. This one beats them all as far as easy recipes go. 3 ingredients…
1. Chicken
2. McCormick Sweet and Smokey rub
3. one beer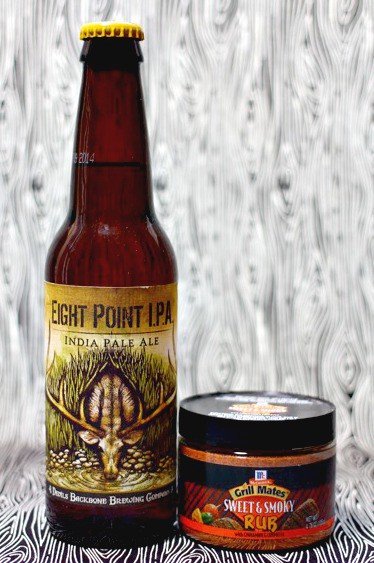 That's it. I had the McCormick Grill Mates® Sweet and Smokey rub sitting in my cabinet from when I used it on the Mango Shrimp from over the winter. I keep forgetting that it's there, so when I was digging around for some sort of rub to make…I figured this would be just as good. If not better – and it was awesome. It has cinnamon and chipotle pepper to give it the sweet and smokey flavors. Then I grabbed an Eight Point India IPA pale ale. Just because that's what I felt like drinking…
All you have to do is get this Beer Can Chicken on the grill and wait. There's not really much to do except watch it for flare-ups or to make sure the temperature doesn't get too high. A lot easier than steaks that you have to watch constantly so they don't get over cooked and ruined then in my opinion) I actually cooked this chicken in the morning and we ate cold chicken blt sandwiches for dinner that night. An easy, no maintenance summer dinner!
I threw some red potatoes on the bottom of my roaster, just be sure to take them off after about a half an hour…they won't take as long as the chicken.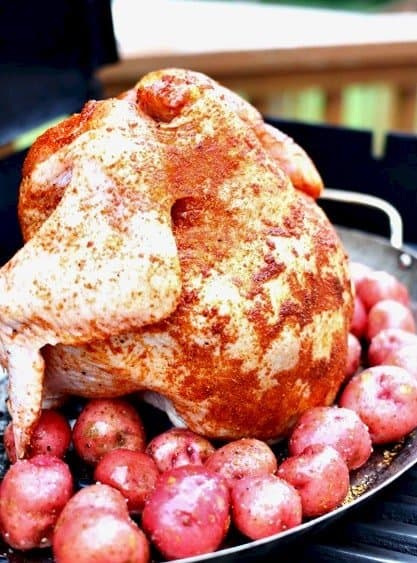 Then this is what it looks like after about an hour…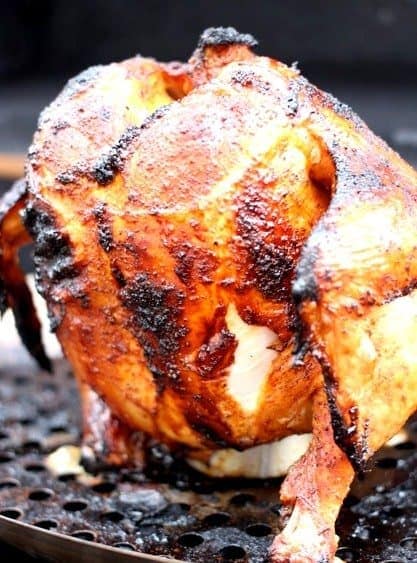 And it's done. Try and get it to the table before everyone peels all the crispy-seasoned skin off…our chicken was pretty bare by the time we got it to our tabe… I should have taken a picture of that, but this looks a little more appetizing! Enjoy!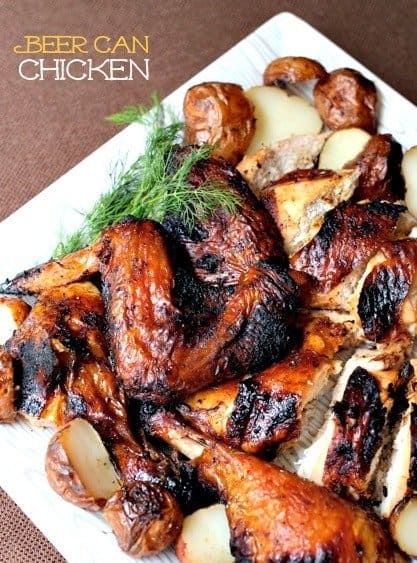 Print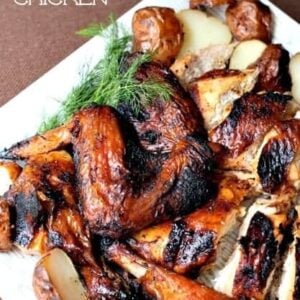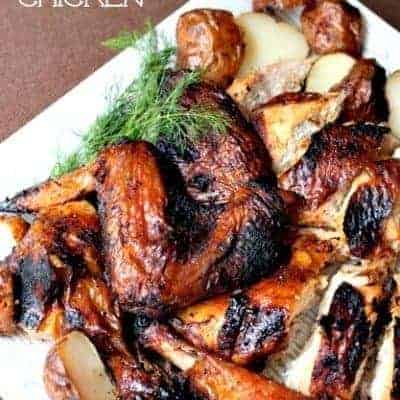 Beer Can Chicken
---
Description
The easiest beer can chicken recipe, 3 ingredients and done in a little over an hour!
---
Ingredients
1

6-7 lb. whole chicken

1

jar of McCormick Sweet and Smokey rub

1

can of beer (any kind)
---
Instructions
Rinse and dry off the chicken with paper towels.
Pour the beer into the insert on the roaster and place the chicken on top of the insert. (South side down)
Pour some of the rub into the palm of your hand and rub liberally over the chicken. I used about half of the jar.
Put the roaster on the grill at 400 degrees and cook for an hour. Keep an eye on the temperature of the grill while it's cooking to make sure it doesn't go too far over 400 degrees. Check the temperature after an hour – you're done when it's at 180 degrees. Mine took about 1 hour and 15 minutes for a 6 1/2 pound chicken.
Place on a cutting board and cover with foil for 15 minutes, then carve up and serve!
---