Today at Mantitlment™, I'm giving away a Powerocks Magicstick 2600mAh Black Universal Extended Battery
phone charger!
These things are a life saver-even with car chargers I can still find myself somewhere that I don't have the capability to "plug in" and charge my phone. And seeing as sometimes when I'm in my car I tend to forget to actually plug in my phone…I can be somewhere with only half a charge left.
This Powerocks™ Magicstick is an extended battery that is small enough to easily fit in a travel bag, your pocket or it's really even small enough to just carry in your hand. It's perfect for going on vacation, working on the go or being at a sporting even or concert.
It comes included with a USB cable and a velvet bag for carrying. An LED light indicator will show you the status of the charge and also how much charge is left.
The 2600mAH lithium battery gives you enough power to charge up most phones with 2 full charges.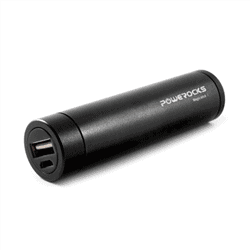 I know this has saved me several times from losing calls or missing calls or not getting that perfect picture because my phone had just died.
So I thought it might help your guys out too!