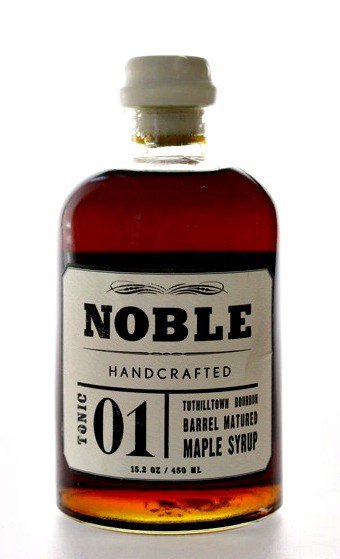 This Noble 01 Handcrafted Maple Syrup from Hudson Whiskey is the next Mantitlement giveaway!
I've been waiting for this one, hoping I could hold out and not use it myself until the time came.
I already planning my next trip back for another tasting of their amazing bourbon, gin, vodka, well the list goes on…I don't think I tried everything last time.
One of the things we sampled besides their spirits was their Noble 01 Handcrafted Maple Syrup. I've tried pure maple syrup before but this one definitely stands out from the pack.
I don't know, maybe it's because the syrup is aged in charred American Oak Barrels with a splash of raw Tuthilltown Bourbon thrown in? It couldn't hurt – but these guys definitely know what they're doing because this stuff is ridiculously good.
I couldn't resist buying my own bottle too while I was there and although I haven't thrown it on my pancakes yet, I have used it in a few different cocktails and food recipes that were also ridiculously good. Must have been that maple syrup!
I'll be sharing those recipes with you later…
This is a special bottle of Maple Syrup, it sells for $35.00, not cheap, but it's totally worth it. If you're using it for recipes and drinks, you're not going to blow through it all too quickly – a tablespoon here and there – it'll last you.
But if you end up winning it for free, then you won't have to feel bad pouring it all over your pancakes. Those will be some delicious pancakes for sure.
Giveaway has ended.