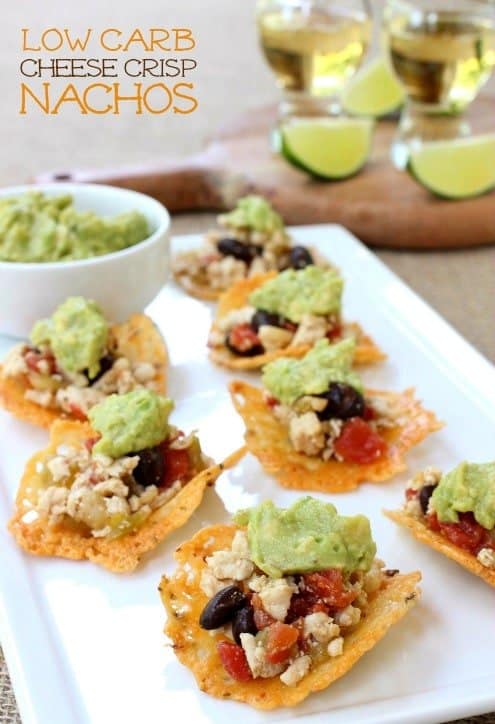 Low Carb Cheese Crisp Nachos
These Low Carb Cheese Crisp Nachos are the most amazing appetizer – if you're looking for a low carb option or not – you're going to love them!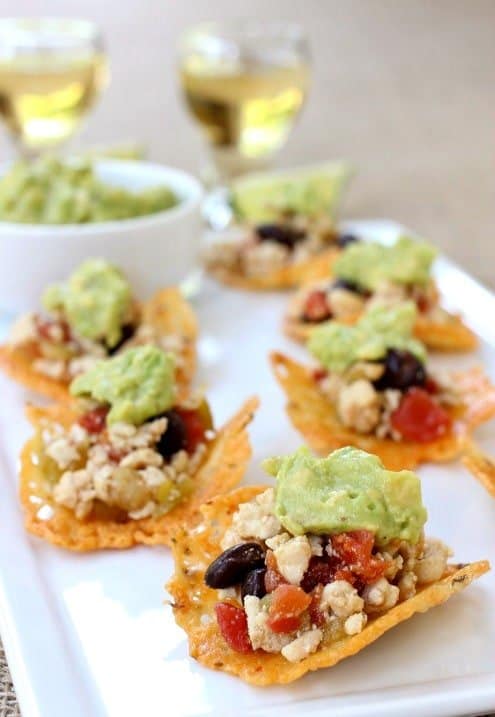 We're getting addicted to making cheese crisps of all kinds now. First we made these cheese crisps with sage and pine nuts. Then we made these cheese crisp meatball shooters with havarti and now these Low Carb Cheese Crisp Nachos.
Making cheese crisps is as easy as shredding some of your favorite cheese and melting it in the oven. You can form them into cups, keep them flat or just lay them over a rolling pin like we did here for a chip like effect.
This week we're getting together with our friend Shelly to make a Mexican feast! We started with the apps, of course – nachos. Shelly made her version using french fries and we made ours using cheese crisps instead of tortilla chips.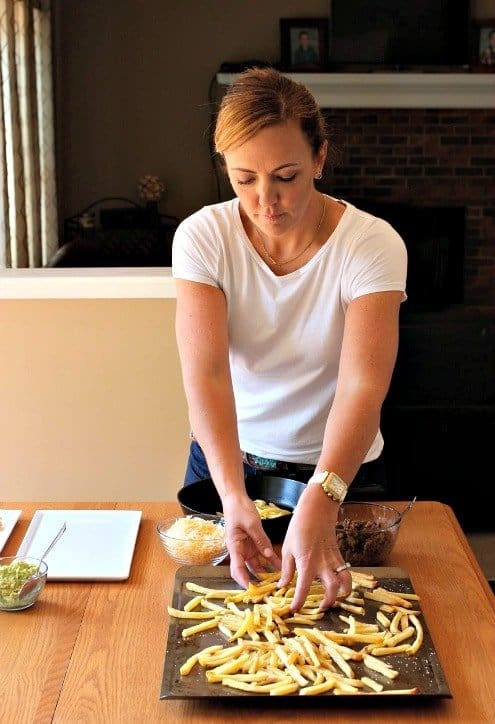 Get the girls together and there's usually cocktails involved! It's always more fun cooking with friends…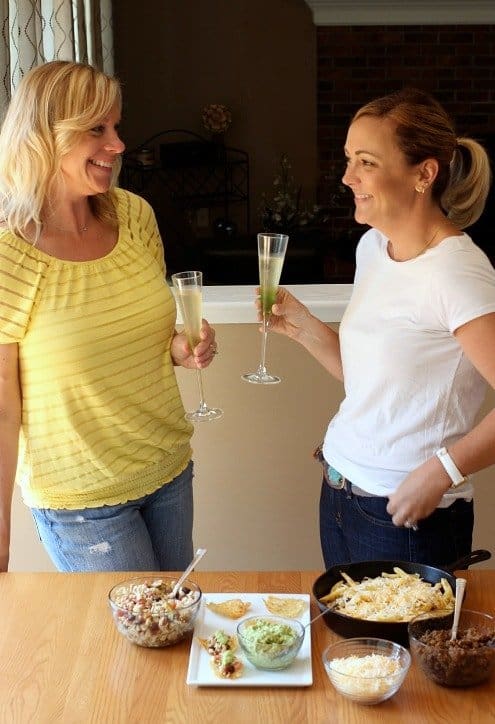 Later in the week we'll be following up with what we had for dinner, dessert and drinks – but let's start with the nachos.
Start off by making the meat topping. I chose ground chicken for the filling instead of beef to keep it lighter, but beef would work great in this recipe too.
Brown the chicken in a skillet and add in some seasonings, diced green chilies, black beans and a can of Ro-Tel. If you really want to keep these really low carb you could leave out the beans, but there's only 1/2 cup in the whole recipe…and come on…it's nachos! A carb or two isn't going to kill you.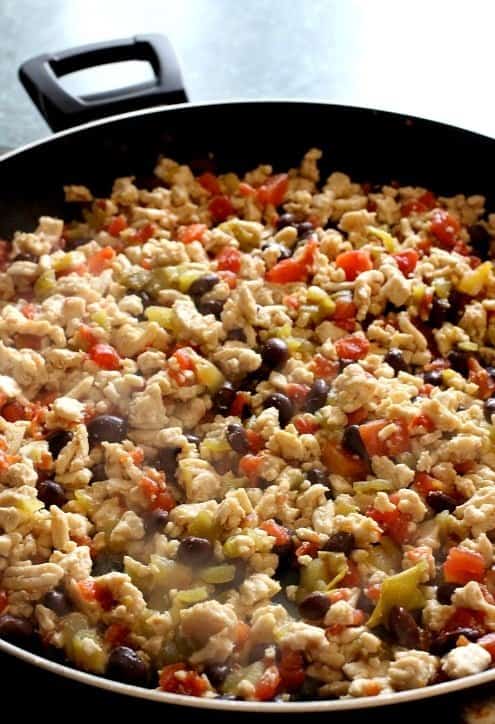 Once the filling is done you can set it aside and start making up your cheese crisps.
I used a Jalapéno Havarti cheese for my cheese crisps to give it a little extra spice and they turned out awesome. Place the cheese in piles on a baking sheet lined with parchment and bake for about 6 minutes.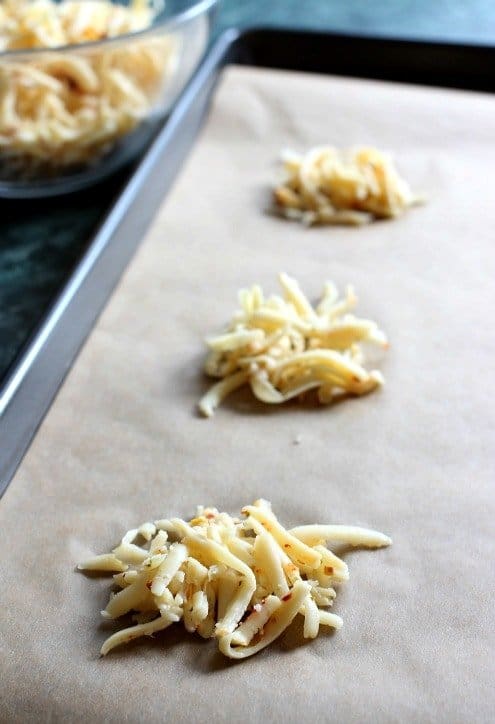 Give them a minute when they come out of the oven and then carefully lay each crisp over a rolling pin to form it's shape.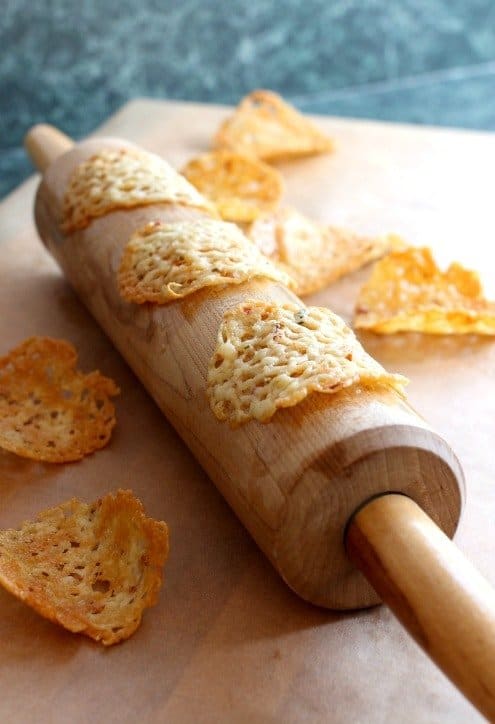 Fill the "chips" with a scoop of the meat, add some guacamole and start eating. Once you start you probably won't be able to stop – fair warning. It's a good thing we're saving on the carbs with our Cheese Crisp Nachos 'cause we're also diving into Shelly's Skillet Frachos…
These nachos are so good you'll never miss the tortilla chip! Stay tuned this week for the rest of our Mexican dinner menu!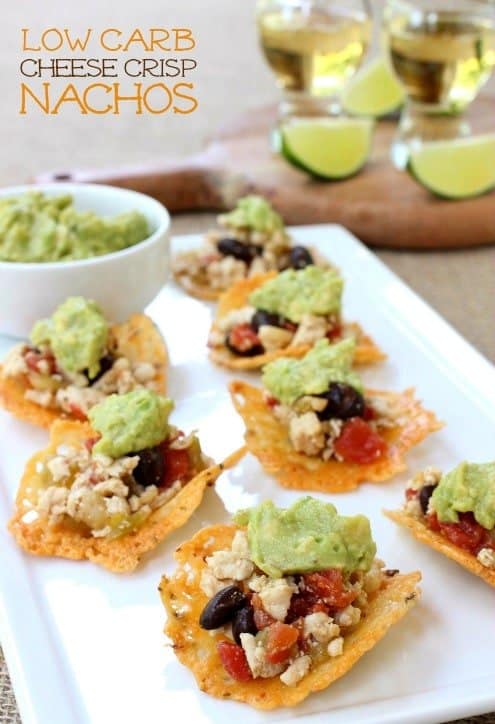 Print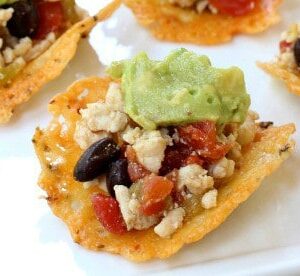 Low Carb Cheese Crisp Nachos
---
Description
makes about 24 nachos
---
Ingredients
1

(8 oz.) block of Jalapéno havarti cheese, I used Castello

1

lb. ground chicken

1 tablespoon

olive oil

1 teaspoon

cumin

1 teaspoon

garlic powder

1 1/2 teaspoon

salt

1

(10 oz.) can of Ro*Tel diced tomatoes with green chilies

1

(4.5 oz.) can diced green chilies

1/2 cup

of black beans, rinsed
Store bought guacamole
---
Instructions
Heat the oven to 425 degrees.
In a large skillet, heat the olive oil and then add in the ground chicken, breaking it up into small pieces with a wooden spoon as it browns.
Once the chicken is browned, add the cumin, garlic powder and salt to the chicken and stir.
Add the green chilies, Ro*Tel and the black beans to the pan and stir.
Simmer for 5 minutes to cook out some of the juices in the pan and then remove from the heat.
Measure out a heaping tablespoon of the shredded cheese and place it on a baking sheet lined with parchment.
Space each pile out so you only have 6 on the sheet at a time because they will spread as they cook.
Place in the oven for 6-7 minutes.
Let the cheese sit for a minute after you take it out of the oven and then with a thin metal spatula, carefully take it off the pan and lay it over a rolling pin to harden. If you want a flat crisp then just place the crisps on a wire baking rack to harden.
Repeat with the rest of the cheese, you should get about 24 crisps.
Fill each crisp with the chicken topping and a scoop of guacamole.
---
Notes
You can make the cheese crisps ahead of time. Store them in a plastic container until you're ready to fill.