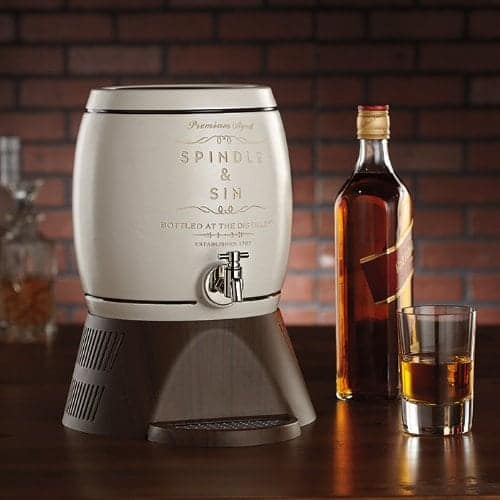 Doesn't everyone need a Liquor Chiller? I'd like one. I'm not even going to call this one a gadget. It's just a useful tool that everyone who enjoys a good spirit should have.
Or I wish I had.
This Handcrafted Ceramic Liquor Chiller
keeps your spirits at the optimal temperature in a handcrafted ceramic container. No need for ice which will dilute your beverage, and in case you forgot to chill those whiskey stones…Nothing to worry about if you have the liquor chiller. This was featured in Cigar Aficionado and Wine Spectator as one of their top sellers.
I can see why because I'd really, really like one.
Just store your liquor inside the ceramic chiller and set the temperature as low as you need it to go…it can be set to as low as 15 degrees! Perfect it says for storing your moonshine…I think this is a perfect gift for a few people in my world. I for one think tequila is best served slightly chilled but I don't think I'd get away with throwing ice in the Don Julio without my friends giving me a hard time, so in comes the liquor chiller. And vodka? Good way to get all those bottles out of your freezer.
I am not implying that anyone has several bottles of vodka in their freezer. I'm just saying. You might.
This Liquor Chiller would be ideal for parties so your guests can serve themselves – also this would cut way down on all those ice runs, but hey, any excuse to get myself one of these chillers works for me!
The Liquor Chiller retails for $199.00 so make sure to put it on your Christmas list…'cause that's right around the corner!
Let me know if anyone has or gets one of these, I'd love to hear what you think!