This Busted Barrel Rum is what inspired me to create my Bruce Juice cocktail. While it is definitely a craft sipping rum, I have found that it makes for a great cocktail too!
So a few months ago, I went down to Fairfield, New Jersey to visit one of the first distilleries in New Jersey to open since prohibition.
I was greeted by Brant Braue who is one of the two owners of Jersey Artisan Distillery. Brant was nice enough to take some time out of his day to give me a tour of his distillery which was already in full-gear producing their Busted Barrel Rum.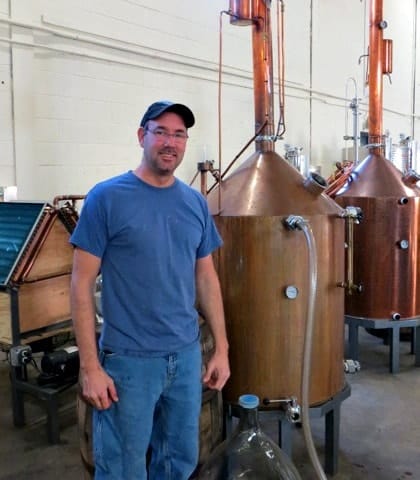 This is definitely a guy who wears multiple hats, not only making mash and hand-labeling bottles but answering phones and whatever else needed to be done. Without any paid staff in the building he works over a 70 hour work week. You definitely have to love what you do to keep up that pace!
During my tour he spoke about everything from the molasses that they purchase from Louisiana – which they use 3,000 pounds of each week – to his vision about producing 25,000 gallons of spirits a year.
As an engineer by trade, Brant said that he was always fascinated by the chemical process behind distilling spirits. The ingredients for this rum are combined and fermented in plastic barrels and then boiled in copper cauldrons.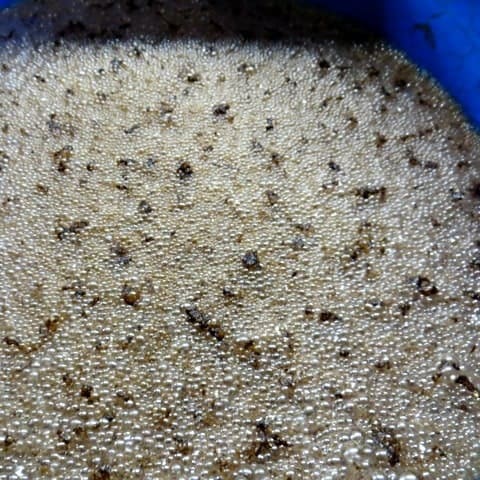 When the liquid vaporizes, it floats up into large columns where the vapors separate, cool, then are condensed into a concentrated alcohol that flows out into containers.
The rum is then aged for four months in charred American white oak barrels to give it that "dark rum" golden color.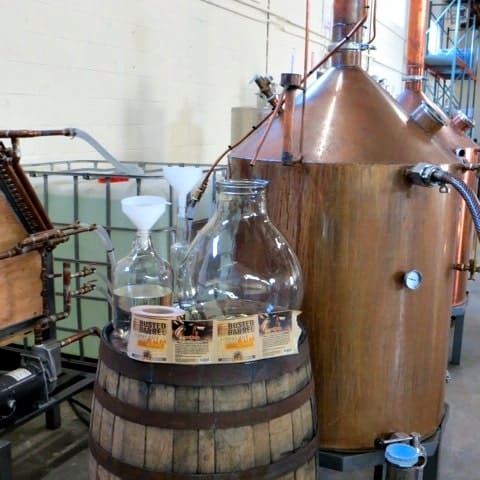 It was really cool to have a private tour with Brant and learn about a craft that he is so passionate about. Kind of makes you want to quit your job an open your own distillery…
Hopefully next time I take a ride down there I can meet Krista Haley who is an attorney by trade and is also busy expanding their spirit-base by diving into gin, vodka and whiskey. They plan to use produce from Jersey such as strawberries, raspberries and sweet corn. Or maybe next time I can catch them both together at their newly designed tasting room!
I hope he keep me on the short-list for that first batch of rum he produced!
Well, a guy can hope…