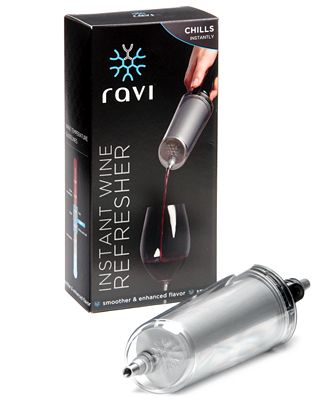 I know you guys have all heard of a wine chiller, there's hundreds of them out there. But the main word in the name of this wine chiller is "Instant".
This Instant Wine Chiller by Ravi is a little bit different than the rest of them out there. It gets stored in your freezer when you're not using it, and when you need to pour a glass of wine – red or white – you attach the chiller to your bottle and pour.
You don't have to chill the whole bottle, just the glass you want to pour out.
One of the key features of this Ravi Instant Wine Chiller is that is chills your red wine to the perfect temperature too. Red wine – they say – really isn't supposed to be served warm or at room temperature. But not chilled so much as a white wine in the fridge either. So this gadget will take the guesswork out for you. Just set to serve red wine and you're done.
It's nice too that you can save all that space in your refrigerator, right? Leave your wine right on your counter top and chill as you pour.
Don't want your wine tasting weird? Don't worry about that either…the Ravi is made from the same steel that they use in wine fermentation tanks so it'll never change the flavor of your wine.
Oh and for a bonus, it also works on vodka, or tequila or any spirit you're drinking that you'd rather have chilled.
I think that last part might have actually sold it for me! It retails for $39.95 but I found a couple on Amazon (Wine Chiller
) for $19.99. Not bad for something that clearly is so useful.
I might even have to start drinking wine!